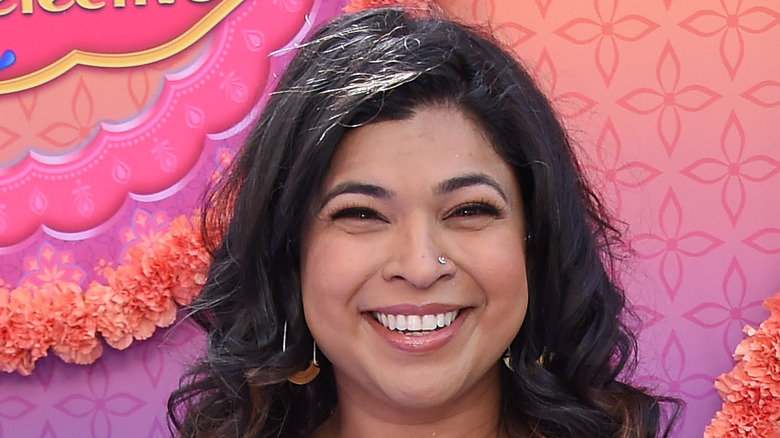 Best known for her Indian-meets-American cuisine, Food Network celebrity chef Aarti Sequeira rose to fame as the winner of the network's sixth season of "Food Network Star" and has only been growing in popularity and has since won "Chopped All-Stars," "Cutthroat Kitchen All-Stars," and "Guy's Grocery Games." A former journalist and author, she has hosted her own TV shows, "Aarti Party" and "Hidden Eats," and penned her own cookbook, "Aarti Paarti: An American Kitchen with an Indian Soul" (via Sequeira's website). Sequeira began her foray into the cooking world in 2009 with her YouTube series, "Aarti Paarti," in which she instructed viewers how to recreate her original recipes for dishes like baba ganoush, kale frittata, and her mother's own lentils.
Today, Sequeira enjoys a flourishing career as a chef and television personality — her net worth is estimated to be about $1 million (via Married Divorce) — but she is also a grounded individual, valuing her family life, her faith, and her heritage.
Aarti Sequeira's cooking style was inspired by her childhood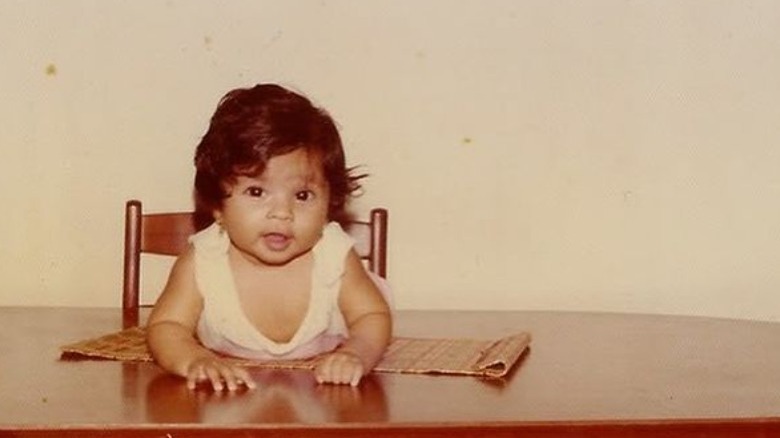 Aarti Sequeira was born in Bombay, India before her family moved to Dubai where she grew up. She counts her father's outings to buy fish and produce as well as enjoying her mother's cooking among some of her most prominent memories (via eMinutes Blog). As she notes on her website, family meals often included dishes like curries, flatbreads, and shawarmas. Sequeira's cooking has also been influenced by Catholicism, as she was raised in a traditionally religious family.
After moving to the United States and a brief career in journalism, Sequeria returned to her roots and love of food, attending The New School of Cooking from which she graduated with a professional cooking certificate. Soon after, her online cooking show, "Aarti Paarti," debuted on YouTube.
Her cooking career blossomed over the years, eventually leading to a Food Network show, "Aarti Party." On the show, Sequeira draws from influences of the Indian cuisine she grew up with and combines them with American-style recipes, resulting in dishes that are creative twists on classic favorites. "Aarti Party" was cancelled after three seasons, per Wannabe TV Chef, but Sequeira has continued to appear on Food Network and the Cooking Channel, from hosting food-themed travel shows to judging cooking competitions.
Aarti Sequeira first had a career in journalism
After growing up in Dubai and experiencing the first Gulf War, Sequeira was inspired to work toward a journalism degree. According to her website, she moved to the United States where she attended the Medill School of Journalism at Northwestern University in Chicago. Following graduation, she snagged a job at CNN where she reported on a range of topics, including 9/11. Sequeira remained passionate about world events and produced "Sand and Sorrow," a documentary that aired on HBO covering the Darfur genocide.
But around the age of 25, Sequeira found herself antsy and dissatisfied in her journalism career. "I realized that the passion for journalism had died out in my heart, it was very hard for me, because it felt like my very identity had vanished," she told Women Working. Sequeira moved to New York where she tried her hand at an acting career, but eventually started cooking more and more and fell in love with the craft.
But Sequeira's experience in TV journalism proved useful when she began filming her own YouTube cooking show with the help of her husband, actor Brendan McNamara. As her website notes, it was McNamara who eventually suggested Sequeira audition for "Food Network Star," who instantly saw her talent.
The chef is committed to her family
Aarti Sequeira may be a famous chef and TV personality with a booming career, however, it's perhaps her family that's most important to her. Sequeira married her husband Brendan McNamara in 2003 and the couple have two daughters together, Eliyah and Moses (via Married Divorce).
Judging by what Sequeira posted on Instagram for husband's birthday, her and McNamara are still clearly very much in love. "From the second I met you, I couldn't get you off my mind. From your intelligence, to your humour to your kind eyes … to the way you clearly didn't care (too much) what people thought of you … all those things keep me stuck to you like a paperclip to a magnet all these many birthdays later," she wrote.
Sequeira has also written about the pride she has for her daughters. "Raising two daughters, I get to see the full spectrum of sisterhood—love, support, rivalry, jealousy, anger, joy. … And my happiest moment is when they share selflessly, and cheer each other on through hard things…" she posted on Facebook in 2018.
Aarti Sequeira struggled with postpartum depression
After giving birth, Sequeira suffered from postpartum depression. In an interview with Women Working, she spoke about her struggles, citing societal expectations of being a mother and stigma surrounding postpartum depression as factors in her experience.
"New mothers are fed all kinds of expectations—that you will be the perfect picture of joy, that your maternal instinct will kick in and you'll know exactly what to do, that you and your baby will bond instantly," she said. "None of this was true for me. And so I felt like a freak!"
Sequeira said it was her husband's support that helped her through this difficult time, and she has since become an outspoken advocate for fighting postpartum depression and encouraging women to seek help with their own battles. "I would tell other women that if, after the first week or so of baby blues, you're still feeling the shadows closing in on yourself, talk to your family. … This is not going to last forever."
Aarti Sequeira is a woman of faith
Since being raised in an Indian-Catholic home, Aarti Sequeira's faith has remained an important component in her life (via eMinutes Blog). She writes on her website: "When I reach the end of my days, all I want is to hear the Lord say, 'Well done good and faithful servant.'" She is involved in an organization called Compassion International which aims to help alleviate childhood poverty in "Jesus' name" and uses her writing skills to encourage others on their religious journeys.
Sequeira has also written on her website about the opportunity she and McNamara were given at her church to both baptize new members into their church on Easter and give a sermon, saying "Bren and I just preached our very first sermon, together! What an incredible honor and thrill."
Her website isn't the only place Sequeira writes about her faith. In an article for Incourage, she humbly discussed her gratitude to God for her success. "God was the one who gave me this career, and He's the only one who can take it away. I was timid at first, but over the years, as my friendship with Him has grown, so has my boldness," she wrote.