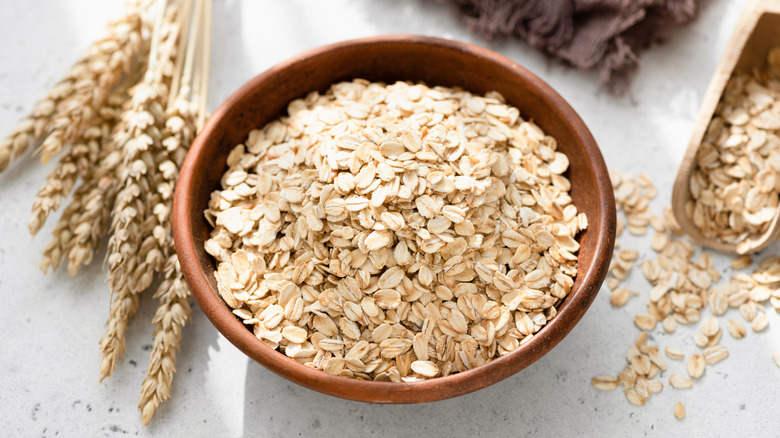 If you're interested in natural solutions for your skin, you might have already tried an array of surprising ingredients by way of at-home honey masks and brown sugar scrubs. If D.I.Y. skincare is your thing, you might have already tried Kim Kardashian's rice water concoction (via Poosh), which she uses to strengthen her hair but is great to soothe your complexion, too. Or, you might have tried Hailey Bieber's shocking foolproof face mask recipe, which she recently shared on her Instagram stories. As per Savoir Flair, her tried-and-true mask brings together one egg and a bit of honey, which Bieber says gives her a "glow" and tiny pores (let's just say we're sold!). You may have even tried Miranda Kerr's signature ice cold cucumber mask, involving simply grating the vegetable to a pulp — it's the secret behind a face that looks awake no matter how many hours you've slept (via Stylecaster). But if you're on the lookout for tons of moisture, look no further than classic oats.
According to Savoir Flair, tons of celebrities know that oats are the best bet for super-supple skin. For one, Jessica Alba posted on her Instagram about her favorite kitchen-ingredient-mask ever, which mixes instant oatmeal, honey, salt, yogurt, flax seeds, and coconut oil. And as One Green Planet tells us, it's not just about applying them topically: eating oats can also promote clear, acne-free skin. Still, the ingredient isn't a miracle worker.
Oats will nourish you from the inside-out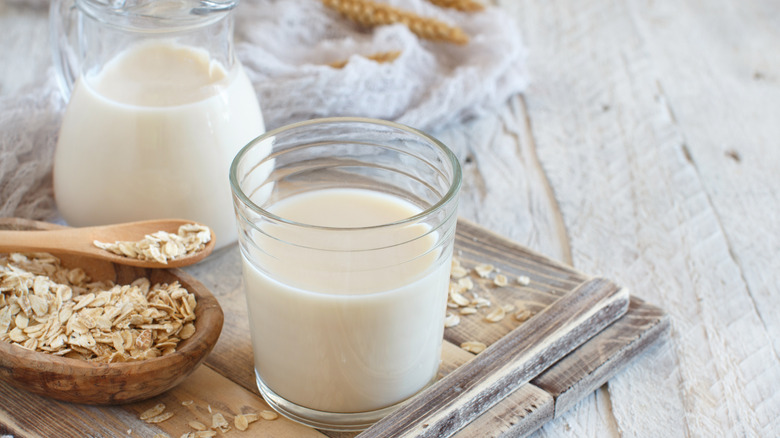 While oats are an unbeatable component of any at-home D.I.Y. face mask (and we'll get to that soon), a bowl of oatmeal a day can do wonders for the skin, too. As One Green Planet explains, oats can reduce inflammation, which can get rid of dreaded pimples and dryness. Sure, grinding up some oats and sloughing them on your face is actually ah-mazing, but if you don't want to get messy, eating oats in muesli, granola, or as a yogurt topping can be just as beneficial to your complexion.
The Deccan Chronicle seconds this, citing better skin as a main reason to eat oats every day. The newspaper says that oats' fibers and vitamins can help eczema and other kinds of inflammatory skin disorders from the inside-out. For one, oats' zinc component can help "detoxification" of the skin, and is recommended by dermatologists for a better complexion overall. As Dr. Jennifer Herrmann, a dermatologist, told Byrdie, "taking zinc orally can help heal wounds, lessen inflammation, and improve inflammatory conditions such as acne."
Moreover, says The Deccan Chronicle, oatmeal "rejuvenates the skin" through its manganese component. Healthline states that manganese is a mineral that helps produce an amino acid called proline, which in turn aids the body's collagen production. This is why eating oats on a daily basis can help increase skin cell turnover, while its iron levels work to improve the healing process and give your complexion a noticeable "glow" (via Stylecraze).
Applied topically, oats can calm the most sensitive skin
While we know eating a bowl of oats for breakfast can help renew your complexion and is way more than skin deep, applying the nutrient to your face may be just as beneficial. As Dr. Nava Greenfield, another dermatologist, told Byrdie, the ground version of oats called colloidal oatmeal "has shown in clinical studies to help strengthen the skin's barrier function." Protecting a sensitive complexion from pollution and environmental stress, a solid barrier can help improve skin dryness, irritation, eczema, and scaliness from the winter cold.
Yet another dermatologist, Dr. Hadley King, explained to Byrdie that oats work to "soothe" skin, whether dealing with itchiness or any other inflammatory process. According to Medical News Today, topically-applied colloidal oatmeal contains phenols, or antioxidants, as well as water-absorbing beta glucan which hydrates the skin. Saponins clean your pores, while oils add extra moisture. Even more, oats help conditions like psoriasis and other kinds of irritation through its antioxidant and anti-inflammatory properties. The effects are clear. According to the outlet, a 2020 study on 60 women with psoriasis resulted in 96% seeing an improvement in their skin after applying topical oatmeal for just four weeks.
As Dr. Greenfield described to Byrdie, applying oats on your skin creates an outer "film" to guard the skin, and its cellulose and fiber brings down redness stat. Since Dr. King says "oat allergies are not common," most people are safe to use it, too.
Still, it's not a miracle worker
While you may already think that oats are some kind of divine gift from above, the ingredient isn't magical, either. First off, reports Byrdie, colloidal oatmeal may come with side effects for some people. Dr. King advises to watch out for irritation after applying oats on your skin, particularly burning or redness. This "can occur," and "might result in blotchy, irritated, and itchy skin." While uncommon, this is a particular concern for anyone with celiac disease or who follows a gluten-free lifestyle. Still, the vast majority of people are not allergic to it, with a recent study of 2,291 adults resulting in just 1% experiencing oat-related irritation, says Healthline.
While oats may help with acne, go for another naturally-exfoliating ingredient like vitamin C or turmeric if dealing with hyperpigmentation (via The Butter Bar Skincare). As explained by Medical News Today, oats do not reduce dark spots, and no studies support this claim. Moreover, outlets like Healthline go deep into detail concerning oats' soothing properties, but don't touch on any studies that show it can make your complexion glow. Jessica Alba's Instagram do-it-yourself face mask will make your face super-youthful, but that's more on the lactic acid in the yogurt than the oats. Use plain topical oatmeal for a dose of unbeatable moisture, or to protect your skin from harmful elements or the cold – not to promote radiance.
The best ways to use oats on your skin
So now that we know what oats can and can't do for your skin, how to get the best benefits from it? First, learn how to make your own colloidal oatmeal for stirring into all kinds of skin-friendly preparations: as per Healthline, all you have to do is pulse uncooked oatmeal in a blender until it turns into powder. Mix a bit into water. If the water turns white, your oats are fine enough.
Medical News Today suggests trying a soothing oatmeal bath that will help your skin while providing a serious dose of calm. Draw a warm water bath and stir in one cup of colloidal oatmeal. Mix the water with your oats until the bath looks murky, relax in your bath for 10 minutes, and rinse. Extra points if you add a fragrant essential oil like lavender or eucalyptus.
Apart from an oatmeal bath, you can also try making an oat face mask. If you're dealing with facial irritation, New Delhi Television recommends boiling half a cup of oatmeal with water and letting it cool off. Apply the mixture on your face and rinse after 20 minutes. This can help calm your complexion down and even get rid of pimples. The outlet also recommends mixing water with ground oats for some serious skin relief. Yet another use? Get Inspired Everyday suggests blending oats and water to make a facial scrub, massing into both your face and neck.
Skin-happy ingredients that boost oats' benefits
Oats work overtime when combined with other ingredients for skincare. While oats are great for moisturizing, combining them with exfoliating powerhouses can make your complexion downright glow-y.
When it comes to oatmeal baths, Dr. Greenfield suggests mixing in some medicinal honey for optimal skin hydration (via Byrdie). Beauty Crafter recommends adding Epsom salts to your oat bath, which ease muscle aches through magnesium (via WebMD). Other great bathtime mix-ins? Baking soda and milk both help reduce skin irritation further, while lavender and chamomile oil will get you ready for sleep (via Beauty Crafter). Even more, a few drops of tea tree oil will give your oat bath antibacterial properties, and is great for bringing down all kinds of inflammation — even bug bites.
If you prefer to focus on your face, make a D.I.Y. mask out of other kitchen ingredients. As per Medical News Today the perfect dry skin mask mixes colloidal oatmeal with a whole egg, one tablespoon of almond oil, half a banana, and one tablespoon of honey. Eggs' lutein and protein contents make them nourishing and repairing to the skin (via Sauder's Eggs), almond oil is moisturizing, bananas' vitamin A helps with texture (via Indian Express), while honey is a known antibacterial (via the Asian Pacific Journal of Biomedicine, posted at the U.S National Library of Medicine). Or, do like Priyanka Chopra and combine one tablespoon each of plain yogurt and oatmeal, adding one teaspoon of turmeric. She told Byrdie that this mask "brightens" the skin.
Prefer to eat it? Here are the best recipes using oats
If you prefer to eat your oats to get their skin benefits from the inside-out, there are plenty of recipes to get you started. As per Babo Botanicals, eating oats is linked to supple, moisturized skin through its vitamin E content, and protects the skin through naturally-occurring flavonoids. It brings down overall inflammation, boosts collagen, and balances oily, acne-prone skin. All in all, it's a skin savior — so what are the best ways to bring it into your diet?
Beauty Bites recommends making overnight oats for "healthy skin," citing oats' prebiotic properties, vitamin E, and skin-friendly fatty acids. Simply mix ½ cup of oats with ½ cup of yogurt, ⅓ cup non-dairy milk, and one teaspoon of honey in a jar. Leave your mixture in the fridge overnight and revel in the amazing creaminess of it all. Add some glow-boosting toppings like almond butter, which Bustle cites for its vitamin E, fatty acids, and exfoliating, anti-inflammatory effects on the skin. Beauty Bites says these oats are best topped with cherries, which have antioxidants that may repair the skin (via New Delhi Television).
You can also try making classic oatmeal cookies that are anything but old-fashioned. Goop's oatmeal cookies with goji berries are a hit for health nuts and sweet tooths alike, bringing together oats and antioxidant-rich, skin-happy cinnamon (via Healthline). As skincare researcher Bryan Baron told Byrdie, goji berries are "a good source of skin-beneficial fatty acids," so these cookies are a major win.