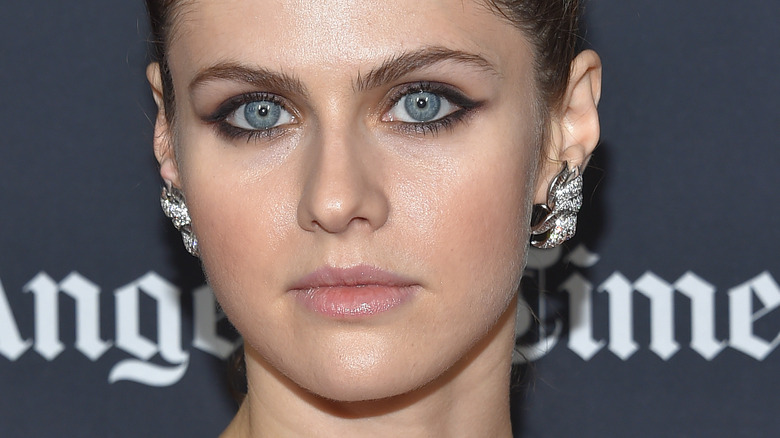 Alexandra Daddario has one of Hollywood's most striking stares, which might be the product of her laser-sharp focus on rising to the top of her game. Hailing from an affluent and influential New York family, the actor could have been anything in the world. But she simply wanted to act and her gratitude for her career is nearly palpable in her interviews. Speaking on the "Whiskey Ginger Podcast," she noted that she shows up every day and does whatever is required of her. "I'm so grateful to be a working actress that I pretty much will [do anything]," she said.
Woody Harrelson, with whom Daddario shared the screen in her breakout role in "True Detective" — which included some pretty steamy scenes that had a lot of people talking — vouched for her hard work and dedication to the profession. "She was incredibly focused, hardworking, and willing to try anything," the actor told Vanity Fair in 2014. Her ascent in Hollywood happened slowly as she started as a teenager. As a result, she enrolled in college as her plan B, but she kept being penalized for missing class to attend auditions. She just was not ready to give up. "I was wearing myself too thin. I thought, 'I have to devote myself to this fully, or I'll regret it for the rest of my life,'" she told the Daily Beast.
And her hard work has certainly paid off. Keep scrolling to check out Daddario's transformation since she started acting at the age of 10.
Alexandra Daddario is the daughter of a politician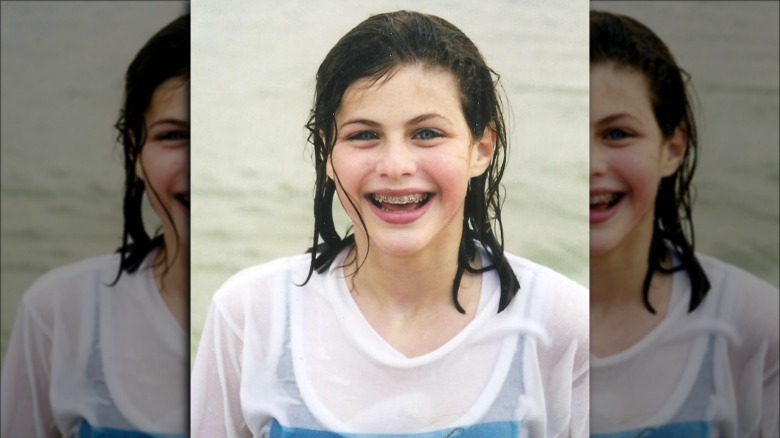 Alexandra Daddario may not be Hollywood royalty, but she is no commoner either. Alexandra is the daughter of Richard Daddario, the influential lawyer and politician who led the New York Police Department's counterterrorism unit between 2010 to 2013. (He ultimately resigned when the division's controversial surveillance program of Muslims came to light, per the New York Daily News. Alexandra's grandfather was also a politician. Emilio Q. Daddario was a Democrat who represented Connecticut in the U.S. Congress between 1959 and 1971 and ran unsuccessfully for governor, according to The New York Times.
Alexandra grew up in Manhattan and attended the prestigious Brearley School on the Upper East Side, she told Riviera magazine in 2010. "Brearley was high-pressure. It's an all-girls school, and I really didn't love it. Girls there were catty and mean," she said. She also described herself as a nerdy girl who loved to participate in school plays. "I was a dork in high school and did a lot of children's theater. All my friends wanted to go to Harvard or Princeton, but all I wanted was to act," she added.
The oldest of three children, Alexandra must have passed her interest onto her little brother, Matthew, and sister, Catharine, both of whom ended up pursing acting careers, as well. Speaking on the "Whiskey Ginger Podcast," Alexandra noted that her affluent background meant she and her siblings grew up going to the theater and other cultural events, fueling their love for the arts.
Alexandra Daddario started acting around age 10
Alexandra Daddario was about 10 when a manager spotted her in the audience of a play, Daddario said on the "Whiskey Ginger Podcast." Her parents valued exposing their children to different opportunities, so after the manager showed interest in Daddario, they began sending her to acting lessons, she explained. "This manager thought I was cute and wanted to send me out to, you know, commercial auditions," Daddario detailed.
Daddario landed her first job when she was 12, she told Riviera. "I was a hand model for Barbie. It was so exciting. I kept trying to get my face in the shot," she said. She continued to book commercial gigs, which included a "Got Milk" ad when she was 13 or 14 that required her to make out with a boy, she told Interview Magazine. Even though her career was "a rough ride for a little bit," her parents were supportive of her passion.
In fact, her mother did some modeling before going to law school, so she understood her daughter. "When I was little, I thought about becoming a lawyer like my parents, and my mother would always tell me, 'You can do anything you want — except be a lawyer.' Not like I couldn't. [laughs] But my mom used to model when she was younger, before she went to law school, and I think she thought it was pretty cool. I think my parents saw that acting ultimately made me happy," Daddario told Interview.
Alexandra Daddario landed her first TV role at 16
Alexandra Daddario made her TV debut at 16, when she landed the role of troubled teen Laurie Lewis on ABC's "All My Children," a character she portrayed for about a year between 2002 and 2003, per Soap Central. She then landed small parts in big shows, like "The Sopranos" and "Law & Order." Because Daddario began to find consistent work when she was still in her teens, her parents enrolled her in the Professional Children's School, according to Vanity Fair, an institution that specializes in giving working children an academic education.
Her first major role came in 2009, when she snagged the part of Annabeth Chase in 2010 in Chris Columbus' "Percy Jackson & the Olympians: The Lightning Thief," sharing the screen with A-listers Pierce Brosnan and Uma Thurman. "It's a complete fantasy. Everything on-set is huge and epic, and you're like, 'How did I get here?'" she told Riviera at the time. That year, Daddario relocated to Los Angeles to focus on film. "I moved here in September [2009] and I've already failed my road test twice… I started taking the bus, because that's what we do in New York, but I quickly learned that that's not the right thing to do out west," she joked.
Daddario continued to land teenager roles in young adult films, portraying the main character in the 2013 slasher film "Texas Chainsaw 3D" and Annabeth again in the sequel "Percy Jackson: Sea of Monsters," which also came out that year.
Alexandra Daddario's breakout role came with 'True Detective'
To say that HBO's "True Detective" was a hit would be the world's biggest understatement. When its first season premiered in January 2014, the show became the network's most-watched freshman series ever, according to Deadline. With an average viewership of 11.9 million per episode, the series surpassed the first seasons of "Six Feet Under" and "Game of Thrones," the report detailed.
Starring Matthew McConaughey and Woody Harrelson as the leads, the crime series featured Alexandra Daddario as the young mistress of Harrelson's character. "There is nothing better than a really cool mystery: you don't know what's going to happen, so you keep turning those pages or watching that series," she told Vanity Fair. She came out as the series' breakout star, as the magazine noted, an opportunity that actually happened by accident. As Daddario told Vanity Fair, she initially read for the part of another of Marty Hart's mistresses, which played a smaller role in the series, but the producers saw that she could pull off the bolder character.
Her part required Daddario to strip down and engage in a rather revealing sex scene with Harrelson, a risky move that could have had unintended consequences for the rising star in the sexist world of Hollywood. Luckily, it showed that Daddario was willing to take on challenging parts. "[I]t created the opposite situation for myself," she told the Daily Beast. "Immediately afterwards, I booked a very strong female role in 'San Andreas.'"
Alexandra Daddario has been averaging more than three films a year
Alexandra Daddario, who turned 35 in 2021, has starred in about 30 films and more than 20 TV shows. Still, she showed reluctancy when Andrew Santino of the "Whiskey Ginger Podcast" called her an "extremely accomplished actress," indicating that she is ready to do a whole lot more. However, she agrees that her career has been remarkable so far. "Look, I'm pretty proud of myself," she told him, laughing.
Even though Daddario is known for her incomparable piercing blue eyes and stunning looks, she managed to combine being beautiful with portraying strong female characters since the beginning. "I have had the opportunity to do a lot of really tough characters — from 'Percy Jackson' and even 'Texas Chainsaw,' in a way — they're really tough, good female role models," she told Interview Magazine.
While she is still perhaps best known for "True Detective," Daddario has stayed away from TV and focused on film because she wants to branch out and play a wide range of characters instead of being tied down to one role, she told "Whiskey Ginger." "One reason why I've been terrified of television is… because I'm terrified of doing one thing," she said, adding that "my dream situation is what I'm doing now — just jumping around." Daddario has indeed been quite busy. Between 2017 and 2020, she starred in at least three films per year — sometimes four — proving that she still has a lot more to offer the industry.