It takes a strong, secure guy to date a woman as formidable as Naomi Osaka. The four-time Grand Slam winner and self-described "fashion nerd," luminary," "entrepreneur," and "social change advocate" (according to her official web page) can not only deliver a tennis serve that will tear a hole through you, she also doesn't suffer fools gladly. But she's finally found a guy who's up to her standards — for the past two years, she's been dating Grammy-nominated rapper Cordae (formerly known as YBN Cordae).
Cordae, like Osaka, is seriously dedicated to his craft. Growing up listening to hip-hop with his dad, he started experimenting with his own lyrics early and released his first mixtape when he was 15, according to Billboard. While studying at Towson State University in Maryland, he befriended hip-hop artist YBN ("Young Boss N**s") Nahmir and soon started performing with the YBN Collective as YBN Cordae. He first attracted serious attention for his remake of Eminem's "My Name Is" and hasn't stopped since.
And, just as Osaka has used tennis as a platform to promote bigger causes such as mental health (per Time), Cordae sees hip-hop as a vehicle for social uplift. "We [musicians] ain't out here selling drugs," he told Complex. "Instead of being a product of our environment, we're able to speak on the sh*t that's going on."
Cordae didn't know Naomi Osaka was a tennis player when he met her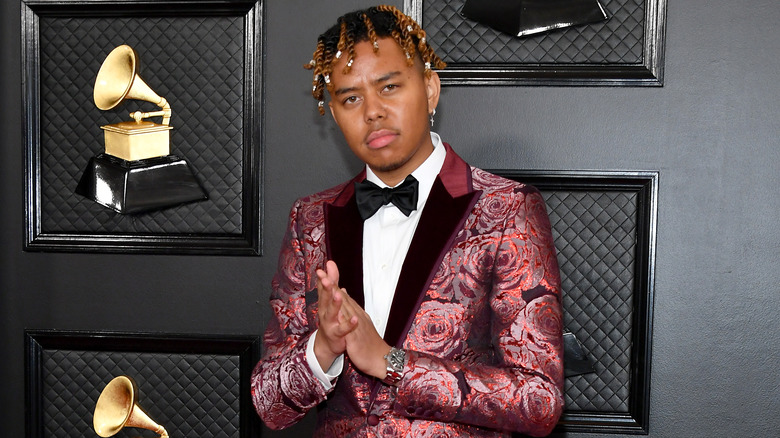 Cordae is considered exceptional among the rising cohort of rappers for his encyclopedic knowledge of vintage music, according to Complex. But his knowledge of tennis is another matter. "N**s don't be watching tennis," he confessed in an interview with "Ebro in the Morning." "When I think about tennis, I just know Serena Williams." (He later qualified this comment, noting that many Black people in his close circle, including his parents and managers, do follow tennis — just not him.)
In the interview, Cordae revealed that he and Naomi Osaka first saw each other at a Clippers game (where both were seated in the "nosebleed" section). "I didn't even know who she was," he said. He may not be a huge tennis aficionado, but he's become Osaka's biggest and most loyal fan, cheering for her enthusiastically at the U.S. Open, according to espnW, and accompanying her to the 2021 ESPY Awards, according to Good Housekeeping. And when she made her controversial decision to back out of the 2021 French Open, he was quick to have her back. As noted by Seventeen, he reposted in an Instagram story her announcement of her withdrawal with the endorsement "THE ONE!"
He kept their relationship quiet for almost a year
When Cordae disclosed his relationship with Naomi Osaka to "Ebro in the Morning," he shared another confession as well: Their relationship was not new, as the couple had been dating for close to a year. It wasn't exactly a secret — as TMZ Sports noted in 2019, he'd made a brief appearance in video on Osaka's Instagram account, in which she giggles at him as he adjusts his hoodie in front of a mirror. "Omigod, you're so clumsy!" she says with a laugh. (Though, at the time, a mutual acquaintance of the pair told TMZ Sports they weren't officially an item — yet. "Just give it a week," the source said.)
But by the time Cordae appeared on "Ebro in the Morning," they had been an established couple for some time. "We kept it hidden — I don't like to go too public with my personal life," he said, adding that denying their relationship at this point in the interest of privacy would be "disrespectful to her." By the end of 2020, the pair started appearing together in public, according to Women's Health – and their mutual affection was obvious.
The rapper is a big-time romantic
Cordae understands that big, romantic gestures aren't just for winning brownie points from your special person — sometimes, they're simply the right thing to do. When it comes to his relationship with Naomi Osaka, one especially memorable move on his part was his surprise visit to be by her side during the 2020 U.S. Open, according to Seventeen. While waiting in quarantine before the tournament, she mentioned during a FaceTime conversation with him that she was feeling unhappy and lonely.
Cordae didn't just offer up comforting words. Unknown to her, he quickly flew out to the U.S. Open and quarantined himself in a hotel for several days so he could be with her and offer moral support during the match, a move that touched her deeply. "He stopped everything he was doing because I FaceTimed him a couple days earlier and said I was feeling sad and lonely in the bubble," she posted on an Instagram post (per People). "The funniest part is even after doing all this I'm still convinced he doesn't understand the rules of tennis lol."
Cordae sees music as a serious responsibility
Some musicians see music as a form of escapism, a way to take themselves and their listeners away from the troubles of the real world. But while GQ describes Cordae's music as "fun," he sees it as an instrument of change. "As artists we are the gatekeepers of time," he told GQ. "We do have some sort of responsibility to speak on the times and things that are going on. And it is a responsibility to speak on the things that are affecting you in the community, because that's what we have: a voice."
He credits his mother for helping him develop his social consciousness. "I was always reading Harry Potter books. And my mom was like, 'If you can read a 500-page Harry Potter book, then you can read about your people,'" he said. So, at the age of 10, he began reading "The Souls of Black Folk" and biographies about influential members of the Black community, like Thurgood Marshall and Johnnie Cochran, he told GQ. In fact, the lessons he learned have stuck with him and inform his musical voice today.
The hip-hop star chooses to live frugally
The tale of suddenly successful young musicians who go crazy after finding themselves with boatloads of money for the first time is so common it's practically a cliché. Cordae, to his credit, has managed to avoid this trap.
While he succeeded in making a name for himself at an early age, he's also stayed grounded and goal-driven, and, as he told GQ, is more interested in continuing to develop his talents and career than in piling on the gold chains. "I live well below my means. I don't own any jewelry. I'm always looking for what's next, you know? Keep tunnel vision to keep pushing, but my gratitude is the highest. I'm blessed," he said. "One of my biggest blessings is I do what I love for a living full time. My lifestyle's hella regular." He added that he does spend money on "conveniences," and, fortunately, his success means that these "conveniences" can include traveling with his girlfriend to her matches.
He's written Naomi Osaka into his songs
If you're dating a musician, there can be few higher honors than being celebrated in their songs. While Cordae generally likes to keep quiet about the details of his love life, he's not afraid to give Naomi Osaka the occasional affectionate shout-out in his music. As Genius.com reports, a couple of songs on his EP "Just Until…" make fairly obvious references to her. His song "More Life" contains the line "My girl a tennis star," and in "Dream in Color," he brags, "My girl would forfeit a tennis match to meet my grandmama/ Man, she truly a keeper."
The latter lines did not sit well with tennis fans, many of whom thought they reflected badly on both Osaka and Cordae. "Hypothetical or not, she was willing to throw a match to meet someone she isn't even related to," a fan wrote on Tennis Forum (per Women's Tennis Blog). Regardless of the fan comments, it's clear from Cordae's shout-outs about his girlfriend in his music that he's in it for the long-haul.
Cordae shares Naomi Osaka's passion for social issues
Like his girlfriend Naomi Osaka, Cordae doesn't shy away from hot-button social issues. Both are vocal advocates of the Black Lives Matter movement: As Marie Claire reported, while Osaka got tongues wagging at the 2020 U.S. Open for her face masks bearing the names of Black Americans killed in police confrontations, Cordae cheered her on from the stands while wearing a T-shirt reading "Defund the police."
His commitment to social issues also drives his approach to music. As Complex reported, he has developed a reputation for transcending the longstanding generational divide in the hip-hop community, embracing both the genre's pioneers and newcomers. This is, as he said, by intention. "We all go through the same struggles and we're all under the same oppressors," he said. "Why are we going through this generational sh*t when there's bigger sh*t at hand? Y'all are supposed to be our guiding forces." Cordae is willing to put himself on the line to be one of those guiding forces. In 2020, Complex reported that he was arrested at a protest calling for the arrest of the police officers involved in Breonna Taylor's death.
Naomi Osaka is among the few Cordae allows to hear his music in progress
When it comes to his music, Cordae sets high standards for himself. As he told "Ebro in the Morning," he has a hand in every detail of his music production, from the choice of instruments used to when they are introduced, so it's not easy for him to show off his work before it's polished to his standards. But, as Naomi Osaka told GQ, she eventually gained enough of his trust to be granted the right to listen to his works in progress. "He had to warm up to me," she said, telling the magazine she had to beg repeatedly for him to share his creations. "Eventually he let me listen to his music, which I feel really grateful and honored about, to be honest. He's a perfectionist, and I think that's sort of what I am too. So maybe that's why we get along."
For his part, Cordae respects her musical sensibilities. "She has a good ear. I don't really trust too many people's ear like that," he told GQ. But, he added, both know to stay in their lanes — she's never suggested any changes to his recordings. "I don't tell her how to swing. It's a mutual respect," he said.
Cordae is a two-time Grammy nominee
Cordae's dedication to his craft has paid off not just in fan support, but in critical recognition: According to the official Grammy Awards website, he earned two nominations in 2019: one for best rap song ("Bad Idea") and another for best rap album ("The Lost Boy"). Earning these nods mean a lot to him — shortly after hearing about the nominations, he posted a video of himself weeping in joy at the news, according to the Associated Press.
While Cordae was overjoyed, he told the Associated Press that he wasn't entirely surprised — winning a Grammy had been a long-term goal for him. "In that moment, it wasn't like the nominations came as a surprise. I had that energy when I was creating this body of work," he said. So dedicated was Cordae to this goal that he'd created a vision board of himself holding a Grammy, even using the image as the home screen on his phone. And, as he told the Associated Press, he declined an invitation to attend the Grammys the year before, saying, "'I'm going to wait until next year when I'm nominated for something.' Literally, I said that verbatim."
He's ferociously loyal to his family
Rappers have a reputation in some circles as tough guys — if they're not outright gang-bangers, at the very least, they're unlikely to show a soft side in public. Cordae doesn't consider himself one of those guys. "I don't try to portray some lifestyle that I'm not living. I'm not the hardest [man] walking around," he told the Associated Press. "If the situation comes about, I'm going to handle myself like a man. But I ain't no gangsta."
Instead, he chooses to stay grounded and close to his roots — which means staying close to his family and playing by their rules when he visits. And, for him, this means sleeping on the couch at his mom's house and doing his share of household chores, including mowing the lawn, while he's there. "I'm the man of the house," he told GQ. "Because it was me, my grandma, my aunt, and my mom all in a house. And so my nickname was Man since I was a little-ass boy."
Growing up in a household of women likely gave him the emotional intelligence to just be himself — but his success in the rap world offered him privileges as well. As he told GQ, he appreciates that his mother doesn't let his success go to his head — but he's also grateful to be able to simply hire a maid when she starts pestering him to clean her house.
The rapper is grateful that Naomi Osaka made him more worldly
Cordae deserves props for a highly underrated talent: He knows what he doesn't know. In his interview with "Ebro in the Morning," he modestly called himself a student of hip-hop, saying he was always learning. He brings this open-minded curiosity to the rest of his life as well and appreciates that Naomi Osaka shares these traits. "I can't really be with someone who doesn't have any substance or doesn't act or think on the same frequency and wavelength as I do," he told GQ.
He also appreciates the new perspectives that Osaka has opened up in his life. Growing up in predominantly Black urban communities, he knew little about other cultures, and, for him, Osaka's bicultural background and experiences living around the world opened a new and fascinating window on the world. "Naomi was born in Japan. So she has a very worldly perspective," he said. "I've only been traveling the world the last two years. We'd be recommending each other books and movies all the time. So, you know, just always feeding the brain."
He introduced Naomi Osaka to the classic R&B cannon
As a lifelong lover and student of music, Cordae grew up absorbing the early rap his father played. "At like 10 years old, my pops put me on to Nas, Jay-Z, Big L, and Eric B & Rakim," he told Complex. "And of course he would play us Tupac and Biggie in the car." As he told Complex, he was so inspired by this music that he began researching it on his own to understand how it was made. And his curiosity about music isn't limited to hip-hop. He also enjoys even older music — as he told GQ, some of his favorite classic artists include Stevie Wonder, Jimi Hendrix, Marvin Gaye, Gil Scott-Heron, Chuck Berry, and Michael Jackson.
And, just as Naomi Osaka introduced Cordae to global cultures, he's been helping her build her musical knowledge. "Growing up, I feel like I just heard the hits, you know what I mean?" Osaka told GQ. "It's a really interesting thing about him. He knows the whole catalog of everyone." So, while Cordae admires Osaka for opening his eyes to more of the world, the feeling is mutual. "I always feel so lucky to be in your life and to be continuously learning from you," she wrote to him in a birthday message (per Seventeen.)
The rapper felt seriously out of place at the U.S. Open
Cordae's introduction to the world of tennis was a dive into the deep end. For one, he learned quickly that trying to play on the same level as Naomi Osaka is even harder than it looks, as Osaka noted with affectionate amusement in the caption of a TikTok video: "When your bf thinks he can beat you in tennis but he can't even hit the ball over the net @cordae."
He also found that just watching elite tennis matches was a bit daunting. The very first tennis match Cordae ever attended was the 2019 U.S. Open, and, for him, it was an alien experience. "I felt really out of place," he told GQ. "Like, that was my first time being in an environment like that in my entire life," he said, noting that he had gone to schools with a predominantly Black population. Still, this didn't stop him from attending more of Osaka's matches — and being her most enthusiastic fan in attendance, according to espnW.
Cordae made his debut appearance at the Met Gala with Naomi Osaka
As their relationship has become more established, Naomi Osaka and Cordae have made more high-profile public appearances together. Their most glamorous joint appearance yet was at the 2021 Met Gala, an event known for its high-powered guest list and jaw-dropping fashion choices. Since Osaka was one of the co-chairs of the event this year (along with fellow young luminaries Amanda Gorman, Timothee Chalamet, and Billie Eilish, according to Highsnobiety), it was pretty much inevitable that Cordae would be at her side.
Since the Met Gala is officially the Metropolitan Museum Art Costume Institute Benefit, according to The New York Times, fabulous fashion is a must, and pretty much the first question to any attendee is "What are you wearing?" Osaka and Cordae didn't disappoint: She commissioned a dramatic dress and ruffled cape jointly designed by Louis Vuitton, while her sister, Mari Osaka, intended to pay homage to her Japanese and Haitian ancestry, according to Seventeen.
Cordae brought a lower-drama but distinctive look, featuring a khaki trench coat with a jacquard collar by Coach, black slacks, and hand-crafted black penny loafers, according to Highsnobiety. "My dawg Ean Michael really helped out a lot with the initial ideas as far as what type of style and outfit I should wear," he told Highsnobiety. "We sent it over to Coach and they executed it well."