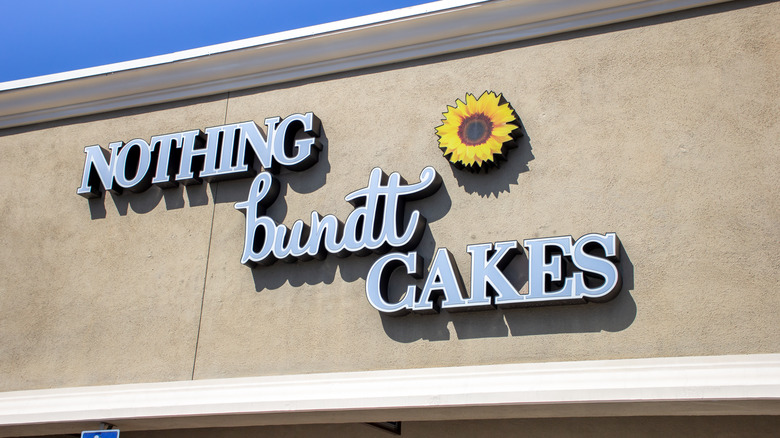 Bundt cakes refer to cakes that have been baked in a special donut-shaped pan. The pans often have unique patterns within the round shape and can create everything from simple circles to beautiful terraced creations. This type of cake has its origins in Europe, where it was likely inspired by the Gugelhupf cake of Central Europe (via Food52).
While the Gugelhupf is a yeast-based cake often cooked with raisins, bundt cakes in the United States are not linked to any particular recipe. They rose to popularity in the U.S. in the 1960s and have remained a popular cake for parties and formal gatherings.
Nothing Bundt Cakes was founded in 1997 by Dena Tripp and Debbie Shwetz, two women who were known among friends for their delicious bundt cakes. They now have locations all over the country and continue to be a fast-growing franchise. Their cakes (which are available full-sized and as mini Bundtlets) are known for being flavorful, moist, and delicious. However, not every flavor can be a winner. Here are all the Nothing Bundt Cakes flavors ranked from worst to best.
16. Carrot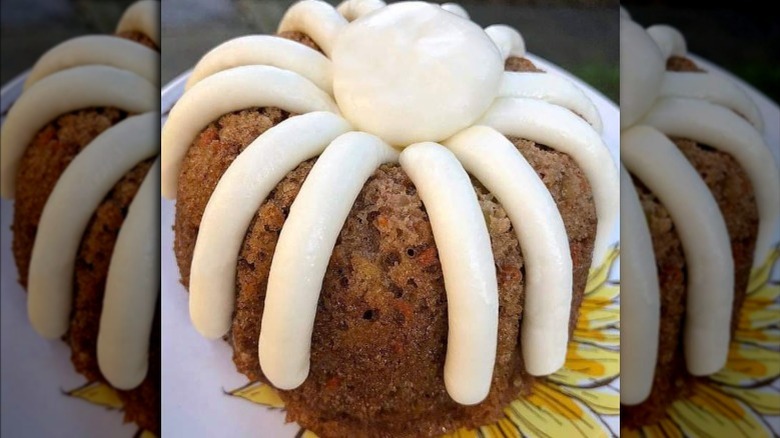 People either love carrot cake or they hate it. Even fans of this flavor agree that there's little room for error when it comes to making a carrot cake taste good. Nothing Bundt Cakes' version has all of the classic flavors we're looking for: cinnamon, nutmeg, and, of course, carrots. It even features pineapple chunks for added sweetness and texture. Unfortunately, the final product doesn't live up to the same hype as many of this company's other delicious cakes do.
Although this cake has a vegetable and a fruit inside, it is surprisingly dry considering those ingredients. "Let me tell you, it's hard to make a dry carrot cake because it's typically an oil-based cake and those suckers are moist almost by definition," wrote The Pastry's Chef Baking. "For an oil-based cake to become dry, you've either overbaked it or it's been refrigerated for too long. So my taste buds went, 'Meh.""
While the flavor is good, it's not as strong as we would like. The cream cheese frosting complements the cake really well, but we wish there was more to compensate for the lack of moisture in the rest of the dessert.
15. Salted Caramel
Salted caramel is a tricky flavor to master. Too little salt and it ends up being overly sweet. Too much and it turns out, well, too salty. This seasonal cake, which is only offered periodically, errs on the side of being too sweet and doesn't give us the quintessential salted caramel flavor we're looking for. According to one review on TripAdvisor, "Some of the monthly flavors can be a hit or a miss. The salted caramel tasted more like a maple pancake. It wasn't my favorite choice."
The cake itself is a little dry, and unfortunately, the hints of caramel and salt don't help. More caramel ribboned through the cake would be a significant improvement to both the taste and texture. The frosting is tasty but doesn't really enhance the overall flavor. We'd rather just eat real salted caramel candy and order a different Nothing Bundt Cake flavor.
14. Classic Vanilla
Most of Nothing Bundt Cakes' selections are really tasty, so we've already reached the point on this list where it becomes increasingly difficult to rank them. This vanilla cake isn't bad by any means. In fact, many customers are huge fans of the simple flavor. "Everyone has their favorite flavor," wrote one reviewer on TripAdvisor. "For my brother it's vanilla. He said he couldn't find a good, moist, delicious cake, so I took him to this location and he loved it. He's so picky and now he has his favorite cake anytime he wants it."
So why do we rank this cake so low on our list? Although nothing is inherently wrong with vanilla, it's kind of boring. There are plenty of places to get a good vanilla cake with cream cheese frosting, so we don't feel like this version warrants a spot above any of the remaining flavors. It's also very sweet with no other spices or flavors for relief.
13. Confetti
Nothing Bundt Cakes' confetti is very similar to its classic vanilla flavor, but it ranks slightly higher because it's more fun. No surprise, there are plenty of fans of this cake. "I ordered a 10-inch Confetti Cake with extra frosting because I love sweet cakes," one customer wrote on Yelp. "The cake was really nice — it had a homemade-style taste to it and the frosting was SO good. The frosting is a cream cheese frosting, which goes well with all of their cakes."
Each slice includes colorful sprinkles that don't add any flavor or texture, but make the cake more exciting to eat (think Funfetti cake). However, the confetti cake is kind of boring overall, and doesn't offer much relief from the super sweet flavor that permeates every bite. While it's great for a birthday party or other celebration, we generally wouldn't pick this flavor over most other Nothing Bundt Cakes offerings.
12. Marble
Here is another example of a Nothing Bundt Cakes offering that looks better than it tastes. Again, this cake isn't bad by any means. It is, however, a little disappointing. When we dig into a marble cake we want to taste an equal amount of the two flavors that make up the baked good. This cake is a mix of yellow cake and chocolate cake, but heavily favors the former. "I love marble, however as I dug into it there was only a small stripe of chocolate through it so I was disappointed," wrote one person on Yelp. "However the gold cake was very fluffy and delicious. I just wish there was more chocolate and less frosting." Another Yelper had a similar complaint, noting, "Strangely, this was 95% yellow cake and 5% chocolate cake. That doesn't make for a lot of marbling,"
If you can get past the lack of chocolate in this cake, it's pretty good. It's always moist and the cream cheese frosting compliments both flavors really well. With a more even marbling, this cake would get bumped up a few spots on our list.
11. Peppermint Chocolate Chip
Available during the holidays, this seasonal specialty features a rich chocolate cake packed with chocolate chips and peppermint candy pieces. There is enough candy inside each bite to really bring that peppermint flavor home. The cream cheese frosting on top adds another layer of flavor that makes some people love this cake and others disappointed.
"I like it!! Perfect mix of peppermint & chocolate!" wrote one fan on Facebook. But another commenter wasn't so thrilled, complaining, "Not trying to be negative, but I want to give honest feedback. I am a regular at my local shop and love your cakes! I tried this flavor last year and it tasted like toothpaste to me."
We think the cake itself is tasty and perfect for the holidays. However, the cream cheese frosting on top is a little odd mixed with the peppermint. This cake would be fantastic with a peppermint icing instead, or perhaps a plain icing. That all being said, it's still a great dessert that we look forward to every time it's available.
10. Pecan Praline
Pralines are a classic candy from the South made with sugar, corn syrup, milk, butter, and pecan halves. Due to their popularity, they have been incorporated into other desserts like ice cream, cookies, and cake. Nothing Bundt Cakes does a great job of capturing those flavors in their pecan praline cake. Rich yellow cake is packed with pecans and covered in cinnamon sugar under the cream cheese frosting. It's a cake your grandma would have baked.
"The pecan praline cake was my favorite. The sweet cinnamon-sugar-coated pecans reminded me of breakfast, and the stronger flavors paired well with the rich frosting," said one happy customer on CantonRep.com. "So love Nothing Bundt Cakes! My favorite is the Pecan Praline cake. So incredible, moist texture," wrote another fan on Yelp.
Have this cake in the morning with a warm cup of coffee or tea, or enjoy it at dessert time with a scoop of vanilla ice cream.
9. Lemon
This lemon cake is bright and refreshing which makes it perfect to pair with some fresh fruit or tea. The combination of the bright lemon with the zesty cream cheese creates a great bite that is a welcome break from the more decadent cake flavors. We're consistently surprised at how much lemon flavor is packed into this cake. Nothing Bundt Cakes finds a great balance between sweet and tart, creating a sort of lemonade flavor in the end. If you think lemon cake is boring, you're sleeping on a great dessert. "The cake wasn't dry at all and it had the perfect amount of sweetness," one happy reviewer wrote on Yelp.
"I think I'm in love with the lemon bundt cake," admitted another. "So much so that I tried to recreate it … and failed miserably. Guess I'll have to keep coming back here for my little addiction." Give this one a try the next time you stop by Nothing Bundt Cakes and you'll know what all the hype is about.
8. Blueberry Bliss
This is another one of Nothing Bundt Cakes' seasonal flavors that is a win in our book. The light vanilla cake is bursting with juicy blueberries and gets an additional punch of flavor from the signature frosting. It tastes reminiscent of a blueberry muffin, albeit a more rich and decadent one. "This is amazing! One of your best flavors yet!" one fan wrote on Facebook. "It should be against human nature to make something this delicious," another commented.
This cake is sometimes offered in the spring and is the perfect treat for a sunny afternoon. It also pairs beautifully with a cup of coffee in the morning. (It contains blueberries, so it's healthy, right?) Some reviewers have found the blueberry taste to be slightly artificial, but we think it's about as close to the real thing as a premade cake can be. We're sad that this flavor is only offered occasionally and we recommend running to the store the next time it's for sale.
7. Snickerdoodle
Snickerdoodle cookies are known for their signature cinnamon sugar coating. This flavor combination has become wildly popular over the years and has inspired a variety of cakes, drinks, and ice cream flavors. This Nothing Bundt Cakes' seasonal flavor (it pops up during the winter) takes everything we love about snickerdoodle cookies and puts it in a cake. The cinnamon vanilla cake is covered in a generous coating of cinnamon sugar before being topped with Nothing Bundt Cakes' cream cheese frosting.
"Came here for the 1st time to pick up some cakes for my husband's birthday, and was immediately greeted by a friendly man who offered us both samples to their newest flavor (Snickerdoodle). It was SUPER yummy!" wrote one customer on Yelp. "The December flavor of the month has to be my favorite: Snickerdoodle! I am tormented by the thought of cream cheese frosting. Gracious Goodness!!!" said another. Our general impression: The flavors are warm, comforting, and nostalgic. You won't want to skip on this flavor the next time it's offered.
6. White Chocolate Raspberry
This cake has a perfect balance of flavors. The white chocolate cake is rich and decadent but nicely balanced by swirls of bright raspberry puree. The cream cheese frosting on top adds another tangy layer of flavor that keeps this cake refreshing. It's a great pick if you want a rich cake but think flavors like chocolate and caramel are too decadent.
"White chocolate raspberry is our favorite! Delicious every time They do not disappoint!" wrote one fan on Yelp. Another raved, "The White chocolate raspberry is heaven! I've ordered it twice already. I'm just too scared other flavors won't live up to it."
The raspberry puree tastes natural and not like the gooey artificial fruit filling you can expect from many bakeries. The entire cake is super moist and has just enough frosting to add an extra layer of flavor without overpowering the rest of the dessert. It's a fan favorite for a reason.
5. Pumpkin Spice
This seasonal flavor is offered in the fall and is a perfect autumn treat. The cake is full of zesty pumpkin flavor and has lots of spices like cinnamon, nutmeg, and cloves. The cream cheese frosting on top adds the perfect addition of flavor to round out the entire dessert. "The pumpkin spice cake from Nothing Bundt Cakes is absolutely to die for," exclaimed Chat, Chew, Review. "Each bite of moist cake features a hearty pumpkin flavor with hints of cinnamon and nutmeg. The cream cheese frosting piped on top compliments the cake perfectly, adding a new layer of texture and sweetness. This cake provides the fall flavors that we all know and love."
If you're one of those people who wants to try every pumpkin-flavored item that comes out in October, keep your eyes peeled for this cake. It's the perfect addition to any pumpkin lover's must-try list.
4. Chocolate Chocolate Chip
Chocolate lovers will flock to this decadent flavor. The chocolate cake is super moist and flavorful. "​​First tried one of these at a friend's birthday party, his wife got a 10-inch … Chocolate Chocolate Chip pair and I was stunned at how moist the cake was," wrote one Yelp reviewer. "Not good for my waistline but good for my soul," another admitted.
The only issue we have with this cake is that it isn't as chocolate-y as true cocoa fans may be looking for. It still features Nothing Bundt Cakes' signature cream cheese frosting, which cuts through the chocolate flavor. While this may be a plus for fans of that added tang, others (including us) would probably enjoy this cake better if it was topped with chocolate frosting. Those are really our only complaints though. If you're looking for a moist, decadent chocolate cake, this is a great option.
3. Lemon Raspberry
This summer seasonal flavor is a perfect afternoon pick-me-up. Nothing Bundt Cake's bright lemon cake is perfected with swirls of raspberry puree. The tartness of the lemon and raspberry is beautifully balanced with the super sweet frosting.
"The Lemon Raspberry deserves to be promoted to a permanent flavor," wrote one happy customer on Yelp. "What am I going to do at the end of July when something else takes over as the Featured Flavor?! Om nom nom. So delicious and sweet and moist." Another passionate patron wrote, "I have found, in you, my one true love. She goes by the name of Lemon Raspberry and she has my heart." One minor quibble is that we would love to see more raspberries in each bite, but the product is fantastic nonetheless. But our main beef with this cake: It isn't offered year-round! We'll just keep our fingers crossed that it comes back next summer.
2. Strawberries and Cream
Nothing Bundt Cakes' seasonal flavors are clearly a big hit, and their strawberries and cream cake is our favorite limited release by far. (it's a shame that it's only offered in the spring.) The cake is packed with a strawberry fruit filling and contains white chocolate notes that pair beautifully with the berries. The flavor is reminiscent of strawberry shortcake, and it's one of the best things you could hope to eat in the spring.
"This flavor is bomb! I tried it today! I wish it was something you can order every month!" wrote one happy customer on Facebook. Another exclaimed, "So, just had my first strawberry & cream, there is nothing like it! The best! My husband agrees."
The balance of creamy white chocolate and sweet plump strawberries creates the perfect dessert that isn't too rich or sweet. This cake is great on its own but would be even better served alongside some freshly chopped strawberries to further pull out those berry notes.
1. Red Velvet
One of Nothing Bundt Cakes' most popular flavors is their signature red velvet cake. The moist, decadent cake has plenty of cocoa flavor and was practically made for the cream cheese frosting on top. Each bite has the added bonus of chocolate chips packed inside. This is one of the best pre-made red velvet cakes money can buy, period.
According to one happy customer on TripAdvisor, "The cake itself was the best red velvet I've ever had, very moist with a few large chocolate chips sprinkled in and great chocolatey flavor, and the frosting had good cream cheese flavor, as opposed to the grainy, sugar frosting you often get. Loved it!"
This cake leaves us wanting more with every bite, no matter how full we are. It's always available at Nothing Bundt Cakes and is appropriate for any birthday, family gathering, or party. For those reasons, this is our pick for Nothing Bundt Cakes' best flavor. If you don't believe us, head to your nearest Nothing Bundt Cakes location and try it yourself ASAP. You can thank us later.