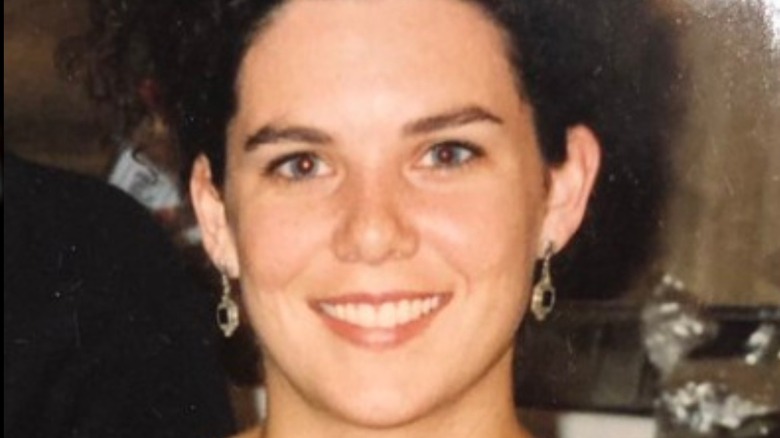 Whether you know her from "Gilmore Girls" or "Parenthood," you've probably wished that Lauren Graham was your mom at some point. The actress rose to fame in the 2000s for playing Lorelei on "Gilmore Girls" alongside Alexis Bledel, but she has appeared in a lot of other TV shows and films to boot, so there are many you may recognize her from.
Graham has been a household name for decades by this point, and fans have been able to watch her mature as an actress as her career has progressed. What about her life before all the fame, though? What was it like, and how did it impact her as she found critical acclaim and grew her career?
Per IMDb, Graham was born on March 16, 1967, in Honolulu, Hawaii. To learn more about her childhood and how she has changed over the decades, keep reading — Lauren Graham's transformation has been quite the fascinating one.
Lauren Graham had an international upbringing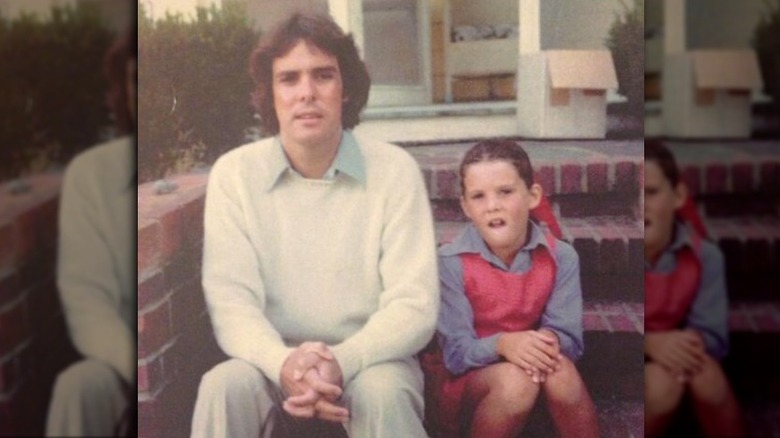 Far from growing up in a small town like Stars Hollow, the picturesque (and fictional) small town in Connecticut where "Gilmore Girls" is set, Lauren Graham was raised all over the world thanks to her father, who worked for the U.S. Agency for International Development. As she told The Wall Street Journal, she was just 3 weeks old in 1967 when she moved to Tokyo, where her mother's missionary parents lived.
Graham's family didn't return to the U.S. until 1972 when her parents divorced, and Graham lived with her dad. Her parents thought this would give her "more stability," as her mom was in art school at the time, per The Wall Street Journal. While they were back in the States, Graham's home was still uprooted time and time again. By the time she was 9, she had also lived in The Hamptons as well as an apartment in New York City, a summer home in upstate New York, and a houseboat in the Virgin Islands. Though she and her dad finally settled in Virginia, as a teenager, she also spent a lot of time in London where her mother sang in a band.
It wasn't exactly a conventional childhood, but Graham enjoyed it, telling NPR that "it seemed like a great adventure."
During her childhood, the actress fell in love with performing
Lauren Graham had plenty of inspiration for creativity growing up. Her mother was a singer and a painter, and while her dad worked in a less creative field as a lawyer and lobbyist, he nevertheless encouraged her obvious talent for performance. Graham told The Wall Street Journal that she would often recite poems and stories at dinner parties hosted by her dad, committing them to memory easily. "The reason my memory was so sharp is that my dad read poetry and books to me every night," she explained.
While Graham was happy to give small performances at home for family and friends, she was less comfortable on stage. Instead, her primary passion growing up was horseback riding, which helped her muddle her way through when her high school drama teacher awarded her starring roles in school productions. "At first, I didn't have the confidence to perform, so I'd pretend I did," she told the publication. "Horseback riding helped. It was the first thing I was ever good at and it gave me a sense of myself."
She went back and forth between her passions for theater and literature
As time went on, Lauren Graham's confidence grew, and before long she became a theater major at New York University. However, she told The Wall Street Journal that the field of study ended up not being "a good fit" for her. As she explained to Rookie, as much as she loved acting, studying theater "didn't feel like school — it felt like something else." As a result, she changed not only her major but also her school, graduating instead from Barnard College with a degree in American literature, though this didn't make her entirely happy, either. "I was like, 'Wait, I don't have enough time to do plays and musicals!'" she recalled.
Still, she couldn't forget her passion for performing, and so she returned to school to pursue a master's degree in acting at Southern Methodist University. As she told Rookie, the reason she took so long to choose the right field of study was that she was torn between her love of acting and her love of academics. "I followed a bit of a snaky path and couldn't decide [between the two]," she explained, adding that she ultimately found herself "somewhere in between."
She once thought she'd have a stage career
While we know Lauren Graham primarily as a TV star, she personally always pictured herself with a career on stage. "My class wanted to be theatre professionals, mainly," she said in an interview with her alma mater, Southern Methodist University. "We were kind of biased about what it meant to be an actor in film and television."
Her training alone is not the reason for her desire to pursue stage work, though. She explained to Female.com.au that she "grew up with going to the theater" and that her father would take her to both plays in the metro Washington, D.C., area where they lived along with shows on Broadway. She also did summer stock while pursuing her master's degree, telling Entertainment Weekly, "I got my equity card before any of my other unions — I thought I was on that path."
Of course, as we know, in the end, she changed her mind about doing screen work, and, we have to say, we're pretty happy she did!
Lauren Graham's acting career was slowly 'progressing' before she landed her big break
After graduating from Southern Methodist University in 1992, Lauren Graham spent several years as a struggling actor. Per The Wall Street Journal, she initially did commercial work in Brooklyn, New York, before making the cross-country move to Los Angeles where she lived with a relative. Her career was slow to take off, with "TV pilots that never went anywhere and roles on TV shows that were canceled." Still, Graham said she "wasn't bummed" because she knew her career "was progressing."
She did land roles in those early years before getting her big break, however, with parts on "Good Company," "Caroline in the City," "Townies," and "Law & Order." She also landed a few movie roles in the '90s, including "Nightwatch," "One True Thing," and "Dill Scallion," but that breakthrough role eluded her for the rest of the decade. She remained optimistic, though, telling Good Housekeeping that she focused on taking baby steps.
Lauren Graham originally didn't think Gilmore Girls would last
It's impossible to think of 2000s teen TV without the WB show "Gilmore Girls" coming to mind, and it's even more impossible to think of "Gilmore Girls" without thinking of Lauren Graham. On the series, Graham portrayed Lorelei Gilmore, the 30-something single mom of Rory, whose fast-talking, pop culture references and iconic outfits ruled primetime TV for the better part of the decade.
The role proved to be a major turning point in Graham's career, though it actually almost never happened. She explained to Rookie that she was warned not to play a mom, yet she defied that advice and took on the role anyway. "It felt like what I had been looking for," she explained.
As much as Graham loved "Gilmore Girls," she didn't think that the show would last for long. At the time, the WB network was new, after all, and Graham's career to that date had been disappointing, with roles on swiftly canceled shows. This led her to believe that "Gilmore Girls" would "be short-lived, like the others," as she told The Wall Street Journal. The show defied her expectations, though, and became a hit, running from 2000 to 2007 — "which proves you never can tell in this business," said our favorite TV mom.
She made her Broadway debut in Guys and Dolls
While Lauren Graham deviated from her early career ambitions of being on the stage, she was eventually able to achieve her Broadway goals after "Gilmore Girls" wrapped. Graham started in the Broadway revival of "Guys and Dolls" in 2009, playing Miss Adelaide, a dream role for the veteran performer. While she had her concerns about taking on such an iconic character — during her Broadway debut, no less — she worked hard to do the part justice, telling Playbill that she wanted to be sure she "could honor such an amazing role."
Graham did just that, with The Wall Street Journal raving about her performance. "Not only is she a terrific singer, but she plays Adelaide with a rueful, leggy charm that is wholly endearing," wrote drama critic Terry Teachout.
Though Graham hasn't appeared in a Broadway show since "Guys and Dolls," we hope she returns to the Great White Way someday!
Lauren Graham played another now-unforgettable TV mom on Parenthood
Another fan-favorite show Lauren Graham is known for is "Parenthood." On the touching family drama, she once again played a single mother — this time, Sarah Braverman — and one whom viewers fell in love with just as they had with Lorelei Gilmore. Graham told Redbook that she was warned not to "play another mom," career advice that she thankfully ignored. "Mom isn't an adjective or a personality; they're not all the same," she said.
While Graham once again portrayed a single mom on "Parenthood" — which ran from 2010 to 2015 — this was a very different show from "Gilmore Girls," and, as such, it gave Graham a chance to show off her range. While Graham's scenes in "Gilmore Girls" were often dominated by her "driving the scene with a lot of dialogue," as she told Main Line Today, "Parenthood" moved at a slower pace and was more introspective, requiring more ad-libbing than her previous show. "It's a more inner life than an outer, verbal thing," she explained. "It's just: How do you find your place in a scene?"
She fell in love on the set of Parenthood
"Parenthood" not only brought Lauren Graham a great role, it also brought her a long-lasting relationship with Peter Krause, who played Sarah Braverman's brother, Adam, on the show. In real life, though, their relationship was much different from the sibling connection they portrayed on TV. The two stars actually first met in the '90s, and their connection was quick — though they missed their chance at dating at the time. "We couldn't stop talking," Graham told Good Housekeeping. "Not about ourselves, but about the world and books and family."
While they remained friends over the years, they didn't actually start dating until they worked together on the set of "Parenthood," after which things got serious pretty quickly — although the public didn't know about the relationship for a while "because we like to be at home, cooking and not going out," as Graham explained to Redbook in 2010. She added that she was "protective" of the relationship, "because it's important that you can buy us as brother and sister on the show."
She and Krause have been together ever since and still do their best to keep their personal life out of the spotlight. "It's not a big, loud life … we keep it small," Graham told Good Housekeeping.
Laurel Graham is happy to be a 'cool aunt'
While Lauren Graham has played several memorable moms on television, she doesn't have any biological children of her own. There are a lot of kids in her life, though, and she's happy being the "friend-adult" as she described to Mom. She said that one of her friends even calls her "Cool Aunt Lauren" because of her ability to bond with his kids, who "will tell [her] things that they won't tell [him]."
The most important kid in Graham's life, however, is Roman, the son of her boyfriend, Peter Krause, with whom she seems to have a good relationship. Graham's best parenting advice? Listening. She explained to Mom that she's been able to get kids to open up to her by "asking questions and then not answering for them."
Graham added that sometimes this leads to "silence," but that's okay — it's important to let them "find their way to what they want to say. And to just ask more questions."
The actress is also a bestselling author
Lauren Graham is a woman of many talents, and one of them is writing. In 2013, her debut novel, "Someday, Someday, Maybe," became a New York Times Bestseller. She told American Profile that, while the book centers on a young woman trying to make it as an actress in the '90s, it's not autobiographical, though she admitted that her own experiences formed "a starting place" for the novel. "What I wanted to write about was starting out, following a dream, not knowing if you are going to make it," she explained.
The book was considered for TV, and Graham even wrote a pilot episode for the planned CW drama. While a network exec praised the script as "excellent" (via TV Line), the show sadly never got off the ground.
Graham has kept writing, though, releasing a book of essays called "Talking as Fast as I Can: From Gilmore Girls to Gilmore Girls (and Everything in Between)" in 2016. Another book of essays, "In Conclusion, Don't Worry About It," followed in 2018. Her essays proved to be just as popular as her fiction, with both collections also becoming New York Times Bestsellers.
Lauren Graham starred in a Mighty Ducks reboot
While Lauren Graham wasn't in the original "Mighty Ducks" films, which were released in the '90s, she fit in perfectly for the 2021 Disney+ reboot of the franchise. Per Rotten Tomatoes, "The Mighty Ducks: Game Changers" centers on a young hockey player named Evan whose mom — played by Graham — "encourages him to form a new team of underdogs with help from Gordon Bombay, the Ducks' original coach." Graham wanted to star on the show "to do a comedy and be a little goofy," as she explained to Republic World.
The TV series also gave Graham the opportunity to ice skate, which she had a lot of fun with. She recalled to Collider that her agent asked her if she was "just picking jobs now, according to what else you get to do," and she admitted that this was "a part of" wanting the role. "I've had such wonderful parts and now I look at maybe a little more of the whole picture," she explained, adding that she gets excited about projects where, in addition to acting, she gets to "learn a new skill."
She was excited for the Gilmore Girls reboot
"Gilmore Girls" fans everywhere were delighted when the show got a four-part Netflix reboot in 2016. Considering the unsatisfying end of the original series thanks to an abrupt cancelation, the highly-anticipated reboot was an opportunity for the characters — and fans — to get some long-overdue closure.
Lauren Graham was excited to revisit Stars Hollow and the world of "Gilmore Girls" for the special limited series called "Gilmore Girls: A Year in the Life." In an interview with NPR, Graham said, "It was incredibly gratifying … something I could never have foreseen" of reprising the character, which she considers to be "the best match, in terms of actor and material that I've ever had."
She's open to more "Gilmore Girls" episodes, too, if the stars ever align, and she even has a clause in all of her contracts that will allow her to take time off from another project if she ever has the chance to play Lorelei again. "I put that window into all my new jobs just in case," she said on SiriusXM's "EW Live" (via ET). While there's nothing official in the works, Graham lives in hope of the show's return — and so do we.