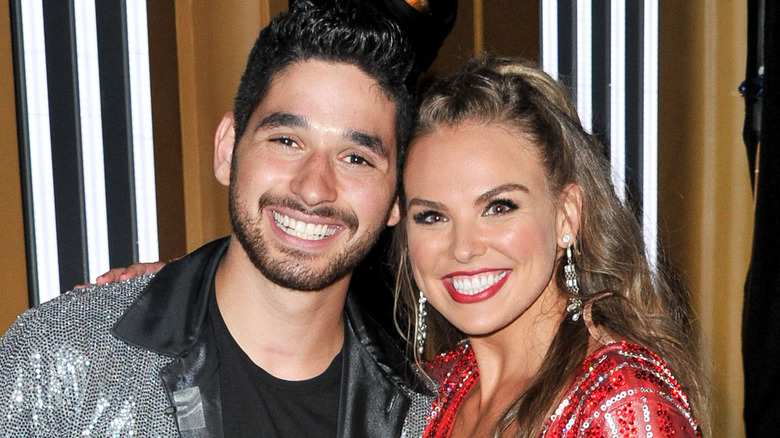 Dancing With the Stars first premiered on June 1, 2005, introducing a completely different kind of reality show. The ABC program quickly became popular among curious viewers who tuned in every week to see if their favorite couple would be quickstepping to the next round or voted off of the dance floor — and, over ten years later, DWTS is more popular than ever. However, as fans of the show know, DWTS can sometimes feel like it's as much of a dating show as it is a dance competition.
Throughout the years it's been on the air, DWTS has spawned numerous real-life relationships, as well as countless relationship rumors. While many of these buzzed-about romances — or "showmances," as fans call them — end shortly after the cameras stop rolling, some DWTS couples have managed to make their relationships work in the real world. From short-lived romances and surprise engagements to never-confirmed-relationships, and everything in-between, here's the truth about your favorite Dancing With the Stars couples.
Was Alan Bersten and Alexis Ren's Dancing With the Stars romance all for show?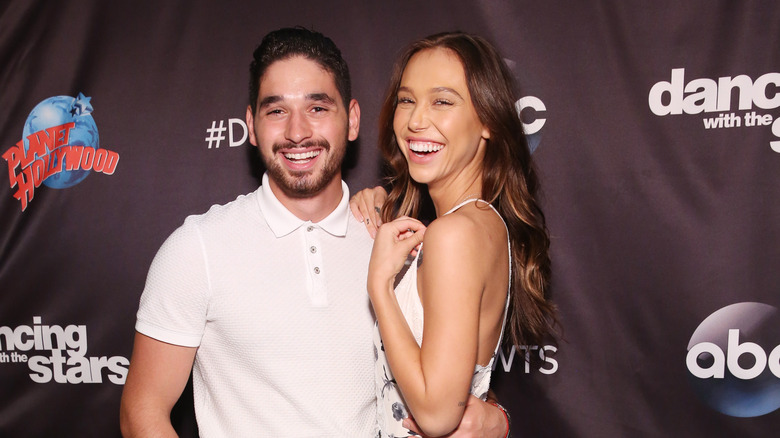 While Alan Bersten and Alexis Ren ultimately placed fourth in Dancing With the Stars' 27th season, it seemed as if the couple had won something even greater than a mirror ball trophy — love.
Shortly before Season 27 came to a close in late 2018, Alexis Ren addressed the romance rumors surrounding herself and Bersten, publicly admitting to developing feelings for her dance partner. "It's so much fun to dance with someone who you have a connection with," Ren said (via Entertainment Tonight). The model continued, revealing, "It's almost like time slows down. We communicate not just through our steps or our movements but with our hearts too. I am developing feelings for Alan, and I didn't see this one coming."
In a later DWTS episode, Bersten admitted his own feelings for Ren, and the two even shared a kiss. However, by December 2018, the pair had called it quits. Responding to a curious fan on Instagram, Ren addressed her relationship with Bersten, writing (via Us Weekly), "Feelings aren't black and white and neither is life. We're focused on our careers and growing as individuals. … He's on his own journey and I respect that."
Kym Johnson and Robert Herjavec went from Dancing With the Stars to married with twins
Kym Johnson and Robert Herjavec met on Season 20 of Dancing With the Stars when the fan-favorite dancing pro was paired with the Shark Tank business mogul. As with many DWTS pairings, it didn't take long for rumors of a possible relationship between the partners to start swirling. However, Johnson and Herjavec's romance was confirmed in May 2015, when the DWTS cameras captured Herjavec confessing his love for Johnson during rehearsals, as reported by Entertainment Tonight.
Less than a year after starting their DWTS journey, Johnson and Herjavec announced their engagement. "I never thought a year ago I'd meet someone who would change my life completely," Johnson gushed in a February 2016 Instagram post. The pair went on to officially tie the knot in a star-studded July 2016 ceremony. However, the exciting news didn't stop there for the happy couple. In April 2018, Johnson gave birth to the couple's first children together — twins Haven and Hudson.
"I never [thought] my heart could feel so full," Johnson captioned an Instagram photo featuring Herjavec holding the newborns. She continued, writing, "We're so in love with our little angels."
Dancing With the Stars' Emma Slater and Sasha Farber took their relationship to the next level
While most Dancing With the Stars "showmances" seem to happen between a DWTS pro dancer and their celebrity partner, a few of the franchise's most buzzed-about relationships are ones that have blossomed between DWTS pros.
Two of these pros, Sasha Farber and Emma Slater, are responsible for the most memorable DWTS engagement of all time. While Slater and her Season 23 partner had been eliminated from the competition one week prior, the DWTS pro returned in October 2016 for what she thought would be a contemporary dance with her boyfriend and fellow dancing pro, Farber (via Entertainment Tonight). Needless to say, Slater was genuinely shocked when Farber got down on one knee and asked her to marry him on national television.
"It's brilliant to get engaged and then be able to turn around and have your friends there with you watching it happen," Slater told ET about the special moment.
On March 25, 2018, Farber and Slater exchanged marriage vows in a fairy tale Los Angeles ceremony. "Their moving vows had moments of both humor and heartfelt emotion, which made the ceremony a truly special and magical thing to behold," wedding planner Michael Russo told Us Weekly.
Val Chmerkovskiy and Amber Rose made a connection on the Dancing With the Stars dance floor
Amber Rose and Val Chmerkovskiy weren't paired together on Season 23 of Dancing With the Stars; however, the chemistry between these two was apparently too strong to deny.
While Rose certainly seemed to have plenty of chemistry with her DWTS partner, Maksim Chmerkovskiy, the model/actress sparked a deeper connection with her partner's brother, Val — who ultimately took home the Season 23 mirror ball trophy with his partner, Laurie Hernandez. In October 2016, E! News reported that Rose and Chmerkovskiy had been spotted holding hands on a romantic date night in Los Angeles, and the two were also photographed getting comfortable with one another at Rose's birthday party. As the months passed, the DWTS couple didn't shy away from flaunting their romance on social media (via E! News). "They're solid and in a good place," a source revealed to People in December 2016. Added the insider, "They're both very happy with how things are going."
However, after nearly five months of dating, the pair called it quits. In a February 2017 Instagram post (via People), Rose addressed the breakup, writing, "Nobody got dumped and nothing we do over here is malicious." Added the star, "It's just how life works sometimes."
Mario Lopez had a messy split with Dancing With the Stars pro Karina Smirnoff
Television host Mario Lopez competed on Season 3 of Dancing With the Stars, ultimately placing second in the 2006 competition with his partner, dancing pro Karina Smirnoff. While they didn't win the mirror ball trophy, Lopez and Smirnoff continued their partnership long after their season came to a close. The couple seemed as if they could beat the Hollywood relationship odds and truly go the distance; however, in 2008, Lopez and Smirnoff shocked fans by announcing the end of their two-year relationship.
According to a June 2008 statement from Smirnoff's spokesperson (via People), the relationship simply "wasn't heading in the right direction." However, in July 2008, Smirnoff revealed to People that the surprise split was caused by Lopez's alleged infidelity.
"It felt like the world came to an end for a second," Smirnoff told People, recalling the moment Lopez reportedly confessed to cheating on her. She continued, "You come to that realization that this is not what you want out of love and out of life, and this is not who you want to be with." Sounds like Smirnoff got to know Mario Lopez's shady side all too well.
Karina Smirnoff and Maksim Chmerkovskiy's Dancing With the Stars romance was out of step
After healing from her public 2008 split with her boyfriend of two years, Mario Lopez, Dancing With the Stars pro Karina Smirnoff seemed to have healed from her heartbreak, eventually finding herself in the arms of fellow DWTS pro Maksim Chmerkovskiy. On New Year's Eve 2008, Chmerkovskiy popped the question to Smirnoff, later revealing he'd hoped the proposal would be a bright spot in Smirnoff's otherwise gloomy year. "I wanted her memory of 2008 to be pleasant and positive," the DWTS pro told People.
However, less than nine months later, Chmerkovskiy and Smirnoff called off the wedding for good, effectively ending their relationship (via People). According to sources close to the couple, the split came when the pair realized they didn't see eye-to-eye on the topic of starting a family.
"Maks was ready to start a family and have children with Karina, and he came to realize that wasn't really what she wanted," an insider told People. Added the source, "He's just heartbroken things didn't work out. He'll always respect Karina."
Dancing With the Stars' Derek Hough and Shannon Elizabeth waltzed their way to love
Derek Hough and Shannon Elizabeth met in 2008, as partners on Season 6 of Dancing With the Stars, and they eventually went on to date after being eliminated from the competition. In August 2008, Elizabeth revealed that staying busy helped the couple maintain their happy relationship, telling People, "When you're both busy and you've got your own things, it's great because nobody's sitting around moping, waiting, hoping something will happen." Added Elizabeth, "We're both really happy and doing our own thing."
Unfortunately, this DWTS couple couldn't make their romance last. In August 2009, the couple took to Twitter to announce their split in near-identical posts (via E! News). "Hi everyone, we wanted you all to know directly from us, that Shannon & I have decided to end our relationship as boyfriend & girlfriend," wrote Hough. Added Elizabeth, "However, we love and care about each other very much and will remain friends and in each others lives."
Apparently, these two followed through with their promise to remain friends. On a 2012 episode of Access Hollywood Live, Elizabeth revealed, "We just had dinner together and caught up. We're friends."
Peta Murgatroyd and Maksim Chmerkovskiy have a Dancing With the Stars mirror ball marriage
Peta Murgatroyd and Maksim Chmerkovskiy's love story is proof that you shouldn't always give up on a relationship just because it didn't work out the first time you tried.
These Dancing With the Stars pros first sparked a romance in 2012, dating for just ten months before splitting up in February 2013. However, Chmerkovskiy and Murgatroyd were spotted getting cozy again in 2015 — much to the delight of fans. Before the year was over, the DWTS pros were engaged.
On July 8, 2017, Chmerkovskiy and Murgatroyd tied the knot in a lavish, storybook-inspired ceremony at Oheka Castle in Long Island, N.Y. (via People). Their wedding came just six months after Murgatroyd gave birth to the couple's first child together, Shai Aleksander, who served as the "prince of honor" at his parents' wedding. Murgatroyd opened up to People about the big day, telling the publication, "I've always wanted to get married — and only get married once — so this is really special moment for me."
Nikki Bella healed from heartbreak with Dancing With the Stars pro Artem Chigvintsev
Wrestling fans were shocked in April 2018, when professional wrestlers Nikki Bella and John Cena canceled their much-anticipated wedding and announced the end of their six-year relationship (via Us Weekly). However, Bella soon found love again — this time, in her former Dancing With the Stars partner Artem Chigvintsev.
Bella and Chigvintsev competed on Season 25 of DWTS, during which time Chigvintsev even struck up a friendship with Cena. In fact, Cena told E! News in November 2017 that Chigvinstev would likely be assisting in wedding preparations, revealing, "I think he's probably gonna teach me my first dance." Oof.
In January 2019, an insider told Us Weekly that Chigvintsev and Bella had been dating "for a while," with Bella supporting her beau at Dancing With the Stars: Juniors tapings over the summer and Chigvintsev spending his tour breaks with the pro wrestler. Nearly one year later, the relationship between these two lovebirds seemed stronger than ever. In December 2019, Bella told People that she and her dancing beau were hosting Christmas at her Arizona home. "We're really excited to have our first holiday there," she revealed.
Dancing With the Stars' Derek Hough and Hayley Erbert could be next to get engaged
Could a wedding be in the cards for Derek Hough?
According to Entertainment Tonight, the former Dancing With the Stars pro has been dating Hayley Erbert since 2015. In a June 2018 interview, Hough gushed about his girlfriend, a troupe dancer for DWTS, to ET, saying, "She's really, really grounded — just really down to earth, and just [has] a good heart and a beautiful soul."
After Hough's sister got married in July 2018, E! News asked the dancer if all the wedding festivities had perhaps inspired him to pop the question to Erbert. "It's not something we really talk about so much right now," Hough revealed. However, the former DWTS pro did admit to wanting a family of his own in the near-future, telling E! News, "I don't want to be an old grandpa when I start having kids." Added Hough, "After that wedding, I'm like, 'Who knows?' You feel the love."
Janel Parrish and Val Chmerkovskiy wouldn't admit to their rumored Dancing With the Stars romance
Dancing With the Stars fans have a history of shipping their favorite pairings of dancing pros and celebrities, even if the couples in question haven't publicly admitted to a behind-the-scenes romance. Such was the case on Season 19 of DWTS, during which some viewers believed the chemistry between Val Chmerkovskiy and his partner, Janel Parrish, to be palpable.
Unfortunately for fans, neither Parrish nor Chmerkovskiy seemed interested in confirming or denying any relationship rumors outright. In an October 2014 blog for People, Parrish vaguely addressed the gossip, writing, "As far as the rumors of romance between Val and me, I just want people to focus on the dancing that we do and the hard work that we do." The Pretty Little Liars star continued, telling fans, "I appreciate that people see that we have chemistry."
After their season came to a close, Parrish opened up about her bond with Chmerkovskiy, telling Access Hollywood, "[We] made an amazing connection on the show, and obviously a really strong bond that I hope definitely continues." The dancing pro agreed with Parrish, saying, "[Hopefully] she's a friend for life."
Jenna Johnson felt "love at first sight" for fellow Dancing With the Stars pro Val Chmerkovskiy
According to Jenna Johnson, her relationship with fellow Dancing With the Stars pro Val Chmerkovskiy started as love at first sight.
In a 2019 interview on TLC's Say Yes to the Dress, Johnson recalled the first time she ever saw Chmerkovskiy. "My first day of [DWTS] rehearsal, I walked in and I saw this really cute Russian guy from across the room, and immediately he captured my heart," Johnson revealed. She continued, "I knew he was the one."
It wasn't until February 2016 that Johnson and Chmerkovskiy were spied getting cozy with one another. After maintaining an on-again, off-again relationship for a couple of years, Johnson and Chmerkovskiy made things official in 2017 — even sharing a passionate kiss during the Season 25 finale episode of DWTS (via People).
Chmerkovskiy popped the question to Johnson in June 2018, while the couple was on vacation in Venice, Italy. In April 2019, the two exchanged vows in an oceanside California ceremony. "My life has changed because of her,"Chmerkovskiy gushed to People.
Mark Ballas and Sabrina Bryan's Dancing With the Stars romance was made for TV
Cheetah Girl Sabrina Bryan joined Dancing With the Stars in 2007 for the show's fifth season. Paired with professional dancer Mark Ballas, Bryan was favored to win the competition — however, Bryan and Ballas were shockingly eliminated in the season's sixth week, much to the chagrin of fans.
Despite their loss, Ballas and Bryan walked away from the competition with a newfound friendship. "The fact that Mark and I were able to get so close so quickly was so awesome," Bryan told TV Guide. She continued, "It made everything so comfortable." Of course, it didn't take long for the friendship between Ballas and Bryan to blossom into something more. In November 2007, Ballas was spotted performing with his band, Almost Amy (via People), and dedicating a song to, quote, "my beautiful Sabrina."
Unfortunately, the made-for-TV romance between these two eventually ended. "She is too busy for me," Ballas told Us Weekly of the Cheetah Girls: One World star in May 2008, confirming his split from Bryan (via Access).
Fans were rooting for Dancing With the Stars winners Alan Bersten and Hannah Brown's rumored romance
Hannah Brown's engagement to aspiring songwriter Jed Wyatt might have ended soon after her season of The Bachelorette wrapped filming — but Brown didn't waste time wallowing. Instead, the former beauty queen joined the Season 28 cast of Dancing With the Stars, ultimately winning the competition with pro partner Alan Bersten.
Naturally, fans didn't hesitate to speculate on the nature of Brown and Bersten's relationship — despite the couple's repeated denial of a behind-the-scenes romance. Citing her "trauma" from dating, Brown told Ellen guest host Justin Hartley, star of This Is Us, "We're not going to do that right now. We're gonna dance."
Bersten also shut down dating rumors, but told People that his relationship with Brown was unique. "Hannah and I, it was a different partnership than I've ever experienced before," Bersten admitted. He continued, saying, "After rehearsals almost every day we would go and eat and just hang out, and that's very rare when you spend six hours with someone that you want to still see them afterwards."