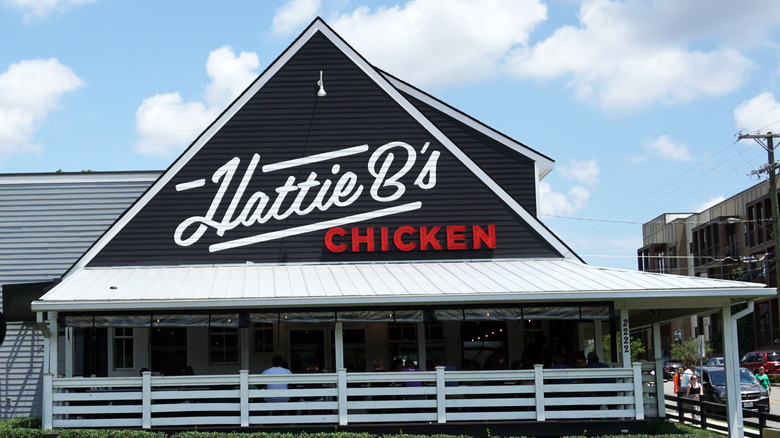 You know we like our chicken fried … and a nice cold beer on a Friday night. Well, you know the rest. Fried chicken is the epitome of comfort food. It's not healthy by any means, but when done well — with a nice crispy exterior and juicy, meaty interior — we swear we hear angels singing, or maybe it's the chickens clucking. Inherently excellent on its own, we think the superior form of this delicacy is a little thing that's recently exploded: Nashville hot chicken. It's everything you love about the classic variety but kicked up a major notch with the addition of heat in the form of a cayenne-based spice blend and spicy oil. The result is a harmonious union of fat and heat.
Just a decade ago, you would be hard pressed to hear the term 'hot chicken' spoken outside of the South. But over the last few years it has popped up as a trendy eat from the depths of Brooklyn to flashy Los Angeles, and even at fast food joints across the U.S. Simply put: It's cool to eat hot chicken.
One of the country's most prominent hot chicken purveyors is Hattie B's, a family run company that started in Nashville, the birthplace of hot chicken. They have rapidly built their empire, expanding across the South and beyond. Here's the untold truth behind the trailblazing chicken restaurant.
Hattie B's was founded by a father-son team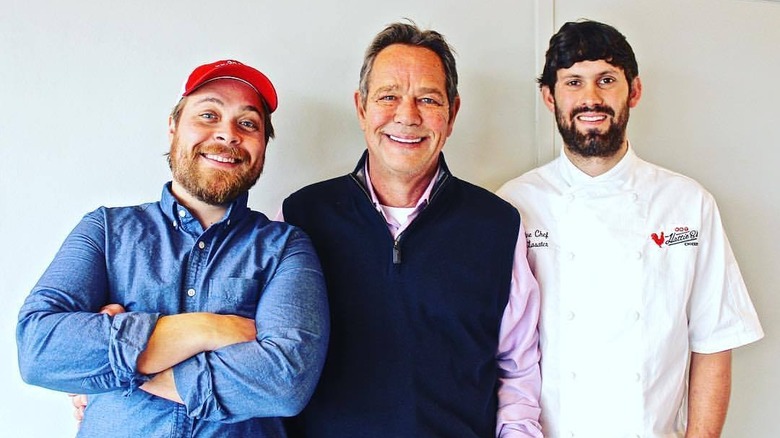 Hattie B's was hatched by father-son team Nick Bishop Jr. and Nick Bishop Sr. The elder Bishop was previously an executive of the iconic Southern restaurant chain Morrison's Cafeteria before dipping his toes into the restaurant operations-side of the business. Coming from multi-generations of restauranteurs, this wasn't a surprise. The Bishops first opened up shop in the surrounding Nashville area of Cool Springs in 2007 with a lively cafeteria style joint, aptly named Bishop's Meat & Three, serving up the ultimate in Southern comfort.
According to an interview with WKRN, the move to hot chicken was an easy one for them. They were confident that they could churn our outstanding fried chicken and wanted to share with the world Nashville's best kept culinary secret. The Bishops experimented with variations of spices and relied on their customers for feedback. They finally landed on their versions of both mild and hot, and they were swiftly added to the menu at Bishop's in 2011. It quickly proved to be so popular that soon around 20% of their orders was their delicious hot chicken. This was the catalyst for what would become Hattie B's, and Nick Bishop Junior — who left the music industry to focus on the restaurant full-time — would take the reigns. Further keeping it in the family, the name is an ode to three woman in the Bishop family bestowed with the name Hattie (via al.com).
Their specialty is authentic Nashville hot chicken
The bird is the word at Hattie B's and the main focus of their menu is Nashville hot chicken. It's traditionally served with white bread and pickles that assist in cooling down the heat. Hattie B's unique proprietary spice blend is mixed with frying grease, resulting in the perfect level of crisp.
At Hattie B's, let's just say things escalate when it comes to the heat level. Chicken comes in six spice levels, including the explosive shut the cluck up — you've been warned. With over 500,000 Scoville units of pepper fire in each bite, the aggressively hot spice blend uses both ghost peppers and habanero peppers. For the less adventurous, they carry a Southern variety containing no heat, which is more akin to the standard fried chicken. In the middle are mild, medium, hot!, and damn hot! It's a choose your own adventure of sorts — guests simply pick their chicken cut — including tenders, wings, and breast— and then select the heat level.
They didn't invent hot chicken, but they near perfected it
Hattie B's didn't invent Nashville hot chicken, but they have near perfected it, and can be attributed in large part with putting the spicy poultry on the global map. We have to go back nearly 100 years for the origins of hot chicken. Hot chicken surprisingly came to be out of spite. That's right. According to NPR, a scorned wife was sick of her no-good, cheating man, Thornton Prince, and the day after a night out she punished him by adding a healthy dose of hot pepper to her usual Sunday chicken meal. It worked. Sorta. Turned out that Prince actually enjoyed the punishment, and he soon shared it with friends.
Word quickly spread and he eventually went on to open up his own chicken shack, BBQ Chicken Shack. That eventually spun into Prince's Hot Chicken, and they're still credited with creating and popularizing the area's most well-known export. Prince's remains in business to this day — the Bishops are longtime customers — and although the original spot is no more, it maintains its position as the first and some of the best in the ever-growing hot chicken field.
At Hattie B's, the family-friendly setting is adorned in their now signature color palette of red, white, and black — a key element of their branding that has been implemented in all stores, packaging, and merchandise. Simply put, Hattie B's is a vibe, and the welcoming setting is what has set it apart from other recognizable hot chicken restaurants.
The first location opened in 2012
After testing and perfecting their recipe for hot chicken in the outskirts of Nashville, the Bishops finally opened up their first brick and mortar location entirely dedicated to the spicy fried bird in 2012. Hattie B's original midtown location, which is still in operation today just a short distance from bustling downtown Nashville, brought the masses hot chicken in a no-frills, quick service setting that's just 1,400 square feet.
Have you ever waited in line for several hours in stifling Tennessee heat? Many do for a taste of Hattie B's. The flagship location is known to have a wait of over an hour on any given day. Once inside, you have your choice of but one protein, white or dark meat chicken that is, from the simple menu. The signature hot chicken is served alongside their own takes on classic, scratch-made Southern sides like black eyed pea salad and pimento mac & cheese. For beverages, the emphasis is on local as they showcase nearby breweries.
The chain is a Southern sensation
If you build it, they will come … and, boy, did they come. Crowds swarmed the original Hattie B's location, so much so that another location was soon built just miles away on Charlotte Avenue in Nashville. Hattie B's recipe for serving a Nashville staple in a vibe-centric, fast-casual setting proved to be a success and they've since brought their concept across the South to cities such as Memphis, Atlanta, and Birmingham.
The menus are all largely the same with the only notable difference coming in the beverage department as they source local beers. Their branding is as consistent as their chicken with the color scheme used throughout all properties. They are intentional about each location — especially the building itself — and they try to steer clear from generic strip malls and instead seek out locations with a little bit of history to them. (Their Atlanta location is in a former Phillips 66 gas station.)
All restaurants are currently company owned, and their roots remain firmly planted in Nashville where they now operate four locations, all of which are within a few miles of one another and remain consistently busy with hoards of locals and tourists alike.
Hattie B's rolled the dice in Las Vegas and won
Any well-respecting foodie has likely visited, or at least heard of, Block 16 Urban Food Hall at The Cosmopolitan in Las Vegas. This modern day foodie's paradise is an upscale, yet casual food hall that is home to several dining concepts. Everything under the scolding Nevada sun can be found here, from inspired havens helmed by global chefs, like Chef David Chang's Bang Bar by Momofuku, to a NYC-imported tequila and mezcal speakeasy. It's also fitting that a locale which brings together celebrated tastes from all over the world would be the home of the very first Hattie B's location outside of the Southeast.
And no, they didn't sell their souls to the gambling devils. Hattie B's in Sin City maintains its no-frills, fast-casual element as it shares communal seating with the rest of the hall. It's without question become the best place in Las Vegas for hot chicken, and the perfect place to end those booze-fueled nights or to take a much needed reprise from the slot machine.
It's been named one of America's best fried chicken restaurants
In its less-than-a-decade long existence, Hattie B's has racked up countless awards and accolades, and with a French Culinary Institute trained executive chef at the helm, it's of no surprise. Not only do they use high quality chicken, but they serve it in a fun, lively setting that's located centrally in major cities drawing extra eyes. It's just a recipe that works.
The simplicity of the menu also leaves little room for errors — they just seven sides, two desserts, and, of course, hot chicken. That perfect blend of salty-meets-fatty-meets-crunchy-meets-spicy has landed the chicken chain some serious recognition from the likes of The Daily Meal, Sports Illustrated, USA Today, and more. For those clamoring for a taste of the spice but unable to visit, they recently capitalized on their roaring success with the launch of their own line of chicken chips.
The secret may be in their use of brown sugar
We aren't exactly waiting on bated breath for the day to come where Hattie B's releases their recipe — fat chance — but we do know the basics of their hot chicken. Hattie B's specializes in chicken that isn't just in-your-face hot, but it's a more rounded out flavor. What makes for this explosion of expertly balanced taste? We're not exactly sure, but we have a few ideas. Their chef, John Lasater, told Food Republic that it all starts with cayenne but he experimented with other combinations of ingredients that would help balance that heat out.
The spice base (that is publicly known) consists of cayenne, paprika, garlic, salt, and brown sugar. The brown sugar aids in subsiding some of that intense heat resulting in that balance of flavors. Lasater alluded to the inclusion of some other ingredients but mums the word. You'll have to visit Hattie B's to understand exactly what we're talking about, but there are recipes out there for those ambitious in the kitchen. Lasater shared a recipe with House and Home and he mentioned that the keys are double breading the chicken as well using a spicy cooking oil for frying. We're not sure if this will produce the same exact flavor profile as the real deal, but you'll get pretty close to it.
Hattie B's hosts a hot chicken eating contest
There's no getting around it: Hattie B's shut the cluck up offers seriously spicy, five-alarm inducing levels of heat. Let's just say it is not for the faint of heart and can quickly ruin a good day if you don't have an iron stomach. A few brave souls each year, however, enter Hattie B's Hot Chicken Eating Contest to prove they are unfazed by such sheer levels of spice.
Taking place in the heart of Downtown Nashville, only the bravest belly up to the table for a mouthful of Hattie B's hottest flavor, shut the cluck up. Hilarity ensues for spectators (but most certainly not for participants) as they watch hundreds of thousands of Scoville units being ingested at a rapid pace, bringing entirely new meaning to the word "schadenfreude." The winner receives not only some cash but is awarded the World Hot Chicken Championship title. It is winner, winner, chicken dinner after all.
They have a legion of celebrity fans
Now that Hattie B's is a global brand, it's no wonder they have a legion of celebrity fans that just can't seem to get enough of the spice. In an interview with The New York Times, Hollywood A-lister and current Nashville resident Reese Witherspoon revealed her favorite things about the South, and wouldn't you know that Hattie B's made the list. Witherspoon went one step further to share her love for Hattie B's by orchestrating her own chicken challenge on camera, inspiring countless others to follow in her spicy finger-licking footsteps. Now that's what you call must see tv, folks.
Popular country music group Parmalee got in on the Hattie B's action when they joined the host of the nationally syndicated television show "Nashville Insider" for an eating challenge at the chain's third Nashville location. Suffice to say, if you can't handle the heat … don't order the shut the cluck up.