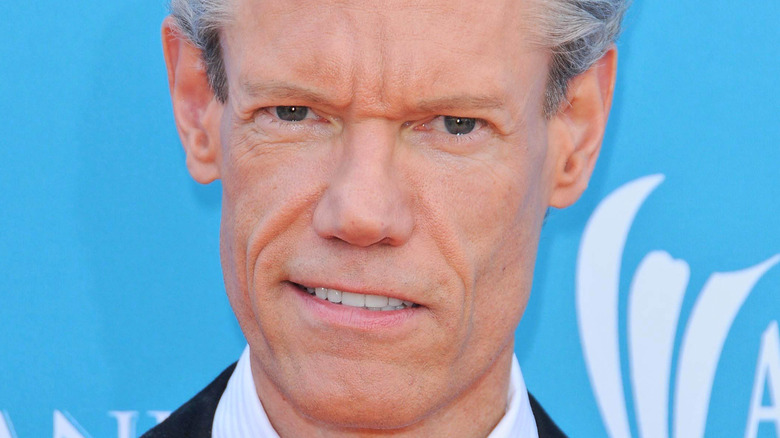 With the 2021 CMT awards airing on October 13, 2021, all eyes were already on those few musicians lucky enough to be nominated in any category. There were some familiar names, of course, including Kelsea Ballerini, Little Big Town, and Carrie Underwood, per Billboard. But the greatest honor of the night would go to Randy Travis, who would be given the CMT Artist of a Lifetime honor.
"Randy never takes any of his accolades for granted," his wife, Mary, told CMT after the news broke. "When we found out he had been awarded the Artist of a Lifetime, we were traveling through the French countryside on the way to our goddaughter's wedding in Italy. I was driving, and Randy got quiet. Then I looked over at him, and his eyes had welled up [with tears]," she added. This is obviously super sweet and adorable, but Travis' road to success hasn't always been easy, as his 30+ years in the music business have been marred by false starts, low-paying jobs, debilitating medical emergencies, and trouble with the law. Nonetheless, he has more than earned his place among country music's greats.
Below, we'll breakdown everything you need to know about Randy Travis.
Randy Travis is divorced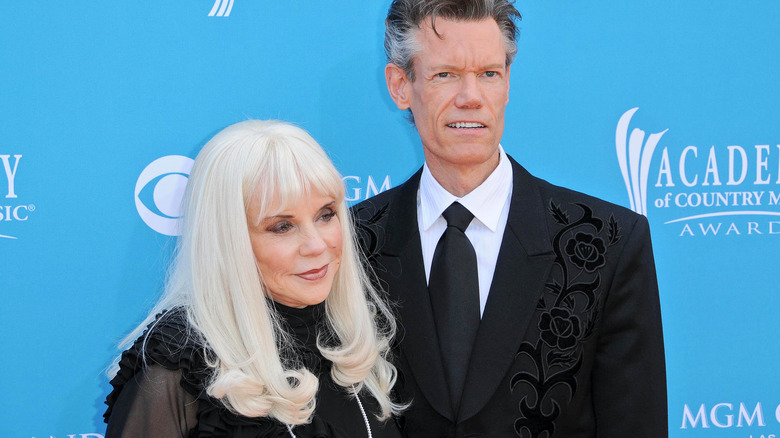 Country music and celebrity culture in general are full of nasty divorces, but Randy Travis' 2010 split might just take the cake. The divorce itself was pretty standard. Travis filed in October of that year and stated that he and his soon-to-be ex-wife, Elizabeth Hatcher (aka Lib), were on good terms. That goodwill was unfortunately short-lived, though: The following year, Travis fired Hatcher as his manager, a position she'd held for 30 years, per The Boot.
That's when things got nasty. Hatcher sued, alleging that she had been unfairly fired because Travis was preventing her from adequately doing her job in the year following their divorce. A few months later, Travis countersued, alleging that his ex was spreading defamatory rumors and had tried to scam him out of large quantities of money. Things dragged out like that for years. Travis released a statement, simply saying (via Country Thang Daily): "It is unfortunate that it's come to this. We believe the lawsuit lacks merit and that we have legal defenses to her claim."
Travis eventually remarried, and his issues with Hatcher were soon eclipsed by a couple of DUIs and a debilitating stroke he suffered in 2013, according to The Guardian. These days, Travis is focused on controlling what he can — things like his health — and enjoying his twilight years, with his health struggles perhaps having put the petty back-and-forth between himself and his ex-wife into a greater context.
He had a special relationship with Andy Griffith
After launching a wildly successful country music career, Randy Travis started exploring other professional avenues. Like many singers at the top of their game (ahem, Lady Gaga), Travis transitioned into acting. With dozens of onscreen credits, he is probably most well known for his brief tenure as Billy Wheeler on "Matlock" in the early '90s, which marked a big step forward in the then-newbie's career.
While on set, Travis grew close to series star Andy Griffith. The industry veteran reportedly took Travis under his wing and gave him some valuable advice about the craft. Needless to say, with just a small uncredited part under his belt in 1988's "Young Guns" at the time he joined the cast of "Matlock," Travis was probably pretty nervous to act alongside someone like Griffith. Thankfully, "The Andy Griffith Show" alum was willing to give the singer an acting lesson on set before they shot their scenes together, per Outsider.
Travis never forgot Griffith's kindness and recounted the lesson in a rare interview with a Nashville radio station following Griffith's death in 2012, in which he referred to the late star as not only "an incredible actor," but also "one of the nicest, easy to like, down-to-earth men I'd ever met in my life."
Randy Travis has had serious health problems
Randy Travis' career slowed down in 2013 when he had a massive stroke, reportedly brought on by congestive heart failure, per The U.S. Sun. Following the near-death incident, the musician-actor was in and out of hospitals in both Tennessee and Texas, and even "underwent two brain surgeries" to try and repair damage brought on by the stroke. After a lot of therapy and time spent recovering, Travis relearned how to walk again and even play a little guitar.
Still, his ability to speak and communicate was severely damaged. He opened up about the scary experience in his 2019 memoir, "Forever and Ever, Amen: A Memoir of Music, Faith, and Braving the Storms of Life." "…I wanted to sing, and I tried, but the words and melody would not come together in my mind," he wrote. Travis went on to explain that his brain was functioning normally, but he was still unable to speak as he once could.
"When we first returned home, I could barely speak at all. We spent three months in speech therapy before I learned to say the letter 'A.' Eventually, after about a year and a half, I could say 'yup,' 'nope,' and 'bathroom,'" Travis detailed. "I could also say 'I love you' and a few other phrases but not much more. All this was extremely frustrating for me; I felt like I was trapped inside the shell of my body."
The country music star had a hard time getting started
Like so many great artists before him, Randy Travis started from the very bottom. After dropping out of high school in ninth grade, he reportedly started drinking and partying pretty hard. Eventually, he got more into music and made his way to Nashville, Tennessee, where he hoped to sign with a record label.
Things didn't exactly go his way when he got to Music City, though. After a few years, the singer-songwriter had been rejected by nearly every record label in town (at least once). With nowhere else to turn, Travis took a job frying catfish at The Nashville Palace, a famous live music venue. As the story goes, one night he took a break from frying up fish and took a turn on stage. A producer in the crowd took a liking to him and gave his cassette tape to another producer, who immediately signed him. Travis then seemingly became an overnight success, per People.
Within just a couple of years, he was a platinum-selling artist, and you better believe that if he was still eating fried catfish, he wasn't frying it himself.
Randy Travis isn't his real name
If you know anything about celebrity culture, then it should come as little surprise to learn that "Randy Travis" isn't actually the star's real name. As with so many other celebrities, when Travis decided he wanted to get into the entertainment industry, it seemed it would be prudent to change his birth name, Randy Traywick, to something a little more stage-ready.
So, how exactly did Randy Travis land on, well, Travis? Though legend has it that the moniker was an homage to country singer-songwriter Merle Travis, CMT reports that Warner Brothers Records gave the artist his new last name when they signed him in 1985.
Though he's firmly "Randy Travis" these days, once upon a time, he actually went by other stage names. Before settling on "Travis," the country legend reportedly spent some time as Randy Ray and even as part of the short-lived duo the Traywick Brothers.
Randy Travis was in serious trouble
Randy Travis' career hit a definite low in 2012 when he was reportedly found "drunk and naked" near the site of a crashed car, per The Guardian. He was subsequently arrested by police in Tioga, Texas, on charges of driving while intoxicated; the singer also allegedly threatened the officers in question.
Police responded to reports that a naked man had entered a gas station and attempted to purchase cigarettes." I was looking at him; I said, 'How do you plan on paying for these?'" the attendant told NBC DFW after the incident. "He just kind of gave up and left … I had no idea it was a famous person."
Upon arriving at the scene, cops discovered that Travis was clearly inebriated. He reportedly refused to take a breathalyzer test after he was eventually found lying naked by the side of the road (per the Los Angeles Times, via The Guardian). Things escalated when Travis reportedly threatened to "shoot and kill" the officers if they didn't leave him alone.
Travis eventually made bail, a whopping $21,500, and never served any time for the crime. The arrest marked his second of that year, as he'd also been booked for a DUI in a small Texas town near his home (per NBC DFW). Thankfully though, as far as we can tell, Randy Travis has managed to stay out of trouble since then.
Randy Travis majorly influenced country music
By now, you already know that Randy Travis is one of the most famous musicians to hit the country circuit in the 20th century. Writing for The New York Times Magazine in 1989, Kim Hernon claimed that Travis was "perhaps the most sought-after young country singer in the world today." She added that he was, in the 1980s, the youngest person in history to be included in the Grand Ole Opry, an honor which can only be achieved by invitation. So yeah, he's a pretty big deal.
What you may not know, though, is that many of his peers credit him with redefining the industry completely. Case in point: when speaking to the Tennessean in 2019, Garth Brooks said, "Randy Travis saved country music, in my opinion." When Travis came onto the scene in the '80s, country music was feeling tired and gimmicky, it was calling out for a hot young star, and Travis answered the call.
"I don't know of any artist who took a format and turned it 180 (degrees) back to where it came from and made it bigger than it was then," Brooks told the Tennessean. In short, without Randy Travis, we probably wouldn't have all the same acts we have today, and country music wouldn't be anywhere near as popular as it is in 2021.
Randy Travis has a high net worth
Randy Travis has made his way through a variety of television with guest roles on "Sabrina the Teenage Witch," "Matlock," and "Touched by an Angel." However, he's best known for his musical career, which includes six Grammy Awards and nine nominations. With such a long and successful career behind him, it should come as little surprise that Travis has an enviously large fortune to his name. So, what's his net worth when all is said and done? An estimated $9 million.
The amount raises the question of just what Travis spends all that dough on, anyway. The answer, it seems, is primarily on property. The star owns a massive three-story house in rural Texas, just south of the Oklahoma border. The home is adorned with memorabilia from Travis' long career, including nine guitars hanging on the living room wall and a horse saddle once owned by Kareem Abdul-Jabbar and Henry Ford, per Cowboys & Indians.
When he's not shelling out on collectibles, Travis likes to invest in livestock. The fields around his house are reportedly brimming with beautiful horses and even a few bison.
Randy Travis wanted a family of his own
With his other ups and downs, Randy Travis' health has suffered, including his 2013 stroke. While it might look like he's had it all — a good job, a loving wife, fame, fortune, etc. — there's something else Travis has always wanted but has never been able to have: a family of his own.
Randy and his wife, Mary, sat down with Taste of Country in 2020 and opened up about some more personal details of their private lives. Mary, who did most of the talking due to her husband's limited speech, explained that Randy was never able to be a father because of the specifics surrounding his first marriage.
"He wanted children," she told the outlet. "I think his relationship with Lib, who was so much older than him and they were not able to, is what he explained to me." Lib was 16 years older than Travis and was nearly 40 by the time they married, which complicated their ability to have kids.
Even if Travis was never able to start a family of his own, Mary expressed that he got plenty of satisfaction being around his friends' and fans' kids. "Children are very special to Randy … If a fan had a crying baby, he would take that crying baby and put it on his lap, and maybe it was just that honey voice of his, that the baby would just look at him and be quiet."