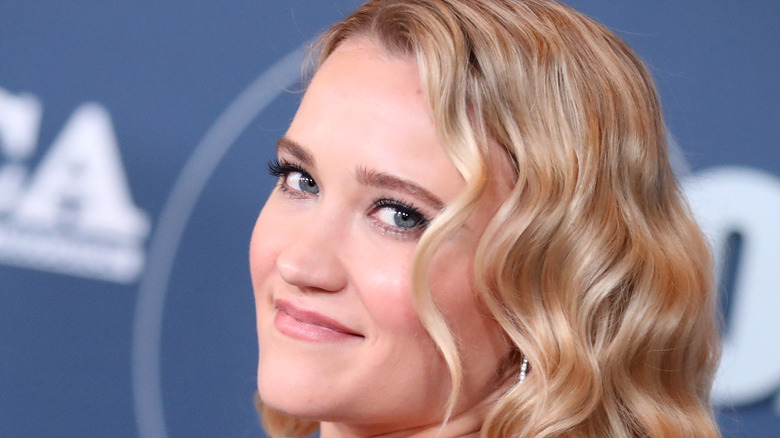 The most popular Disney Channel shows have a special kind of staying power with their fans. "Hannah Montana," which concluded in 2011, is arguably one of the most beloved Disney series from that era, and the cast is a big reason why. And one of the shining stars of that fantastic roster is Emily Osment. As Lilly Truscott, best friend and keeper of Miley Stewart's big secret, Osment showcased her tremendous comedic timing and natural chemistry with series lead Miley Cyrus.
And "Hannah Montana" wasn't Osment's first trip to the acting rodeo. Rather, she followed in brother Haley Joel Osment's footsteps from a very young age. "I started acting the same time I started riding a bike, and when you're riding a bike you're not thinking, Oh God, what if I fall? Or, maybe you are," she told Backstage. "But it's just one of those things that it's so exhilarating and it's so fun, you don't think about all of the ramifications of it — or you don't think about the process." If acting is a bike ride, then Emily Osment is a champion cyclist who seeks every new thrill with precision.
There's a lot that longtime Disney fans might not know about Osment, from her work on screen to her identity as a musician. How did this talented woman get her start and what happened to her after the Disney Channel days? Read on and rock out the show.
On Mom, Emily Osment showed her serious side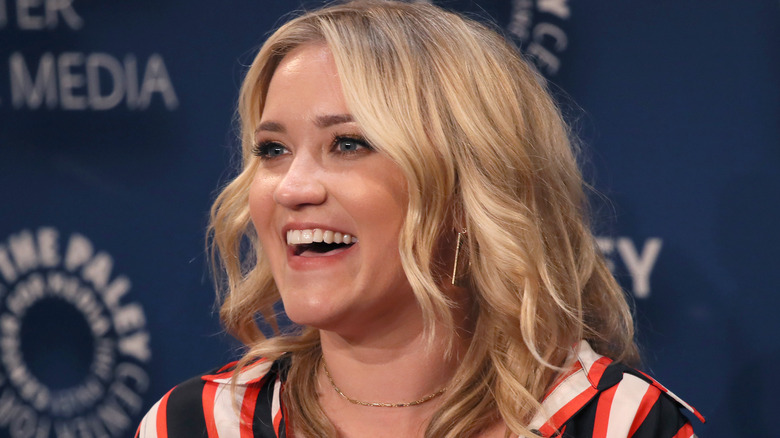 Among Emily Osment's earliest television credits are guest spots on "Friends" and "3rd Rock from the Sun," and it seems that she took to the sitcom form like a duck to water. While promoting "Hannah Montana: The Movie" in 2009, Osment talked to Tribute about the differences between silver and small screen projects. "It's just, when you do a TV show, you have 23 minutes to make sure everything comes full circle, you introduce a story, you have the problem and then you resolve it," she said. "It's more shock and funny and in the movie it just seems more real. … I mean, you can see in the movie Miley and I didn't wear any makeup at all. And we brought everything down a lot, to make it feel like a real movie, like it was real."
In adulthood, the actor exercised her skills for a serious part that just so happened to exist within a sitcom. She appeared on CBS series "Mom" in 2015 and 2016 as a teen named Jodi who struggled with addiction. When CBS noted Jodi was "a departure from past roles" she had played, Osment replied, " I think every actor can agree that when you've been playing a certain character for awhile — no matter what that role is — it's always attractive to try something that's different." She described the "unique experience" of portraying a "very, very dramatic role in a four-camera sitcom setting."
Music is one of Emily Osment's passions
Acting and music are pillars of Emily Osment's existence, and Disney Channel is widely known for cultivating musical talent within its young actors. Miley Cyrus, Demi Lovato, and Selena Gomez of course come to mind, but Osment also happened to be honing her musical abilities while sharing the spotlight with the others. When Osment was a teenager, she explained to Tribute that she was into making music long before her she "got involved with the Disney Channel." She also said her "whole family is musical" and she'd written songs when she was still in elementary school. In 2009, Osment told The Virginian-Pilot that brother Haley Joel Osment played "every instrument under the sun. It was like, 'walk, talk, act, play music.'" Emily said she was a Beatles fan and emphasized that her own music was "pure me — from the heart."
She released her first song, "I Don't Think About It," in 2007. The track and music video coincided with her role in R.L. Stine's "The Haunting Hour: Don't Think About It." Despite a hectic filming schedule, the star was determined to pursue both creative avenues. "I won't give up either music or acting," she said in The Virginian-Pilot. "I'd quit both before I gave up one."
From an early age, Emily Osment grappled with fame
As "Hannah Montana" became a worldwide phenomenon, young Emily Osment became a tween star overnight. In 2007, she talked to ABC News about adjusting to the fame, including the experience of seeing "7,000 people waiting outside the mall" for a Pennsylvania signing. The pressure wasn't easy for a kid in Hollywood. "It's hard because you're in the limelight constantly. You have to do everything right constantly," Emily explained at the time. Her life changed in noticeable ways as she left traditional school for private tutoring and tried to stay away from "snarky comments" and impersonators on the internet.
In the aforementioned ABC News interview, her dad, Eugene Osment, talked about helping her stay grounded and maintaining boundaries. Emily also shared that, even as a kid, she preferred "being busy" to "sitting and doing nothing." That love of keeping busy has stayed with Emily. When CBS asked her to give young actors advice years later, she said, "The best thing you can do is keep working and reading." She called the job "so cool" and something she hopes "to do forever."
"That's the thing — if you love something and find it interesting, there's no reason to ever stop trying to get to the place that you want to be," she continued. "I'm working real, real hard to just keep working all the time on that dream. You never want to have any off days, until Christmas and maybe Thanksgiving." There's no doubt that Osment is a worker bee.
The 2000s were quite a time for Emily Osment
How did Emily Osment realize the Disney kid dream? She kept acting throughout her childhood and had some notable pre-"Hannah Montana" roles throughout the 2000s. Osment played Gerti Giggles in "Spy Kids 2: Island of Lost Dreams" and "Spy Kids 3D: Game Over." The franchise was huge at the time and performed well at the box office, giving Osment some recognition before Disney Channel.
Osment seemed to adjust pretty quickly to the Disney Channel world. She was in the studio creating all kinds of music projects and starred in the Disney Channel Original Movie "Dadnapped," which featured "Hannah Montana" castmates Jason Earles and Moises Arias, as well as Phill Lewis from "The Suite Life of Zack & Cody." Both "Dadnapped" and "Hannah Montana: The Movie" came out in 2009.
And, of course, there was her music career. On the Disney front, she sang "Once Upon a Dream" for "Princess Disneymania" and joined up with "Hannah Montana" co-star Mitchel Musso for a cover of "If I Didn't Have You" for "Disneymania 6." Osment has writing credits for every song on her 2009 "All the Right Wrongs" EP, which she made under Wind-Up Records prior to a full album called "Fight or Flight."
What did Emily Osment do when Hannah Montana hung up her wig?
When "Hannah Montana" wrapped after nearly five years on the air, it was the end of an era for the fans and stars alike. Emily Osment hasn't always shared a ton of details about the series, but she penned an emotional post on Instagram about the ups and downs of working through her teen years. "I spent a couple hundred Friday nights here instead of all the places a normal teenager should have been and it made me an adult faster than I could prepare myself for," she wrote. "However, I am grateful to have been handed a sense of accountability and purpose at such a young age because I still have it -and then some."
The show's final season captured Miley and Lilly graduating from high school and making decisions about college and careers. It was definitely a case where art imitated life, since Miley Cyrus and Emily Osment were growing up, too. As Osment told BUILD in 2015, she spent her "entire high school career" making "Hannah Montana." "It really was like graduating at the end of it," she remembered. "The day we wrapped 'Hannah Montana' was my prom night, and I didn't get to go to prom because we were working on the show."
Osment's life after Lilly included studying theatre at Occidental College. Following a few new TV projects, like ABC Family's "Cyberbully" movie, Osment was ready to take the lead on a new sitcom in 2014.
Emily Osment was let down by Young & Hungry's ending
Shortly after "Hannah Montana" ended, Emily Osment moved on to a fresh show on Freeform (formerly known as ABC Family). "Young & Hungry" was about a chef named Gabi Diamond (Osment) who goes to work for a super rich tech entrepreneur. Fellow Disney Channel alum Ashley Tisdale was the series' executive producer. Speaking with MTV News in 2015, Osment said the show was a part of the cable network's effort to reach older viewers. "ABC Family is definitely trying to up the age demographic that they're going for," she said. "They're trying to make it more sophisticated."
After five seasons, "Young & Hungry" was canceled without the conclusion fans might have hoped for. Evidently, Osment's Freeform show didn't end as the actor had wished either. At the time of the show's termination, she tweeted (via TV Insider), "It breaks my heart to tell you that in addition to @FreeformTV not giving our Young & Hungry audience the ending our show deserved, they have ALSO decided to not go forward with a full-length film. From me and my obvious future tv hubby @sadowski23 we love you and we're sorry." The thought of a wrap-up movie evaporated as Freeform moved on, but Emily Osment had other exciting work around the corner.
Haley Joel Osment and Emily Osment became co-stars
Although Emily Osment was saddened to finish the "Young & Hungry" chapter of her life, it wasn't long before other fulfilling projects came her way. In addition to a couple of TV movies, Osment tackled some dramatic programming as an adult. She landed a recurring role on "The Kominsky Method" and was a series regular on "Almost Family," a drama that ran for 13 episodes.
"The Kominsky Method" is a family affair for Emily Osment: Her brother, Haley Joel Osment, was brought on as a guest star on the Netflix series. Funnily enough, both have worked as actors since they were children, but the siblings have not made a habit out of sharing the small screen. Chatting with Entertainment Weekly about his spot on "The Kominsky Method" in 2019, Haley Joel said, "I was excited for a lot of reasons. Even though we don't have a storyline together, I think it's the first time I've been on the same show as my sister, which I thought might be kind of cool." Evidently, that excitement has not waned: When the trailer for the third season dropped in April 2021, both Haley Joel and Emily tweeted about it.
Emily Osment stays busy as a voice actor
It might surprise some fans that Emily Osment has been voicing various "Family Guy" characters since 2012. IMDb lists Osment's many credits on the series: "Ruth, Ashley's Granddaughter, Blackjack Dealer, JoAnne 'Jojo' Fuller, Kira, Little Miss Muffet, Sandy, Schoolgirl, Uncomfortably Hot 18-Year-Old Girl." She is credited for a total of 24 episodes, and prior to "Family Guy," Osment voiced Kendall Perkins on Disney XD's "Kick Buttowski."
When she spoke with Young Hollywood in 2014, Osment expressed her love for voice acting ahead of her role as an "incredibly enthusiastic" new Rainbow Brite, saying that the medium "forces you to act without your body and completely convey whatever you're trying to do with your voice." In 2020, Osment posted on Instagram about an exciting new voiceover project for Netflix called "Deadendia."
"This is Netflix's first Animated Series with a Trans Gay Lead and a Bi Co-Lead with autism, a huge step forward for LGBTQ/neurodiverse representation!! (I am the thousand year old red demon, naturally)," she wrote. It's great for fans to see Osment taking part in projects she believes in.
Emily Osment bought an old Range Rover
According to Celebrity Net Worth, Emily Osment's net worth is $3 million dollars. She's been a working actor for over two decades but has also added to her wealth with music ventures and has been featured on a fair amount of "Hannah Montana" merchandise.
Clearly, she spends that cash on stuff she enjoys. In 2017, she shared with her Instagram followers that she acquired a 1992 Range Rover — and a customized one at that. She also purchased a house that year and tweeted about the remodeling process.
Another thing she likes to shell out for? Luxe toiletries. While chatting with Style Code Live in 2020, she said she applies Viva coconut oil to take off her makeup and uses Peter Thomas Roth's 24K Gold Pure Luxury Lift & Firm Hydra-gel Women's Eye Patches for dark circles under her eyes. She acknowledged that the latter product is "very fancy," adding, "It seems unnecessary, but it's not." As for her hair, she goes with "a lot of Oribe, their texturizing spray, their hairspray. They have like a root touch-up that's really great." The Peter Thomas Roth product is $75, and the Oribe texturizing spray is $48. Celebs might use much pricier items, but Osment's go-tos would still be a splurge for some people.
Music continues to energize Emily Osment
Emily Osment rose to fame as an actor, but she has "the most energy" for the music side of her career. As she told BUILD in 2015, "It's much easier to find energy with music and I remember being on tour when I was like 18 and I'd be kind of tired and we'd do the show, and as soon as we got off the stage I'm like, okay, let's go again! I'm ready to go again!"
Years after her Disney-adjacent music, Osment took on the stage name Bluebiird and released an EP called "When I Loved You" in 2019. According to Atwood Magazine, the moniker was inspired by her college friends telling her she "sang like a bluebird."
When she dropped her EP, she opened up about the body of work on Instagram. "When I Loved You is a story of the last five years of my life," she shared. "It's incredibly personal, truthful and at some times painful but it's all me and it's all real. I am very proud of this and I really hope you enjoy it." Though Bluebiird's second album is not out yet, Osment released a cover of Aretha Franklin's "I Say a Little Prayer" in 2020.
Emily Osment is cool with flying solo
Even though Emily Osment has grown up in the spotlight, she has managed to keep her personal life private to some degree. At the time of writing, the actor/singer appears to be single.
Speaking with Atwood Magazine in 2019, she said, "I'm at that age where I'm approaching thirty and I don't really have an interest in marriage and children, so it's kind of like I'm forced to take this path that is a little unpaved and a little scary because I'm doing it by myself." Even so, she told the publication that she's "really happy with" her decision to take on "this treacherous new chapter" on her own.
That said, it looks like she has not always been single. According to J-14, Osment's reported relationship history includes actors Nathan Keyes, Tony Oller, and Jimmy Tatro, as well as a therapist named Jim Gilbert.
Emily Osment would revisit Spy Kids and Hannah Montana
Emily Osment primarily focuses on where she is in the present, but she isn't afraid to appreciate the past. When People asked her about a potential "Spy Kids" reunion in 2017, she said, "Oh, man. Absolutely!" She shared that she'd recently crossed paths with co-star Matt O'Leary and said it was "like nothing has changed" since they played siblings in the "Spy Kids" movies. "I love living in LA because you never know who you're gonna run into," she said.
Could Osment make it "the best of both worlds" and swing a "Hannah Montana" reboot, too? Well, it sounds like she wouldn't be opposed to reprising the role of Lilly Truscott. The actor told Style Code Live, "We've already done a movie, there was CDs, there were books, there were DVDs…there were action figures. I'm not sure if we're going to do a reunion. I would be completely down."
In March 2020, she reunited virtually with Miley Cyrus for a special pandemic Instagram show. Naturally, there was plenty of nostalgia to go around. As they revisited photographs of their "Hannah Montana" era looks, Cyrus said, "We look like we were going to church." A year later, Cyrus sent Osment a star-shaped floral arrangement in honor of "Hannah Montana's" fifteenth anniversary. According to Teen Vogue, Osment snapped a pic of the delivery for her Instagram story, thanked Miley "for the glitter," and joked, "Sweet niblets this thing weighs 20 lbs!"
Doing good is a big part of Emily Osment's life
Privacy needs vary from celebrity to celebrity, and Emily Osment isn't one to share every last detail of her life on social media. She'll post selfies, photos of her dog, or group shots with friends once in a while, but Osment also uses her platform for good. On her Twitter and Instagram accounts, you'll find shows of support for the Black Lives Matter movement and the LGBTQ+ community, as well as a number of posts about nonprofit organizations. According to Look to the Stars, Osment has a vast charitable output.
In April 2021, she posed for Instagram in a dog t-shirt and captioned it, "Dogs and baseball are my two favorite obsessions, so i'm very happy to announce a collaboration between @baseballism and @guidrysguardian benefitting dogs in need, coming soon from my friend @alannarizzo !" Guidry's Guardian Foundation is a nonprofit devoted to fostering/adoption services, housing, and medical care for animals in need.
In 2017, she traveled to Antigua, Guatemala, where she worked with a nonprofit called Operation Walk and visited a local orphanage for children with special needs. Osment explained on Facebook that Operation Walk "provides free hip and knee replacement surgeries for patients in developing countries around the world." She watched surgical procedures firsthand and performed her "own kind of surgery by giving all the ladies a manicure in post op. (Sparkly pale pink is a very popular color over there)."
Emily Osment reunited with fellow Disney Channel alums
Some nostalgic millennials are all about former Disney Channel stars teaming up years later. Emily Osment is giving said nostalgic millennials just that since she happens to be working with Gregg Sulkin from "Wizards of Waverly Place" in an upcoming Netflix show. In March 2021, Deadline reported that Osment is set to star in the streaming service's series with Sulkin and will play Chelsea, "an Ivy league educated intellectual who is book-smart and quick witted but lacks the real world skills she needs to have a functional life." Gregg Sulkin, meanwhile, will take on the part of "an often shirtless personal trainer." The multi-camera comedy is titled "Pretty Smart," and ten episodes have been ordered at the time of this writing.
Another sweet Disney Channel moment happened when "The Suite Life of Zack & Cody" actor Phill Lewis directed an episode of the series. Osment shared a throwback photo from the '00s and tweeted, "the great @ThePhillLewis directing our show this week! thank god i am not 15 anymore!"
Unlike a lily that's been left out in the sun for too long, the actor who played Lilly on "Hannah Montana" continues to thrive.