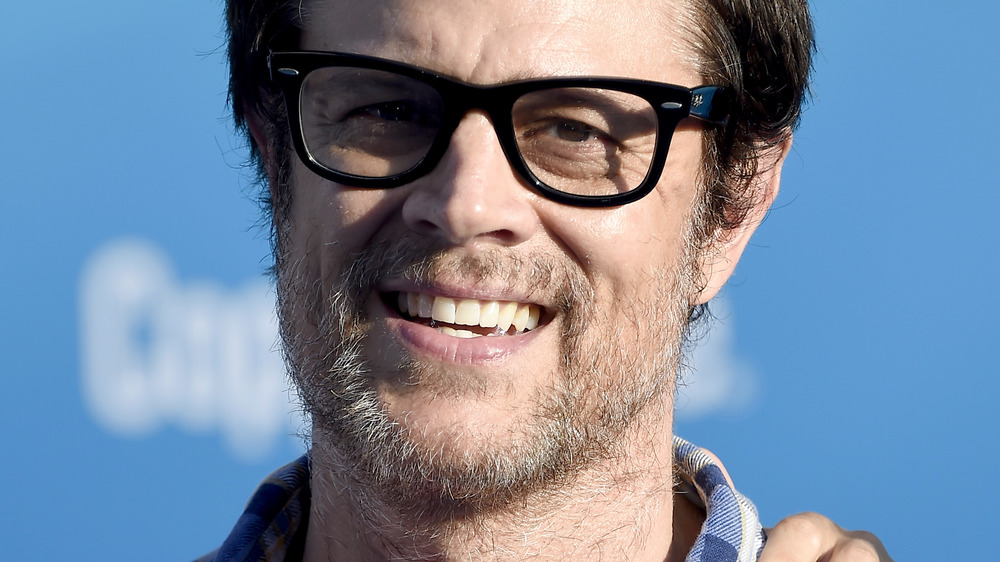 It's fair to say that Johnny Knoxville took a while to find his niche. In fact, the daredevil was nearly 30 when he first fronted the adrenalin-charged, injury-prone, and often stomach-churning franchise that would launch him to fame. But following Jackass' premiere on MTV at the turn of the century, Knoxville barely left our screens.
Alongside all the spin-off shows and feature-length adaptations of his unashamedly juvenile creation, the star also showed up in more respectable fare. He enjoyed leading man status in The Ringer, The Dukes of Hazzard, and Grand Theft Parsons, co-starred alongside The Rock in Walking Tall, and almost stole the show in Men in Black II as humanoid alien, Scrad.
Knoxville's profile appeared to shrink after waving goodbye to the Jackass world with 2013's Bad Grandpa. However, the star has actually been busier than ever before. Indeed, he's since added more than a dozen entries to his filmography ranging from buddy cop actioners and romantic comedies to crime thrillers and satanic horrors. And even though he's now firmly in middle-age territory, he shows no signs of growing old gracefully just yet. Here's a look at what the man born Philip John Clapp has recently been up to.
Did an 'emotional affair' with Jessica Simpson affect Johnny Knoxville's marriage?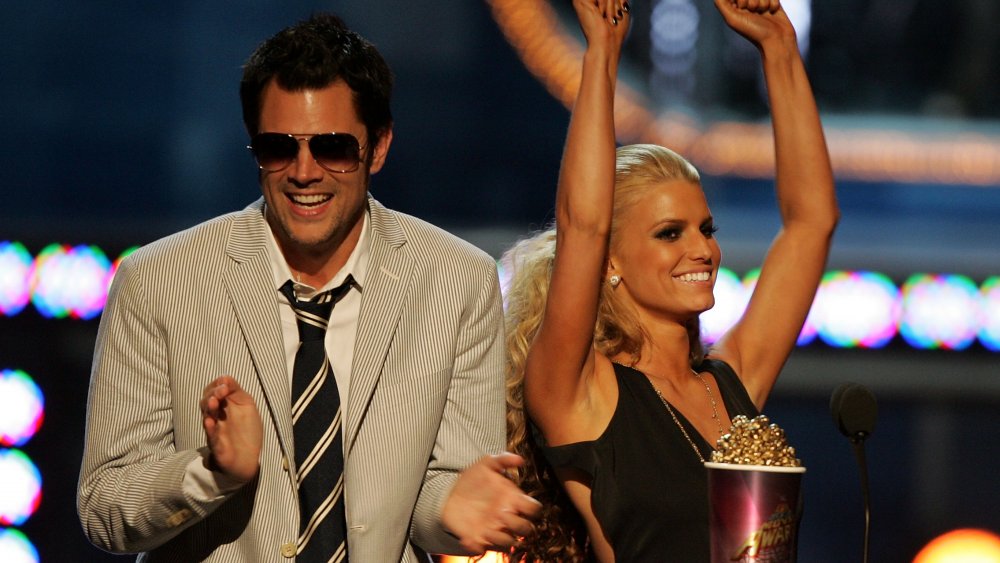 Johnny Knoxville has always been a relatively private man when it comes to his romantic life. But the star had no choice but to watch details of one particular romance splash all over the tabloids in 2020. His former co-star from The Dukes of Hazzard, Jessica Simpson, was responsible.
The singer/actress revealed in her autobiography Open Book (via Daily Mail) that she'd had an "emotional affair" with the Jackass creator in the mid-'00s. The only problem was that both parties were married at the time — Simpson to 98 Degrees vocalist Nick Lachey and Knoxville to Melanie Lynn Cates. "It was like Johnny and I were prison pen pals, two people who wanted so much to be with each other but were kept apart," the big-voiced diva confessed.
Simpson insists that her relationship with Knoxville never turned physical but that they continued to stay in touch once their remake of the hit TV show stopped shooting. She continued, "We wrote these flowery love letters back and forth, often at night with Nick passed out in the bed next to me. We talked about music, and I would listen to the Johnny Cash songs he suggested just to feel like we were still together." Simpson would go on to split with her husband in 2005, while in 2007, Knoxville headed for the divorce courts, too.
Johnny Knoxville has continued to suffer for his art
In 2018 Johnny Knoxville delivered a love letter to New Jersey's most notorious theme park as the star and producer of big-screen comedy Action Point. And as you'd expect from a movie about health and safety's worst nightmare, the actor ended up hurting himself just as much as he did in his Jackass heyday.
In fact, it's a miracle Knoxville finished the shoot in one piece following a catalog of stunts that caused wince-inducing injuries. He somehow managed to blow his left eye right out of its socket following an alpine slide-assisted concussion. He ended up with a bald spot the size of a 50 cent coin after scalping himself on the barn doors that he was flung toward via catapult. And he both busted his knee and broke his hand after falling from a tree and then a shed in one fell swoop.
Throw in some whiplash, a torn meniscus, and some lost teeth, and you can believe Knoxville when he told Entertainment Weekly, "I definitely suffered the most injuries on one film." Sadly for Knoxville, all the pain wasn't exactly worth it. Action Point took just $5.1 million on a budget almost four times that amount, while its Rotten Tomatoes rating stands at a dismal 15%.
Johnny Knoxville produced a documentary about his hero
"I think we're hovering right somewhere in between bravery and stupidity. Possibly more on the stupidity side." That's how Johnny Knoxville described himself and his similarly thrill-seeking hero in a 2015 interview with Entertainment Weekly. So who was the man who inspired the Jackass star to punish his body at any given opportunity for a living?
Well, Knoxville has shared an affinity with the legendary daredevil Evel Knievel since he was a youngster. And that same year, he tried to convince everyone else of the man's virtues in a feature-length documentary. Being Evel shone the spotlight on several of the stuntman's high profile feats, both the awe-inspiring successes and the near-fatal disasters, as well as the man behind the mask. Sadly, co-producer Knoxville didn't exactly make a good impression on Knievel the one time the pair shared the same space.
Knoxville was on stage at the ESPN Awards with the rest of his Jackass crew when the likes of Chris Pontius and Wee Man began causing havoc. He explained, "The whole time, I'm trying to talk about my friend, Mat Hoffman's life, and what he's meant to everyone. Another friend of ours is trying to puke on the stage. And I heard Evel was very upset about the way we acted — and with good reason. Everyone was being an asshole. So the one time I had the chance to meet him, the boys were acting kind of ugly. So I missed my shot."
Jackass 4 finally got underway thanks to Johnny Knoxville
Okay, so Action Point had proven that Johnny Knoxville could still take a beating in the name of entertainment. But still, few expected a man approaching the big 5-0 to fully submit himself to the even more painful world of Jackass once again. Yet in 2019, Paramount Studios revealed (via Entertainment Weekly) that Knoxville and the rest of his gluttons for punishment would once again be putting themselves through all kinds of madcap stunts for a fourth big-screen installment of the franchise.
A year earlier, Knoxville had sown the seeds for a potential reunion when asked about the prospect by Entertainment Weekly: "It's not like we're saying no. If we did do a new one, we'd have to bring in some new younger guys — just to bring some fresh blood into it. But it's possible. I still write ideas down, just in case I get that twitch again. We're sitting on a ton of new ideas."
Jackass 4 was later confirmed to hit cinemas in March 2021 before the coronavirus forced Paramount to push back its premiere by six months. And the studio will no doubt be hoping for similar box office receipts to its three predecessors, which grossed a combined total of approximately $336 million!
Johnny Knoxville lost both his parents
Johnny Knoxville had a particularly difficult period in the late '10s when he lost both of his parents within the space of 12 months. The star's former bible school teacher mother, Lemoyne, passed away first in November 2017. In her obituary published on Dignity Memorial, she was described as "spirited as she was loving, and as beautiful as she was loquacious … If you stopped by her home, you were showered with warm conversation, hugs and tremendous amounts of food."
Sadly, Knoxville's father Phil died almost a year to the day after his mom. "He was hilariously impatient and grumpily kind," the Jackass star wrote in a poignant tribute posted on his Instagram account. "He was a loyal friend and not afraid to stretch an already exciting and legitimate truth into infinity."
Indeed, it turns out that the star may well have inherited his madcap personality from his father, who would regularly play the prankster at the family tire company he ran in the city of Knoxville. "He made them ex-lax milkshakes, sent letters from the 'V.D. Clinic' to their homes, staged gunfights at Christmas parties between two men shooting blank cartridges at one another, the list goes on and on," Knoxville proudly recalled.
Religious themes keep cropping up on Johnny Knoxville's resume
Johnny Knoxville is one of the last Hollywood stars you'd envision as a man of the cloth. Yet the Jackass star ended up playing religious figures in two films within a year. Firstly, he starred as an overzealous priest prone to spouting about the hellish fate that awaits anyone who engages in pre-marital sex in Half Magic. The 2018 comedy was the directorial debut of Heather Graham, who also took the leading role as a Hollywood assistant trying to assert her place in a chauvinistic industry.
Secondly, Knoxville ventured into more nightmarish territory as a pastor in 2019 devilish horror We Summon the Darkness. The comedian played John Henry Butler, the leader of a Satanic church named Daughters of the Dawn, that sets their murderous sights on three heavy metal fans.
Knoxville hasn't spoken much about his own spiritual beliefs. However, in a 2010 interview with Vanity Fair to promote the third Jackass movie, the actor was asked whether all his self-inflicted suffering has brought him closer to God. He replied, "Suffering will get you great footage. I don't know about closer to God. Although there have been times when I've suffered to the point where I think I might be about to meet him."
He showed up on Unbreakable Kimmy Schmidt
The makers of Unbreakable Kimmy Schmidt certainly weren't in short supply of guest stars for the show's interactive finale. Your mom's favorite singer Josh Groban, 30 Rock alum Jack McBrayer, Saturday Night Live star Bowen Yang and perhaps, most intriguingly, Harry Potter himself, Daniel Radcliffe, all signed up to give the titular mole woman the perfect send-off in May 2020.
Of course, Jackass fans would no doubt have been most interested in the cameo from Johnny Knoxville. The daredevil briefly shows up in the choose your own adventure-style Netflix special dubbed "Kimmy vs The Reverend" as gas station attendant C.J., a West Virginia native described as "trying to have it all: a career, family and hepatitis" (via Bustle).
Knoxville is no stranger to popping up in established comedies for a one-off appearance, either. He also played himself in an episode of Marc Maron's eponymous IFC sitcom and has lent his unmistakable Tennessee accent to characters in small screen animations King of the Hill, Family Guy, SpongeBob Squarepants, and The Goode Family. In fact, his very first credited role came from playing a fan of goth rock legends The Cure in an episode of the short-lived The Ben Stiller Show way back in 1992.
Johnny Knoxville has embraced his grayness
Ready to feel old? The wildman of early 21st century MTV renowned for deliberately injuring himself in ridiculous stunts is now a fully-paid up member of the silver fox club. Yes, while self-isolating during the coronavirus outbreak of 2020, Johnny Knoxville surprised fans by unveiling a new gray-haired look on his Instagram account.
And it turns out that the Jackass star has been hiding his true colors ever since he shot to fame on the death-defying franchise. He revealed to his millions of followers, "Don't tell anyone but I'm no longer a natural brunette. I haven't been for over 20 years so today I decided to cut my hair down to the roots to match my quarantine beard."
Reaction to Knoxville's new mature look was overwhelmingly positive, although a few cheeky commenters couldn't stop themselves from enquiring whether the drapes matched the carpet. And the star himself seemed happy with his new image, adding, "I should start a challenge but I don't want to call anyone out. Hugs to everybody." However, Knoxville wasn't the first famous male to embrace their grayness in 2020. None other than Rocky Balboa himself, Sylvester Stallone, was also praised for going au naturel in an Instagram post — shared by People — a few months earlier.
He played Elvis' bodyguard
Johnny Knoxville proved he could play it straight in 2016 when he portrayed The King's bodyguard friend Sonny West in the biopic Elvis & Nixon. The Jackass star joined Kevin Spacey, Michael Shannon, and Alex Pettyfer in the movie based on Presley's White House meeting with the president at the turn of the 1970s.
And Knoxville did his research to make sure his performance was as true-to-life as possible. The actor picked the brains of Jerry Schilling, another member of the Memphis Mafia who was tasked with protecting and accompanying the musical icon whenever necessary. While promoting the movie, the actor told Uproxx, "I watched as much footage as I could and I read up a lot about [Elvis], and I sat down with Jerry Schilling to talk about what happened that day and what happened before and after those days. It was invaluable information I was getting and I couldn't believe it was happening."
West wasn't the first real person that Knoxville had depicted on the big screen. In 2004 he starred in Grand Theft Parsons as Phil Kaufman. The music producer and tour manager famously stole Gram Parsons' dead body before burning it in the Joshua Tree National Park to fulfill a pact the pair had previously made (via Rolling Stone).
There's no denying Johnny Knoxville is living comfortably
So it appears as though being deliberately shot in the abdomen, hit by a tidal wave and launched into the air from a makeshift rocket can be pretty lucrative. According to Celebrity Net Worth, Johnny Knoxville has a net worth of $75 million, and no doubt much of his fortune has come from the Jackass franchise he made his name with.
Indeed, as the co-creator of the hit prank show, Knoxville will certainly have earned more than his fellow daredevils through residual payments over the years. He's also topped up his earnings with reportedly well-paid film roles in the likes of Walking Tall and The Dukes of Hazzard. And the founding of not just one but two production companies won't have harmed his bank balance, either.
Despite his overgrown manchild persona, Knoxville still seems to have a strong grasp of the property market, too. In 2008 he sold his Hollywood Hills home for $1.816 million. That's nearly double what he paid for it nine years earlier at $943,500. His divorce from first wife Melanie Lynn Cates soon after no doubt stung him financially, of course. Yet the fact that he's now getting ever closer to the nine-figure mark suggests he's more shrewd than he looks.
Jackass 4 is already taking its toll on Johnny Knoxville
The Jackass team that's reunited for its long-awaited fourth big screen adventure may be significantly older but they don't appear to be much wiser. Indeed, any fans concerned that the crew might hold back now that they're all firmly in middle age were soon placated by the fact that Johnny Knoxville and his co-star Steve-O were hospitalized just two days into the shoot. And a weighty musical instrument was to blame.
In December 2020, the pain-baiting pair were forced to seek medical treatment after jumping onto a treadmill — which was moving full-speed — while carrying tubas, obviously. But that wasn't Jackass 4's only major setback. Bam Margera, the man who'd revealed the news of the accident on his since-defunct website, later implored fans to boycott the movie after discovering that his unique talents were no longer required.
In a series of troubling Instagram videos obtained by TMZ in February 2021, the skateboarder claimed that he'd been omitted from the franchise due to his off-screen behavior. And he was particularly angry at its leading man. BroBible reported how Margera also uploaded an image of Knoxville with an unflattering forehead doodle, captioned, "Kick me off of Jackass will ya? Steal my ideas do ya?" Shortly after, TMZ confirmed that Margera had indeed been fired having breached the contract which stated he must take regular drug tests, seek psychological help, and maintain his sobriety.