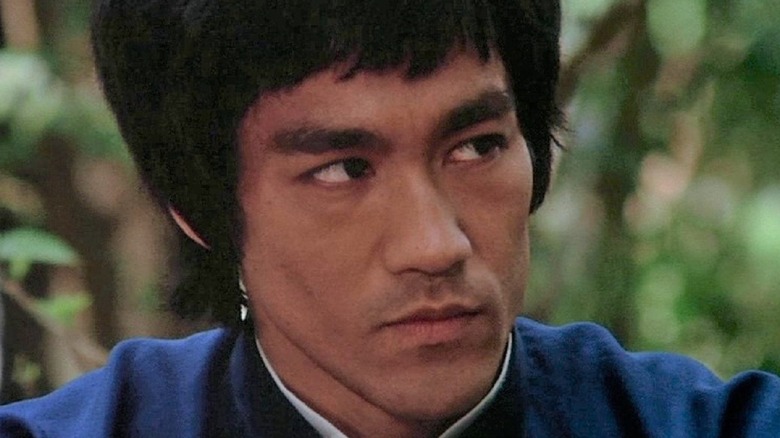 Thrills, spills, chills, and kills! Those are the main reasons we immerse ourselves in the transcendent world of cinema. To see big, amazing, improbable, and even impossible stuff happen on the movie screen is a vital experience, particularly when the film playing is an action movie. It just gets the blood pumping and the eyes popping to see impressive feats of stunt work and death defiance. And each year, Hollywood and other movie strongholds release tons of action movies, trying to capture that magic.
While many are certainly satisfying, only a few contain that elusive combination of a great story, unforgettable characters, and an unmatched technical mastery of stunts 'n' squibs necessary to go beyond genre thrills and achieve the status of truly great cinema. The following movies have all reached that lofty status. Here are Looper's picks for the best action movies ever made.
Updated on October 12, 2021: As long as people love big explosions and awesome fight scenes, filmmakers will keep on making epic action flicks. So as new movies hit theaters and streaming services, we'll be sure to keep an eye out for any new classics that deserve a spot on our list.
Air Force One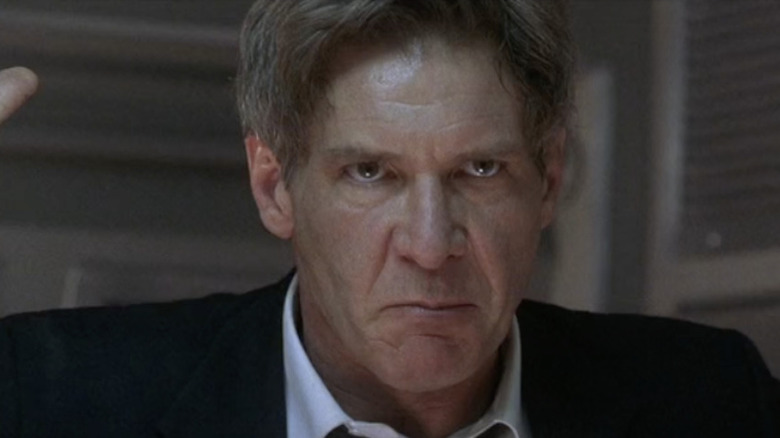 By 1997, Harrison Ford was a seasoned and reliable action star, as well as a respected, older actor with a commanding, authoritative presence. Filmmaker Wolfgang Petersen combined those two personas in "Air Force One," casting Ford as the likable, awe-inspiring president of the United States … who personally foils a terrorist hijacking attempt. The implausibility of that occurrence is eliminated by setting the whole thing on the president's personal plane and command center. While the idea of the commander-in-chief beating up bad guys and tossing them out of Air Force One may sound ridiculous, it winds up very satisfying, instilling a gonzo — if aggressive and skewed — sense of American patriotism.
Starring: Harrison Ford, Gary Oldman, Glenn Close
Director: Wolfgang Petersen
Year: 1997
Runtime: 124 minutes
Rating: R
Aliens
James Cameron took an entertaining if simple horror movie in space put forth by Ridley Scott with "Alien" in 1979 and expanded the mythology of the Xenomorph universe to create a terrifying battle between humans and aliens, the outcome of which is never certain. It's claustrophobic like a thriller, but it's also a science fiction movie because of all the space and, well, alien action. Cameron's "Aliens" also further developed the most butt-kicking action movie character of all time — the unstoppable and unflappable Ellen Ripley, portrayed by Sigourney Weaver in an Academy Award-nominated performance. Suddenly, the entire action genre wasn't just about angry fighting dudes anymore.
Starring: Sigourney Weaver, Carrie Henn, Michael Biehn
Director: James Cameron
Year: 1986
Runtime: 137 minutes
Rating: R
American Made
In the usually black-and-white world of action movies, where the pro-American imperialism attitude that entrenched itself during the genre's golden age in the Reagan-era 1980s, the "good guys" and "bad guys" are clearly defined and separate. "American Made" is a transgressive action film in that the protagonist, the person the audience is seduced into rooting for, is an international cocaine trafficker, and the bad guys are the authorities trying to stop him. Perhaps that's because the effortlessly charming Tom Cruise plays Barry Seal, or maybe that's because Barry Seal is a real person, and it's easy to emphasize with nonfictional people. At any rate, "American Made" is a funny film packed with action, the far-fetched but totally real tale of a small-time pilot who gets roped into transporting drugs and often very narrowly escapes his adversaries.
Starring: Tom Cruise, Domhnall Gleeson, Sarah Wright
Director: Doug Liman
Year: 2017
Runtime: 115 minutes
Rating: R
Atomic Blonde
Alluding to its plot about secret identities and double agents, it's never quite clear what story being told in "Atomic Blonde" is the "true" one or quite where intentions or loyalties lie. But the fact remains that "Atomic Blonde" is one of the most captivating and compelling action movies of the last 20 years.
"Atomic Blonde" stars Charlize Theron as Lorraine Broughton, the British spy agency MI6's top agent sent into a dreary, intimidating, and communist-run East Berlin just before the fall of the Berlin Wall. Her mission? To obtain a dossier listing all known secret agents and their identities. And along the way, Lorraine has to shoot a lot of people, get out of several almost assuredly deadly traps, and even get herself out of a speeding car while attempting to kill the driver.
Starring: Charlize Theron, James McAvoy, Sofia Boutella
Director: David Leitch
Year: 2017
Runtime: 115 minutes
Rating: R
The Avengers
After decades of B-movie status, films about guys with capes were slowly adopted into the mainstream. The genre really got going when Marvel Studios started laying the groundwork for its cinematic universe, with individual solo movies to both set the stage and whet audience appetite for the single greatest superhero team-up possible. For the Avengers' long-awaited big-screen debut, Marvel hired a director who really understood comic books — Joss Whedon — and assembled a cast of acclaimed actors who were like the Avengers of movie stars, such as Robert Downey Jr. as Iron Man, Mark Ruffalo as the Incredible Hulk, and Jeremy Renner as Hawkeye, to name a few. No expense was spared making a movie that was limitless in terms of superpowers, earth-shattering fights, things from space — like a comic book come to life. "The Avengers" (and its many follow-ups) is now the standard by which all other big, fun superhero movies are judged.
Starring: Robert Downey Jr., Chris Evans, Scarlett Johansson
Director: Joss Whedon
Year: 2012
Runtime: 143 minutes
Rating: PG-13
Baby Driver
Edgar Wright is best known for directing "Shaun of the Dead," "Hot Fuzz," and "Scott Pilgrim vs. the World" — movies that are predominantly comedies but laced with plenty of innovative action. With "Baby Driver," he makes the leap to full-blown action, and the result is as frenetic and assured as Baby's driving.
Ansel Elgort plays the title character, a young but very skilled driver recruited to handle the getaway car for a heist squad. The unreal stunts in "Baby Driver" make the film deliriously fun, and the filmmaker's extensive movie knowledge and vocabulary inform his self-assured direction with a mishmash of homages and techniques gleaned from other films, making for a thoroughly satisfying assault on the senses. The end result is pretty much everything audiences could want out of an action film and a car movie.
Starring: Ansel Elgort, Lily James, Jamie Foxx
Director: Edgar Wright
Year: 2017
Runtime: 113 minutes
Rating: R
Black Panther
Not just another entertaining but vaguely predictable chapter in the slowly unfolding Marvel Cinematic Universe / Avengers saga, "Black Panther" represented a completely different kind of comic book movie, one that was revelatory for its stars and a watershed moment for mainstream American film, an industry that rarely celebrates Africa or makes movies with predominantly Black casts. Chadwick Boseman portrayed the awe-inspiring T'Challa, who returns to the utopian African kingdom of Wakanda to take the throne, against the wishes of Erik Killmonger (Michael B. Jordan), the conflicted, complicated, and empathetic villain of the movie. To save his country and countrymen, T'Challa must come into his own as a superhero bestowed with unparalleled gifts: Black Panther.
Starring: Chadwick Boseman, Michael B. Jordan, Lupita Nyong'o
Director: Ryan Coogler
Year: 2018
Runtime: 134 minutes
Rating: PG-13
Blade
One of the first R-rated comic book movies and one of the first ever big-screen adaptations of a Marvel property, "Blade" treats us to gore and good times in pretty much every frame. With a chugging techno soundtrack and Wesley Snipes rocking a leather duster and sunglasses, "Blade" may seem a little dated, but it more than makes up for it in story and energy. Blade, the character, is a lone-wolf antihero, half-human, half-vampire, and on a mission to rid the world of bloodsuckers, usually with his sword or sweet fighting moves. At the same time, he's also on the run from nefarious forces who wish to harness his blood to bring about the arrival of La Magra, the blood god. There's a lot going on in "Blade," in other words, but all of it's a blast.
Starring: Wesley Snipes, Stephen Dorff, Kris Kristofferson
Director: Stephen Norrington
Year: 1998
Runtime: 120 minutes
Rating: R
The Bourne Identity
In 2002, as the James Bond franchise was slumping its way through an era of stale, lazily delivered clichés, there came a refreshingly modern, wholly American spy movie that reflected a more current environment of geopolitics. That's right, we're talking about "The Bourne Identity."
As Bond's Cold War era slipped into history, a sense of "what now?" developed on the world stage as the war on terror and age of surveillance emerged, embodied by Matt Damon's ultra-trained superwarrior who doesn't know his own name but is aware of his own incredible fighting abilities. Thanks to the paranoid, shaky camerawork and urgent pace established by director Doug Liman, the audience rarely knows more than Jason Bourne does, and as a result, they never quite get to take a breath either.
Starring: Matt Damon, Franka Potente, Chris Cooper
Director: Doug Liman
Year: 2002
Runtime: 113 minutes
Rating: PG-13
Bullitt
Steve McQueen was one of the first action stars and a pioneer of the form. He even did as much of his own stunts as film studios would let him. For example, he did some of the driving for the landmark, on-location car chase scene in "Bullitt." In fact, that chase is the reason this movie is chiefly remembered today, and if "Bullitt" consisted entirely of that scene, it would still make this list. It's just that good.
The plot is loaded with twists and intrigue, something to do with a politician, hitmen, and organized crime, and it all culminates with McQueen as the fortuitously named Lt. Frank Bullitt chasing the bad guys in their 1968 Dodge Charger R/T through the very real, very hilly streets of San Francisco. No standard issue police cruiser for Bullitt — he's got a sweet 1968 Ford Mustang GT. The long and deliberately-paced high-speed pursuit ends the only way it could and in the best possible way — with a gas station explosion.
Starring: Steve McQueen, Robert Vaughn, Jacqueline Bisset
Director: Peter Yattes
Year: 1968
Runtime: 113 minutes
Rating: PG
Captain Marvel
Heretofore the only entry in the Marvel Cinematic Universe with the word "Marvel" right there in the title, "Captain Marvel" is possibly the ultimate MCU movie. It's a mishmash of its franchise brethren, part high-flying space-and-aliens movie, part superhero origin story, part superhero team-up movie, but at the end of the day, a thoroughly satisfying action flick. Brie Larson plays Carol Danvers, an American Air Force pilot, but she's also an extraterrestrial mega-warrior entrusted by Avengers recruiter Nick Fury to help save Earth from being a big casualty in an epic alien war. And all of it takes place in 1995, justifying and leading up to a climactic and explosive battle scored to No Doubt's "Just a Girl."
Starring: Brie Larson, Samuel L. Jackson, Ben Mendelsohn
Director: Anna Boden and Ryan Fleck
Year: 2019
Runtime: 124 minutes
Rating: PG-13
Casino Royale
By 2002's "Die Another Day," the final film in which Pierce Brosnan played super spy 007, the James Bond franchise had descended into a checklist of the familiar — tuxedos, gadgets, shaken-not-stirred martinis, and a pretty actress in the thankless role of "Completely Interchangeable Bond Girl." It was time for a modern twist on the formula, and "Casino Royale" knocked it out of the park. Daniel Craig took over as a younger James Bond, and the movie took cues from other forward-thinking action films of the new millennium. As a result, it's gritty, intense, and completely lacking the usual James Bond silliness to deliver the best entry in the series since Sean Connery was creating action movie tropes back in the '60s.
Starring: Daniel Craig, Eva Green, Mads Mikkelsen
Director: Martin Campbell
Year: 2006
Runtime: 144 minutes
Rating: PG-13
Crank
Above all else, action movies should be fun, offering up a realism-grounded fantasy in which fists and bullets fly with little recourse — the name of the game is to pleasantly bewilder and excite audiences. The funny and provocatively debauched action movie "Crank" does exactly that, placing the usually calm, collected, and in-charge Jason Statham into a situation that can best be described as "Speed" but with a person instead of a bus. Protagonist Chev is a professional killer planning to go legit after one last job. But then he botches it and receives a phone call telling him he's been poisoned and has an hour to live. Now, Chev has but 60 minutes — meaning "Crank" daringly unfolds essentially in real time — to find the antidote, and he can't let his adrenaline levels dip, or he'll die even sooner. That makes for one very busy hour.
Starring: Jason Statham, Amy Smart, Efren Ramirez
Director: Mark Neveldine and Brian Taylor
Year: 2006
Runtime: 83 minutes
Rating: R
Crouching Tiger, Hidden Dragon
Imagine a sweeping war drama and epic romance like "Gone With the Wind" … but everybody in it has supernatural martial arts fighting abilities and the way they fight is more technically perfect and beautiful than the greatest performance by the greatest ballet company. That may sound lame, but in the able hands of director Ang Lee and main cast members Chow Yun-fat, Michelle Yeoh, Zhang Ziyi, and Chang Chen, the result is one of the most stunningly beautiful and deeply moving films ever made.
Right, sure, but the action. There are so many amazing martial arts sequences in the film, such as the gang of fighters meeting their end against one young woman in a restaurant, as well as the near wordless battle in the sky, on the fragile tips of trees. While action movies often rely on special effects to do all of the heavy lifting, in "Crouching Tiger," they merely enhance or flavor the preternatural abilities already captured on film.
Starring: Chow Yun-Fat, Michelle Yeoh, Zhang Ziyi
Director: Ang Lee
Year: 2000
Runtime: 120 minutes
Rating: PG-13
The Dark Knight
Christopher Nolan's "Dark Knight" trilogy is really more like one long movie, but the second installment is definitely the best chapter, showing the result of Bruce Wayne's rise and training in "Batman Begins" and what will play out in "The Dark Knight Rises." Indeed, "The Dark Knight" is arguably the best superhero movie of all time, with a tone that reflects the character and shows utter faithfulness to the comics upon which it's based. One could argue that it's a psychological drama first and a superhero movie second, as Christian Bale does a lot of brooding and quiet acting in between unbelievable, high-speed Batmobile chase sequences, Harvey Dent going off the rails, and Heath Ledger giving a chilling and unforgettable performance as the not-funny-at-all Joker (while also blowing stuff up real good).
Starring: Christian Bale, Heath Ledger, Aaron Eckhart
Director: Christopher Nolan
Year: 2008
Runtime: 152 minutes
Rating: PG-13
Deadpool
Ryan Reynolds expertly balances the action heroics and profane, self-aware comedy in this adaptation of Marvel's "Deadpool." He plays Wade Wilson, a mercenary living and working in an especially tough and gritty part of a big city who's kidnapped and forced into experimental treatment after a cancer diagnosis. The experiments nearly kill him, and he escapes, albeit permanently deformed but with the ability to heal from anything remarkably quickly.
All the while, Wade cracks wise, but even though "Deadpool" is hilarious and meta, it's really an action movie about a guy who can't be harmed, a notion repeatedly put to the test. "Deadpool" is bookended with two ambitious and prolonged action sequences. The first is a shootout on an accident-strewn section of urban highway, narrated and moved along by the motor-mouthed Deadpool as he counts down what few bullets he has left, using them to efficiently waste his opponents. The other set piece ends the movie, taking place on an uneven, abandoned ship in a junkyard.
Starring: Ryan Reynolds, Morena Baccarin, Ed Skrein
Director: Tim Miller
Year: 2016
Runtime: 108 minutes
Rating: R
Death Wish
The best action movies tend to fall into one of two classes: They involve a vast many number of characters, or it's one person versus a seemingly undefeatable succession of villains, if not the world. "Death Wish" is a one-man army kind of movie while also a definitive example of dark and gritty '70s urban cinema. Cultural context is important for understanding "Death Wish." At the time, American cities were perceived as being in rapid decline, overrun with violent crime and decay. So in 1974, unflappable, inscrutable Charles Bronson — as unapologetic, ethically unambiguous Paul Kersey — was hailed as a hero. As for the plot, after Paul's wife is murdered by random crooks, he decides to clean up the streets, personally, going out at night and gunning down all of the many criminals he encounters. Love it or hate it, "Death Wish" left an impact and has earned its bloody place in action movie history.
Starring: Charles Bronson, Hope Lange, Vincent Gardenia
Director: Michael Winner
Year: 1974
Runtime: 93 minutes
Rating: R
Die Hard
Part of the reason "Die Hard" works so well is its cinematic context. Action movies at the time all tended to feature stoic dudes with huge muscles laying waste with boulder-sized fists and machine guns, never doubting their utter alpha maleness and barely cracking a smile. Contrast that with "Die Hard," in which Bruce Willis is a relatively average-sized, normal guy who cracks wise and expresses fear and self-doubt as he almost single-handedly beats back terrorists to literally save Christmas. It helps that Willis, best known at the time for the TV detective dramedy "Moonlighting," was incredibly charismatic — but let us not forget that "Die Hard" also gave us a breakout performance from the beloved Alan Rickman as Hans Gruber, one of the all-time great movie villains. Yippie-kay-yay.
Starring: Bruce Willis, Alan Rickman, Bonnie Bedelia
Director: John McTiernan
Year: 1988
Runtime: 131 minutes
Rating: R
Dirty Harry
Clint Eastwood is arguably the definitive action star of the '60s and '70s, and his first outing as grizzled, crime-hating, shoot-first-ask-questions-later San Francisco police inspector Harry Callahan is his definitive action movie. Loosely inspired by the Zodiac murders of the Bay Area, "Dirty Harry" finds Eastwood as a strong and nearly silent, hand cannon-toting cop in a cat-and-mouse game with a rooftop killer, attempting to stop him before the kidnapped girl in his clutches dies. But then Harry's violent and antagonistic ways doom him, and the murderer is released — and then commits an even more horrific crime, forcing Harry into a kill-or-be-killed, wipe-the-criminal-off-the-streets situation.
Starring: Clint Eastwood, Harry Guardino, Andrew Robinson
Director: Don Siegel
Year: 1971
Runtime: 103 minutes
Rating: R
District 13
In the early 2000s, parkour — the sport-meets-art of ignoring the laws of physics so as to walk up walls and jump from one structure to another — was a minor fad in the United States. In Europe, the practice was a way of life. The craze gave the world at least one great parkour-themed movie: "District 13," also known as "Banlieue 13" or "B13." That's the name of the extremely poverty-ridden and overcrowded Paris suburb where the film takes place. Set in the far-off, futuristic 2010s, the government keeps B13 in check by surrounding it with high walls topped with razor wire. Gangs control the lawless prison colony and make their living running drugs. A man named Leïto (David Belle, a creator of parkour) tries to fight the gangs, which he does with his wits as well as his gravity-defying parkour skills, executed without wires or CGI.
Starring: Cyril Raffaelli, David Belle, Tony D'Amario
Director: Pierre Morel
Year: 2004
Runtime: 85 minutes
Rating: R
Dredd
The 1995 version of "Judge Dredd" was merely a vehicle for Sylvester Stallone in the waning years of his tenure as an action star. As such, it was an endlessly violent shoot-'em-up that lacked the humor, irony, and satire of John Wagner's source comics. But Hollywood got it right with the remake (for once).
In this exceptionally violent but winking action extravaganza, Karl Urban plays the most fearsome of the judge-jury-executioners that stalk around the futuristic, radiation-soaked wasteland that is Mega City, formerly the northeastern United States. Dredd kills his way through his days as he tries to eradicate Slo-Mo, a drug that, amusingly, makes people experience life in slow-motion. (And that's about the only thing that's slow in "Dredd.") However, when the judge and his rookie partner find themselves trapped in a tower run by the city's most powerful drug lord, things get very bloody indeed.
Starring: Karl Urban, Olivia Thirlby, Lena Headey
Director: Pete Travis
Year: 2012
Runtime: 96 minutes
Rating: R
Drive
"Drive" — it's the film that made romantic hero and teen idol Ryan Gosling into a serious actor (by presenting him as the most serious-to-the-point-of-inscrutable character in film history). It also made millions of fans want to rock a sweet satin jacket with a scorpion on the back. Gosling spends a lot of "Drive" silently brooding and the rest of it defying death and evading trouble, both as a movie stuntman and a getaway driver for hire (only ever identified as "Driver"). He's also developed a crush on Irene, a married neighbor whose recently paroled husband asks Driver to help out on a heist, but it all goes awry, leaving the driver to use his driving, survival, and tough guy skills to protect himself and Irene.
Starring: Ryan Gosling, Carey Mulligan, Oscar Isaac
Director: Nicolas Winding Refn
Year: 2011
Runtime: 100 minutes
Rating: R
Duel
"Duel" is one of the scariest and thus one of the most can't-look-away movies ever made. That's because it's grounded in realism, depicting a frightening moment that could feasibly happen to any random person. The feature-length debut of superstar director Steven Spielberg, "Duel" was a made-for-TV movie that aired on ABC in 1971, and it's about a normal, average working man, driving his Plymouth to a meeting with a client. Seemingly unprovoked, he arouses the ire of a big-rig trucker (or perhaps a sentient truck), which doggedly follows David, attempting to run him off the road and kill him in any number of ways. David is naturally unnerved, and it's going to take more than defensive driving to save himself.
Starring: Dennis Weaver, Tim Herbert, Charles Seel
Director: Steven Spielberg
Year: 1971
Runtime: 95 minutes
Rating: PG
Dunkirk
The term "hero" gets thrown around a lot when discussing the near-superhuman levels of punching, kicking, and shooting exhibited by movie stars in action flicks. But then there are the protagonists of action movies about real historical events. If you want to see a story of actual heroism, then check out "Dunkirk," which concerns a particularly difficult episode of combat during World War II. In May 1940, Germany's invasion of France trapped Allied troops in the French coastal area of Dunkirk. The film — with a cast of both up-and-coming and long-established British actors — dramatizes in realistic, unflinching detail (under the guidance of director Christopher Nolan) the novel, brave, and truly heroic efforts put forth by British and French forces to evacuate 330,000 soldiers.
Starring: Tom Hardy, Harry Styles, Kenneth Branagh
Director: Christopher Nolan
Year: 2017
Runtime: 107 minutes
Rating: PG-13
Edge of Tomorrow
It doesn't seem like a cross between "Groundhog Day" and "Independence Day" would work, but director Doug Liman crafted "Edge of Tomorrow" into one of the most creative action-adventure movies in years. In this smart and chaotic sci-fi/military caper, seemingly indestructible aliens called Mimics terrorize Earth until they have to square off against Maj. William Craig. They kill him too — except not really because Craig gets caught in a time loop and keeps returning to the moment just before his death, fighting and dying — and becoming a better fighter — each time. "Edge of Tomorrow" is a video game-inspired action movie with a moral: If at first you don't succeed (at killing aliens), try, try again (to kill those aliens).
Starring: Tom Cruise, Emily Blunt, Brendan Gleeson
Director: Doug Liman
Year: 2014
Runtime: 113 minutes
Rating: PG-13
Enter the Dragon
No one else has ever demonstrated a more impressive and enchanting mastery of on-screen martial arts than Bruce Lee did during his brief career in the late 1960s and early 1970s. In 1973, he provided a glimpse of the wonderful and explosive new ways he could've lit up theaters with "Enter the Dragon," part martial arts movie and part spy movie, which meant double the action and in unexpected ways. It's also Lee's swan song — the last film he finished before his death at age 32.
The late actor, bursting with charisma, plays kung fu master Lee, sent by a secret spy operation to infiltrate the inner circle of Han, a master criminal and martial artist who trained at the same monastery. Both Lee and Han will come together at a martial arts tournament, although Lee's mission takes a dark turn when he seeks revenge upon learning that Han's foot soldiers killed his sister.
Starring: Bruce Lee, John Saxon, Jim Kelly
Director: Robert Clouse
Year: 1973
Runtime: 99 minutes
Rating: R
The Equalizer
"The Equalizer" is technically a remake — it's a big-screen adaptation of a vaguely remembered action TV series of the same name from the '80s. But it's such an elegantly made, fast-paced flick that it's hard to fathom that it began life as a cheesy CBS show. The spry and charismatic Denzel Washington replaces Edward Woodward as Robert McCall, an ex-government agent trying to balance out the horrible things he did by now helping people who really need his unique set of skills. This time, it's McCall against some truly frightening Russian mobsters.
Starring: Denzel Washington, Chloe Grace Moretz, David Harbour
Director: Antoine Fuqua
Year: 2014
Runtime: 132 minutes
Rating: R
Face/Off
This film has such a preposterous concept that would've been a ridiculous misfire had it been made by anybody but legendary Hong Kong auteur John Woo, director of classics like "Hard Boiled" and "The Killer." But "Face/Off" might just be his best work. The film also finds the perfect role for the idiosyncratic Nicolas Cage: Castor Troy, a giddily crazed terrorist who tries to kill FBI agent Sean Archer, played by the one and only John Travolta. Then, in order to learn where Castor hid a massive bomb, Archer has his own face surgically replaced with Castor's … and then Castor gets his replaced with Archer's. It's like "Freaky Friday" but with bizarre science, riots, boat chases, and some of the most epic shootout sequences ever caught on film.
Starring: Nicolas Cage, John Travolta, Joan Allen
Director: John Woo
Year: 1997
Runtime: 138 minutes
Rating: R
La Femme Nikita
Plenty of action movies end with the criminal caught and headed to prison for a lengthy prison sentence. But that's where "La Femme Nikita" begins. Parisian teenager Nikita lives a life of drug use, violent fits, and crime, but during a pharmacy robbery and a wild shootout, she kills a police officer, is arrested, and sentenced to life in prison. Some time after, Nikita awakens in a strange room where she finds out her death has been faked, and she's now under the employ of the Centre, a government agency who wants her to be a contract killer. After some heavy-duty training in firearms, hand-to-hand combat, and hacking, as well as a makeover, Nikita becomes the deadliest assassin in Europe.
Starring: Anne Parillaud, Jean-Hugues Anglade, Jean Reno
Director: Luc Besson
Year: 1990
Runtime: 117 minutes
Rating: R
First Blood
Who would have thought that Sylvester Stallone could make a tragic, thought-provoking movie about the dangers of violence and how war destroys a man? Of course, the "Rambo" sequels that followed "First Blood" completely missed the point of that first movie, which is a psychologically and physically realistic action movie about a man a decade removed from the Vietnam War still fighting it internally and then externally. And after Rambo's mental break in Washington state, it's up to his old commanding officer to save the on-the-run ex-soldier from himself and authorities.
Starring: Sylvester Stallone, Richard Crenna, Brian Dennehy
Director: Ted Kotcheff
Year: 1982
Runtime: 95 minutes
Rating: R
The French Connection
Jimmy "Popeye" Doyle just never stops running. Or driving. Or punching or kicking or knocking some thug to the ground in pursuit of justice — his violent brand of it anyway. His methods may not be normal (or ethical or legal), but that just reflects the unexpected and original nearly verité-style of direction by William Friedkin. Despite being so frenetic, so tough, so new, and so very violent, "The French Connection" won Best Picture at the Academy Awards. It's the only crime action flick ever to do so.
Starring: Gene Hackman, Fernando Rey, Roy Scheider
Director: William Friedkin
Year: 1971
Runtime: 104 minutes
Rating: R
The Fugitive
"The Fugitive" is way better than it has any right to be. Its source material — an old and somewhat dated TV series starring David Janssen as Dr. Richard Kimble, a man wrongly accused of killing his wife — was compelling, but in the hands of director Andrew Davis and star Harrison Ford, the story became one of the most thrilling chase movies of all time. Nominated for Best Picture at the Academy Awards, "The Fugitive" boasts two of the most famous set pieces in film history. First, there's the prisoner train crash that allows Kimble (Ford) to escape. And then there's the sequence that ends when Kimble takes an extremely high dive off of a dam to evade the U.S. Marshal Sam Gerard. Tommy Lee Jones won an Oscar for his performance as Gerard, as it's quite the accomplishment to upstage Indiana Jones and Han Solo in an action movie.
Starring: Harrison Ford, Tommy Lee Jones, Sela Ward
Director: Andrew Davis
Year: 1993
Runtime: 127 minutes
Rating: PG-13
Furious 7
Diminishing returns is generally the name of the game with long-running film franchises. But according to critics, "Furious 7" is the most acclaimed film in the entire "Fast and Furious" series. After all, by 2015, filmmakers had stopped taking themselves and the movies so seriously, embracing the chaos and action-packed silliness that made the first few entries in the series critical duds. This time out, the de facto family of drag racers/international criminal masterminds must reconvene to rescue a kidnapped and powerful hacker while also dealing with a British mercenary looking for revenge. And for some reason, of course, this involves a lot of physics-defying car chases, car leaps, car stunts, and car crashes.
Starring: Vin Diesel, Paul Walker, Dwayne Johnson
Director: James Wan
Year: 2015
Runtime: 137 minutes
Rating: PG-13
Gladiator
"Swords and sandals" movies hadn't been popular for decades when director Ridley Scott and star Russell Crowe brought them back in a big way with 2000's "Gladiator." The film won the Academy Award for Best Picture, and Crowe also nabbed a trophy for his performance as Roman general turned slave Maximus Decimus Meridius. Against a classical Roman backdrop, audiences root for Maximus' quest to avenge the misdeeds of the evil emperor Commodus, win his freedom, and survive the brutal gladiator arena — and Scott stages some of the most thrilling action sequences ever put to film. There's hand-to-hand combat with and without weapons, gladiator mismatches, re-enactments of old military campaigns, and even a climactic fight between Maximus and Commodus. People get stabbed. People get beaten to a pulp. People get beheaded. Ancient Rome was not a nice time to be alive.
Starring: Russell Crowe, Joaquin Phoenix, Connie Nielsen
Director: Ridley Scott
Year: 2000
Runtime: 154 minutes
Rating: R
Goldfinger
Nearly every James Bond movie is an exciting thrill ride packed with ski chases, tower fights, and daring gun battles. But that all had to start somewhere, and that place was in the swinging '60s with the second major movie about the international exploits of the agent codenamed "007." In "Goldfinger," Sean Connery portrays the debonair super spy, establishing many of the James Bond franchise's best and most familiar tropes. One of those is a joyfully evil and hyper-smart villain, and in this case, that's Goldfinger, who plans a heist of Fort Knox to steal all the gold and upend the world economy to his own financial benefit. James Bond, always retaining his cool, will try every exciting and explosive trick in the book to stop him.
Starring: Sean Connery, Gert Frobe, Honor Blackman
Director: Guy Hamilton
Year: 1964
Runtime: 112 minutes
Rating: PG
Guardians of the Galaxy
Sometimes the problem with comic book movies is that they take themselves so darn seriously, forgetting the whole point of their source material — they're supposed to be ridiculously fun … and also a little ridiculous. "Guardians of the Galaxy" embraced its DNA to deliver one of the most purely enjoyable comic book-based movies of all time. It's as much a comedy as it is an action ride through outer space, with Chris Pratt perfectly cast as the funny and fearless Peter Quill (or "Star-Lord," as no one will call him). Add in a space prison, a telepathic arrow, '70s rock classics, a foul-mouthed raccoon, a talking tree, and one epic space battle and hand-to-hand bout after another, and the end result is a joyous, self-conscious blast.
Starring: Chris Pratt, Zoe Saldana, Dave Bautista
Director: James Gunn
Year: 2014
Runtime: 121 minutes
Rating: PG-13
Hanna
Movies about people trained solely in the deadly arts from birth so as to be a stealthy and efficient assassin are always fun. And "Hanna" is one of the best, largely thanks to the environs, circumstances, and character traits of the assassin in question. Hanna is a teenager, but she's been schooled her entire life by her father in the Scandinavian wilderness to be an ideal killer. He sends her on an important and deadly mission, and she intrepidly moves through Europe, evading one agent after another sent by a high-level operative (and former colleague of Hanna's father) with a singular focus on catching the young assassin. "Hanna" is ultimately a movie about racing — Hanna trying to get to her target, Hanna's enemies trying to get to Hanna, and Hanna completing her mission before she fully questions (or rejects) her role as a murderer.
Starring: Saoirse Ronan, Eric Bana, Cate Blanchett
Director: Joe Wright
Year: 2011
Runtime: 111 minutes
Rating: PG-13
Hard Boiled
Following their successful, for-the-ages team-up in the crime movie masterwork "The Killer," filmmaker John Woo and action star Chow Yun-Fat reconvened three years later to make "Hard Boiled." Here, Chow plays an impossibly awesome (and artistically violent) legend on the right side of the law, although Inspector "Tequila" Yuen isn't exactly by-the-book. He goes undercover to bust illegal gun dealers and does whatever he needs to do to get his man. His skills are stretched to their limit when, after his partner is killed in a fire fight with gun smugglers, he teams up with an undercover cop, and they infiltrate the very dangerous Hong Kong Triad. "Hard Boiled" is exactly that, a slow-burning, police drama with plenty of unpredictable turns and a spectacular climax.
Starring: Chow Yun-Fat, Tony Leung Chiu-wai, Philip Chan
Director: John Woo
Year: 1992
Runtime: 126 minutes
Rating: R
Hot Fuzz
After sending up zombie horror tropes with "Shaun of the Dead," filmmaker Edgar Wright and stars Simon Pegg and Nick Frost made "Hot Fuzz," a zany police comedy that's also an action-packed and surprising police thriller in its own right. Pegg plays Nicholas Angel, a tough London super cop reassigned to a tiny countryside village right as the residents start to mysteriously die. Finally, the cop used to heavy-duty, dangerous action day in and day out has something to do. Unfortunately, rooting out the masked murderer might lead him to meet his end.
Starring: Simon Pegg, Nick Frost, Jim Broadbent
Director: Edgar Wright
Year: 2007
Runtime: 121 minutes
Rating: R
The Hunger Games
"The Hunger Games" — all four movies of the series — certainly doesn't feel like it's based on a trilogy of books written for kids. The first film in particular is a harsh, unpredictable, unsettling, dystopian nightmare of an action movie in which children are constantly in peril but are clever and resourceful enough to fight off whatever comes at them. In a star-making turn, Jennifer Lawrence plays Katniss Everdeen, a "tribute" from the poverty-stricken District 12, sent to fight to the death against children from the other 11 sectors of the totalitarian nation of Panem. The contestants face off inside of an arena filled with traps and deadly creatures, which serves as a punishment for a long-ago rebel uprising. But Katniss is a hunter, and so not only does she know how to survive, she knows how to defend herself … but she can put off cracking under the pressure for only so long.
Starring: Jennifer Lawrence, Josh Hutcherson, Woody Harrelson
Director: Gary Ross
Year: 2012
Runtime: 142 minutes
Rating: PG-13
Inception
Christopher Nolan's trippy opus doesn't take place in the real world, per se, but largely in the world of dreams. Master chief Dom Cobb can enter people's dreams, and in "Inception," he's hired to plant an idea in someone's mind as part of an artful criminal undertaking. The film is grounded not in reality but in the surreal and random world of dreams, which means we're treated to new and unpredictable ways in which people interact with the physical plane. "Inception" is visually stunning, with its physics-eschewing fight sequences and fluidity of time. Of course, it's a mind-bender too. The viewer can never be quite sure if the action is taking place in waking life, a dream, or a dream inside of a dream.
Starring: Leonardo DiCaprio, Elliot Page, Tom Hardy
Director: Christopher Nolan
Year: 2010
Runtime: 148 minutes
Rating: PG-13
The Incredibles
Easily one of the most dazzling, exciting, and fun superhero movies ever made, "The Incredibles" just happens to be an animated film that's appropriate for whole-family viewing. A triumph of Pixar, CGI allowed filmmaker Brad Bird to make a movie about superheroes that would've been creatively and practically prohibitive in live-action.
"The Incredibles" is about a family of supers — the parents have retired from their headline-grabbing heroics into a boring and listless suburban existence, raising three kids who are just beginning to explore their special abilities. However, they're thrown back into the business of saving the day when a murderous villain named Syndrome sets out to kill all heroes.
Starring: Craig T. Nelson, Holly Hunter, Jason Lee
Director: Brad Bird
Year: 2004
Runtime: 115 minutes
Rating: PG
Ip Man
Action movies are usually over-the-top, absurdly fun cinematic roller coasters, but every now and then, one of them is actually a true story. "Ip Man" is the loosely biographical story of Ip Man, a Wing Chun grandmaster who famously trained the legendary film star Bruce Lee. In "Ip Man," the titular hero is the best martial artist and trainer in the Chinese city of Foshan. His low-key life and appreciation of martial arts for their own sake are tested after the Japanese invasion of 1937. He competes for bags of rice in fighting competitions against Japanese troops, and he seeks revenge when his friend, Lin, disappears for good after a bout. At the heart of the movie, however, are the high-stakes battles between Chinese and Japanese fighters, all under the chilling backdrop of war.
Starring: Donnie Yen, Simon Yam, Siu-wong Fan
Director: Wilson Yip
Year: 2008
Runtime: 106 minutes
Rating: R
Jaws
"Jaws" — arguably the first film in the populist, thrill-packed, summer blockbuster mold — is what made Steven Spielberg into a household name. At one time, "Jaws" was the highest-grossing movie of all time and for good reason. The shark attack sequences are expertly shot, utterly terrifying, and completely surprising, which is quite a feat because the parts of "Jaws" where the titular shark isn't attacking beach-goers or grizzled boat-borne shark hunters are loaded with almost overwhelming dread. (That may be in large part to composer John Williams' iconic, simple, two-note musical motif). Viewers are at full attention throughout "Jaws," whether there's blood in the water, an animal tearing through ships, or a foolish mayor telling beachgoers that they don't have anything to worry about.
Starring: Richard Dreyfuss, Roy Scheider, Robert Shaw
Director: Steven Spielberg
Year: 1975
Runtime: 124 minutes
Rating: PG
John Wick
Ultra-violent revenge movies usually don't have plots hinging on an adorable puppy, but that's part of what makes "John Wick" so daringly different. After the death of his wife, assassin John Wick tries to fill the void in his life by adopting a cute dog named Daisy and riding around in his classic Ford Mustang. (A good action movie almost always has a sick car.) After he refuses to sell it to a Russian gangster, the spurned buyer and his cronies follow Wick home, knock him out, steal the car, and — horrific spoiler alert — kill Daisy. Exacting his revenge pulls Wick back into the seedy underbelly of organized crime, as well as numerous, atmospheric gun battles and fistfights across nightclubs, churches, safe houses, docks, and more.
Starring: Keanu Reeves, Alfie Allen, Willem Dafoe
Director: Chad Stahelski
Year: 2014
Runtime: 101 minutes
Rating: R
Jurassic Park
The original "Jurassic Park" was a revelation in 1993, popularizing a sub-genre known as the "techno-thriller." Pioneered by "Jurassic Park" author Michael Crichton, these fables inevitably involve technology run amok to the shock and horror of the humans that created it. But, of course, that's all a lot of fun to watch, especially when the technology is dinosaurs brought back to life via cloning. And now, said dinos are trying to kill people in a rainstorm, spitting venom in a bad guy's face, chasing kids, and ripping other dinosaurs to ribbons. Add in a majestic, unforgettable score by John Williams and enthusiastic direction by Steven Spielberg, and you've got a modern masterpiece of popcorn cinema.
Starring: Sam Neill, Laura Dern, Jeff Goldblum
Director: Steven Spielberg
Year: 1993
Runtime: 126 minutes
Rating: PG-13
Kill Bill
Quentin Tarantino's "Kill Bill" is a two-part epic tale of revenge, centered on a hero of near-superhuman abilities and unrelenting focus but with enough vulnerabilities and human motivation to make audiences root for her. The Bride goes on a quest to locate and murder every member of the Deadly Viper Assassination Squad that left her for dead (and in a coma) years earlier. The trail ultimately leads to the gang's leader, her ex-lover Bill, but along the way, the Bride must subdue each of her enemies in wildly choreographed fight sequences, any number of which would be the centerpiece of a semi-decent action movie. But "Kill Bill" is loaded with them, from the suburban home battle with Vernita Green to the acrobatic melee with O-Ren Ishii's Crazy 88 in Japan to the final showdown with Bill.
Starring: Uma Thurman, David Carradine, Lucy Liu
Director: Quentin Tarantino
Year: 2003, 2004
Runtime: 247 minutes
Rating: R
The Killer
Action movie genius John Woo and star Chow Yun-Fat grabbed everyone's attention when they teamed up for the enchanting and rough crime epic "The Killer." Chow plays Jeffrey, renowned as the very best assassin in the criminal underworld ruled by the Hong Kong Triad. He actually loves what he does, filling his chosen targets with lead for large sums of money, but he rejects his profession after an innocent nightclub singer becomes collateral damage in one of his hits. He decides to take just one more job to pay for restorative eye surgery for the blinded singer, but then he's double-crossed and has to team up with a dirty cop to even the score — which means a lot of gun battles shot like they were scenes in a beautiful art film.
Starring: Chow Yun-Fat, Danny Lee, Kenneth Tsang
Director: John Woo
Year: 1989
Runtime: 110 minutes
Rating: R
King Kong
The medium of film was still in its infancy when "King Kong" hit theaters in 1933, one of the first-ever action films and also one of the first "big" movies, influential on the many spectacular blockbusters that would follow over the decades. The rudimentary special effects are still impressive in this ambitious first telling of a gigantic ape taken from his island home to be exploited as a curiosity. Then Kong gets angry, escapes, and climbs the Empire State Building, memorably swatting away at the tiny airplanes trying to dislodge him. Never has a fable about man's desire but inability to conquer nature been such a sensory overload.
Starring: Fay Wray, Bruce Cabot, Robert Armstrong
Director: Merian C. Cooper and Ernest B. Schoedsack
Year: 1933
Runtime: 100 minutes
Rating: NR
Kingsman: The Secret Service
Like "Harry Potter and the Sorcerer's Stone," "Kingsman: The Secret Service" is part of a small film genre we'll call "introduction to a heretofore unknown world" movies. A young English tough named Eggsy gets arrested and after calling an emergency number given to him years earlier, he meets the dapper and in-charge Harry Hart. He brings Eggsy into the underground world of the Kingsman, an underground spy, surveillance, and defense group that really keeps the U.K. running. Eggsy somehow makes it through the organization's difficult and punishing training program and just in time too — the Kingsman must stop V, a tech billionaire and supervillain who plans to eliminate global warming … and most of the population of Earth. "Kingsman" plays like a younger, fresher, and more unabashedly violent and ribald James Bond movie.
Starring: Taron Egerton, Colin Firth, Samuel L. Jackson
Director: Matthew Vaughn
Year: 2015
Runtime: 129 minutes
Rating: R
Kung Fu Hustle
What if they made a movie that played like a hilarious, live-action cartoon, but also, there was just nonstop kicking, punching, and intricately choreographed fight scenes you can't even figure out how they were filmed? Well, then that would be an irresistible movie called "Kung Fu Hustle."
Chinese superstar Stephen Chow directs, co-writes, and stars in this dazzling and dizzying action epic set in China in the 1940s. Chow plays a guy named Sing, who's desperate to join the scary, cool Axe Gang, and willing to do criminal stuff like fight and kill. Things get interesting when he attempts a heist of an apartment complex where a remarkable number of the residents are quite adept in aerial kung fu. Fortunately, for the audience at least, Sing's group is equally skilled at axe-based fighting and other martial arts, leading to some spectacular showdowns.
Starring: Stephen Chow, Yuen Qiu, Siu-Lung Leung
Director: Stephen Chow
Year: 2004
Runtime: 99 minutes
Rating: R
Lady Snowblood
"Lady Snowblood," the first of two back-to-back films released in Japan in the mid-1970s, is based on a classic manga series and is as beautiful as it is violent and exciting. It was also clearly an inspiration for Quentin Tarantino's two-part assassin revenge saga "Kill Bill."
Set in the late 19th century, "Lady Snowblood" concerns Yuki, born in a women's prison during a snowstorm to a dying mother who was jailed for killing one of the men who assaulted her and murdered her husband and son. Yuki is taught from early childhood to be a deadly killer trained in many disciplines — skills she'll use to avenge the atrocities committed against her family. When she turns 20, she goes about her plan, carefully and deliberately hunting down and eliminating her targets, one by one.
Starring: Meiko Kaji, Toshio Kurosawa, Masaaki Daimon
Director: Fujita Toshiya
Year: 1973
Runtime: 97 minutes
Rating: NR
Lethal Weapon
Detectives Martin Riggs and Roger Murtaugh are mismatched cops, with the former being a loose cannon who doesn't play by the rules and the other a by-the-books guy who is "getting too old for this s***." Almost every other cop movie and TV show before and after has used this formula, but "Lethal Weapon" actually makes it work because the chemistry between Mel Gibson and the reactive audience surrogate Danny Glover is so winning. That, and the plot — largely couched in dark comedy — never goes where the audience thinks it will. Riggs just doesn't care that he's going to get caught in the crossfire when he orders cops to unload on a drug bust he's in the middle of … or worry about maiming himself by jumping off a ledge with a guy instead of talking him down. This s*** never gets old.
Starring: Mel Gibson, Danny Glover, Gary Busey
Director: Richard Donner
Year: 1987
Runtime: 109 minutes
Rating: R
Logan
Hugh Jackman's Wolverine was always the best part about every X-Men movie, and while he's had his own standalone films featuring everyone's favorite clawed Canadian, "Logan" shreds them all. It completely reinvented what a superhero movie can be, as Jackman applied his dramatic chops to create a nuanced characterization of a hero nearing the end of his life and his mission. And somehow, young actress Dafoe Keen steals almost every scene as Laura, Wolverine's sidekick and — spoiler alert — daughter/diminutive clone. As for the plot, Logan and Professor Xavier evade the bad guys and shuttle Laura to safety in a road movie that's fast-paced, unpredictable, and casually violent. In other words, this is no "Smokey and the Bandit."
Starring: Hugh Jackman, Patrick Stewart, Dafne Keen
Director: James Mangold
Year: 2017
Runtime: 137 minutes
Rating: R
Looper
"Looper" posits a futuristic world that looks a lot like the present, except that time travel is real — but illegal — and only those with the ability to pay for it use it. An organized crime syndicate has devised a way to use time travel to literally get away with murder: They send the victim a few decades into the past where a contract killer known as a looper executes the hit. Joe is a morally ambiguous tough guy who works as a looper, but his world is turned upside down when future Joe is sent to him to be gunned down. If there's one classic movie about a time-hopping guy trying to kill himself but not get himself killed (by himself) in the process, it's the frenetic, chaotic "Looper."
Starring: Bruce Willis, Joseph Gordon-Levitt, Emily Blunt
Director: Rian Johnson
Year: 2012
Runtime: 119 minutes
Rating: R
Mad Max: Fury Road
Reboots generally don't work — and even if they do, they're still doomed to pale in comparison to the original thing. Not so with "Mad Max: Fury Road," which expands and improves on the "Mad Max" universe with a nonstop ride through the familiar, harrowing, post-apocalyptic wasteland on modified car/tank/war machines piloted by crazed, survival-driven nomad warriors. "Mad Max" creator George Miller returned to direct "Fury Road," and his 35-plus years of experience as a filmmaker show up in an action movie that's both endlessly thrilling and emotionally compelling. It helps that master actors Tom Hardy and Charlize Theron are along for the ride, to say nothing of "Doof Warrior," a guy who stands on a moving vehicle and plays a fire-spewing electric guitar and who just might be dystopian cinema's most memorable character.
Starring: Tom Hardy, Charlize Theron, Nicholas Hoult
Director: George Miller
Year: 2015
Runtime: 120 minutes
Rating: R
The Matrix
A college-level philosophy class was never so eye-popping. "The Matrix" kind of blew everybody's minds with its central conceit — that there's no point to human life beyond their bodies being bags of exploitable energy. Neo gets to decide if he's cool with that or if he wants to try to exist on a higher plane via his own free will. Pretty heady stuff for the multiplex, but fortunately, "The Matrix" features a lot of bells and whistles, such as the subway kung fu battle between Neo and the villainous Agent Smith, as well as that innovative "bullet time" sequence, which seemed to bend the very nature of time itself. Not only did it look incredibly cool to watch somebody contort their body around bullets or even stop them, but it complemented the movie's heady themes.
Starring: Keanu Reeves, Laurence Fishburne, Carrie-Anne Moss
Director: Lana Wachowski and Lilly Wachowski
Year: 1999
Runtime: 136 minutes
Rating: R
Miss Bala
Gina Rodriguez starred in a 2019 movie called "Miss Bala," which is a decent action movie, but it's a remake that doesn't hold up against its Spanish-language, Mexico-produced predecessor. The first "Miss Bala" is a tale of one woman's accidental and unfortunate descent into the criminal underworld. Laura enters the Miss Baja pageant, and while celebrating at a nightclub, she witnesses drug cartel operatives murder law enforcement officials. As a result, Laura — the would-be and possibly future pageant queen — runs afoul of the cartel, who brutally conscript her into their service, using her as a pawn in various illegal escapades, including rooting out enemies and smuggling money across the U.S. border.
Starring: Stephanie Sigman, Irene Azuela, Miguel Couturier
Director: Gerardo Naranjo
Year: 2011
Runtime: 113 minutes
Rating: R
Mr. and Mrs. Smith
"Mr. and Mrs. Smith" is probably best remembered as the film where Brad Pitt met Angelina Jolie … scandalously dumping wife Jennifer Anniston for her. The couple's chemistry is undeniable as they play married assassins in a high-wire act of a twisty, lightly comic, shoot-'em-up action movie.
In the film, the curiously, generically named John and Jane work okay but not soul-fulfilling jobs and live a bland, comfortable existence, all of which is a cover for the fact that both, separately, have a secret lives as highly paid, highly trained international assassins. Their mutual covers are blown and their marriage will either be saved or end spectacularly when they're both hired to kill the same bad guy — and then wind up having to kill each other.
Starring: Brad Pitt, Angelina Jolie, Vince Vaughn
Director: Doug Liman
Year: 2005
Runtime: 120 minutes
Rating: PG-13
Mission Impossible: Fallout
The "Mission: Impossible" series has come a long way. The first entry hit theaters in 1996, a combination vehicle for action A-lister Tom Cruise and a remake of the fondly remembered Cold War-oriented espionage TV series from the '60s and '70s. By entry No. 6 in the movie franchise, "Mission: Impossible" had virtually eliminated all memory and comparisons to its '90s predecessor, taking the franchise into new territory with grittier plots and jaw-dropping stunts.
This time out, death-averse, danger-attracting super agent Ethan Hunt (Cruise) teams up with a CIA assassin to stop a group of terrorists from using stolen nuclear weapons to orchestrate simultaneous attacks on Mecca, Jerusalem, and the Vatican — important, if not holy, sites in three major religions. Reflecting the high stakes, "Fallout" almost never lets up on the gas and features multiple death-defying stunts and one truly insane fistfight.
Starring: Tom Cruise, Henry Cavill, Ving Rhames
Director: Christopher McQuarrie
Year: 2018
Runtime: 147 minutes
Rating: PG-13
The Nice Guys
"The Nice Guys" is a '70s cop movie or rather a light-hearted but still dark, gritty, and action-packed homage to '70s cop movies that doesn't seem to take place in the '70s as much as it does a fantasy land informed by the screenwriters' diet of '70s cop movies.
After an adult film actress named Misty Mountains dies in a grisly car accident in suburban Los Angeles, her aunt, claiming that her niece isn't really dead, hires low-rent, alcoholic private investigator Holland March to solve the case. Then he becomes the story and the target when one of his leads hires reluctant enforcer Jackson Healy to drive Holland off the case. Through a series of strange, unlikely, and explosive events, the two ultimately team up to solve a completely different (but still related) case.
Starring: Russell Crowe, Ryan Gosling, Margaret Qualley
Director: Shane Black
Year: 2016
Runtime: 116 minutes
Rating: R
The Old Guard
Based on Greg Rucka and Leandro Fernandez's comic series, "The Old Guard" offers a wildly original take on the superhero story. There are no capes or bloodless violence against cartoonish villains here. Instead, Charlize Theron plays Andromache of Scythia, leader of a team of mercenary warriors who've been alive (and fighting the grueling battles of whoever pays them enough) for hundreds of years. They can't be killed by traditional means, and they heal instantly on the battlefield, which is a gift that comes in handy when they find themselves trapped by a Big Pharma CEO who wants to torture them and use their DNA to make a mass-marketed immortality drug.
Starring: Charlize Theron, Chiwetel Ejiofor, KiKi Layne
Director: Gina Prince-Bythewood
Year: 2020
Runtime: 125 minutes
Rating: R
Ong-Bak: The Thai Warrior
This low-budget martial arts adventure from Thailand more than makes up for its simple plot and straightforward presentation with the sheer force of its unbelievable star, Tony Jaa. In rural Thailand, a village is distraught after thugs from Bangkok steal the head of the town's cherished Buddha statue. Jaa plays Ting, the brave local who ventures into the city to retrieve the head, with only his Muay Thai fighting skills to protect himself. Fortunately, Jaa is one of the most agile and adept martial artists in the world, which he proves during some brutal underground fights. Despite an endless parade of more experienced and ruthlessly violent thugs coming after him both in and out of the ring, Ting triumphs.
Starring: Tony Jaa, Pumwaree Yodkamol, Petchtai Wongkamlao
Director: Prachya Pinkaew
Year: 2003
Runtime: 107 minutes
Rating: R
Point Break
If a viewer knew nothing about "Point Break" going into it, they might think it's a movie about bank robbers, what with the early scenes of "the Ex-Presidents," criminals who rob banks while wearing masks of the likes of Reagan, Nixon, and Carter. But then "Point Break" turns into an FBI movie after Keanu Reeves is introduced as the ridiculously named agent Johnny Utah, sent to infiltrate a gang of surfers believed to be harboring the Ex-Presidents. Once more, "Point Break" shifts gears into a combination of thoughtful buddy movie and exquisitely shot surfing movie once Johnny Utah goes way too deep undercover and gets close with head surfer Bodhi, played by an especially charismatic Patrick Swayze. There are just a lot of smaller action movies going on inside the larger "Point Break."
Starring: Patrick Swayze, Keanu Reeves, Gary Busey
Director: Kathryn Bigelow
Year: 1991
Runtime: 122 minutes
Rating: R
Predator
Director John McTiernan mixed elements of war movies with horror and science fiction and wound up with one of the most rollicking, thrilling, and unpredictable action flicks ever made. An elite military squad, led by Major Alan "Dutch" Schaefer, is supposed to track down a hostage kidnapped by rebels. While avoiding attack by insurgents and the natural dangers of the jungle is enough to worry about, the team also has to deal with something even nastier — the gigantic and wily alien that's tracking them for sport.
Starring: Arnold Schwarzenegger, Carl Weathers, Jesse Ventura
Director: John McTiernan
Year: 1987
Runtime: 107 minutes
Rating: R
The Professional
Natalie Portman would one day win an Academy Award, something likely destined to happen following her performance at age 13 in "The Professional," where she elevates what could otherwise have been an average and rote action film about hitmen and revenge. Portman plays Mathilda, a child whose family is killed by a seedy DEA agent. Desperate, he takes refuge in an unlikely environment — the home of Leon, a taciturn professional killer who lives in her apartment building. Leon shelters Mathilda but also pulls her deeper into the world of crime and violence as she seeks his help in avenging the deaths of her family.
Starring: Jean Reno, Gary Oldman, Natalie Portman
Director: Luc Besson
Year: 1994
Runtime: 106 minutes
Rating: R
The Purge: Election Year
"The Purge" movies have gotten a surprising amount of mileage out of an implausible premise. In the near future, crime has been almost completely eliminated in the U.S. thanks to occasional "purges" — set periods of time in which violence is permissible, thus allowing people to get all their bad impulses out of their systems. The third film in the series, "The Purge: Election Year," imagines the political and electoral implications for a country that "purges." Elizabeth Mitchell plays Senator Charlie Roan (sole survivor of a "Purge Night" family massacre) running for president on a promise to end purges. Of course, she has to survive even more thuggish behavior and coordinated attacks by her political opposition in her attempt to find safety, and then she has to win the election on top of that.
Starring: Frank Grillo, Elizabeth Mitchell, Mykelti Williamson
Director: James DeMonaco
Year: 2016
Runtime: 109 minutes
Rating: R
The Raid
Gareth Evans' "The Raid" is a claustrophobic police thriller that hits the ground running almost immediately. A young police officer named Rama heads off to work for the day — to join his armed-to-the-teeth S.W.A.T. team taking down a rundown Jakarta apartment building. The goal? Eliminate a crime lord and his top associates who run the block, allowing criminals sanctuary. The movie plays out like a real-life video game, as the elite police squad clears the lower floors and handles various thugs, well on their way to the crime bosses … until they realize they've been trapped and are being hunted by a gaggle of ticked-off criminals. The goal quickly changes for Rama and his squad: Get out with their lives.
Starring: Iko Uwais, Joe Taslim, Donny Alamsyah
Director: Gareth Evans
Year: 2011
Runtime: 101 minutes
Rating: R
Raiders of the Lost Ark
"Raiders of the Lost Ark" is supposed to be an homage to the action-adventure serials that director Steven Spielberg and producer George Lucas grew up watching in the 1950s. But the thing is, those often weren't very good movies — "Raiders" completely overshadows its source material, as it's pretty much a perfect film. Every scene feels as if it was scientifically created to be crowd-pleasing, particularly the action sequences: the iconic boulder chase, the whip-vs.-gun fight, and the airplane fight sequence. (Plus, a guy's face melts off.) "Raiders" is pure fun, beginning to end, even after 100 viewings.
Starring: Harrison Ford, Karen Allen, Paul Freeman
Director: Steven Spielberg
Year: 1981
Runtime: 115 minutes
Rating: PG
Ready Player One
With the same premise as Ernest Cline's thoughtful sci-fi novel but told in a completely different and much more cinematic way, "Ready Player One" is a film of collision — a collision of reality and virtual reality, of dozens of highly recognizable intellectual properties, and of cars, planes, spaceships, and all kinds of crazy stuff. In the year 2045, America is overcrowded and beset with economic depression and general malaise. Most people find escape in OASIS, an extremely realistic VR world where they can be or do anything they want, like live out old movies or drive cars from those films. When James Halliday — the enigmatic creator — dies, he bequeaths his riches to the first person to discover an Easter egg buried well and deep in the OASIS. Oklahoma-based orphan Wade Watts (and his warrior avatar) is determined to find it, alongside the team of young rogues he befriends along the way.
Starring: Tye Sheridan, Olivia Cooke, Ben Mendelsohn
Director: Steven Spielberg
Year: 2018
Runtime: 140 minutes
Rating: PG-13
RoboCop
Is "RoboCop" a violent, action-packed, futuristic cop movie, or is "RoboCop" a violent, action-packed, futuristic cop movie that satirizes films from its era that are equally (or more) violent? Like any good work of satire, it works on both levels. "RoboCop" has a lot to say about the value of human life in the crime-ridden future world of New Detroit. For example, it's about a cop who falls dead to some pretty intense violence … but he's then resurrected as a cyborg to summarily execute as many criminals as humanly possible. It's bloody, it's gory, it's full of gunplay, but it's also got some sweet robot action. And isn't that what really matters?
Starring: Peter Weller, Ronny Cox, Kurtwood Smith
Director: Paul Verhoeven
Year: 1987
Runtime: 102 minutes
Rating: R
The Rock
The punishing island prison of Alcatraz has long loomed large in the collective imagination, and action movie kingpin Michael Bay figured out a way to make the decommissioned fortress into the site of an anarchic, loud, and wonderfully preposterous film.
Rogue general turned supervillain Francis Hummel has set up shop on Alcatraz Island, threatening to blow nearby San Francisco to smithereens unless $100 million is paid to the families of military personnel who died on top secret missions. Mild-mannered weapons expert Stanley Goodspeed must team up with a former Alcatraz inmate, a British spy named John Patrick Mason (who it's implied might actually be James Bond, and he's played by 007 actor Sean Connery) to personally disarm Hummel and his men … by breaking into the prison.
Starring: Sean Connery, Nicolas Cage, Ed Harris
Director: Michael Bay
Year: 1996
Runtime: 136 minutes
Rating: R
Rogue One: A Star Wars Story
It would be both sacrilegious and inaccurate to say that "Rogue One" is the best "Star Wars" movie. It's not even part of the main storyline — it's a side story about a scrappy crew that comes together to take advantage of a fatal flaw in the Death Star by swiping the plans out of enemy hands. Therein lies the reason why "Rogue One" made this list — it's less a space opera or sci-fi movie like its "Star Wars" predecessors and more a heist movie that just happens to be set in the "Star Wars" sci-fi universe. As the team comes together, plans the crime, and pulls it off (although not without severe consequences), the action is as unrelenting as it is eye-popping.
Starring: Felicity Jones, Diego Luna, Donnie Yen
Director: Gareth Edwards
Year: 2016
Runtime: 134 minutes
Rating: PG-13
Romancing the Stone
There aren't many romantic action movies — there just isn't a lot of room for falling in love when fists are flying and buildings are exploding. But "Romancing the Stone" harkens back to old-fashioned adventure farces, like something that would've starred Katharine Hepburn or Humphrey Bogart, just updated for the '80s with action-heavy set pieces, big stunts, and screwball silliness. In an ironic touch, lonely romance novelist Joan Wilder heads to the jungle of deepest Colombia, seeking out a treasure map to hand over to the men who've kidnapped her sister. She's assisted in her quest (and the need to survive it) by Jack Colton, a dashing and irascible mercenary who knows the jungle better than anybody.
Starring: Michael Douglas, Kathleen Turner, Danny DeVito
Director: Robert Zemeckis
Year: 1984
Runtime: 105 minutes
Rating: PG
Rumble in the Bronx
After a deluge of comedy-laced action films made him a massive international star, English-speaking audiences were finally and formally introduced to the singular cinema of Jackie Chan with "Rumble in the Bronx," and it was quite representative of Chan's talents. The plot is about good guys vs. bad guys, and it involves illegal diamond deals, but there's also a romance, Chan's self-deprecating humor, and, of course, stunts that look impossible (particularly some motorcycle acrobatics) but aren't because Jackie Chan never fakes the stunts that almost kill him.
Starring: Jackie Chan, Anita Mui, Bill Tung
Director: Stanley Tong
Year: 1995
Runtime: 90 minutes
Rating: R
Run Lola Run
Viewers probably know what they're getting in for when they turn on a movie called "Run Lola Run." In other words, there's a lot of Lola running in this inventive film that's told in what feels like real time … something the protagonist doesn't have nearly enough of. Lola's criminal boyfriend, Manni, messed up the delivery of 100,000 Deutschmarks, leaving it on the subway in a moment of panic. His boss will kill him if he doesn't replace the money in 20 minutes. And so, Lola is off and, well, running, trying every scheme she can think of to get the money to Manni. Some of those schemes don't work out, and Lola winds up dead … sending the action right back to the beginning where Lola gets another chance, just like in a video game.
Starring: Franka Potente, Moritz Bleibtreu, Herbert Knaup
Director: Tom Tykwer
Year: 1998
Runtime: 81 minutes
Rating: R
Scott Pilgrim vs. the World
By their very nature, video games can almost always beat action movies in terms of thrilling, explosive moments. After all, they're interactive and goal-oriented, while watching a movie is a passive experience. However, Edgar Wright's adaptation of comic book "Scott Pilgrim vs. the World" is the best cinematic representation of a video game, with all of its unique tropes, rules, and dazzlement in film form.
Michael Cera plays a mild-mannered guitarist in a garage band who, in order to win the heart of the captivating and mysterious Ramona Flowers, must defeat her "seven evil exes" in one-on-one battle. He does so in spectacular, game-form, delivering massively heavy and cartoonish blows to the point where his vanquished enemies leave coins in their wake. Plus, the movie features an all-star cast, from hilarious comedians like Aubrey Plaza to Marvel stars like Brie Larson.
Starring: Michael Cera, Mary Elizabeth Winstead, Chris Evans
Director: Edgar Wright
Year: 2010
Runtime: 112 minutes
Rating: PG-13
Seven Samurai
In the mid-20th century, when international cinema didn't get a lot of attention in the English-speaking world, Japanese filmmaker Akira Kurosawa earned universal, well-deserved praise for his beautiful, haunting, lyrical, and tautly shot films. And among his best works is the 1954 adventure epic "Seven Samurai."
In a rural, rundown Japanese village in the year 1586, the local farmers are threatened by vicious bandits, who plan to attack and steal the entire harvest. Their way of life, if not lives, are in jeopardy, prompting elder Gisaku to suggest hiring seven samurai for protection and defense. As the village is too poor to pay the warriors in anything other than food, Gisaku suggests finding the hungriest samurai because they're the ones who will fight the hardest. And, as proven by Kurosawa's battle sequences, Gisaku is correct.
Starring: Toshiro Mifune, Takashi Shimura, Yoshio Inaba
Director: Akira Kurosawa
Year: 1954
Runtime: 208 minutes
Rating: NR
Shazam!
"Shazam!" is just plain fun, and deliriously so. It's almost a universal experience as a child to imagine what it would be like to be a superhero, and that's the premise of "Shazam!" taken to its logical conclusion — a comic book movie like "Spider-Man" meets "Big."
Based on the old DC Comics property but injected with contemporary edginess and self-conscious humor, "Shazam!" is the story of teenage foster kid Billy Batson who, through a strange and unexpected series of events, finds himself imbued with the powers of Shazam. All he must do is say his new hero name, and he transforms into the adult superhero, portrayed by Zachary Levi with all the awe, wonder, and excitement of a child as he navigates (poorly, at first and most of the time) his extremely powerful and potentially destructive gifts.
Starring: Zachary Levi, Asher Angel, Jack Dylan Grazer
Director: David F. Sandberg
Year: 2019
Runtime: 132 minutes
Rating: PG-13
Sicario
Denis Villeneuve — who'd go on to artfully elevate science fiction with "Arrival," "Blade Runner 2049," and "Dune" — previously made one of the most beautiful and well-constructed police films in recent memory. Competitive and aggressive FBI agent Kate Macer is recruited for a task force to fight the endless war on drugs, where they whisk between the U.S. and Mexico, strategically playing cartel bosses off of each other. This bleak, grimy, relentless film is, counterintuitively, beautifully shot and boasts a dread-inducing score. All of those factors pay off in the action scenes, particularly one memorable sequence set in underground border tunnels.
Starring: Emily Blunt, Benicio del Toro, Josh Brolin
Director: Denis Villeneuve
Year: 2015
Runtime: 121 minutes
Rating: R
Speed
By the mid-'90s, action movies were dying under their own weight — huge budgets meant lots of explosions but not a lot of depth or character. Then along came "Speed," Jan de Bont's fat-trimmed, all-killer-no-filler thrill ride couched in a simple premise. If a Los Angeles city bus slows to under 50 mph, a bomb planted on board explodes. "Speed" breaks with form to make for lots of surprises (a lead actor dies early in the film, for example), and the plot necessitates absolutely non-stop action. But there's also a lot of humanity in "Speed." Everyday people from many different walks of life are thrust together onto the city bus, and they come together as a team to rise up and meet the challenge. Of course, there are also plenty of explosions, buses jumping over chasms, and death-defying leaps, along with Keanu Reeves as a newly minted action hero and a star-making performance by Sandra Bullock.
Starring: Keanu Reeves, Sandra Bullock, Dennis Hopper
Director: Jan de Bont
Year: 1994
Runtime: 115 minutes
Rating: R
Spider-Man
While Hollywood churned out multiple big-budget Batman and Superman movies, it took until 2002 for a legitimate film about the third member of the "most famous superhero club" to get made. Perhaps filmmaker Sam Raimi was just waiting for CGI technology to advance to the point where he could make a thrilling, delightful, and visceral "Spider-Man," one with sequences of Tobey Maguire as the friendly neighborhood web-slinger speedily soaring around New York City's skyscrapers in such realistic, POV fashion that the audience is dizzy, if not nauseated, afterwards. "Spider-Man" also fully embraces and presents the title character's mild-mannered regular guy persona, Peter Parker, as a geeky teenage photographer, making his transformation into Spider-Man — he of the dive-bombs, upside-down kisses in the rain, and knock-down drag-out fights with the villainous Green Goblin — all the more impressive and satisfying.
Starring: Tobey Maguire, Willem Dafoe, Kirsten Dunst
Director: Sam Raimi
Year: 2002
Runtime: 116 minutes
Rating: PG-13
Spy
What is slapstick comedy but a funny form of action? It involves pushing the human body to its absolute limits for the delight of the audience or to advance a plot quickly. Melissa McCarthy, an expert on pratfalls and physical humor, makes for a terrific focus of an action movie with the espionage caper "Spy." It feels like her character, a desk-based CIA agent named Susan Cooper, has gotten lost in a high-tech-saturated James Bond movie. After her remote partner runs afoul of a vicious arms dealer, Susan has to go into the field herself, resulting in lots of unlikely heroics and a regular person using their wits to get out of dangerous and deadly situations.
Starring: Melissa McCarthy, Jason Statham, Rose Byrne
Director: Paul Feig
Year: 2015
Runtime: 115 minutes
Rating: R
Superman
Bursting with color and as proudly goofy as it is strong-fisted, "Superman" ushered in the age of the big-budget superhero movie, and to do so, that means that the film is pretty darn good. After all, filmmakers spared no expense and let their imaginations wander within the extremely familiar "Superman" mythos. Here, newcomer Christopher Reeve plays Superman as the gee-whiz Boy Scout that he is and Clark Kent as a naive doofus (and he's incredibly believable in these completely different personas). Meanwhile, the Man of Steel squares off against Lex Luthor, played by Oscar winner Gene Hackman with charm, depth, and disarming humor. And then there are the action sequences, not the least of which features Superman spinning the Earth backwards to reverse time. Up, up, and away.
Starring: Christopher Reeve, Gene Hackman, Margot Kidder
Director: Richard Donner
Year: 1978
Runtime: 143 minutes
Rating: PG
Taken
After spending decades showing the world he was a serious and nuanced dramatic actor, among the best of his generation, Liam Neeson surprised everyone by demonstrating his "particular set of skills" as an action hero. In "Taken," the first of many "Neeson vs. violent-villains-who-underestimate-him" films, the actor plays Bryan Mills, an ex-government agent whose plans to get to know his distant adult daughter are thwarted when she's kidnapped by a sex trafficking ring in Paris. Mills has four days to get to Paris before his daughter is sold off, and he uses every single deadly skill he ever learned to get his kid back and punish those who took her.
Starring: Liam Neeson, Maggie Grace, Famke Janssen
Director: Pierre Morel
Year: 2008
Runtime: 91 minutes
Rating: PG-13
The Taking of Pelham One, Two, Three
Walter Matthau, portrayer of over-it curmudgeons in comedies like "The Odd Couple" and "Grumpy Old Men," an action star? In the '70s, even Matthau could fire a gun, beat up violent criminals, and walk away unscathed.
In this prototypical and well-paced, extremely tense hostage thriller, Mr. Blue and his hoodlum underlings hijack a New York City subway car. They want a million bucks in cash in one hour … and if they don't get the cash by the deadline, they'll kill a passenger at a rate of one per minute. Matthau's overwhelmed and overworked transit cop, Lt. Garber, is tasked with getting the ransom to the gang as quickly as possible and with little help from his untrustworthy associates.
Starring: Walter Matthau, Robert Shaw, Martin Balsam
Director: Joseph Sargent
Year: 1974
Runtime: 104 minutes
Rating: R
The Terminator
While the second "Terminator" movie is a groundbreaking, influential work of science fiction, full of cutting-edge special effects and featuring a brain-dizzying time travel/alternate futures plot, the original "Terminator" — the breakout film of blockbuster auteur and Oscar winner James Cameron — is an old-fashioned, violence-driven, gritty '80s action film. In other words, it's the kind of movie that star Arnold Schwarzenegger would make many of in the years to come, but few can compare to this sci-fi actioner.
For the first of several times, Schwarzenegger plays a cyborg pretending to be a human. Here, he's sent from 2029 back to 1984 to kill Sarah Connor before her son, John — the future leader of the human resistance to an A.I. uprising — can even be born. Sarah and her human protector, Kyle Reese, are thus on the run from a seemingly unkillable killing machine in the searingly fast-paced "Terminator."
Starring: Arnold Schwarzenegger, Linda Hamilton, Michael Biehn
Director: James Cameron
Year: 1984
Runtime: 108 minutes
Rating: R
Terminator 2: Judgment Day
"Terminator 2," while a sequel of course, was one of the most expensive movies of all time. But the money is all up there on the screen, and that sheen suits the plot and feel of the story, with highly advanced robots traveling through time to alternately kill and rescue the future savior of the human race, John Connor. Especially well executed is the motorcycle sequence, which involves a high-speed chase, a semi-truck, and shotguns. And every time a puddle of liquid metal reshapes itself into that evil Terminator? It's still cool and still impressive, even after 30 years. People that don't even like action movies can appreciate this one, thanks to the stellar pacing of director James Cameron — action, catch a breath, escalated action, a breath, climax. That, combined with the high stakes of the plot (that kid had to save humanity) and the fact that by the end we're all somehow crying over the friendship between a boy and robot with sunglasses, makes for a blockbuster for the ages.
Starring: Arnold Schwarzenegger, Linda Hamilton, Edward Furlong
Director: James Cameron
Year: 1991
Runtime: 136 minutes
Rating: R
Top Gun
"Top Gun" just might be the ultimate dad movie and the ultimate '80s movie, a mixture of era-appropriate muscly American patriotism and cocksure guys flying military jets, complete with smirks and self-congratulatory cheers the whole way through. Tom Cruise permanently put himself on the A-list as Maverick, a flight school attendee who thinks he's better than his superiors and classmates, all just as bold and brash as he is (and with names like Ice, Goose, Merlin, and Viper). Maverick proves his mettle, however, when forced into an active and sensitive military skirmish, with some tricky flight work involved. And that's why "Top Gun" is one of the best action movies ever made — the quick-cut, stunt plane footage makes for some of the most exciting, seemingly impossibly captured scenes ever put on film.
Starring: Tom Cruise, Kelly McGillis, Val Kilmer
Director: Tony Scott
Year: 1986
Runtime: 109 minutes
Rating: PG
The Towering Inferno
In the 1970s, people loved disaster movies — films where big ensemble casts made up of multiple generations of familiar actors endure an unspeakable tragedies before coming out the other side, bruised and battered but mostly alive. And arguably the definitive disaster movie of the '70s is "The Towering Inferno," a claustrophobic, stressful (in a good way), non-stop action flick about what it's like to be inside a massive big-city skyscraper as a fire tears through the building. The folks trapped inside the tower are important members of San Francisco society. And as the fire begins raging during the skyscraper's opening ceremony, it's up to a fire chief and the building's architect to rescue everyone inside and limit damage while also making sure the tower's crooked contractor gets what's coming to him. And the massive cast boasts everyone from Fred Astaire to O.J. Simpson.
Starring: Steve McQueen, Paul Newman, Faye Dunaway
Director: John Guillermin and Irwin Allen
Year: 1974
Runtime: 165 minutes
Rating: PG
Train to Busan
"Train to Busan" is a zombie movie, but it's not totally a horror movie. It's more of a chase movie, like so many great action movies of the past, except in this case the bad guys trying to defeat the good guys are flesh-hungry members of the undead. Oh, and there's little to no escape for Seok Woo (Gong Yoo), his daughter, or the many other characters because "Train to Busan" is about the early stage of a zombie outbreak, and it takes place on a train. That's a recipe for an intense, breathless action film.
Starring: Gong Yoo, Ma Dong-seok, Choi Woo-sik
Director: Yeon Sang-ho
Year: 2016
Runtime: 118 minutes
Rating: NR
True Lies
By 1994, the '80s-style, bombastic action movie presided over by stone-faced bodybuilders was coming to an end. However, James Cameron teamed up with that genre's poster boy, Arnold Schwarzenegger, for one last audacious and over-the-top hurrah, turning out what was, at the time, the most expensive movie ever made. It's also a loving send-up of crowd-pleasing blockbusters and a crowd-pleasing blockbuster itself.
Schwarzenegger plays Harry Tasker, supposedly a bland and timid traveling salesman, except that he's actually a jet-set super spy. But he takes his eyes off the prize on his latest mission, thwarting a nuclear-armed terrorist, when he finds out his bored wife is considering an affair with another salesman who claims to be a spy (but isn't). Ultimately, Harry gets kidnapped, Helen has to help get him back, and there's a really cool scene where Schwarzenegger pilots a Harrier jet.
Starring: Arnold Schwarzenegger, Jamie Lee Curtis, Tom Arnold
Director: James Cameron
Year: 1994
Runtime: 141 minutes
Rating: R
V for Vendetta
Based on the classic (and bleak) graphic novel of the same name, with a script by the Wachowskis ("The Matrix"), "V for Vendetta" offers a chilling vision of the near future. Set in 2028 in England under fascistic rule, a vigilante known only as V, who wears a cape and a creepy mask in the likeness of Guy Fawkes (perpetuator of a royal assassination attempt in 1605), fights back against the brutal police and police state, engaging in speedy hand-to-hand combat in the streets. After he rescues a state-run TV employee from crooked, vicious cops, they team up to wage an all out revolution against tyranny.
Starring: Natalie Portman, Hugo Weaving, John Hurt
Director: James McTeigue
Year: 2006
Runtime: 132 minutes
Rating: R
Wanted
While it may look like standard action fare about stone-cold assassins and surprising secret identities, "Wanted" is a fun and giddy thriller with a wildly imaginative and ambitious plot involving many unlikely turns and even supernatural forces.
Wesley is a weak-willed, going-nowhere office drone … until he learns from an enigmatic woman named Fox that the father he hasn't seen in years was recently murdered and was actually an assassin. And now, his murderer is after Wesley. Fox brings Wesley into the Fraternity, a secret league of highly skilled assassins who work for the concept of Fate. As a result, Wesley soon learns to tap into his extraordinary powers, like super-strength, being able to slow down his perception of time, and curving bullets after he shoots them, which all makes for some pretty crackling action sequences.
Starring: Angelina Jolie, James McAvoy, Morgan Freeman
Director: Timur Bekmambetov
Year: 2008
Runtime: 110 minutes
Rating: R
The Warriors
Not many action movies about a city-wide gang war evoke memories of Greek epics read in high school literature classes, but "The Warriors" confidently straddles the world of fight films and literary importance. Told over the course of one harrowing night, "The Warriors" is about the titular Coney Island gang who travel to a huge, middle-of-the-night criminal summit … which ends in chaos when a messianic gang leader is killed. Mistakenly identified as the culprits, the Warriors have to find their way back home, negotiating enemy territory that's aggressively defended by New York's many other hoodlum collectives, many of them unique in appearance, such as the leather-clad Rogues, the purple-vest-and-fedora wearing Boppers, and the clown makeup- and pinstripe-sporting Baseball Furies.
Starring: Michael Beck, James Remar, Lynne Thigpen
Director: Walter Hill
Year: 1979
Runtime: 90 minutes
Rating: R
The Wild Bunch
Westerns used to be thought of as kid stuff. Back in the '30s and '40s, children loved Roy Rogers, Gene Autry, and other good guys in white hats singing along the trail as they foiled train bandits and horse thieves. The real Old West was nothing like that — it was probably more akin to the absolutely gonzo, lawless nightmare world of Sam Peckinpah's Texas-Mexico border-fight epic "The Wild Bunch."
A huge influence on latter-day filmmakers like Quentin Tarantino, "The Wild Bunch" embraced blood, violence, and moral ambiguity. In 1969, movies by and large did not show blood — guys got shot and they fell down. "The Wild Bunch" showed (and kind of celebrated) the real consequences of violence with its multiple, never-ending shootout sprees. (One guy's got a machine gun that more properly belongs on a warship.) But sometimes cowboys and gunslingers had to shoot each other, and that made the good guys a little bad, and the bad guys a little good.
Starring: William Holden, Ernest Borgnine, Robert Ryan
Director: Sam Peckinpah
Year: 1969
Runtime: 142 minutes
Rating: R
Wonder Woman
Not only is it a great action movie, "Wonder Woman" just might be the perfect blockbuster. It's mind-blowing that this is director Patty Jenkins' first go at an action flick because she perfectly balances so many tough elements. "Wonder Woman" is an origin story, a World War II movie, a romance, and it even has a twist ending and comic moments. This is to say nothing of Gal Gadot's revelatory performance as Diana Prince, aka Wonder Woman, who so thoroughly and powerfully embodies heroism that you don't know whether to cry, cheer, or exhale when it's all over.
Starring: Gal Gadot, Chris Pine, David Thewlis
Director: Patty Jenkins
Year: 2017
Runtime: 141 minutes
Rating: PG-13
X2: X-Men United
In 2000, Hollywood finally made an X-Men movie. Three years later, Hollywood made the first great X-Men movie. If the original X-Men comics from the 1960s were an allegory for race relations — super-powered "mutants" were segregated and treated like second-class citizens — then "X2: X-Men United" tells a familiar tale of how powerful people can use politics, media, and speeches to manipulate others into their hateful and myopic point of view.
Shortly after Professor Xavier's "good" mutants have defeated "bad" mutant leader Magneto and imprisoned him in a non-metallic prison he probably can't escape, another mutant tries to assassinate the president of the United States, leading the government to come down hard on the entire mutant community. The humans vs. mutants vs. other mutants war escalates quickly and dangerously, with military forces attacking Professor Xavier's mutant school. The climactic showdown is also unlikely, pitting the anti-mutant brigade against formerly rival X-Men who have no choice but to fight … united.
Starring: Hugh Jackman, Patrick Stewart, Halle Berry
Director: Bryan Singer
Year: 2003
Runtime: 134 minutes
Rating: PG-13