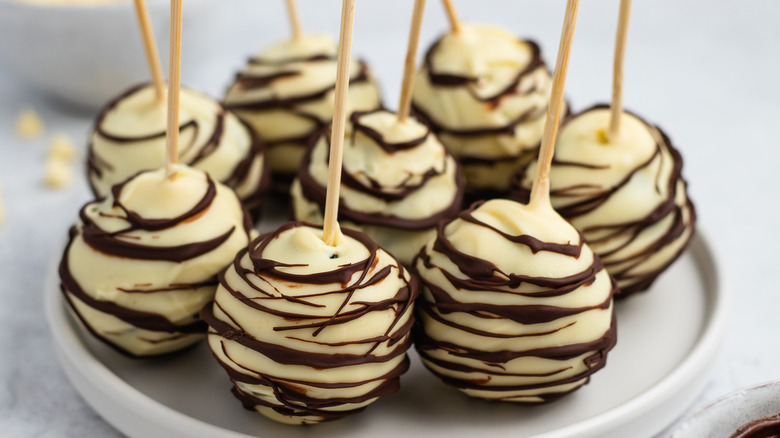 Cake pops are all the rage these days, and for good reason! The sweet little treats are great for various occasions, including birthday parties, graduation parties, and even for desserts during the holidays. Cake pops are also a wonderfully creative yet simple dessert to serve to the family after dinner. Another plus about this dish is that it's great for kids and adults alike — there's no such thing as being "too old" for a cake pop!
These delightful treats feature a gooey center and a hard chocolate shell, and just describing them is enough to make our mouths water. Add Oreos — one of the most popular cookies of all time — to the mix, and this dessert is truly next-level. Recipe developer Catherine Brookes of Blue Sky Eating came up with this delicious Oreo cake pop recipe that combines the crunchy cookie, chocolate, and a whole lot of sweetness. Brookes loves making cake pops because they're both "fun" and "a twist on your usual cakes and bakes." "Making these with Oreo cookies means they actually require no baking so they're really simple to create too," she further explains about the delightful simplicity of this dish. Keep reading to find out how to make this fantastic and fun dessert.
Gather the ingredients to make Oreo cake pops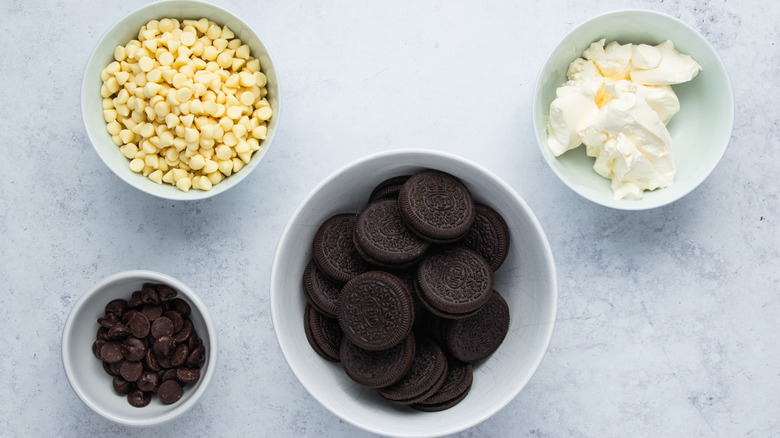 Before you get started on making Oreo cake pops, you'll want to grab a pen and paper and write out the list of necessary ingredients. For starters, you will need a few packs of Oreos, which are arguably the most important part of the recipe. In addition, you will need some full-fat cream cheese to help give the Oreos a moist, cake-like texture.
For the outer layer, pick up some white chocolate chips and dark chocolate chips. Trust us — this combination is perfect! Lastly, you will need a few wooden sticks for the pops. "I found kebab skewers in the supermarket and trimmed them down a little," Brookes shares. "You can use any kind of fairly sturdy wooden sticks."
Crumble the Oreos and form the cake pop batter
Once you have gathered all of your ingredients, it's time to get down to business. Take out your food processor and place it on a safe spot on your counter. Plug the cord in and pulse the Oreos until they break down into fine crumbs. This shouldn't take more than a few seconds as food processors are super efficient and powerful. Next, add the cream cheese to the food processor with the Oreo crumbs and pulse again until everything is well-combined. Also, it's worth noting that it will likely be easier to mix everything after letting the cream cheese sit out at room temperature.
Roll the balls to form cake pops
After you've finished thoroughly mixing the Oreos and cream cheese, you can remove the batter from the food processor and transfer it to a bowl. Grab a handful of the mixture and roll it into a ball with your hand. Each Oreo ball should weigh roughly 1½ ounces, and you can always double-check if you have a kitchen scale. Or, you could just divide the mix into eight even portions. If the mixture is too wet when you're rolling, you can pop it into the freezer to help it firm up a little bit. Continue rolling the mixture until you use it all up and form eight Oreo balls.
Freeze the Oreo balls and melt the chocolate
Next, place each Oreo ball onto a tray lined with parchment paper. The parchment paper will help prevent them from sticking to the tray, so don't skip this step. Then, stick the balls in the freezer and let them harden for about 15 minutes. You can set a timer to keep track of the freeze time — be careful not to keep them in the freezer for longer than 15 minutes or they'll be too hard!
In the meantime, grab two microwave-safe bowls and put the white chocolate chips in one and the dark chocolate chips in the other. Put them in the microwave for 30 seconds at a time and continue heating until the chocolate starts to melt. "I wouldn't recommend heating directly in a saucepan as the chocolate may burn," Brookes shares. "But you could use a double boiler (heatproof bowl placed over a pan of simmering water)." Of course, simply using the microwave is the easiest and most foolproof method.
Dip the sticks and form the cake pops
Once the chocolate has fully melted, dip each of the wooden sticks into the white chocolate. Then, take your Oreo balls out of the freezer and push the chocolate-covered stick into the center of each ball. You will only want to push the stick about halfway through. Repeat this process with each Oreo ball until you finish. By dipping the sticks in melted white chocolate first, you'll not only add extra flavor and sweetness, but you'll help the Oreo balls stay attached to the wooden sticks. Now, place the cake pops in the freezer for another 15 minutes.
Dip the cake pops into the chocolate
After the cake pops are done with their second round of freezing, dip each cake pop into the melted white chocolate. You can use a spoon to make sure that the Oreo ball gets completely coated. Then, stand the finished cake pops upright in a glass and put them in the freezer. Let them sit and chill for another five minutes. When you take the cake pops out, drizzle the melted dark chocolate over each one. Only one more thing to do! Put them back in the freezer for an additional five minutes.
Serve and enjoy your Oreo cake pops
Now, it's finally time to enjoy your sweet creation! It's an incredibly simple recipe but requires just a little patience with the freeze time. "I think they're probably best just served as they are, but another idea could be to smash them up in a bowl with some ice cream," Brookes shares. If you have leftovers, store them in an airtight container in the fridge for up to seven days. Alternatively, you can keep the pops in an airtight container at room temperature for up to three days. We hope you loved these wonderful treats and have a few good friends to share them with!
2 packets of Oreos (10.8 ounces)
4 ounces full-fat cream cheese
1 ½ cups white chocolate chips
3 tablespoons dark chocolate chips
Add the Oreos to a food processor and blitz until broken down into fine crumbs.
Add the cream cheese and blitz again until well combined.
Roll handfuls of the mixture into balls. Each should weigh approx 1½ ounces. If the mixture is too wet at this point, you can pop it in the freezer for 15 minutes to firm up before rolling.
Place the Oreo balls on a tray or board lined with parchment paper and put in the freezer for 15 minutes.
Heat the white and dark chocolate chips (in separate bowls) in the microwave in 30 second bursts until melted.
Dip the end of a wooden stick in the melted white chocolate, then push into the center of an Oreo ball, about half way through. Repeat with the remaining sticks.
Place the cake pops bake in the freezer for 15 minutes.
Dip each cake pop in the melted white chocolate, using a spoon to completely coat it. Stand the cake pops upright in a glass and return to the freezer for 5 minutes.
Drizzle a little melted dark chocolate over each cake pop and put back into the freezer for a final 5 minutes.
Store in an airtight container in the fridge for up to 7 days or at room temperature for up to 3 days.