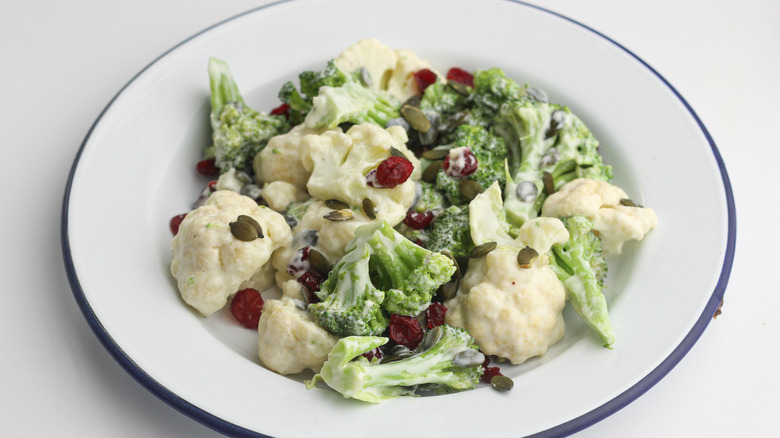 When the monotony of pairing a plain garden salad with your lunch or dinner starts to wear thin, what you need to do is to switch things up. Adding a salad is still a great idea — you need every opportunity to eat more produce and maximize your vitamin, mineral, and fiber intake — but you don't have to keep eating a pile of lettuce, tomatoes, and onions.
If you're looking for a fresh take, Susan Olayinka of The Flexible Fridge has put together a broccoli and cauliflower salad that pairs well with practically any main dish, any time of year. "These are mainly fall and winter vegetables, but the dressing makes it a summer-friendly salad. It can be used for both seasons," she says. So go ahead and grab a head of broccoli and a head of cauliflower and get cookin' — this salad only takes a few minutes to make and is certain to liven up your next meal.
Gather your ingredients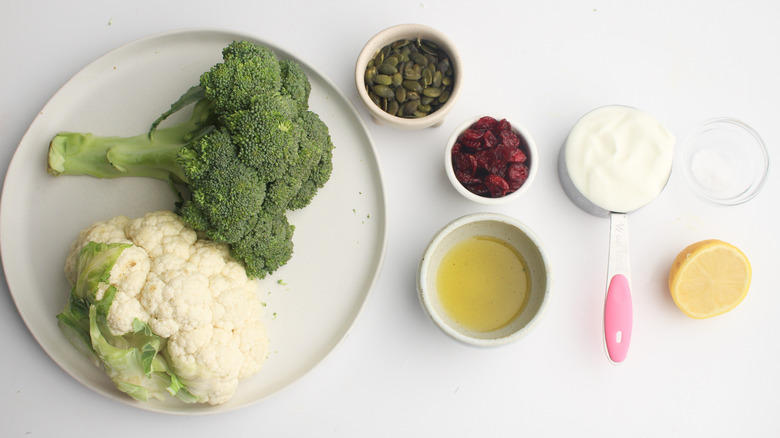 Like most salads, this broccoli cauliflower salad doesn't require all that much in the way of ingredients. For the base of the salad, all you need is a head of broccoli and a head of cauliflower. And for the dressing, grab Greek yogurt, extra virgin olive oil, salt, pumpkin seeds, and dried cranberries. If you don't have Greek yogurt on hand, Olayinka says it's fine to substitute plain yogurt as well, but avoid subbing different oils for the olive oil if you can, as "olive oil is the best option as it's quite neutral-tasting," she says.
Chop and steam your broccoli and cauliflower
Start by chopping the broccoli and cauliflower into bite-sized pieces. Exactly how big or small you want them is up to you, but you do want to make sure that they're somewhat uniform in size so they cook evenly. You will be cooking your veggies, so they'll end up a little smaller once they're cooked. You can also make this into a fine-chopped salad if you prefer, but we like these chunky, bite-sized pieces.
Steam your broccoli and cauliflower
Once your veggies are all cut, steam them for seven minutes. Simply place a steaming basket or colander inside a larger pot with a small amount of water on the bottom. Cover the veggies with the pot's lid and bring the water to a boil. As the water boils, the steam from the boiling water will cook the veggies.
One quick tip, though — if you're short on time and don't want to take the seven to 10 minutes it requires to cut and steam your veggies, check your grocery store's freezer section to see if they stock bags of mixed cauliflower and broccoli that can be steamed in the bag. Usually, this type of veggie mix can be thrown in the microwave for roughly three to five minutes and is ready to go. Just be sure you don't pick up a bag that's pre-seasoned or has added flavor — plain vegetables are what you're looking for.
Mix your salad dressing
While the veggies are steaming, use this time to mix the salad dressing. It's very simple — grab your Greek yogurt, extra-virgin olive oil, and salt. Place them all in a small bowl together and whisk them until well-combined and the dressing is smooth.
Remember, you can substitute plain yogurt for Greek yogurt if you're so inclined (or if it's all that you have on hand), but the dressing will lose some of its creamy consistency and flavor if you make the switch.
Mix your veggies with the dressing
Now that you have your veggies steamed and your dressing mixed, all you have to do is combine your ingredients. Place the veggies in a mixing bowl, pour the dressing over the top, and add the pumpkin seeds and cranberries. Use a spoon and mix well until the veggies are fully coated in the dressing and the fruit and seeds are well-dispersed.
Serve your salad
Your salad is now ready to be served! Olayinka suggests that if you're enjoying this salad as a side on a fall or winter day, consider pairing it with cooked root vegetables like roasted potatoes and roasted butternut squash along with roasted chicken. If you're opting to eat it in the spring or summer, consider letting it chill for about 30 minutes before serving it with popular barbecue foods, like grilled chicken or fish.
½ head broccoli
½ head cauliflower
½ cup Greek yogurt
1 tablespoon extra virgin olive oil
½ teaspoon salt
¼ cup pumpkin seeds
½ cup cranberries
Chop the broccoli and cauliflower into bite-sized pieces.
Steam the broccoli and cauliflower for 7 minutes.
In a small bowl, mix together the Greek yogurt, extra-virgin olive oil, and salt.
Drain the broccoli and cauliflower and place into a mixing bowl. Pour in the Greek yogurt dressing, pumpkin seeds, and cranberries, then mix together.
Serve and enjoy.