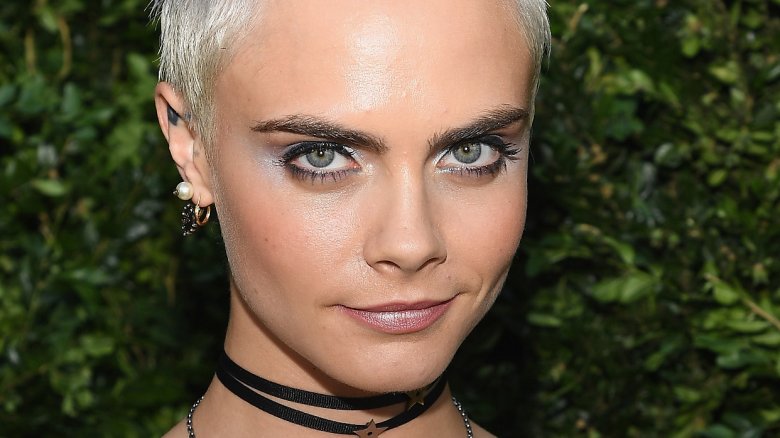 Before taking the modeling industry by storm, Cara Delevingne grew up in a prestigious, high-society family with her father, Charles — an accomplished property developer — and her socialite mother, Pandora. The youngest of four — behind sisters Poppy and Chloe and half-brother Alex Jaffe — Delevingne was raised in the lap of luxury in the upscale and affluent Belgravia district of London (via Esquire). With her family tree overflowing with titled politicians, debutantes, millionaires, and a publishing magnate, her childhood appeared idyllic to outsiders, but it was apparently all smoke and mirrors.
What should've been a charmed upbringing was rife with drug abuse, depression, and frequent suicidal thoughts that followed her into adulthood. Even after making her mark on the modeling world — thanks to her iconic eyebrows and her nearly perfect runway walk — she still struggled to maintain a sense of normalcy while battling the demons from her past. Here is Cara Delevingne's tragic real-life story.
Her mother's struggle with addiction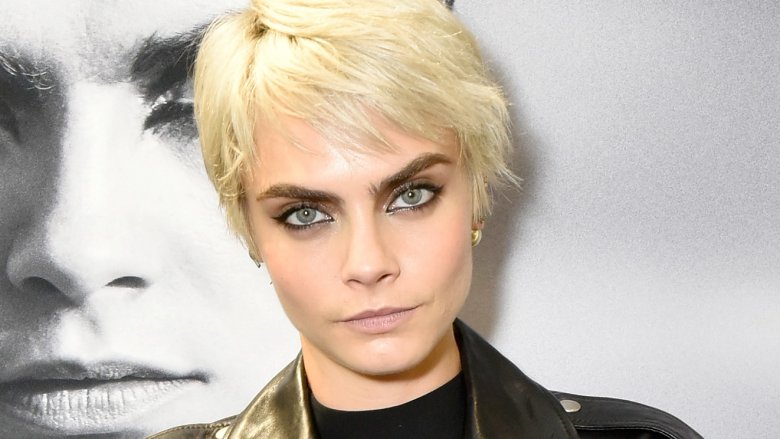 Being a well-known socialite during her heyday eventually caught up with Delevingne's mom, Pandora. She was described by Esquire magazine as a manic depressive person who'd struggled with heroin and prescription pill addictions for most of her adult life. "Sometimes [Delevingne and her siblings] have had to live with me being too ill to mother them, which has been agony for me," Pandora told Tatler magazine in 2004.
Looking back on her mother's addiction, Cara Delevingne told Esquire, "She was sick a lot, in [the] hospital a lot," before adding, "and there were times when she would leave for quite a long time and I wouldn't know where she was."
It wasn't until she was much older when Delevingne's sister, Poppy, clued her in on her mom's heroin addiction, but, despite her mom's struggles, Delevingne still described her as being "an incredible mother."
She was 'numb' for years
Once she was made aware of her mother's addiction, Cara Delevingne's world began to crumble at her feet. "I think I properly started dealing with depression when I was about 16," she told Esquire, "when all the stuff with my family started to make sense and came to the surface."
Pretending that everything was fine, learning how to become a pro at suppressing her emotions, and trying to be strong for the sake of her mom eventually caught up to the model and actress, and the pressures of wanting to do well in school to make her parents proud caused her to have a mental breakdown.
She was pulled out of school for six months when she turned 16 after she agreed to go on medication in exchange for not being hospitalized. But the medication had a negative impact on her mood. "I didn't feel s**t. It was horrible. I was like a sociopath," she said.
She revealed that she felt "numb" for a period of two years, up until she decided to stop taking her medicine when she was 18.
Her body betrays her emotions
She proved to be a multi-faceted star when she revealed her modeling, beatboxing, singing, and acting prowess to the world. And it was the latter that helped her snagged a role in the 2017 film Valerian and the City of a Thousand Planets.
While chatting with the director of the movie, Luc Besson, for a piece published in GQ magazine, Besson mentioned how fearless the actress appeared on set, while noting that Delevingne's "skin shows an anxiety inside."
Delevingne explained by stating, "Inside, I have so many fears. I work in an industry where I care what other people think and I'm nervous all the time. If I don't admit that it's going on, it comes out in my skin."
She went on to reveal that she suffers from psoriasis, and, during the filming of the movie, she had numerous flare-ups. Admitting that it's difficult for her to cry and show emotion, Delevingne said the scaly, dry patches that show up on her skin are her body's way of "releasing bad feelings."
She was bullied in school
Everyone's body develops at its own pace, but this concept was apparently difficult for some of Delevingne's classmates to grasp. As a self-proclaimed "late developer," she was relentlessly teased during her formative years. "I felt alienated and alone, because I was like: what's wrong with me?" she told The Guardian.
Instead of lashing out at her bullies, she told the publication she turned her anger on herself, saying, "Instead of using [my] sword and shield [to protect myself], I just put my shield up and stabbed myself."
As one could imagine, Delevingne doesn't look back on her early years with fondness. In fact, she equated being a teenager with being "on a rollercoaster to hell."
Thankfully, at the time of her interview with The Guardian, she was ready to put her tormenters and the traumatizing experience behind her, telling the publication: "Time moves on, feelings pass, it does get better."
A gory obsession
Cara Delevingne was preoccupied by an array of morbid thoughts early on in her life. "When I was a child, I was obsessed with blood and death," she revealed in a candid interview with W magazine.
Her fascination with all things gory, however, eventually took a turn. "This sounds really dark, but my earliest memory is of cutting myself. I was pretending to shave like my dad. One time, I covered my face in shaving foam, and I got his razor and ran it along the bottom of my finger and nearly cut it off," she shared.
She even invited the W magazine interviewer to take a peek at the scar, which now remains as a constant reminder of her troubled past. Although it's barely visible, she told the magazine she liked knowing it was still there.
And, sadly, cutting herself wasn't the only time the British entertainer engaged in self-harm…
Battling dark thoughts
Though she grew up as a member of one of London's high-society families, Delevingne had anything but a picture-perfect life. "I was suicidal," she told Esquire. "I couldn't deal with it any more. I realized how lucky and privileged I was, but all I wanted to do was die."
The feelings of wanting to end her life made her feel "so guilty" that she began to hate herself, telling the magazine that she got the point where she didn't want to exist anymore.
To dull the pain she felt inside, she resorted to self-destructive tactics. She recalled the times she would run into the woods to smoke a pack of cigarettes, before smashing her head into a tree to knock herself out. In addition, during her childhood, she would resort to scratching her legs "till they bled."
She hated how people saw her
As a child, Delevingne wore her hair short, which caused many people to mistake her for a boy. "I hated it. Even though I looked like a boy and acted like a boy, I wasn't a boy," she told Porter magazine (via The Guardian).
She could still remember how people would approach her parents and say, "Oh, your son is so handsome," and that, of course, would only tick Delevingne off even more. "I would think, how dare you say that!" she said. "Like, why was I seen as a boy?"
It wasn't just her androgynous look that turned heads, though. She also realized at an early age that there was something offbeat about her. "I always felt pretty weird and different as a kid, and that feeling was something I didn't understand, or know how to express," she explained.
She felt something 'dark' within her
Teenage angst is common, but Delevingne experienced a heightened sense of dread and agony. "I hated myself for being depressed, I hated feeling depressed, I hated feeling," she told The Edit (via Grazia). "I was very good at disassociating from emotion completely."
And being out of tune with her emotions caused even more confusion because she couldn't really grasp what was going on and why. All she knew was that she "didn't want to be alive anymore."
Unfortunately for her, reaching out for help proved to be fruitless. She attempted to talk to friends, but they would only question her emotions, wondering why someone who grew up so privileged could be fighting those negative feelings.
Delevingne desperately wanted to appreciate all of the good things that were going on in her life, but her mental state continued to exert it's dominance. "There is just something dark within me I cannot seem to shake," she explained.
Surprising diagnoses
While her sisters excelled in school, Delevingne was the complete opposite. She was pulled out of classes to meet with mental health professionals who, Delevingne admitted to Vogue magazine, she would "screw with" in an attempt to frustrate them so they would drop her as a patient.
As a child, she was misdiagnosed several times, including at the age of nine when she was told she read at the level of a 16-year-old, and, when she finally turned 16, she was told she had the reading ability of a 9-year-old. She was eventually diagnosed with dyspraxia — a developmental disorder in which people have trouble coordinating their thoughts and movements, which is ironic considering she now gracefully sashays down a runway for a living.
After she was sent off to a Hampshire boarding school called Bedales, she eventually dropped out to follow in her sister Poppy's footsteps and try her hand in the modeling industry, Vogue reported.
Thankfully, her risky decision definitely paid off.
A major decision
Cara Delevingne told Vogue that depression and a tendency to self-destruct both run rampant in her family. She realized she suffered from the same plight as the members in her prestigious lineage when she told the magazine that when things are going well in her life for too long, she prefers "to ruin it."
One particular low moment came on the heels of her ascension to superstardom. She was living in New York, and her career as a model and actress was moving ahead at lightning speed. She had plans to go on a much-needed vacation, but, the day before her departure, she had thoughts of suicide. "I had a way, and it was right there in front of me. And I was like, I need to decide whether I love myself as much as I love the idea of death," she told the magazine.
Suddenly, the song "SpottieOttieDopaliscious" by the hip-hop duo Outkast began playing on her laptop. It just so happened to be the same song that was played at the funeral of one of her friends who had recently died of a heroin overdose. She took the random playing of the song as a "warning" from her decease friend, and while she backed out of doing any harm, in that moment, she still felt so "furious" with herself.
If you or someone you know is having suicidal thoughts, please call the National Suicide Prevention Lifeline at 1-800-273-TALK (8255).