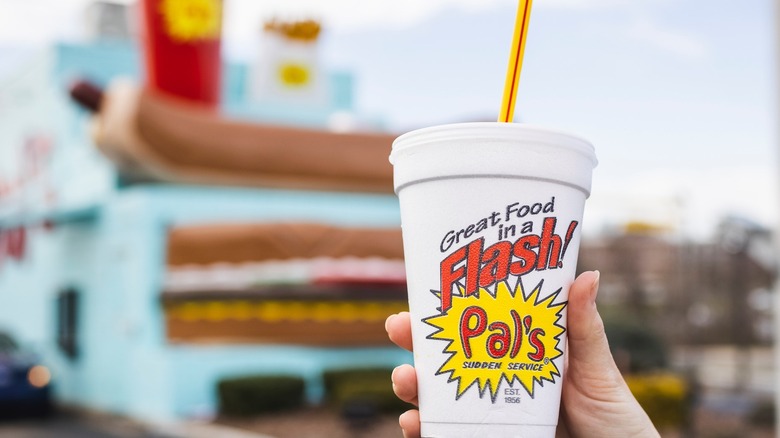 We all have our favorite fast food chains, but some of us have more to choose from than others. The East Coast and Southeast boast some fan favorites like Shake Shack and Culver's, but some of the lesser-known chains deserve their turn in the spotlight. Many Westerners likely have never heard of some of these brands, but we highly recommend acquainting yourself with them as soon as possible, no matter the distance.
All across the Eastern side of the United States, you can find unique fast food options that offer everything from hushpuppies to vegetarian burgers. While some of these companies plan to expand to Western cities in the near future, others will likely remain rooted in their home states. But the next time you're craving a burger, allow us to point you in the right direction — whether that's across town or across the country, we promise these spots are worth it.
Bojangles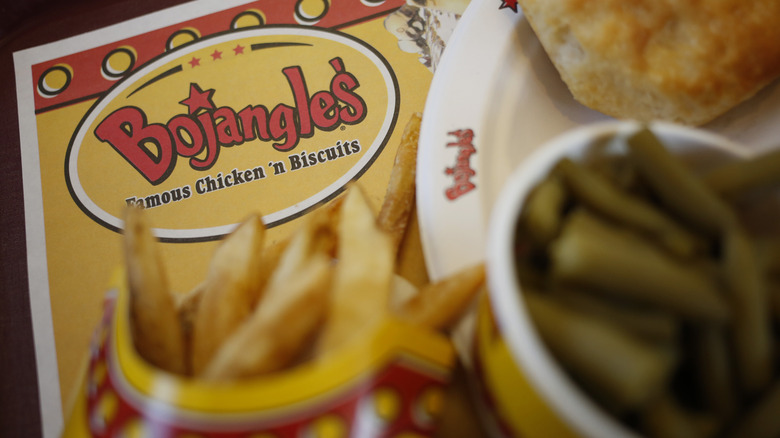 If you're looking for fried chicken, there's no better place to get it than the South. Bojangles, a popular fast food chain based out of North Carolina, serves chicken with a Cajun twist, featuring dishes like red beans, mashed potatoes, mac n' cheese, and of course, all the fried chicken of your wildest dreams.
What makes Bojangles so delicious? According to the Nashville Post, Bojangles chicken is delivered fresh to individual stores, where it gets marinated for a full 12 hours and then breaded using a complicated eight-step recipe. As if that weren't enough, Bojangles' biscuits "are an art form," according to Eric Newman, the Executive Vice President — which is really quite a feat considering this is a fast food joint. "It's a highly honored position in our restaurants. It's an intricate, delicate process to manage," Newman explained.
You can tell Bojangles is beloved by its passionate fanbase — in 2017, North Carolina Senator Thom Tillis took to Twitter to defend the fried chicken chain after it received a negative review in the Washington Post. "With all due respect to the @washingtonpost, their food tasters need to get their tastebuds checked out," Tillis wrote. "@Bojangles1977 makes the best 'fast food' biscuits, period." Now that's dedication.
Cook Out
Another popular chain can be found primarily in the Southeast. Cook Out boasts over 200 locations across 10 U.S. states and has attracted dedicated fans from across the world thanks to their high-quality food (via Wide Open Eats). Cook Out's menu features classic fast food dishes such as burgers, chicken strips, fries, and onion rings. But with unique additions like BBQ sandwiches, hushpuppies, and 40 different milkshake flavors, Cook Out definitely stands out from the crowd.
According to Insider, the Cook Out burger is hard to beat. With chili, coleslaw, mustard, and onion, this burger offers complex flavors and textures that you'd be more likely to expect from a home-cooked meal than a roadside pitstop. As if that weren't enough to entice you, Cook Out's menu dedicates an entire section to other cookout favorites like BBQ sandwich with coleslaw, hot and corn dogs, and hushpuppies. A fast food chain this good only comes around once in a while, so we recommend a trip to the South ASAP.
Wawa
Wawa, a quick-service convenience store located across six states primarily on the East Coast, in addition to D.C. locations, is practically a cultural landmark. The company began way back in 1803 — before George Wood bought it toward the end of the century, Wawa was an iron foundry in New Jersey. One hundred years later, Wood reestablished the business as a dairy farm where he experienced widespread success thanks to his careful sanitation process and high-quality products. Wawa became the convenience store we know today in 1964 when, after milk sales dropped, George Wood's grandson rebranded the company as a market and the first Wawa Food Market was born (via Wawa).
These days, in addition to the dairy products the store was known for back in the day, Wawa also sells coffee, fuel, and made-to-order foods — not your everyday gas station. According to Stephanie Maynes, interviewed in Taste of Home, the quality of Wawa's food is what keeps her coming back. "They have the best gas station food for when you want a treat, but also have lots of healthy alternatives," she says. "It's great for people who want to eat well and don't want to eat fast food."
The Varsity
The Varsity is, according to their website, an "Atlanta institution." Since 1928, the Gordy family has owned and operated this Georgia-based diner. With just a handful of locations across Georgia, this chain is on the smaller side, but it has enough personality to make our list. Customers are greeted with a hearty "What'll ya have?" and served burgers, hot dogs, onion rings, and shakes.
As the largest drive-in fast-food restaurant in the world, The Varsity in central Atlanta stretches nearly five acres, with enough parking spaces for 600 cars (via Produce News). With that amount of space, The Varsity can serve about 30,000 customers per day — according to Produce News, that's two miles of hot dogs daily. This fast food behemoth is beloved among Georgia locals and visitors alike. The comedian Nipsey Russell worked as a carhop at The Varsity before his career took off, and The Varsity has attracted customers like Elvis Presley, Muhammed Ali, and even a few U.S. presidents (via Garden & Gun).
Biscuitville
Biscuitville, another fast food chain based in the American South, is famous for their biscuits — and lots of them. The company claims their biscuits are made fresh every 15 minutes, promising customers a delicious experience no matter the time of day. As their food proves, this restaurant takes their biscuits very seriously. According to the Biscuitville website, the founder of the company, Maurice Jennings, was given the choice between the family farm or the family biscuit recipe — we think you can guess which one he chose.
Despite its fast food status, Biscuitville takes pride in its products. In each store, you can find a list of the company's local suppliers displayed for customers to read. Biscuitville still buys grain from the same family-owned company that has supplied them with quality flour since the 1960s (via USA Today). Though many fast food chains discourage customers from thinking about where their food comes from, Biscuitville clearly considers this an integral part of the dining experience — and lucky for us, it just makes the biscuits taste even better.
Friendly's
The first Friendly's was opened in 1935 by two brothers based in Springfield, Massachusetts. According to Insider, Curtis and Prestley Blake wanted to help boost morale during the Great Depression — and what better way to do that than selling ice cream? Friendly's ice cream was immediately popular thanks to its low prices and catchy title.
As the business grew, the Blake brothers began serving food to go along with the desserts they were famous for. The current Friendly's menu consists of items such as burgers, wraps, salads, and sandwiches — and don't forget the sundaes. Friendly's serves all kinds of ice cream — customers can choose from single scoops to stacked sundaes. If you're in the mood to indulge, we recommend the Hunka Chunka PB Fudge Lava Cake (a lava cake filled with peanut butter and served with peanut butter and fudge ice cream, with Reeses and chocolate chips sprinkled over it all) or the Retro Royal Banana Split. The sundae lives up to its title and has strawberry, chocolate, and vanilla ice cream atop a banana and drizzled with marshmallow, fudge, and pineapple sauce, with a healthy dollop of whipped cream, and a cherry on top!
Zaxby's
Childhood friends Zach McLeroy and Tony Townley launched Zaxby's in 1990, inspired by the chicken fingers McLeroy ate at a nearby restaurant while attending the University of Georgia in Athens (via Greysteel). Though the company got off to a slow start, the last 15 years have seen massive growth for this multi-talented chain. According to Insider, the Zaxby's franchise made a whopping $1.3 billion in 2014. And they don't plan on slowing down anytime soon — Insider reported that in 2016 the chain added nearly 100 restaurants to their 660 already bustling storefronts.
Located primarily in the South and Midwest across 17 states, Zaxby's serves chicken fingers and wings, fried chicken sandwiches, fried pickles, Texas toast, and fried mushrooms. The menu is more extensive than most fast food chains, so if you're tired of fried chicken, you've got options — from "Big Zalads" to "Zappetizers," there's something for even the fast food-wary here.
Zaxby's plans to continue its growth by expanding into more western states (it's already in Utah), where many people don't even know it exists. But to attract customers, the Zaxby's CEO claims they'll stay true to their roots and won't "make plans for any drastic moves, instead choosing to focus on the food chain's expertise: chicken" (via Metro Atlanta CEO).
Rita's Italian Ice
In 1984, a man named Bob Tumolo opened an Italian ice shop in Bensalem, Pennsylvania. Tumolo, a firefighter, knew all about how hot the summers could be, and he wanted to help his community stay cool while making a little extra money to support him during the off-season. He named his store after his wife, Rita. The slogan, however, he came up with on his own — "Ice Custard Happiness" (via Rita's Ice).
It didn't take long before Rita's started growing. By 1987, just three years after launching, the company had three locations. In 1996, that number jumped to 100. These days Rita's remains popular with over 600 stores, located predominantly in the Eastern United States, with a few strays in California and abroad — and hopefully more to come (via Philadelphia)!
If you're looking for a frozen treat, Rita's is the way to go. From Italian ice to a creamier custard option, Rita's has something for every kind of sweet tooth (ice cream sandwiches, anyone?).
Bareburger
For vegetarians, fast food is usually not an option. But Bareburger, located primarily in the Northeastern United States, seeks to change fast food's widespread reputation. The company's menu is one-third vegetarian, and they also have gluten-free options and sustainably sourced meats and produce. Even the restaurants themselves are built using recycled materials!
The Bareburger menu is a little more intricate than you'd expect to see at most fast food chains — with extensive salad options, sweet potato fries, and chicken-free chicken nuggets, this is not your average McDonald's burger fare. Even carnivores can feel morally superior with these humanely raised and antibiotic, gluten, and hormone-free patties.
According to Thrillist, before Impossible burgers became a worldwide sensation, they were sold solely at Bareburger for vegetarians hungry for a quick bite. In 2017, when Impossible Foods perfected their veggie patty, it was available only at the Laguardia Place location in New York. Now, of course, you can find Impossible burgers just about anywhere — hopefully Bareburger will follow suit!
Shake Shack
In 2001, Danny Meyer opened a hot dog cart in New York City's Madison Square Park. As word spread of the delicious food being served up in the park, people began lining up at the original Shake Shack. In 2004, Meyer opened a permanent store so he could offer treats to more and more people — and Shake Shack only grew from there (via Shake Shack).
Shake Shack gained its popularity largely due to the quality of its food — though it's a fast food chain, the quality of their products beats out even some of the best dine-in restaurants. Shake Shack's website boasts sustainably sourced ingredients, fresh hormone-free meats, and personal relationships with purveyors near and far.
Most importantly, Shake Shack cooks their food meticulously — from the burger buns to the pan the meat is cooked in, Shake Shack chefs never skip a step (via Daily Beast). Even their fries, though frozen, were carefully considered. Rumor has it, after the New York Times published a review that criticized the company's fries, Shake Shack spent $1 million (via Bon Appetit) to research the perfect french fry. The chain may be in over half of U.S. states and have international locations, but there are still a several states in the U.S. missing out on these popular East Coast burgers.
Sheetz
Founded in 1952, Sheetz has become one of the most popular (and lucrative) East Coast convenience stores available. According to Forbes, Sheetz was ranked 67th in the country's largest private companies, and it raked in $6.2 billion in revenue in 2020. Sheetz prides itself on providing you — whoever you are — with everything you need. From made-to-order food options like sandwiches and donuts to coffee items and gasoline, Sheetz is the perfect stop to avoid making several others.
Sheetz has been under family ownership since its opening in the '50s and has featured a rotating cast of Sheetz's as CEO over the years. Stan Sheetz, the company's CEO for 18 years, made it clear, upon his departure, that although leadership may change, the family remains dedicated to serving customers the same quality products they've always expected from their neighborhood Sheetz stores.
"My father instilled in all of us that the company comes first. We're always going to do the right thing for the brand," Sheetz said.
Pal's Sudden Service
Pal's Sudden Service, located in cities across Virginia and Tennessee, is one of the best little-known fast food chains you'll find. From its humble beginnings in the 1950s under the direction of Fred "Pal" Barger, Pal's serves burgers, hot dogs, sweet teas, and an impressive assortment of breakfast foods, from biscuits and gravy to fried cheddar rounds. According to the Kingsport Times-News, Pal's was the first fast food chain ever to win the Malcolm Baldridge National Quality Award, which usually is granted to hospitals, schools, and hotels.
According to Southern Living, Pal's outshines its competition thanks to intense staff training that emphasizes the importance of attention to detail and quality food. As a result, many employees who work at Pal's stick around longer than most fast food employees and make a career of the job. Those employees also tend to be friendlier and more helpful than others (via QSR).