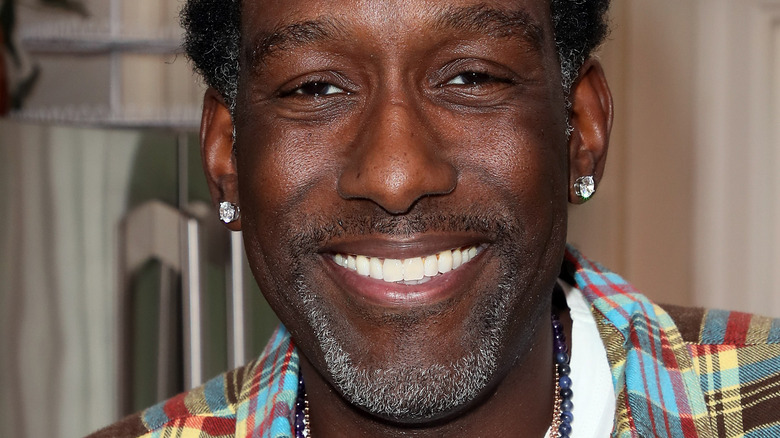 Back in the mid to late '80s, a few students who attended Philadelphia High School for the Creative and Performing Arts started a singing group. At one point, there were five members and they called themselves Unique Attraction. After a name change and lineup change, the group forged ahead. And it's a good thing they did because Shawn Stockman, Wanya Morris, Nathan Morris, and Michael McCary would eventually land a deal with Motown to release their smash debut "Cooleyhighharmony," an LP that borrowed from R&B, as well as hip-hop.
After their debut, other huge songs followed, including "End of the Road," "I'll Make Love to You," "On Bended Knee," and Mariah Carey collab "One Sweet Day." And the hits were huge. As the Chicago Tribune noted in 2019, they became one of the most successful R&B acts ever. Plus, the group is still going strong in 2021, playing back-to-back shows, appearing on television, and starting businesses.
But how much have they made over the years? According to Celebrity Net Worth, Wanya, Nathan, and Stockman are all each worth $60 million, while McCary, who left the group in the '00s, is worth $20 million. Based on these numbers, it looks like the group's total net worth is a whopping $200 million. But how exactly did the members earn all of that money? Keep on reading and we'll let you know.
Boyz II Men found success right away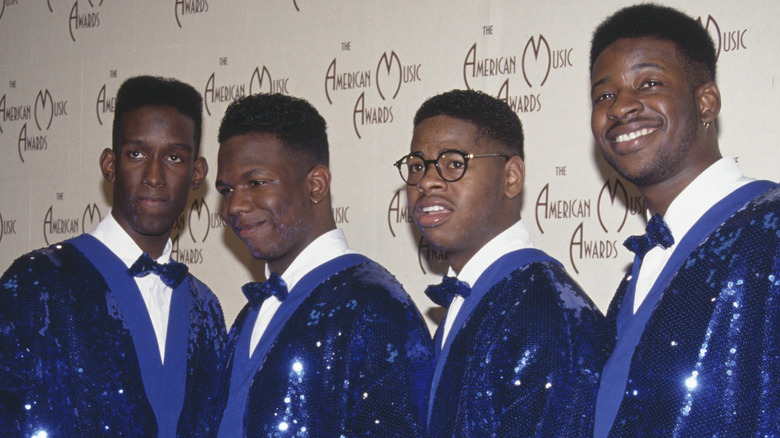 If you think about it, counting the people in entertainment who seek stardom can be as impossible as counting the number of drops in the sea. That's why it seems many love to hear about how an artist got discovered. Why is that, you might ask? Because maybe it gives people hope that one day their dreams will be realized. For Boyz II Men, their lives changed when they sang for New Edition's Michael Bivins after sneaking into a concert at the Philadelphia Civic Center, as Nathan Morris recounted to Philadelphia Magazine. Bivins then became the guys' manager, which he's often talked about.
If Boyz II Men didn't know where their next dollar was coming from before meeting Bivins, they knew after dropping their debut album "Cooleyhighharmony" in 1991: It peaked at No. 3 on the Billboard charts, launching their career into orbit. The success of the album also got them an opportunity to open for MC Hammer on his "2 Legit 2 Quit" tour, and as Variety noted, they got "a hearty and enthusiastic response from the female contingent in the audience." Hammer, at the time, was one of the biggest artists in the world, so an opening slot for the rapper certainly didn't hurt Boyz II Men's pockets. Plus, depending on the stipulations of their first recording contract with Motown, they could've made a decent amount of money off "Cooleyhighharmony" since it sold more than 7 million copies, according to the Encyclopedia Britannica.
No end of the road in sight
Okay, so if you're in Boyz II Men and you've just wrapped up gigging with MC Hammer after your debut album, you might be concerned that you just played your last major tour. Why? Because you're worried about the sophomore slump, or the belief that there's a chance the second album will tank and the touring opportunities will vanish. But that was far from the case for Boyz II Men because as Concert Archives shows, they've continued to tour ever since the early '90s. Sure, there were some years that were slower than others, but for the most part, they've been racking up plenty of tour dollars. The group also had a residency in 2013 at the Mirage in Las Vegas to add to their income.
As of 2021, the fellas are still earning a lot from touring, as they're booked for shows clear through 2022, per Ticketmaster. Of course, it's not widely known how much the members make on the road, because that information is usually kept between the parties involved. That being said, according to AAE Music, Boyz II Men reportedly get between $100,000 and $200,000 per show. Split three ways? That's at least over $30,000 apiece. Not bad for a night's work. However, just like all musicians, the guy's touring money took a hit in 2020 because of COVID-19. In fact, a UK Music report shared by BBC News shows that bands lost two-thirds of their income because of the pandemic.
The many investments of Boyz II Men
It's been said that it's easier for people who are well-off to make money compared to those who struggle financially. Probably because the folks with heftier bank accounts have that necessary seed money to make investments. The members of Boyz II Men started investing their money soon after their career took off. For example, Shawn Stockman co-owned Beatbike, a cycling gym in the Los Angeles area that was located inside an amphitheater. When it opened in 2014, Stockman said in a press release, "I couldn't be more excited to be a part of this amazing venture and to share Beatbike with the community." The center appears to have since closed.
Nathan Morris also invested some of his music money, going into real estate, a move that was highlighted on his four-part DIY series "Hit Properties with Nathan Morris." Over the course of the show, which aired in 2018, Morris is seen remodeling an Orlando mansion that he purchased for $1.7 million. It was then sold for $3,200,000 two years later, per Zillow, so it appears he walked away with an extremely nice payday.
When speaking to Black Enterprise about being successful businessmen in 2014, the group was asked to share what they'd tell another artist who might be looking to invest. "I'm going to give advice that someone else gave to me once," Stockman said to the outlet. "If you have 50 cents, save the other quarter like it didn't exist. It's so important to be disciplined about saving your money." Sounds like some solid advice, wouldn't you say?
Music isn't their only source of income
Here's something that should be a no-brainer: Once a musician gets a famous name, they often have a much easier time making money outside of their craft. Plus, that earning potential can come in handy when albums are no longer sitting at the top of the charts. When it comes to Boyz II Men, they seemingly made a lot of money without singing a single note. Take Wanya Morris, for instance, who appeared on Season 22 of "Dancing with the Stars" in 2016. Although he didn't get to the end of the competition, it stands to reason that he got a nice paycheck: In 2019, insiders told Variety that "DWTS" contestants earn at least $125,000 a season.
As for Shawn Stockman, he was cast as a judge on NBC's "The Sing Off," which aired from 2009 through 2014. The group also had guest spots on TV shows like "How I Met Your Mother" and "Black-ish." They earn money from their online store as well, which sells Boyz II Men merchandise, such as hoodies that go for $100 and tees for $30. Fans can also buy a meet-and-greet package to hang out with the band before a show, as they're doing soundcheck. The group has made money from being in commercials on top of that, working with Geico, Wendy's, and Old Navy. What's more, Boyz II Men launched their own wine brand called Harmony Wine in 2020. Apparently, they have money coming in from all over the place.
The swanky real estate purchases
So for all of the years that Boyz II Men have been touring, they've come home to some incredibly nice digs. Wanya Morris, for one, owned a huge house in Voorhees, New Jersey, per Virtual Globetrotting. According to the site, the veteran crooner purchased the house in 1997 and put it up for sale over a decade later for $649,900.
Shawn Stockman, however, chose the West Coast for his dwellings, purchasing a five-bedroom house in Woodland Hills, California, that he sold in 2006 for $1.5 million, according to Virtual Globetrotting. Stockman then downsized later that year and bought a condo in the Tarzana area for over $700,000. So, he presumably pocketed a good chunk of change from selling his house. And Nathan Morris — Mr. house flipper himself — chose to stay closer to his hometown of Philly with one of his home purchases, spending just under $400,000 on an abode in 1999, per Virtual Globetrotting. From the outside looking in, the three men made some smart, sensible purchases when buying their real estate.
Michael McCary had money drama with the group
When former Boyz II Men member Michael McCary left the group in 2003, the group cited health reasons, but left it at that. Things became a lot clearer in 2016 when he revealed on OWN's "Iyanla's House of Healing" that he has multiple sclerosis. "When I first saw the ailments start to happen, it was like little back spasms at first, and it would get stronger and stronger," McCary explained. In the same series, the deep-voiced singer also said that he no longer speaks to his former group mates and used the word "betrayal" when talking about them. Plus, he kept his condition from the group while they were together.
But McCrary didn't only lose his former friends after leaving Boyz II Men. It feels safe to assume he missed out on a good deal of income considering the group continued to find success after his departure. Evidently, there were other problems outside of McCrary's health that kept him from earning with Shawn Stockman, Nathan Morris, and Wanya Morris.
"We were supposed to do a reunion a couple years back and it all came down to money," McCary said on "Iyanla's House of Healing" (via Black News). "It all came down to the fellas wanted to split three ways, instead [of] four ways and wanted to pay me basically like a baggage handler." But in 2014, Nathan told HuffPost Live that McCrary "gave up [on the group] when things didn't go well."
The generous side of Boyz II Men
Boyz II Men have worked with a good deal of charity organizations in their careers. At least five, in fact, according to Look to the Stars. Some of them include Shriners Hospitals for Children, Speedway Children's Charities, and the Make-A-Wish Foundation. And in 2013, the guys teamed up with Childhelp, an organization that works with neglected and abused children. "Outside of the moral obligations, it's important for celebrities to support a cause because of how many people we reach at one time," Shawn Stockman told NBC News in 2013. "By supporting a cause, we bring awareness to a multitude of people. It's good for the cause we're bringing awareness to and the outreach can help with a possible solution."
Then there's The BoyzIIMen House, the singers' nonprofit. Stockman told NBC News that the group's goal is to assist other charitable organizations, noting thats it's their mission to do "as much as we can for who we can." And the guys haven't forgotten about their hometown of Philadelphia because in 2020, a local CBS affiliate reported that they gave $110,000 to schools' music programs. The way it appears, no one can ever call Boyz II Men uncaring, right?