From Latin party anthems "1-2-3," "Get on Your Feet" and "Rhythm Is Gonna Get You" to ballads "Can't Stay Away from You," "Anything for You," and "Don't Wanna Lose You Now," Gloria Estefan was responsible for some of the best and biggest pop hits of the late '80s. It turns out, the majority were produced by her husband, Emilio Estefan Jr.
Having worked and lived together for more than 40 years, the Miami Sound Machine stars appear to be the ultimate in couple goals. The pair even created a hit Broadway musical out of their love story. Of course, that doesn't mean that their long-lasting marriage has been all plain sailing.
From near-fatal road accidents and disapproving mothers to fertility issues, as well as some happier times, of course, here's the inside story of a relationship that has proved that the music industry and lifelong commitment don't need to be mutually exclusive terms.
Their meet-cute involved an accordion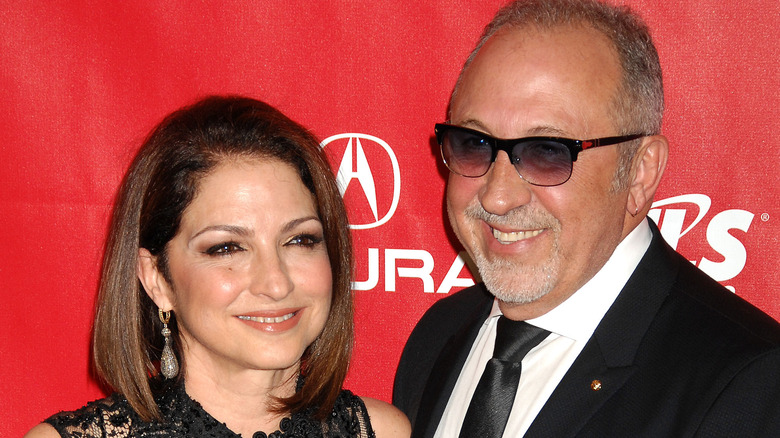 You wouldn't expect 'skimpy-shorted accordionist' to be on the top of many people's wishlist when it comes to finding a life partner. But that pretty much describes what Gloria Estefan was bowled over by when she first clapped eyes on future husband Emilio Estefan at a friend's house back in the mid-1970s.
In a 2020 interview with USA Today, the "Conga" singer explained, "We were putting together a one-night band for an encounter group that our parents were a part of. So Emilio came, he showed up and in his very short shorts and his accordion, which kind of made it look like he was naked." It doesn't sound like the most flattering of looks yet apparently, this did it for a young Gloria. She added, "But he had great legs and his hands really drew my attention. I was sitting on the floor watching. And then he played his accordion for us and I was mesmerized."
The Estefans didn't actually become an item that night, or the wedding that they coincidentally ended up attending separately several months later (where Emilio was once again playing the accordion). Indeed, romance only truly started to blossom a year after the pair began playing together in what would eventually evolve into Miami Sound Machine.
Emilio Estefan used to be Gloria's boss
The dynamics between Gloria and Emilio Estefan during their early days in Miami Sound Machine weren't exactly conducive to romance. Not only was the latter several years older, but he was also dating someone else at the time. And as the leader of the Latin combo, Emilio was essentially Gloria's boss.
Speaking to USA Today in 2020, the singer admitted that they initially tried to keep things strictly professional. But within a year of joining the band, Gloria had become Emilio's girlfriend, and by 1978 they'd walked down the aisle together. Gloria told People in 2017 that she knew Emilio was the one from their very first date — a cinema screening of Mel Brooks' classic "Young Frankenstein." And it looks as though the roles have reversed in the four decades since, too. Speaking to the same magazine, Emilio chimed in, "She's my boss now."
That's perhaps not too surprising when you learn that even in Miami Sound Machine's infancy, Gloria was determined to assert some creative control. Discussing her love of Brazilian music with Smooth Radio in 2020, the singer revealed, "When I joined the band at 17, I asked them to learn all these classics … I told him [Emilio], 'You know, I think it would really open up our musical appeal if we could do some Brazilian music, because I can sing it.'" Emilio obviously listened, because in 1982, the group released the Brazilian-inspired album "Rio."
They're both hugely proud of their roots
Even on her most mainstream pop records, Gloria Estefan has always been determined to stay true to her roots. Just listen to those Afro-Cuban beats on "Rhythm Is Gonna Get You" for proof. And the pride she has in her heritage has also helped when it comes to her marriage, too.
In a 2020 chat with USA Today, the multiple Grammy winner credited her mother for teaching her the importance of sharing one's culture. It's a lesson that she and husband Emilio Estefan, who's half-Cuban, half-Lebanese, have been keen to pass on to their own kids as well, and one which has continually strengthened their relationship with each other.
And in a statement that suggests a career in politics awaits, Gloria added, "We're not going to give up who we are or our last name because that's what this country has been built on. It's a tapestry of different backgrounds, cultures, religions, and that's the strength to me of what the United States is and what it stands for, freedom above all else."
They rarely argue
It always seems a little suspicious when a couple claims that they rarely argue. Surely there are just years of simmering resentment waiting to explode at some point in the relationship? But after more than 40 years of happy marriage, you have to take Gloria and Emilio Estefan at face value when they say there's very rarely a cross word between them.
In a 2019 interview with PBS and much to reporter Amna Nawaz's apparent disbelief, the pair insisted that things in the Estefan household are always pretty rosy. Gloria said, "We're on the same page. We rarely differ when it comes to business or music. So, if you don't argue a lot, that really makes — makes it for a great, great life and very fast." Emilio then added, "Sometimes, you don't do things if you think she's going to get upset, and, sometimes, I do things that makes her happy."
But there has been at least one occasion when the Estefans have had a war of words. Taken from 1985's "Primitive Love," Miami Sound Machine's first U.S. Top 5 hit "Words Get in the Way" was reportedly written by Gloria after she and Emilio had a row, and suggests that her husband has a "temperamental moody side."
Gloria Estefan's mother took 12 years to accept their marriage
Gloria Fajardo sure was one tough woman to win around. Her chart-topping daughter had been married to Emilio Estefan for no fewer than 12 years before she finally gave them her blessing. And it took a near-fatal road accident for her to do so.
Speaking to The Sunday Post in 2019, Gloria Estefan admitted that her mom "tortured" the love of her life during their early courtship, largely due to the fact that his choice of career was synonymous with womanizing. But the Grammy winner also acknowledged, "My mum wouldn't have been convinced by anybody. Nobody is good enough for a Cuban mother."
However, following the 1990 tour bus crash in which the "1-2-3" singer was almost left permanently paralyzed, Gloria Sr. realized that she may have been a little harsh. Gloria Jr. added, "She saw the way he cared for me and cared for everybody around us — he took care of her even when she was mean to him. They went on to have the closest relationship you can imagine and we spoiled her until her passing two years ago."
They initially struggled to conceive a second child
Gloria and Emilio Estefan first became parents in 1980 with the birth of son Nayib, now an occasional actor and composer who in 2012 became a father himself. But the pair's attempt to add to their family unit was something of a struggle.
After getting the go-ahead from doctors following the bus crash which fractured Gloria's spine, the couple began trying for another baby, with Emilio particularly keen to welcome a daughter into the world. But this time around, they struggled to conceive. The singer told People in 2008, "It was incredibly stressful. For the first year we just kept on trying, not knowing if anything was wrong."
Something did indeed prove to be wrong. Unbeknownst to her, one of Gloria's fallopian tubes had shifted and it was only after surgery to correct it, alongside numerous infertility injections, that the Estefan household became a foursome. Yes, in 1994, Emily Marie Consuelo Estefan was born, and just like her brother she's gone on to follow in her parents' musical footsteps, releasing an album, "Take Whatever You Want," in 2017 and launching her own label Alien Shrimp Records.
Emilio Estefan wasn't allowed to see Gloria's first screen kiss
Gloria Estefan has dabbled with acting in the past, appearing opposite Meryl Streep in "Music of the Heart," guesting on "Glee," "Frasier," and "One Day at a Time." But her role in the remake of "Father of the Bride" was the first time she'd been required to kiss another man on screen. And unsurprisingly, the singer didn't want her husband Emilio Estefan on set when the big moment arrived.
When asked about the smooch with Andy Garcia, who plays her husband in the wedding comedy, by ET, a definite Gloria replied, "He [Emilio] wasn't even in the city. I was not having that, girl, no way! I was nervous enough." And it wasn't just her own spouse that the "Reach" singer was worried about.
Indeed, Gloria was also concerned about what Andy's wife of nearly 40 years would say about the moment of passion. Luckily, Marivi Lorido Garcia appears to be a little more relaxed about the whole situation. Gloria recalled a conversation with her co-star in which he said, "You are my only pass. You are the only person who she does not have a problem with."
They use their fame for the greater good
Gloria Estefan famously broke her back in 1990 after a semitrailer crashed into her tour bus during a late-night journey in Scranton, Pennsylvania. The singer was told she might never walk again following the accident which left her needing spinal cord surgery involving the insertion of two supportive eight-inch steel rods. But after vowing to beat the odds, Gloria made a remarkable comeback and within a year she was back on the road strutting her stuff.
Far from forgetting about the near-fatal moment, Gloria and husband Emilio Estefan have since done their best to help others who have suffered similar injuries. In 1997 they launched the Gloria Estefan Foundation with the aim to provide support for those with spinal cord problems as well as children from financially disadvantaged backgrounds.
The Estefans are also supporters of neurology care provider Brain Center, a cause close to Gloria's heart having lost her father to multiple sclerosis. And they also staged a benefit concert in 1992 to raise funds for the devastation caused in Florida by Hurricane Andrew. Gloria told The Sunday Post in 2019 that she's always had a charitable side: "When the money came in from the 'Dr Beat' single, every time I received a letter from someone in need I would freak out, because I wanted to help everyone but in reality you can't do that, so what I tried to do is stay close to home, help things that have touched me personally."
Emilio Estefan is happy for Gloria to take the spotlight
Emilio Estefan may have been the more locally-known name when he first met his future wife while playing the accordion in short-shorts at a house party. But he didn't have any qualms about letting her surpass his level of fame when she joined his band Miami Sound Machine.
Indeed, within a few years of giving her center stage, Emilio insisted that Gloria's name should also be in front of the band's, too. In a chat with Arts Pod, the singer recalled how she initially relented to the idea: "I didn't want him to add my name to the band because we were successful and I was happy with my bandmates, nor did I want it to be just 'Gloria Estefan'. But he was like 'People are identifying with you, they think you're beautiful and sexy, they need to know your name.'"
And Gloria credits this lack of ego for their relationship enduring on both a professional and personal level: "That's why we've been able to have a successful marriage and a successful career. He does what's best for the artist and that's why people love working with him … He doesn't need the accolades."
They have a shrewd business sense
Not content with propelling Latin pop into the mainstream, selling more than 100 million records worldwide, and even staging a Broadway musical about their lives, Gloria and Emilio Estefan are also shrewd entrepreneurs. Indeed, with their vast business portfolio, the husband and wife team are essentially Florida's answer to Jay-Z and Beyoncé.
The pair first began climbing further up the Forbes rich list when they launched numerous Cuban-themed eateries across their home state. But they also own two hotels, The Cardozo and Costa d'Este, have a minority share in NFL franchise the Miami Dolphins, and are on the Univision Communications Inc. board of directors.
So what advice would they give to anyone hoping to follow in their entrepreneurial footsteps? Well, in a 2013 interview with Cosmopolitan, Emilio recommended seizing the moment: "Work on it! Start now. Time is running out, and you have to work ahead of your opportunities. When I started in the business, I was a kid who left Cuba to play music for tips in a restaurant. I had a thick accent, and my first office was in my garage. I worked on Saturdays and Sundays. I still do! As Latin people it's really important for us to start our own businesses and create our own opportunities. Every time we take a risk it helps all of us!"
They're not afraid to get political
You might not find much political in Gloria Estefan's array of party starters and romantic ballads. But that doesn't mean that the star and her husband Emilio are afraid to fight for what they believe in outside the confines of Latin pop, particularly when it comes to matters in their homeland.
In 2021, the pair joined several officials from the White House for a virtual listening session relating to the SOS Cuba protests. Gloria had previously called upon the United Nations, with who she once served as a delegate, to publicly condemn the suppression tactics used against the protestors by the Communist Cuban government.
The Estefans also discussed their political beliefs, and specifically the difficult relationship between the United States and Cuba, in a 2015 interview with Forbes. Gloria remarked, "The bottom line is: the rest of the world has been going there forever, and nothing has gotten better for the Cuban people. Everything goes through the government, not through the Cuban people themselves." A slightly more diplomatic Emilio added, "The old people will never forget. The younger people have hope. But everybody knows how depressing it is, especially concerning basic human rights."
They helped another power couple find love
If "Celebrity Dating Game" ever needs new hosts, then look no further than Gloria and Emilio Estefan. The pair were instrumental in getting music industry mogul Tommy Mottola and Latin pop hitmaker Thalia together after setting the pair up on a blind date at the turn of the century.
Thalia told "Today" in 2021 that she was initially reluctant to meet the former Mr. Mariah Carey, even more so when she discovered that he was a recently divorced father of two. Mottola also had his reservations after learning that Thalia was a singer — in fact, she was pretty much the Queen of Latin Pop at the time. But the Estefans' persuasive powers proved to be too strong.
In a 2020 episode of Facebook Watch show "Latin Music Queens," Emilio explained why he was so determined to act like Cupid: "I believe a lot in destiny and I told Tommy, 'You have to meet this girl.' I told Thalia, 'You have to meet this guy. It's two people that are so important in my life because we share so many incredible moments and they're my family." Just two years after the Estefans' meddling, Thalia and Mottola walked down the aisle and later became parents to daughter Sabrina and son Matthew.
They differ on the secrets to their marriage
Ask both Emilio and Gloria Estefan what the key to their enduring marriage is and they will each give very different answers. The former told People in 2019 that it's simply a single word: "You say yes to your wife. Everything she tells you, say yes. That's the whole secret."
Gloria, who was standing on the red carpet alongside her husband at the time, disagreed with the implication that she's always the boss. And a year previously she'd insisted on "The Graham Norton Show" that their marriage is built on their shared sense of humor.
So what kind of jokes are told in the Estefan household? Well, it turns out that it's Emilio's memory loss that brings most of the funny. Gloria revealed that her husband will often leave places forgetting that she's been with him and that he has a habit of getting people's names embarrassingly wrong: "Do you know what he calls the queen of soul? 'Urethra Franklin' … He keeps me laughing and that's why we've been married 40 years."
They have a net worth of $700 million
Depending on which source you believe, Gloria and Emilio Estefan have a net worth somewhere between $500 and $700 million. Whatever the exact figure, it's proof that being the leading purveyors of Latin pop music pays off.
Of course, the Estefans have amassed such a fortune thanks to their entrepreneurial activities, too, including their chain of restaurants and best-selling cookbooks, as well as their shrewd investment in real estate. In 1993, the couple forked out nearly $2 million on a waterfront property for Gloria's mother on Miami's Star Island. Eight years after she passed away, the same place sold for a whopping $35 million!
The wealthy pair also have their own gated property nearby that's worth a similar amount, and one which thanks to their "immigrant mentality," they bought outright instead of via a mortgage. Emilio explained to AARP, "My success is not about money. But the real estate — as an immigrant, you always want to have a backup. Something happens to you, you don't want your kids to go through what you went through."