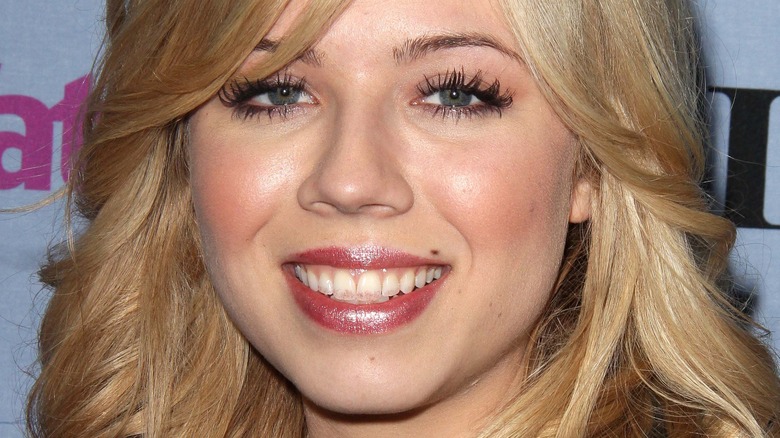 Jennette McCurdy may have played some squeaky clean characters in her time as one of the most recognizable faces on children's TV — but behind the scenes, it was a whole different story.
The star shot to fame as a child star, taking on roles in some of the biggest shows of the 2000s and 2010s, including "Malcolm In The Middle," "Zoey 1010" and, of course, "iCarly." McCurdy took on the main role of Sam Puckett in the latter Nickelodeon mega-hit, which pretty much made her a household name — and the spotlight only intensified when she landed her own spinoff about the character's adventures, "Sam & Cat." In "Sam & Cat," McCurdy appeared alongside Ariana Grande (who we don't have to tell you has carved out quite the career for herself since then) as Cat, with the show also going to see huge success and landing McCurdy millions of more fans across the globe.
But while the star was one of the biggest names out there and had her face plastered on pretty much every piece of merchandise you could imagine thanks to her association with Nickelodeon, there was a lot of tragedy going on behind the scenes that her young fans probably had no idea about. Read on to find out more about the dark side of McCurdy's fame and how she's worked hard to come out the other side.
Jennette McCurdy had to deal with body shaming trolls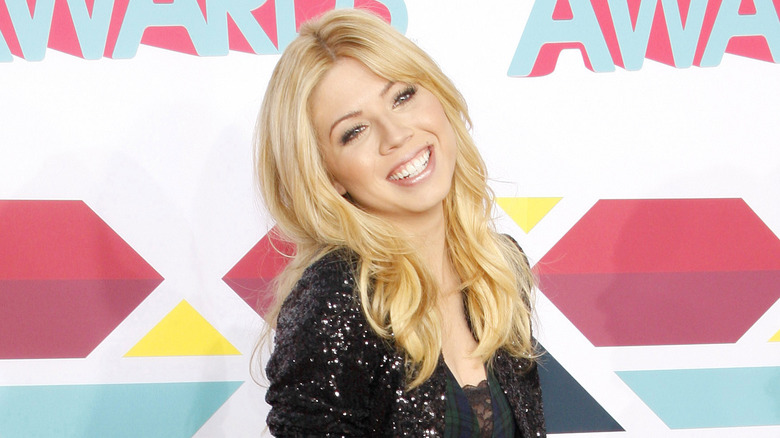 Sadly, with pretty much any kind of fame comes negative attention from trolls, and Jennette McCurdy is no stranger to hateful comments. The star revealed that she's been the target of some vicious messages via social media, particularly picking apart her appearance.
In a piece for The Wall Street Journal in 2014, she recalled seeing herself on a magazine cover but noticed it had edited her to such an extent she barely even recognized herself, which triggered her low self-esteem. "I had a two-year span where I was so self-conscious and uncomfortable with my body that I would dress more provocatively to events and in photos because I looked to comments of praise to fulfill me and give me the confidence I lacked," she admitted. "I needed affirmation to feel comfortable. I was caught up in the whirlwind that is beauty."
McCurdy also addressed hateful social media messages from trolls with a powerful Instagram post in December 2015 when she purposefully edited her body in a dramatic way to make a point about unrealistic beauty standards. The deleted snap showed McCurdy with an impossibly tiny waist and unnaturally smooth skin. "Hey guys – can we stop using facetune and other flaw-correcting apps to extremes? Instead of camouflaging our flaws and feeling ashamed, let's embrace our strengths and feel empowered," she wrote in the caption, urging her followers to share three things they like about themselves in the comments (via Earn The Necklace).
Shame was one of the big reasons Jennette McCurdy quit acting
Despite her huge success, McCurdy very candidly admitted in February 2021 that she felt "ashamed" of her career and "embarrassed" by her roles to the point that McCurdy quit acting after the death of her mom.
The star made the confession on her "Empty Inside" podcast while speaking with Anna Faris, saying, "I resent my career in a lot of ways" as she referred to her past roles as being "cheesy" and unfulfilling. "I did the shows that I was on from like 13 to 21 and by 15 I was already embarrassed. My friends at 15 weren't, like, watching this. They weren't like 'Oh cool, you're on this Nickelodeon show.' It was embarrassing."
McCurdy made the decision to stop acting full-time in 2013 in the wake of her mom's tragic death, but she didn't leave the industry completely. She has acted in a few choice roles since "Sam & Cat" ended, but shared she's been more focused on writing and directing since, telling Faris her career behind the camera has been "going great."
As for how she feels about her past roles now? McCurdy told Elite Daily in April 2020 she wasn't "fully there yet" when it comes to accepting her past. "I still have complicated feelings toward my past from my experience with Nickelodeon. It's something that I work on. I'd like to get to a place of peace with my past. That would be great," she said.
Jennette McCurdy found life 'hellish' while one of the biggest stars on the planet
It's safe to say that Jennette McCurdy hasn't been afraid to admit she didn't exactly relish her days as a child star, and that was no more apparent than when she opened up with filmmakers Joshua Fields Millburn and Ryan Nicodemus on her "Empty Inside" podcast in March 2021.
"I was a famous 19-year-old and making a bunch of money and felt like I had everything at my fingertips, but I was deeply unhappy and I actually really resented my life," McCurdy admitted, referring to the "projects" she was working on as being the biggest source of unhappiness. She shared she found it "a difficult thing to say" because she knows how beloved the shows she starred in are to those who grew up watching them. "I hear constantly that, 'You made my childhood,' and I think it's great that they had that experience, but that just was not my experience."
McCurdy went on to call her time as an actor "hellish," admitting the bold term "is not too intense of a word" as she confessed she never really identified with her squeaky clean characters. "Nobody really knew me. I was very different from the character I was playing … I'm known as a thing that I'm not," she said, also admitting during the candid chat that she made the decision to "walk away" because she had to "for [her] mental health and for [her] overall peace."
Jennette McCurdy has been open about her experiences with anxiety and OCD
Jennette hasn't shied away from getting candid about her experiences with both anxiety and OCD. In a June 2017 blog post, she wrote about her "nighttime anxiety" after finding her "thoughts were racing" and her "heart was pounding a little faster than normal," seemingly for no logical reason. She then went on to list a few things that helped calm her down, including taking a warm bath and breathing deeply.
McCurdy has also shared how her anxiety dates back to when she was a child actor auditioning for roles. She told Anna Faris on her "Empty Inside" podcast in February 2021 that she always found acting to be "difficult" because it made her feel so anxious. "I'd have to pee like 15 times … my heart would just pound, I'd get so clammy. Really, it was kind of a battle of nerves," she shared.
McCurdy also dealt with OCD as a child, which she spoke about during a September 2020 episode of "Empty Inside" while speaking to influencer Hyram Yarbro. "I had OCD as a kid and I'd be like 'Okay, so my still small voice is telling me that I need to touch this thing 10 times before I touch this other thing 10 times so that I can then go to the door and open this five times," McCurdy shared, admitting that "small voice" would tell her she needed to do it or her mother would "would die."
A hacker leaked Jennette McCurdy's personal photos and put her career in jeopardy
March 2014 saw Jennette McCurdy face a tough time in the media after personal photos were leaked to the world showing her in some compromising positions wearing lingerie (via HuffPost). The private snaps quickly spread across the internet and created a media firestorm of speculation that the unauthorized release of the photos putting a smudge on her squeaky clean image had put the future of McCurdy's Nickelodeon hit "Sam & Cat" in jeopardy.
McCurdy addressed the leak in a since-deleted tweet, which read, "To anyone disappointed: I sent those pics to 1 person. You can connect the dots. Shocked someone would stoop so low. I just speak w/ candor." It was widely speculated at the time by numerous outlets that the leak could have led to production on "Sam & Cat" being shut down, particularly after McCurdy skipped out on attending the Nickelodeon Kids Choice Awards as the kids' comedy series went on hiatus amid plenty of drama behind the scenes (via Deadline).
However, McCurdy publicly denied the photos had anything to do with her decision not to appear at the awards in another since-deleted tweet (via Daily Mail) and instead pointed the finger at Nickelodeon for her absence. That social media message appeared to bring to the surface an apparently frosty relationship between the young actor and the big-time network.
Jennette McCurdy had a public spat with Nickelodeon
Jennette McCurdy's relationship with Nickelodeon during her time as one of the network's biggest stars could be described as a rollercoaster at best. It's no secret that McCurdy had a contentious time with the kids' TV network, and she herself pointed to it in the wake of her leaked photo scandal. Around that same time in March 2014, McCurdy went public about what was going on behind the scenes after skipping the Nickelodeon Kids Choice Awards.
In deleted tweets, she claimed she'd been "put in an uncomfortable, compromising, unfair situation…" and had to "look out" for herself, before adding, "I chose to not [attend the awards] because sticking up for what is right and what is fair is what my mom taught me is ALWAYS the most important thing." She denied she was speaking about the leak and more about "how Nickelodeon treated [her]" (via Deadline).
A source told TMZ that McCurdy was supposedly unhappy about her pay as Grande allegedly earned "way more money" than her for a very similar role, but Nickelodeon was supposedly not willing to renegotiate McCurdy's contract. A rep for the network told the outlet, "We have nothing but the utmost respect for Jennette and her talent." McCurdy has spoken more about her working relationships since, including admitting during an episode of "Shane And Friends" that her short-lived country music career wasn't something she wanted to do but something she was "told" to do.
Financial burdens crept into Jennette McCurdy's life early
Jennette McCurdy hasn't made a secret of the fact that she was faced with serious financial burdens early on in her career, revealing that she became the main breadwinner for her family while still just a child. Speaking on the very telling "Fish Out of Water" episode of her "Empty Inside" podcast with Anna Faris in February 2021, McCurdy recalled how she started acting at 6 years old even though she "initially didn't wanna do it" herself. "By age 10 or 11, I was the main financial support for my family and it was very much the pressure of my family didn't have a lot of money, and this was kind of the way out," she explained.
The star also shared how knowing she needed to work to earn money for her family weighed on her, admitting that the stakes being so high financially was actually "helpful in driving [her] to some degree of success" because she didn't think she'd have been so "ambitious" in the career she didn't particularly want otherwise. "It was for my family. I had to f**king do good," she admitted.
There's no doubt that the star pulled in plenty of cash from her childhood TV gigs. According to Celebrity Net Worth, as of September 2021, McCurdy is reported to be worth $5 million and reportedly earned $50,000 for each of the more than 90 episodes of "iCarly" she appeared in between 2007 and 2012.
Jennette McCurdy lost her mom to cancer
Jennette McCurdy was 21 years old when tragedy struck her family in 2013 as her mom, Debra McCurdy, died of cancer, 17 years after initially being diagnosed. According to TMZ, Debra was found to have breast cancer in 1996 but had some good news when she went into remission. However, the cancer sadly returned in 2010 and spread to various places, including her brain. A source told the outlet immediately after her death that the "Sam & Cat" star was "very close" to her mom and was left "devastated."
Jennette has since opened up about the impact the loss had on her, telling Vulture in 2015 that she would work six days after the tragedy to distract herself. "Really I was just putting this huge life-changing event on the back burner and it was slowly causing me to unravel to the point where I would say I got to my lowest emotional point," McCurdy confessed. "[My mom] was my biggest cheerleader, my biggest supporter, and also my hardest critic. She was very hard on me, but I always knew that it came from a place of love and that she wanted the best for me."
Jennette went on to turn such a horrific event into something positive, a one-woman show titled "I'm Glad My Mom Died," which Jennette described as being "about why [her] mom's death went from being the worst thing that ever happened to [her] to the best."
Jennette McCurdy dealt with a 'horrible' alcohol addiction following her mom's death
Another bold admission Jennette McCurdy shared with the world is her "horrible" alcohol addiction. The star opened up about how bad things got following her mom's death during a September 2020 episode of her "Empty Inside" podcast while chatting with comedian Annie Lederman.
McCurdy went through three years of "hell" after her mom's passing, where she experienced bulimia and turned to alcohol. She recalled one particularly rough patch when she was "drunk in the middle of the street in France" while on a work trip. "I was supposed to do a press junket the next day. I got completely wasted. I'm literally sitting on a curb and a friend of mine calls me, and he explains to me how to drop a pin, stays on the phone with me until I get back to my hotel in a cab because he wants me to be safe and knows that I'm f**king passing out in cabs," she admitted, sharing she had "no self-esteem, no confidence" and was "lost" without her mom.
In April 2020, McCurdy told Elite Daily her alcohol addiction was one of the main reasons she stepped back from the public eye because she had to "fight the demons on [her] own time." She added, "I went dark. I went off of social media. I quit acting. I had to make these pretty big life decisions in order to deal with my stuff, my life."
If you or anyone you know is struggling with addiction issues, help is available. Visit the Substance Abuse and Mental Health Services Administration website or contact SAMHSA's National Helpline at 1-800-662-HELP (4357).
Jennette McCurdy has a difficult history with eating disorders
Jennette McCurdy has made no secret of her experience with disordered eating, opening up about her strained relationship with it since childhood. The star wrote about her experiences in a very candid piece for HuffPost in 2019, sharing that her eating disorder journey began when she was 11 years old as a result of her career as a child star and because of her mom's experiences with disordered eating. Things only intensified when she turned 14 and joined the cast of "iCarly." "The stress of having to be 'on' all the time got to me. I became even more fixated on food and my body. I monitored every bite I took. I exercised obsessively. I measured my thighs with a measuring tape every night before bed," McCurdy recalled.
That then transformed into what she described as her "binge eating phase" at 18 when she "tracked" everything she was eating while being "constantly preoccupied with food." From 21, while dealing with her mom's death, McCurdy lived with bulimia for around three years before being confronted by her sister-in-law, after which she sought treatment.
McCurdy has had some relapses in her recovery but thankfully appears to be on a better path now. "Anytime I've had a slip, I've gotten back on my program … I still get eating disorder urges, compulsions and occasional fantasies. I still hear that old eating disorder voice, but luckily I hear it less and less often," she said.
If you are struggling with an eating disorder, or know someone who is, help is available. Visit the National Eating Disorders Association website or contact NEDA's Live Helpline at 1-800-931-2237. You can also receive 24/7 Crisis Support via text (send NEDA to 741-741).