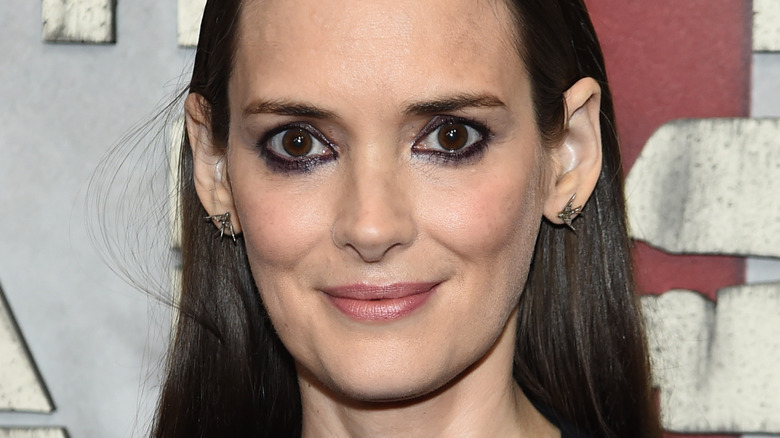 Back in the Golden Age of Hollywood, it was almost unheard of for superstars to forgo marriage. For instance, silent film legend Lillian Gish was one of the few actors of her generation to never marry or have children. Thankfully, antiquated notions surrounding relationships have largely been discarded within Hollywood, with many stars opting to eschew marriage altogether.
Considering that divorce is rife in the entertainment industry, we don't blame celebs for choosing to stay unmarried. NaughtyGossip.com's Editor-in-Chief Rob Shuter suggests that the intimacy depicted in many mainstream films is what leads to the dissolution of innumerable celeb marriages. Speaking with Glamour, Shuter noted, "Can you imagine if it was acceptable for you to fondle your co-workers? If it was okay to go up to someone's desk and pretend to dry hump them? For actors, it's not only acceptable, but required on the job." Shuter makes a good point: no one wants to go home to their significant other knowing they've locked lips (and more) with a glam co-star all day.
While some long-term bachelors like George Clooney have finally tied the knot (thanks in no small part to the allure of human rights lawyer Amal Alamuddin-Clooney), many celebs are opting out of married life. Some of these stars have been cohabiting with long-term partners for decades, while others are enjoying playing the field. These A-list celebs are living the bachelor and bachelorette lifestyles, albeit hopefully with more poise than the participants in the titular reality TV series.
Leonardo DiCaprio is the king of his world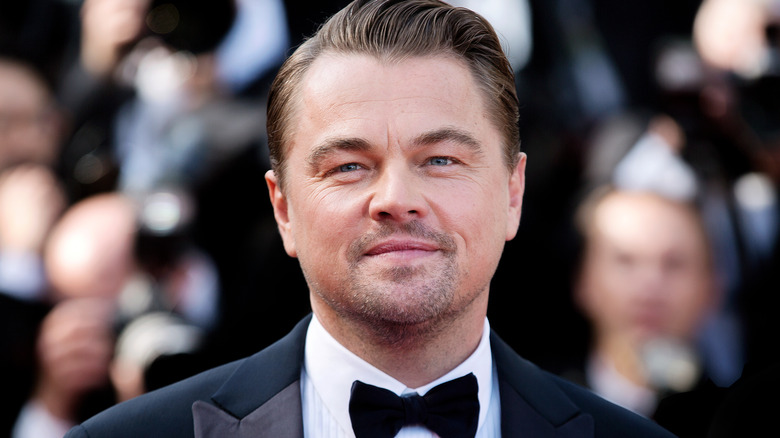 Legend has it that Leo DiCaprio has never dated a woman over the age of 25. Well, at least that's what a thorough fan study purports. If this assertion is true, then the logistics of wedlock wouldn't exactly work for the "Inception" star. Despite having dated stunning supermodels Gisele Bundchen and Bar Refaeli, DiCaprio has never been married. When queried by "60 Minutes Australia" if he would settle down, the actor appeared rather evasive. "I would never answer that question," he joked, though when pressed whether marriage is "on the cards one day," he replied, "I'm sure it will be."
In 2016, DiCaprio elaborated on his wedlock stance when Parade asked him if he believes in marriage. "That time will come when that time comes," he declared in vague fashion. "The truth is, you can't predict marriage. You can't plan it. It's just going to happen when it happens."
Considering that his current girlfriend, Camila Morrone, is 24 as of September 2021, the clock is ticking, and only time will tell if she's going to become the first Mrs. DiCaprio (well, aside from Leo's frequent awards ceremony date, his beloved mom). Catch him if you can, ladies. Or, rather, catch him while you can before reaching that almighty 25th birthday. As Ricky Gervais quipped at the Golden Globes in 2020, "Leo DiCaprio attended the premiere [of "Once Upon a Time in Hollywood"] and by the end, his date was too old for him."
When it comes to relationships, Jon Hamm goes, er, ham
There is no shortage of women lining up to settle down with dapper "Mad Men" star Jon Hamm. Although Hamm admits he's a romantic at heart, tying the knot simply isn't for him. Having been in a long-term relationship with Jennifer Westfeldt from 1997 to 2015, Hamm opened up about his views on marriage in a 2010 interview with Parade, explaining that he grew disillusioned with the notion of wedlock due to witnessing turbulent marriages within his family. "I don't have the marriage chip, and neither of us have the greatest examples of marriages in our families," he stated. "But Jen is the love of my life, and we've already been together four times longer than my parents were married." Furthermore, he referred to marriage as nothing more than "a piece of paper" in an interview with the New York Post.
Unfortunately, the decades-long romance between Hamm and Westfeldt wasn't to be, with the pair reportedly breaking up due to the former's ongoing personal issues. On being single after such a lengthy relationship, Hamm told InStyle, "It's hard. It's hard to be single after being together for a long time. It's really hard. It sucks."
However, if risqué rumors are to be believed, Jon's ham is well packed, so even if marriage isn't on the cards there will certainly be many lady loves looking to get draped around the erstwhile Don Draper.
Diane Keaton said no to marriage, but would have said yes to this famous ex-flame
Known for her depiction of the quirky "Annie Hall," which was directed by her controversial ex-boyfriend Woody Allen, Diane Keaton has been open about her pretty celibate lifestyle. "I haven't been on a date in, I would say, 35 years," she admitted to InStyle.
The actor's renouncement of marriage lies in the patriarchal expectations imposed upon her mother. "I feel like she chose family over her dreams," she told Lisa Kudrow in an Interview Magazine feature. "And she was just the best mother, but I think that she is the reason why I didn't get married. I didn't want to give up my independence. By the way, no one has ever asked me to marry them, either, so that might be a good answer." Keaton also told People that she wished she had wed her ex, Al Pacino. "But he was even less inclined to be realistic than me… And I don't think a long-term happy marriage would be easy for him," she acknowledged.
There's no denying that marriages are often messy, so we don't blame Keaton for opting out of the first wives club. As posited in "Annie Hall," relationships are "totally irrational and crazy and absurd, but, I guess we keep going through it because most of us need the eggs." In Keaton's case, she prefers to keep all her eggs in one basket.
James Franco doesn't think this is the end of his bachelor lifestyle
Dodging a number of sexual misconduct allegations as of this writing, all of which he denies, James Franco is an avowed bachelor. Throughout the years, he has been linked to numerous women but has never tied the knot. His boyish, perennially grinning countenance aside, Franco is actually approaching middle age.
Although he hasn't met the right person to settle down with, the actor isn't ruling out marriage. Speaking to Elle, he explained, "I'm not against it. I guess it would take the right person. Maybe one day." Until that day comes, Franco is busy locking lips with girlfriend Isabel Pakzad, who is 15 years his junior.
In that same Elle interview, Franco reflected on his parents' idealized marriage, which elucidates his stance on waiting for the right person. "My parents stayed married their entire lives," he ruminated, noting, "They somehow worked out ways to pursue what they loved while being supportive of each other."
In the words of his beloved pal Tommy Wiseau, "You can love someone deep inside your heart, and there is nothing wrong with it." Here's hoping Franco will find the aforementioned "right person" someday, but, most importantly, one can only hope that he learns the error of his reportedly problematic ways before then.
If you or anyone you know has been a victim of sexual assault, help is available. Visit the Rape, Abuse & Incest National Network website or contact RAINN's National Helpline at 1-800-656-HOPE (4673).
All Sheryl Crow wants to do is have some fun
Too much emphasis is placed on women getting married and having kids, which is a major double standard considering that men are frequently exalted for their bachelor status. Despite being a multi-Grammy Award-winning musician and selling millions of albums worldwide, Sheryl Crow is frequently reduced to her husbandless status. Hey, sexist critics, a change would do you good.
For Sheryl Crow, marriage simply isn't her priority, though she isn't ruling it out completely. "I would love to get married — I'm still old-fashioned. But I don't think marriage is the be-all and end-all," she told Good Housekeeping, adding, "It's better to have three broken engagements than three divorces." The latter remark is in reference to her past engagement to disgraced Olympic cyclist and, regrettably, "Dodgeball" star Lance Armstrong, to whom Crow was engaged in the mid-2000s, though it is unclear to whom the other two engagements refer. During an appearance on Dax Shepard's "Armchair Expert" podcast, Crow lamented the fact that she "gravitated to pathological narcissists," which elucidates her aversion to marriage.
The singer has further poked fun at her unmarried but thrice engaged status, telling the crowd at the Gracie Awards (as per Closer Weekly), "And all I can say is that I've been engaged three times. And I never got married, but I've had a rockin' great time, not getting married." Evidently, Crow is living her best life.
Alexander Skarsgård thinks settling down would hamper his suitcase lifestyle
Forget Absolut Vodka. Sweden's biggest import is Absolut Skarsgård. Hunky actor Alexander Skarsgård certainly gets many fans' true blood running. Standing at over 6'4" tall and with his quintessentially Scandinavian flaxen locks, it's a bit of a shock to learn that the strapping Swede is still on the market. Even his little brother Bill, aka Pennywise, has settled down into fatherhood. But for Alex? Marriage and kids aren't on his agenda any time soon.
This is because Skarsgård feels that marriage would be inharmonious with his commitment to minimalism. "I'm not married and I don't have kids, and I'm really enjoying it at the moment," he told The Guardian. "There's something quite Buddhist about the sense that you can only have eight items or whatever. Because I have my one suitcase and whatever doesn't fit in that, I can't bring. So the other day, I wanted to buy a pair of sneakers and I realised they're not going to fit in the suitcase, so I have to decide, how badly do I want them? … So in terms of consumption, it really makes you think."
We're still trying to wrap our heads around this Marie Kondo-esque metaphor, but perhaps Skarsgård is trying to explain that he reserves his suitcase for those who truly spark joy. While he's dated many prominent women through the years, none of them were wife material. Or, in this instance, suitcase material.
Winona Ryder couldn't care less about marriage, though she did wed this A-list hunk… sort of
A romantic at heart, Winona Ryder described herself as a "serial monogamist" in an interview with Net-a-Porter's The Edit. However, matrimony isn't her ride. "But marriage? I don't know," she told the publication. "I'd rather never have been married than been divorced a few times. Not that there's anything wrong with divorce, but I don't think I could do it if that was a possibility. When your parents are madly in love for 45 years, your standards are really high. But I've been happily with someone for quite a while now."
That special someone is Scott Mackinlay Hahn, a fashion designer who specializes in sustainability efforts, and whom Ryder has been blissfully dating since 2011. The pair have frequently been snapped getting cozy together at various events and their rapport is palpable. A ring don't mean a thing, so who needs matrimony when Ryder and Hahn are getting so steamy?
In spite of her reservations towards marriage, Ryder did technically marry Keanu Reeves when filming "Bram Stoker's Dracula" in 1992. Well, sort of. "No, I swear to God, I think we're married in real life," she told Entertainment Weekly (via People), explaining that a Romanian priest wed the A-listers on the set of the Francis Ford Coppola movie. Well, there are certainly stranger things that can happen to a gal than accidentally marrying Keanu Reeves.
Jamie Foxx wasn't made for wedded bliss
Jamie Foxx is many things: Oscar-winning actor, comedian, singer, and lifelong bachelor. Although he has two kids (daughters Corinne and Annalise with ex-partners Connie Kline and Kristin Grannis, respectively), Foxx has, surprisingly, never been married. The actor has played everyone from the oppressor-slaying Django to legendary musician Ray Charles, but the role he plays best is that of a, erm, player.
Chatting to Men's Health, the "Django Unchained" star stated that he simply isn't the marrying type: "Some people can want to be married their whole lives, and then some people cannot want to be. I just never thought marriage was for me." He added that he's not up for the collateral that marriage entails, describing himself as "committed to being not committed." When it comes to women, Jamie is quite the fox. Throughout the years he's been spotted with Stacey Dash a.k.a. Cher Horowitz's-BFF-turned-right-wing pundit, and Tom Cruise's ex Katie Holmes, among others.
During a 2017 appearance on The Graham Norton Show, Foxx, who was then aged 49, discussed the difficulties of being a bachelor later in life. "Like I'm almost 50 so … I hate going to the club at L.A. … these girls pull up and I'm outside the club," he recounted before mimicking a Valley Girl cadence, "'Oh my God, Jamie Foxx! What's up? We go to school with your daughter!' Oh." Oh, indeed. Maybe it's time to hit the road, Jamie.
Ricky Gervais isn't fussed about the 'extras' marriage entails
When he's not busy irritating celebs at the Golden Globes and causing an uproar with his contentious jokes, British comic Ricky Gervais is leading a wholesome life with long-term partner Jane Fallon and their furbabies. After meeting at the prestigious University College London in 1982, Gervais and Fallon have been going strong. As for marriage? It's not the "Extras" creator's cup of tea. "Don't see the point," he told The Times. In typically skeptical Gervais fashion, the comedian clarified, "We are married for all intents and purposes, everything's shared and actually our fake marriage has lasted longer than a real one… but there's no point in us having an actual ceremony before the eyes of God because there is no God."
In addition to being unmarried, Gervais and Fallon have chosen not to have children. As Fallon wrote in The Guardian, "Thankfully, my partner, Ricky, felt the same -– not that I would make a terrible mother, or if he did think that he thoughtfully kept that to himself, but that he wasn't keen on parenthood, either. And as we're both the youngest children of large families, the pressure was off."
Always one to challenge the status quo (this is, of course, the man who termed pedophile financier Jeffrey Epstein a "friend" of the Golden Globes audience), perhaps the controversial comedian feels he's being rebellious by rejecting convention. In the words of his most famous character, David Brent, "Ooh you're 'ard."
Allison Janney would rather live with regret than regret settling down
Always a free spirit, Oscar-winning actor Allison Janney is happy to go with the flow. If this means never settling down, she's just fine with that. After a brief engagement to fellow actor Richard Jenik in 2005, Janney has found peace in the prospect of never being a blushing bride.
"I really am this time in my life getting to know who I am and what I want. I'd love to eventually find someone to share my life with but if it doesn't happen, I think I'll be just fine," she revealed during an appearance on "The Drew Barrymore Show." When queried about her decision to not get married or have kids, Janney explained that the same logic applies to forgoing motherhood. "I think if I would have found the right guy at the right time who wanted to have kids, I probably would have with the right partner because I wasn't ever really confident that I wanted to have kids. I would rather regret not having kids than have kids and regret that. I'm okay with it."
For Janney, being an unmarried woman has major perks. At the 2016 Sundance Film Festival, she was spotted cozying up to her handsome then-beau Philip Joncas, who is 20 years her junior. When asked by E! whether she and Joncas would be tying the knot, the "I, Tonya" star replied, "I don't believe in that institution."
Al Pacino likes the scent of a woman, but plays devil's advocate with marriage
Whether he's lustfully pursuing Adam Sandler's female alter ego in the universally panned "Jack and Jill" or reminding us that he's an amazing actor in "The Irishman," Al Pacino has undoubtedly rebranded himself in recent years. As such, it may be a little hard to believe that he was quite the brooding heartthrob in the days when his voice was much more Charlie Day than Danny DeVito.
Despite some high-profile relationships, namely with "National Lampoon's" alum Beverly D'Angelo, who gave birth to the couple's twins at the age of 49, the acting vet has never been married. As reported by the Independent, Pacino opposes marriage: "I hate to say this, but marriage is a state of mind, not a contract. When I think about the law and marriage, I ask myself, when did the cops get involved?"
The truth is, the "Scarface" star regrets this decision, but he told The Telegraph that he never tied the knot because he believed true love was more important than wedlock. "I don't know about marriage yet," he pondered. "But when you are in love, that's the height of it. So, I probably should have got married a couple of times [back then]. I wish I would have.'" Considering that he dated Meital Dohan, who is 39 years his junior, the unwed Pacino can still bring the heat to the ladies on any given Sunday.
Oprah Winfrey has found a steady cohabitation in… Stedman
Talk show host and multibillionaire Oprah Winfrey leads a pretty normal life when she's not giving away free cars and fending off Tom Cruise's attempts to infiltrate her mind (okay, not really.) Since 1986, she has been in a loving relationship with Stedman Graham. But they opted not to wed.
As the talk show host wrote in Oprah Daily, marriage was a commitment she wasn't prepared to make. "In 1993, the moment after I said yes to his proposal, I had doubts," Winfrey admitted. "I realized I didn't actually want a marriage. I wanted to be asked. I wanted to know he felt I was worthy of being his missus, but I didn't want the sacrifices, the compromises, the day-in-day-out commitment required to make a marriage work."
Furthermore, in an interview with India's NDTV, Winfrey stated that her decision to reject marriage lies in her refusal to conform to traditional gender roles. "I think that had we gotten married we probably would have been divorced by now, and he would agree. I'm not saying that disrespectfully. He would agree because I really am my own woman and I don't really conform very well to other people's ideas about who and what I should be. And, you know, being married calls for some conformity." Clearly, Ms. Winfrey is in charge of her destiny — and it's one that she will always OWN.
Swoosie Kurtz is curt when it comes to marriage and kids
Best known as the fiery Joyce in "Mike & Molly" and as Jim Carrey's legal nemesis in "Liar Liar," Swoosie Kurtz is no liar when it comes to telling us how she really feels about marriage. In fact, she's rather… curt. The veteran actor has used her platform to expose the inherent sexism in asking women when they are going to marry while highlighting the hypocrisy of glorifying single men as playboys.
In her 2014 memoir Part Swan, Part Goose, Kurtz ponders, "Why is it that people are so uncomfortable with the thought of a woman who is, by choice or not, alone? It seems to waffle between suspicion and sympathy. Is she the witch or the widow? Or just waiting for Mr. Right? A solitary gentleman can be a confirmed old bachelor … but a solitary woman must be Miss Havisham." This Dickensian reference exemplifies the overriding double standard faced by single women versus single men, one which Hollywood stars like Kurtz are not immune to.
During an appearance on the Hollywood Reporter's "Off the Cuff" podcast, Kurtz further clarified her stance on marriage, noting that she "never had the marriage radar out." The actor emphasized the pressure put on women to marry but stated that she was rejecting any such patriarchal notions. "As a woman you really feel you have to apologize for it, and I just don't anymore," Kurtz professed.
Maya Rudolph doesn't need marriage when she's punch-drunk in love with Paul Thomas Anderson
"Saturday Night Live" alum Maya Rudolph and "There Will Be Blood" director Paul Thomas Anderson make quite the power couple. But despite being together for two decades and having four kids, the pair aren't married. For Rudolph, her highly fulfilling relationship with Anderson is just as meaningful as a marriage. "I think genuinely like the effort to make an effort. [That's] the most romantic gesture," she told Us Weekly when asked how she keeps the spark alive, adding, "To show up every day is kind of the most romantic part because you can bail at any moment."
From her rib-tickling turn as the obnoxious Jodi Deitz to her rapport with co-star and pal Fred Armisen as one-half of snooty art dealers The Schoeners, Rudolph may be a chameleon when it comes to depicting her various "SNL" characters, but her true colors shine through when speaking about her beau.
Although she and Anderson are not married, Rudolph told The New York Times that she nonetheless calls the "Boogie Nights" director her "husband" as opposed to her "boyfriend," as she feels the former designation holds greater gravitas. As she explained to the publication, "people know what that means. It means he's the father of my child, and I live with him, and we are a couple, and we are not going anywhere." Rudolph is always a bridesmaid, never a bride, and that's just how she likes it.