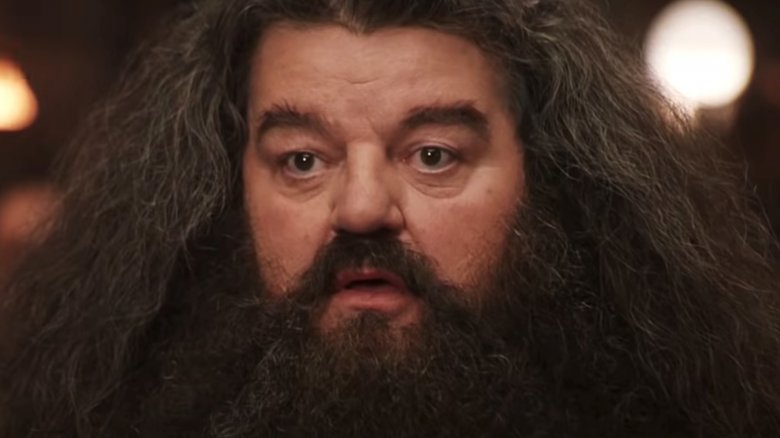 Famous around the world as Harry Potter's Rubeus Hagrid, Robbie Coltrane used to be best known to British audiences as the criminal psychologist Eddie Fitzgerald in the '90s TV series Cracker. But after he appeared in all eight Potter movies, the actor solidified his place in pop culture history as the fan-favorite Hogwarts gamekeeper, who became a loyal friend to former child star Daniel Radcliffe's titular lead after famously revealing, "Yer a wizard, Harry."
While the fantasy franchise elevated Coltrane's career to international superstardom, the three-time BAFTA winner has been surprisingly quiet since Harry Potter and the Deathly Hallows Part II premiered in 2011. With a handful of on-screen appearances, the TV and film star has unfortunately suffered from health issues and failed projects since he was last seen fighting the Dark Side at the Battle of Hogwarts. So, what has Robbie Coltrane been up to lately in a post-Potter world? We've got your answers.
Robbie Coltrane's painful personal life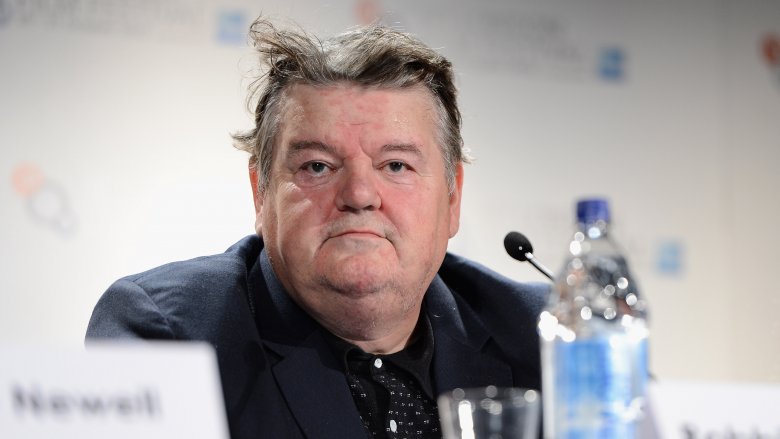 When Robbie Coltrane and sculptor Rhona Gemmell separated in 2003 after four years of marriage, he reportedly hit "rock bottom" while struggling with depression and alcoholism, and entered rehab at Priory Hospital Glasgow. According to the Daily Mail, the former couple, who share two now-adult kids together, temporarily reconciled in 2008, before later ending things for good.
"You are brought up to believe that if you are smart enough and read enough books you will find the meaning in things," Coltrane once said (via the Daily Mail), adding, "But all the things that happen to you in life that make you happy or excited or fulfilled have nothing to do with finding the meaning in things at all; having children, for example, falling in love."
The former Harry Potter star eventually moved on, but he has refused to discuss his new girlfriend with the press. However, the end of his marriage understandably marked a very difficult time in his life. And while the actor was already known to keep his personal life out of the limelight, the gossip rag alleged that it played a part in turning the famous Scotsman into a "virtual recluse" during the 2010s.
Did the actor who played Hagrid risk being typecast?
Letting go of one of the most beloved fantasy characters is undoubtedly no easy task — especially when an actor was hand-picked by the author of Harry Potter herself. "I did get a lot of my dream cast," J.K. Rowling said in 2001, as reported by The Telegraph, before gushing over Coltrane. "Robbie is just perfect for Hagrid because Hagrid is a very lovable character, quite likable, quite comic." Adding that he had to also have "a certain toughness underneath," she said, "And I think Robbie does that perfectly."
We couldn't agree more. But has Coltrane remained so synonymous with his on-screen alter-ego that he's run the risk of being typecast? It's certainly something he was conscious of avoiding when cast. While telling NBC News that he didn't think he would because he's "fairly unrecognizable" as beloved half-giant Hagrid, the actor quipped, "I have to say I reserve the right to play a sleazy pimp in my next movie."
Still, playing the same role for an entire decade understandably weighed on his mind, as Coltrane said in 2004 (via the Daily Mail), "It's the fear that you're past your best. It's the fear that the stuff you've done in the past is your best work." Indeed, the late 2010s saw the actor reprise his popular Harry Potter role, voicing Hagrid in the 2015 video game Lego Dimensions and Universal Studios' pre-show short for the ride, Hagrid's Magical Creatures Motorbike Adventure, in 2019.
Robbie Coltrane's post-Potter work struggled to find its footing
Robbie Coltrane has been largely heard but not seen ever since leaving the Wizarding World behind in 2011. With a turn to voice acting on a handful of projects, including Pixar's Brave, the BBC's The Gruffalo's Child, and Arthur Christmas, his return on screen was unfortunately anything but magical.
The actor reunited with fellow Potter stars Ralph Fiennes (Voldemort) and Helena Bonham Carter (Bellatrix Lestrange) in the 2012 film adaptation of Charles Dickens' classic Great Expectations. Notably, Coltrane's portrayal of Jaggers marked a massive departure from Hagrid. As he told The Scotsman, "Jaggers is a great character. He's a heartless bastard and it's very nice to get a part like that to play, I must say." Sadly, the project itself garnered mixed reviews and ultimately performed well below expectations while scoring a tepid 68 percent on Rotten Tomatoes.
Meanwhile, Coltrane's next role on the big screen fared even worse. Effie Gray, a lawsuit-laden biographical drama written by Emma Thompson, earned a low 42 percent on Rotten Tomatoes in 2014. While these projects allowed the actor to continue working steadily in showbiz, they mostly went unnoticed.
Does this Harry Potter alum have a bad rap?
As an industry vet, Robbie Coltrane's developed a no-nonsense approach to navigating his Harry Potter fame, and he takes no prisoners when it comes to keeping his personal life private. But over the years, this has led to the perception that the normally affable actor is as menacing in real life as some of the characters he's portrayed.
While Coltrane's infamously grown weary of being approached by disrespectful fans, the movie star is also known to quickly shut down intrusive questions. During his 2012 interview with The Guardian, for example, he followed up an answer to a personal question with, "If you write that down I will kill you." As the interviewer noted in the piece, "Though you laugh a lot in [Coltrane's] company, you never quite relax."
Despite earning a rather nasty reputation for his alleged temperament, Coltrane appears to still be an old softie when it comes to being a role model to children — not unlike Hagrid. "Kids come up to you and they go: 'Would you like to sign my book?' with those big doe-eyes," he told The Guardian. "And it's a serious responsibility."
Robbie Coltrane took a risk with National Treasure
Robbie Coltrane temporarily made his way back into the spotlight with National Treasure in 2016. The sex crime drama was inspired by Operation Yewtree, a British police investigation into underage sexual abuse allegations made against the late pop culture icon Jimmy Savile, among others, in 2012. With the Scottish actor leading the series as Paul Finchley, a beloved-turned-disgraced veteran comedian who's accused of rape, the miniseries' sensitive material not only marked another notable departure from Hagrid, it also posed the risk of offending audiences.
For his part, Coltrane, who reunited with Harry Potter's Dame Julie Walters (Molly Weasley) on the project, believed it was a "really important piece of drama." As he admitted to the Independent, "A lot of people said, 'Don't touch it, Rob. It's poisonous, it's not going to do you any good.' And then I got this script and I thought, 'Oh yes!'" However, of the potential backlash, Coltrane told The Guardian, "I don't care … Drama has always illuminated what's actually going on in society, in a way that the news or the internet doesn't."
Luckily, the risk more than paid off. Amid the series' critical acclaim, Coltrane scored a BAFTA nomination for leading actor.
Concerns over Robbie Coltrane's health
Robbie Coltrane's health has unfortunately been a cause for concern for years, which spiked in 2015 when the actor fell ill during a flight from London to Orlando, Fla. While being hospitalized overnight due to mysterious flu-like symptoms, he missed a Harry Potter convention at Universal Studios, which fueled tabloid fodder regarding his reported alcohol problems. His rep emphatically denied the lingering hearsay at the time, but the Scotsman himself has never publicly addressed the health-related incident.
Over the next year, Coltrane's health issues sadly worsened with his ongoing battles with diabetes and osteoarthritis. In 2012, he told The Guardian that he needed to lose weight in order to undergo surgery on his knee to alleviate severe pain associated with his condition. While promoting National Treasure four years later, he was spotted walking with a cane. "I'm in constant pain all day," Coltrane said at the time, reportedly revealing that he was nearing his target weight goal (via the Daily Mail). "I had an exploratory operation and they discovered I had no cartilage left in one of my knees. It's completely disintegrated."
Flash forward to March 2019, when Coltrane shocked fans while appearing in a wheelchair at a Harry Potter event. With a source telling The Sun that the Hagrid actor's "constant pain" had "left him unable to walk without any assistance," an optimistic Coltrane reassured fans that was "due a new knee" and would be "leaping around like an elf" following the operation.
The actor who played Hagrid turned to hosting
Following the success of National Treasure, Robbie Coltrane took a step away from acting entirely to host Robbie Coltrane's Critical Evidence in 2016. The crime investigation documentary series highlighted some of the most difficult murder cases to be solved in British history.
While marking a departure from Coltrane's standing as an acclaimed actor, the titular host revealed that his own personal interest in crime stories began as a child. As he told Express, he was originally inspired by his police surgeon father to one day become a "hot detective" himself before turning to acting. "The glorious thing about the series is that everyone in it went down for their crimes," the Harry Potter alum continued. "My son said about the series, 'Isn't that a bit morbid, Dad?' and I said, 'Well, it's only morbid because of the terrible things that human beings are capable of doing to each other. What's not morbid about it is that they all went to jail.' And I think that's quite reassuring in a way, don't you think?"
At the time of this writing, the true crime docuseries has had two seasons.
Robbie Coltrane's turning it around
Robbie Coltrane may have spent much of his post-Hagrid career out of the spotlight, but it hopefully won't be too long before the talented Scotsman graces our screens once again.
In July 2018, the British actor's agent teased his highly anticipated comeback, telling Express, "We have a couple of projects in development and are waiting for final scripts before we can proceed." At the time of this writing, further details surrounding these upcoming projects, which reportedly include a film and a televised thriller, have yet to be officially announced. However, according to a source cited by the media outlet, Coltrane is reportedly aiming to give "one last award-winning performance" on the small screen.
For his part, Coltrane has remained characteristically mum on the matter. But we suspect that, despite his reported net worth of $4 million, he's not quite ready to retire. When asked about being considered a national treasure in 2016, he told The Guardian, "Not yet. That sounds kind of like being put on a shelf somewhere. Someone safe to be dragged out on national occasions and the Queen's garden party. I'm not ready for that." Coltrane added, "No. I'm still fighting, boy. I'm still fighting."