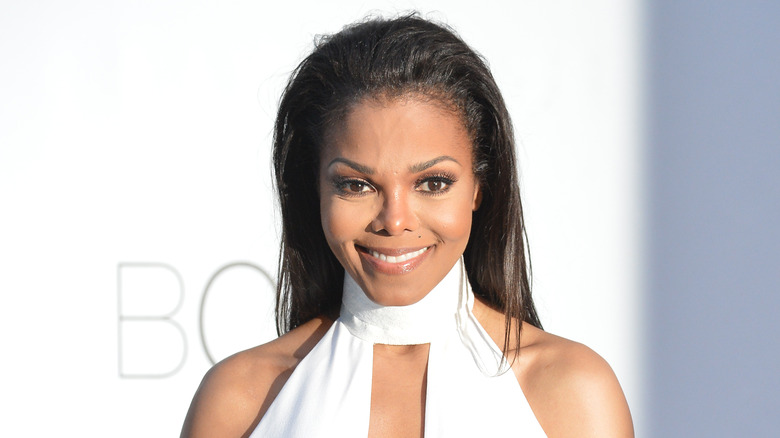 Janet Jackson is one of the most recognizable celebrities in the world. The youngest member of a famous family, she emerged to become a star in her own right. Over the years, she has undergone many challenges and changes while celebrating immense success — but how much do you really know about her?
Here are some of the most compelling moments that have made up the stunning transformation of Janet Jackson.
Janet Jackson's beginnings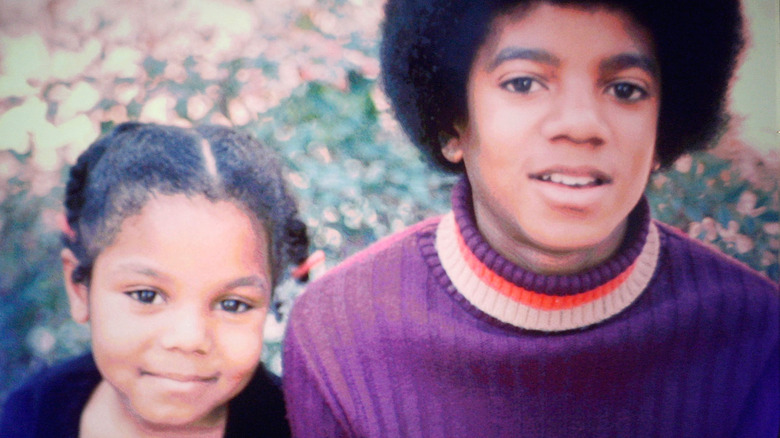 Despite her superstar status today, Janet Jackson had a very humble beginning. Conservative and lower-middle class, her parents, Katherine and Joe Jackson, had a large family including son, Michael, and daughter, Janet, the latter of whom was born on May 16, 1966.
Growing up under her devout Jehovah's Witness mother's watchful eye, Jackson did not celebrate holidays like Christmas or her birthday, and she was encouraged to be modest and wholesome in how she dressed and behaved. This image stayed with her for many years to come.
Janet Jackson bombed professionally
Janet Jackson is proof that, even with a recognizable face and name, there's no guarantee that you will be successful — especially, on the first try.
After her brothers, led by Michael Jackson, were signed by Motown and gained notoriety as The Jackson 5, the family left Gary, Indiana and moved to Los Angeles. A budding star in her own right, Janet Jackson began appearing on popular television shows such as The Jacksons, Good Times, A New Kind of Family, Diff'rent Strokes, and Fame.
When she was just 16, she recorded her first album, Janet Jackson, with her father overseeing the start of her music career at A&M Records. While they likely had high hopes, the effort peaked at number 84 on the pop charts. Her second album, Dream Street, didn't do any better. Fortunately, Jackson didn't give up.
Janet Jackson left her family
Janet Jackson's career changed for the better when she broke away from her family. When addressing her decision to separate business from her personal life, she explained, "I just wanted to get out of the house, get out from under my father, which was one of the most difficult things that I had to do."
The hard work seemed to pay off, though, by the time Jackson released her third album. After teaming up with some of the industry's hottest producers, Jimmy Jam and Terry Lewis, Control was born, and the rest is history. Released in 1986, the album hit no. 1 on the Billboard 200, sold millions of copies, and was certified fivefold platinum by the RIAA (via Newsweek).
To further establish her place in the music industry, Jackson celebrated three Grammy Award nominations, among other accolades, that year.
Janet Jackson: A legend in the making
While fans had readily embraced Janet Jackson's more powerful sound, no one could have known how her album Rhythm Nation 1814 would blow everyone away in September 1989. Track after track confronted important issues and Jackson emerged as a socially conscious artist. Of her inspiration, she explained, "I know an album or a song can't change the world. I just want my music and my dance to catch the audience's attention, and to hold it long enough for them to listen to the lyrics."
On top of that, the outfits she wore in the music videos and on her accompanying tour established Jackson as a style icon. It was a gamble to reinvent herself yet again for Rhythm Nation 1814, but it paid off. Clearly, she was on to something.
Janet Jackson embraced her sexuality
By the time she released Janet., she didn't have to wait to see how far it climbed: It debuted at no. 1 on the Billboard 200, a first for a female artist. While it didn't sell as well as Rhythm Nation 1814 (it moved 14 million units), it did give us incredible songs like "Again," "If," and "That's the Way Love Goes," which won the Grammy for Best R&B Song.
Once again, the growth Janet Jackson was seeing in her personal life as she continued to shed the modesty encouraged by her family, while embracing her sexuality, was apparent in her music. As Rolling Stone reported, "Everything Janet Jackson does is important. Whether proclaiming herself in charge of her life, as she did on Control (1986), or commander in chief of a rhythm army dancing to fight society's problems (Rhythm Nation 1814, from 1989), she's influential. And when she announces her sexual maturity, as she does on her new album, Janet., it's a cultural moment."
Janet Jackson became a movie star
We had seen Janet Jackson on television and, of course, were familiar with her as a recording artist, but she finally hit the big screen when she starred in Poetic Justice.
The movie itself wasn't particularly popular with critics, even though it has become a bit of a cult classic due to the fact that it features Tupac Shakur, who was killed in a drive-by shooting just a few years later.
Although, it wasn't the most acclaimed film, people really loved Jackson's performance — which some described as "believably eccentric" and "beguiling" — proving that she had chops beyond her music. And even more endearing was the fact that her song "Again" was written for the movie.
Janet Jackson started selling sex
As her star continued to rise, Janet Jackson began to take bigger risks. Gone was the reserved young girl we had seen earlier in her career, and, in her place, a confident woman began to emerge.
Jackson's willingness to embrace her sexuality was never more apparent than in September 1993, when she posed topless for the cover of Rolling Stone magazine. With just a pair of hands (which were later revealed to be those of Rene Elizondo, Jr., a man she had secretly married) covering her breasts, Jackson simultaneously caused controversy while becoming a solid sex symbol.
Janet Jackson stood by her family in the face of controversy
While her career was on the rise, things in her personal life took a horrible turn for the worse. Her older brother, Michael, had been accused of sexual molestation for the first time, and, while their sister LaToya turned on him, Janet Jackson took on a more supportive role.
In a show of solidarity, the siblings teamed up for "Scream," which served as the lead single from Michael's 1995 album, HIStory. With an astonishing $10.7 million price tag, it set the record for most expensive video ever made and went on to win the Grammy Award for Best Short Form Music Video.
Janet Jackson confronted her depression
After releasing Design of a Decade: 1986-1996, a look back at her early career, Janet Jackson renewed her contract with Virgin Records for a reported $80 million which, again, was unheard of in the industry. From the outside, it may have looked like the happiest time in her life, but her follow-up album revealed otherwise.
When The Velvet Rope was released in October 1997, it was immediately obvious that the tone was more personal and serious than anything she had recorded before. Not only was she physically transformed — sporting tattoos, a nose piercing, and flaming red hair, but her lyrics were also more vulnerable.
The New York Times called The Velvet Rope, which featured tracks such as "Got 'til It's Gone" and "Together Again," Jackson's "most daring, elaborate, and accomplished album," featuring themes such as depression, anxiety, domestic violence, and homophobia. She used the accompanying tour to work with Colin Powell on the "America's Promise" initiative to support at-risk youth.
Janet Jackson advocated for the LGBT community
While Janet Jackson had shown support for the LGBT community in the past, nothing solidified her as a friend of the community quite like her album The Velvet Rope. In fact, the effort won the award for "Outstanding Music" at the 9th Annual GLAAD Media Awards in 1998, and her single "Together Again" was heralded as an "anti-homophobia track." Incredibly, she donated a portion of the proceeds to the American Foundation for AIDS Research.
Ten years later at the 19th Annual GLAAD Media Awards, Jackson also received the Vanguard Award for promoting equality. As the organization's president explained, "Ms. Jackson has a tremendous following inside the LGBT community and out, and having her stand with us against the defamation that LGBT people still face in our country is extremely significant."
Janet Jackson became MTV's first-ever icon
In 2001, huge stars, including Britney Spears, Destiny's Child, Pink, Usher, Jennifer Lopez, and the late Aaliyah, gathered for a ceremony honoring Janet Jackson with the very first MTV Icon Award for her contributions to music, videos, and pop culture.
The event featured incredible performances and commentary that even included a young Beyoncé Knowles saying how much Jackson had inspired her. She said, "In the third grade and fourth grade I used to dress up like her. I know all the kids at my school thought I was trying to be grown up. I had the lipstick, had the hair — even had some leather boots. But at that time they weren't real leather. But I tried."
You know you're a true icon when Queen Bey's trying to copy you!
Janet Jackson suffered a wardrobe malfunction
It was a big deal when the NFL announced that Janet Jackson would be performing during the halftime show for Super Bowl XXXVIII in 2004. That February, she performed a medley of hits before launching into a duet with Justin Timberlake, something that would go down as one of the most controversial performances in Super Bowl history.
As the pair performed "Rock Your Body," with Timberlake's lyrics, "I'm gonna have you naked by the end of this song" — he pulled off a piece of Jackson's costume. To the shock of viewers at home, her right breast was exposed, prompting both singers to issue an apology after the show. She and Timberlake explained that she had suffered a wardrobe malfunction, but the incident — which became the most replayed moment in TiVo history — resulted in severe backlash for Jackson, but not for Timberlake.
Both were slated to appear at the 46th Grammy Awards but Jackson's invitation was rescinded. Her involvement in a Lena Horne biopic also abruptly ended, and a statue of Mickey Mouse wearing a Rhythm Nation costume was removed from Walt Disney World.
The controversy also derailed the release of her Damita Jo album in March 2004. Her music was blacklisted from radio and music channels, a ban that continued for another two albums — something from which her career has never fully recovered.
Janet Jackson was on the rebound
While Janet Jackson tried to shake off the controversy affecting her musical career, she opted to return to the big screen, playing a psychotherapist in Tyler Perry's Why Did I Get Married?
Despite the fact that her Super Bowl controversy was still swirling, the movie surprised everyone by winning the box office in its opening weekend. Her performance was praised and she won for Outstanding Supporting Actress in a Motion Picture at the NAACP Image Awards.
She later reprised the role in Why Did I Get Married Too? It was on that set that she learned that her brother, Michael, had died.
Janet Jackson honored her brother
When Michael Jackson died at the age of 50 in June 2009, accusations of sexual abuse shrouded his death in controversy. And Janet Jackson didn't hesitate to speak up on her brother's behalf.
At the 2009 BET Awards, she told the audience, "I'd just like to say, to you, Michael is an icon, to us, Michael is family. And he will forever live in all of our hearts. On behalf of my family and myself, thank you for all of your love, thank you for all of your support. We miss him so much."
Months later, she dedicated her performance of "Scream" to her brother at the 2009 MTV Video Music Awards. The network stated, "There was no one better than Janet to anchor it and send a really powerful message."
Janet Jackson revealed her struggles
Did you know that, on top of being an accomplished singer, song-writer, dancer, and actress, Janet Jackson is also a best-selling author?
She's come a long way from the days when she used coffee enemas to purge "sad cells" from her body that she said stemmed from "my childhood, my teenage years, my adulthood." She elaborated, saying, "I was very, very sad. Very down. Couldn't get up sometimes. There were times when I felt very hopeless and helpless, and I felt like walls were kind of closing in on me."
In February 2011, she released a self-help book, True You: A Journey to Finding and Loving Yourself, with co-author David Ritz, which takes fans inside Jackson's struggles with body image issues and confidence — and includes fan mail. The book quickly topped the New York Times' Best Sellers list. She shared that she hoped her message can inspire readers of all ages, saying, "I wish I had a book like this to read when I was a kid, maybe it would have helped me."
Janet Jackson has paid it forward
Over the years, Janet Jackson's weight has fluctuated wildly. One need only compare pictures of the star from year to year to see how dramatically her appearance changed on a regular basis. The singer has admitted to falling into the trap of yo-yo dieting for more than three decades, stemming from negative messages she received about her body starting from a very young age.
By the time 2012 rolled around, the performer decided to partner up with Nutrisystem to conquer her own demons, while bettering the lives of others. After slimming down on the food delivery service, they released an ad showing a triumphant-looking Jackson saying, "This is what success looks like."
In addition to sponsoring the weight-loss program, she helped donate $10 million worth of food to the hungry. As she empowered herself, she also empowered others.
Janet Jackson formed her own record label
In the ultimate power play, Janet Jackson gave herself more creative freedom by establishing her own recording company. She launched her Unbreakable album through her label Rhythm Nation, followed by a world tour.
Long-time collaborators Jimmy Jam and Terry Lewis explained that the album's title and theme reflects "being able to be vulnerable and to be able to withstand what comes to you," without breaking down.
After securing a publishing partnership with BMG allowing her to release music through the Rhythm Nation label, Jackson expressed her gratitude by saying, "Thank you to the talented team at BMG, my new artistic home. The opportunity to be creative in music and every form of entertainment has great potential here."
Janet Jackson became a mother
Janet Jackson surprised fans in February 2013 by confirming that she had married Wissam Al Mana, a Qatari businessman, in a private ceremony the year before. Just weeks before her 50th birthday in 2016, she flipped the script again by tweeting that she was going to take time off from touring to focus on planning a family.
A few months later in October 2016, she announced that she was expecting her first baby with husband Wissam Al Mana. The couple welcomed son, Eissa, on Jan. 3, 2017, but split soon after.
Jackson seems to be relishing in her role as a new mother, even treating Twitter followers to an adorable picture of her son along with the caption, "My baby and me after nap time."
Janet Jackson had a stunning weight loss transformation
In late 2017, fans of Janet Jackson started to notice her new svelte and visibly fit figure. Considering Jackson had given birth to her first child, Eissa, less than a year prior to revealing her stunning transformation, fans were dying to know her secret.
According to trainer Paulette Sybliss, the "secret" to Jackson's 70-pound weight loss was actually no secret at all. Instead, Jackson shed the extra pounds by committing to an exercise regimen and working tirelessly toward her goal. Sybliss told E! News, "I started training her about six weeks after she had Eissa … We had a very vigorous training schedule." The trainer continued, "We were training a minimum of four times a week and the sessions were never less than 45 minutes, no more than an hour." Added Sybliss, "[It was] very intense, though. Very intense training."
However, it might come as a surprise to learn Jackson's physical training with Sybliss didn't include any traditional cardio exercise, such as running on a treadmill. As the trainer told E! News, weight training was the key to "creating that fat burning affect both during the session and [after]."
Janet Jackson took a stand for equality
Janet Jackson looked better than ever when she took to the stage in November 2018 to perform some of her most beloved hits at the 2018 MTV European Music Awards. Showing off her 70-pound weight loss, Jackson proved she was still just as much of a superstar in that moment as she was 20 years ago, able to simultaneously dance and sing in a way that appears so effortless.
In addition to wowing the crowd with her epic performance, the songstress also delivered an inspiring speech while accepting the coveted Global Icon Award (via Rolling Stone). Addressing the crowd, Jackson said, "To be called an icon is a tremendous honor but one that comes with tremendous responsibility. Tonight I feel moved to speak for women whose voices have been stifled."
The "All For You" singer continued her emotional speech, saying, "I am one of those women. Women who have been gagged, both literally and emotionally. Women who have been abused. Women who have been intimidated. Women who have lived in fear." Added Jackson, "I stand with you. You are my sisters."
Janet Jackson battled plastic surgery rumors
Few celebrities have been able to escape accusations of plastic surgery, regardless of whether or not they actually went under the knife. In June 2019, Janet Jackson found herself the subject of vicious plastic surgery rumors, with some media outlets reporting that the singer had undergone multiple procedures.
Though he has not treated Jackson personally, Dr. Dennis Schimpf of Sweetgrass Plastic Surgery told Radar Online, "Most recently, I would say that her face has changed dramatically." The doctor speculated, "I believe that she's had eyelid surgery, otherwise known as Blepharoplasty, as well as an eyebrow lift." Added Dr. Schimpf, "Janet's nose also appears to have undergone a significant transformation."
Apparently, some Twitter users also noticed Jackson's allegedly changing face — and some of the singer's fans think Jackson's appearance should be left untampered. "I think Janet Jackson was already extremely gorgeous and didn't need plastic surgery on her face," one user tweeted. However, others are impressed with Jackson's rumored plastic surgery. One Twitter user praised the songstress, tweeting, "She is a plastic surgery success story for sure! Looking good as hell."