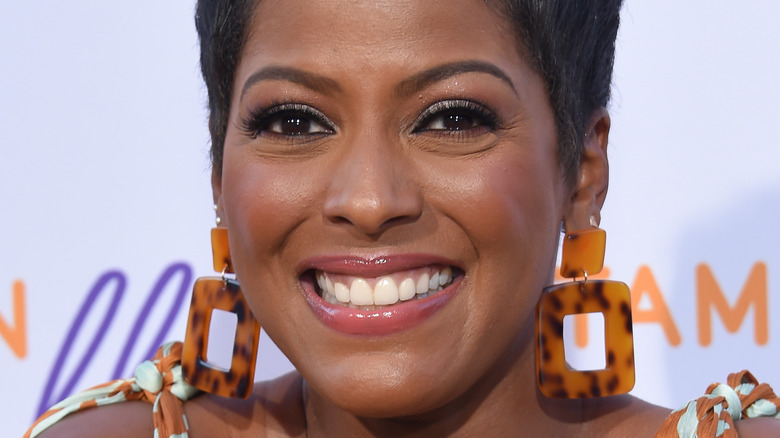 The term "late bloomer" is probably a good one to describe Tamron Hall: The veteran TV journalist may have had a late start to some things, like marriage and motherhood, but it's all part of her journey, similar to the stories she has shared at TV stations around the U.S., including in Dallas, Chicago, and New York (via Temple magazine) through her talented storytelling.
This late bloomer, however, is now really enjoying the fruits of her labor. From becoming a first-time wife and mother in her 40s after enduring the emotional roller coaster of in vitro fertilization to landing her own talk show two years after being ousted from her morning time slot on "Today," Hall has worked hard and has been through a lot — and this isn't even all of it.
Let's explore Hall's career highs and lows — from her early years in broadcast journalism to her "Today" departure — and her personal highs and lows, which include marriage and motherhood after 40 and a family tragedy. This is the untold truth of Tamron Hall.
Tamron Hall was named Maggie May at birth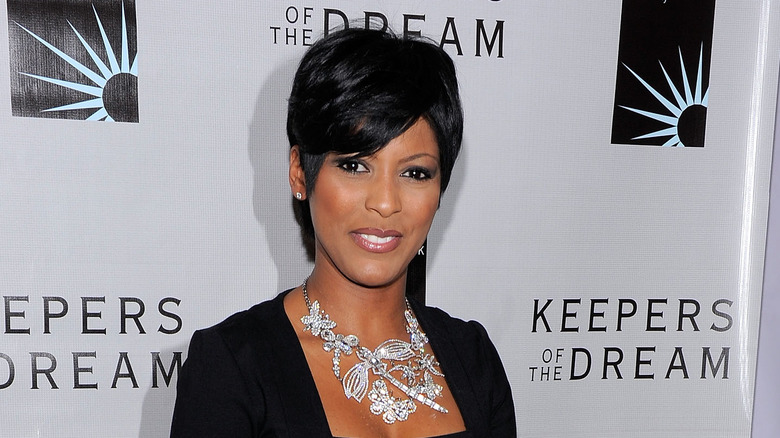 On a 2016 episode of "Today," the show's morning crew wasn't expecting one of their own to drop a bombshell one morning. Savannah Guthrie, Tamron Hall's then-co-host on "Today," brought up a recent Today.com article she'd read about a woman who'd changed her baby daughter's name when she was three months old. The "Today" gang then heard this from Hall: "Well, that happened to me." She added, "My grandfather [said] my name is Maggie May," revealing, "And my mother said, 'No way,' and made a little switcheroo to Tamron."
If the name "Maggie May" reminds you of something, that's because it's the title of an old Rod Stewart song. Even Hall's former co-star Al Roker asked, "Was your grandfather Rod Stewart?" Hall explained that her grandfather chose the name in honor of her grandmother and that she has "friends who only call [her] Maggie May Hall."
College was a transformative experience for her
Tamron Hall may be a city girl now, but she's actually a country girl at heart. Growing up in a small town, she had big dreams. In order to accomplish them, Hall enrolled at Temple University, located in Philadelphia. Speaking to Philadelphia Style in 2019, she shared details about the weekend her parents first drove her to school, saying, "It was exactly 1,689 miles from the doorstep of my home in Luling, Texas … My mother and father drove me to college in a brown conversion van." And, in an interview with Temple's Klein College of Media and Communication, she revealed that her parents weren't quite so thrilled about the arrangement. "My mother was like 'What? Nope! Pack up and let's go,'" Hall said. "And I remember my dad and my mom crying because this was so different."
Hall stayed, despite her parents' efforts, graduating in 1992. These days, she credits her experience for taking her from an insecure small-town girl with big dreams to a confident, independent woman who's made those dreams a reality. "I'm the girl who came to Temple never having seen Philadelphia," she told Temple magazine, the University's alumni publication, in 2015. "This city gave me my soul. This university gave me my confidence." We're sure many can relate, no matter where they went to school.
The proud alumna even welcomed a Temple dance team to perform on an episode of her talk show in 2020.
She always knew she wanted to be a broadcast journalist
For some people, it takes a while to figure out what they want to do for a career. However, others, like Tamron Hall, know the answer to that question early on. In a 2015 interview with Temple magazine, she explained how telling stories was almost in her genes. "It's my career, it's my path, it's my destiny — it's what I believe I was meant to do," explained the longtime broadcast journalist. "I believe I was meant to be a journalist."
During her time in college, as she told Philadelphia Style, Hall interned with 6ABC's "Action News" and accepted a job as a reporter back home in Texas after graduation, before making the move to Chicago and later New York to work for NBC and MSNBC (via Temple).
Even after working in journalism since completing her degree in 1992, Hall never takes her work and the opportunities she's been given for granted. "I don't take it lightly when people agree to give me an interview or allow me to tell their story," she said. "That's why I got in this business. I love hearing about someone else's journey … it's why I do this, it's why I want to do this and it's why I will do this for the rest of my career."
The city of Chicago is particularly meaningful to Tamron Hall for this reason
Chicago is especially meaningful to Tamron Hall. After leaving Dallas in 1997, she spent the next decade in Chicago as a reporter and later anchor for Fox 32 (via the Chicago Tribune). On "Live with Kelly and Ryan," Hall spoke about her early days in the Windy City. "I worked my way up from a reporter on the street," she said of her eventual rise to anchor.
In 2021, Hall learned that her talk show would begin airing on WLS-Channel 7 in Chicago, per the Chicago Tribune. "Can you believe … 24 years ago, I moved to Chicago and now my daytime show is coming to the greatest station in the city[?]," she incredulously asked ABC7 Eyewitness News host Hosea Sanders, a familiar face for Hall. "It's crazy, I can't believe it." Hall even credited the city for giving her a "backbone," sharing that she was taught all about different cultures from living in Chicago for a decade.
She added that her show would appeal to Chicago viewers because she understands where they're coming from. "If I let you be the unapologetic child of Polish immigrants and you let me be the unapologetic southern child that I am of a Black mom and dad, then we can meet each other and have a conversation," she said, "and I think that's the spirit of this show."
She experienced a family tragedy in 2004
In 2004, Tamron Hall's stepsister was found murdered in the backyard of her Houston, Texas, home — a tragic event that would greatly impact Hall's life. "No one deserves what happened to my sister," Hall revealed to People. "For a long time I was hesitant about sharing our story." Hall explained that Renate had a history of abusive relationships and that one of these men was "the only person of interest" named in the investigation. Unfortunately, with a lack of evidence, the case, as of this writing, remains unsolved.
In 2019, the broadcaster featured her nephew, Leroy Moore III, as a guest on her talk show. Hall explained the guilt she felt "for many years believing I had abandoned my sister and that I was more worried about career than family" (via Oprah Daily). Additionally, Hall told People that she worried her stepsister had felt "judged" by her for her poor choices.
Moore also took years to come to terms with the tragic loss. "I had to realize that there were things I didn't do and there were times I didn't say something when I should of," he said. "Once I owned that, I realized the best way to give back is to make sure that nobody else went through what I went through." These days, both Hall and Moore "give back" by working with the group Safe Horizon to help victims of domestic abuse.
If you or someone you know is dealing with domestic abuse, you can call the National Domestic Violence Hotline at 1−800−799−7233. You can also find more information, resources, and support at their website.
Tamron Hall is a TV style icon
If you've ever seen Tamron Hall on TV, you know she is one fabulous fashionista. Vogue even called her "the most fashionable woman on daytime television" in a 2020 article. On her talk show, you might find her "wearing cashmere knits from Victor Glemaud, ruffled Saint Laurent blouses, or neon pink cropped jackets from Jacquemus," fashions commonly seen only on runways and red carpets.
Hall's personal style, however, comes naturally. "Appreciation for fashion has always been part of the fabric of my life, pun intended," she said of the colorful, "glamorous" outfits her mother, aunt, and grandmother wore to church. For Hall, fashion is a way to express herself. "[The clothes] help me feel confident and just safe in my skin," she admitted. She explained that, although confidence cannot be attributed solely to style, it "does provide that boost."
Hall wasn't always able to wear what she wants on air. In fact, in her first job in Texas, she told Vogue, she wasn't allowed to take off her jacket on a hot day because it wasn't "'very professional.'" This experience stayed with her so much that, once in Chicago, Hall chose to wear bright colors to liven up morning broadcasts. In 2015, Hall began working with Emmy-nominated personal stylist Eric Niemand on "Today," noting how "his selection is fashion-forward but mindful of what I do and who I am."
Tamron Hall became the first Black woman to co-host the Today show
In an interview with Essence, Tamron Hall shared an early experience of hers when, while watching TV with her father, he pointed out Iola Johnson, the first Black news anchor on a Dallas news station. He told her "that can be you," she remembered. "When Connie Chung took her place in history, he said, 'That could be you.'"
And it was. According to Essence, Hall's turn on the "Today" show, while cut short, was a historic one: She was the show's first-ever Black female co-host. "Now I'm a part of this for women, for Black women, for all of us," she said upon landing the job. "And I'm just taken aback by it. I can't even describe to you how it feels."
And, just as Hall was inspired by trailblazers like Johnson and Chung in her early years, she herself has served as an inspiration to others. Hall explained to the magazine how she read an article that "a young girl" had "met [Hall] when [she] was co-anchor in Chicago and [she] inspired her." Hall added, "And now she's the first Black anchor on a Utah TV station."
Tamron Hall on her Today show departure: 'No one wants to lose their job'
In 2015, Tamron Hall spoke with Temple magazine about her then-current job: co-hosting the 9 a.m. hour of the long-running "Today" show on NBC and anchoring "NewsNation with Tamron Hall" on MSNBC. "I'm just thankful that I happen to be on one of the greatest morning shows ever," she said, adding that she doesn't "take [the opportunity] lightly."
Just two years later, Hall was at a crossroads in her career, after being ousted from the 9 a.m. hour of "Today" to make room for Megyn Kelly, who, only a short time later, parted ways with NBC herself (via Page Six). Hall left entirely, and she later told a live audience at a summit that she found herself "home on [her] sofa for 18 months" (via Page Six). She explained her decision to People: "I knew I would have to trust my gut and that I could be a part of something that would reflect who I am as a person, as a journalist, as a woman."
In yet another interview, Hall got even more personal, telling USA Today, "I had some suspicions … but no one wants to lose their job." She went on, "It wasn't about who I was losing it to — it was like a relationship where you're putting in 100% and the person who's putting in less has the nerve to break up with you."
She's close with Al Roker
It's not always easy to remain close with coworkers when you no longer work together every day. But Tamron Hall can say she's been able to remain close with at least one of her former colleagues. When Hall left NBC in 2017, she noted in an official statement, "To all my great colleagues, I will miss you and I will be rooting for you" (via Page Six).
One such colleague is Al Roker, whom Hall has remained close with. In an episode of her talk show, she even revealed how Roker came to her rescue one day when her son had an accident requiring surgery, and she was "in a panic" (via Hello!).
Hall explained that she called Roker, who arrived quickly. "Within seconds, I met the doctor, I'm in the surgery center, and everything worked out just beyond what I could've expected," she said, adding, "This is what this man brings to my life!"
She also works as a producer
No one was more excited than Tamron Hall when she returned to TV — two years after leaving "Today" — with her own talk show, "Tamron Hall," no less. As noted by Variety, Kim Godwin, a president at ABC News (which took over the show's leadership in 2021), described the show in a news memo as "[delivering] award-winning, empowering stories that have covered celebrity interviews, topical and hard-hitting issues." She continued, "Their thought-provoking segments have provided daytime viewers with entertainment, news and information, delivered by a distinguished and celebrated broadcast journalist."
And, these days, Hall is the one calling the shots, as she serves as an executive producer of the show. In March 2020, Hall hired Candi Carter, a former producer on "The View" and "The Oprah Winfrey Show" to serve as producer alongside her. "You always need a coach," Hall said on a Zoom call, explaining her decision to hire a co-producer, as noted by Essence. "I don't care how good you are, you need a coach."
Tamron Hall kept her pregnancy a secret for so long because she was 'terrified'
Tamron Hall famously became a first-time mom in 2019 at the age of 48. Though this feat was remarkable in and of itself, Hall managed to keep her pregnancy a secret until she was 32 weeks along. (And we ladies know how hard this would be to keep quiet.) However, Hall had a very logical reason for keeping mum. "I was high-risk, not just because of my age, but there were other medical factors too," she told People for a May 2019 cover story.
Although her doctor told her to feel free to share whatever she wants, the journalist wasn't mentally prepared for the possible fallout. "I was terrified I would lose this baby and I would have to go back and tell everyone that now it was bad news," she revealed to People, "and after this pregnancy had gone so far."
Hall officially revealed her joyous news to her Instagram followers on March 4, 2019. Alongside a photo of her ever-growing bump, she wrote, "So, it's clear a daytime talk show isn't the only thing I've been trying to produce! There have been many tears, but today I embrace the smiles. My husband Steven and I are beyond excited!" We were thrilled to hear her good news!
She kept her relationship with her now-husband a secret too
Tamron Hall managed to keep another aspect of her personal life private — not just from the public but also from her own mother! Or at least that's what she thought.
While guest-hosting "Live with Kelly and Ryan" alongside Ryan Seacrest in 2019, she discussed her exciting year, which included getting married, having a baby, and buying a house. Hall shared the adorable story of how she met her husband, music producer Steven Greener, whom she referred to as "the love of my life." She explained that the two were acquaintances who kept running into each other. Hall noted that, each time, Greener would exclaim, "What are the odds?!"
One day, Hall ran into him at a pool in Los Angeles where he finally asked her out for pizza. He even said, "Let's get married!" Somehow, she wasn't scared away. Hall revealed next that they "moved in together like three weeks later," adding, "My mother is Southern old-school, so I kept saying he was visiting."
Hall admitted that when her mom first came over, she had Greener move all his things out and stay at a friend's house just so her mom wouldn't know! "Basically, we hid it," she said. "It was like a comedy special." Hall's mother later told her she "always knew." What a story!
Despite being a private person, Tamron Hall is open about this topic
We discussed how Tamron Hall kept her pregnancy private and hid how her now-husband moved in with her after dating only three weeks. However, Hall is not tight-lipped about everything personal — and this includes her journey to motherhood, during which she endured "multiple rounds of IVF."
Hall spoke to Allure about in vitro fertilization and how more women today are open about the process. "Now so many stigmas have been broken down and so many stereotypes have been demolished that if you can't conceive you're not flawed," she said. "It's a journey, and sometimes it'll turn into your dream and sometimes it won't. But we can talk about it."
Hall is not only open about the physical toll the grueling process takes, but the mental and emotional one, too. According to Hall, women today are sharing more about the experience. "We don't talk about the mental health aspect of it enough, the loneliness enough, because it's easy enough to hide these things and make it about the physical nature of it," she told the magazine. "But, for me, it's a whole-body experience and a whole journey that can be shared."
On an episode of her talk show, Hall introduced her baby boy, Moses, and shared others' stories as well as her own. In fact, learning about Gabrielle Union's infertility story is what inspired her to stay motivated and to share her own story (via Allure).
Tamron Hall was close with pop superstar Prince
It's clear that Tamron Hall is a fashionista. Before she began working with a personal stylist in 2015, though, she used to get fashion tips from an unlikely source: Prince.
Hall spoke to Vogue about her friendship with the pop star. In fact, up until the singer's untimely death in 2016, Prince would help her pick out what to wear for each show. "Before every show," she said, "I would take a photograph and send him the options of the day." This is actually how a photo of Hall showed up on the cover of Prince's single "If Eye Could Get Ur Attention" in 2015. "He didn't even tell me he was using that photo," she revealed. "I woke up one morning, and it was the cover of one of his songs."
So, how did the veteran journalist and the iconic popstar become close in the first place? It turns out that Prince "reached out" to Hall, and the two became close after realizing they shared a lot in common, everything from news to fashion to family, as she told Craig Melvin with MSNBC (via Today).
Hall certainly felt the void left by the pop star after his death in 2016. "I'm a lucky person that I have had a friend like this. But it is not lost on me that he was much more than music and I think that people know that," she said.
She has appeared on the soap opera General Hospital
In 2019, Tamron Hall made her soap opera debut when she appeared on an episode of the long-running ABC soap "General Hospital." The experience was especially exciting for Hall, who would watch the show with her family back in the day. Sharing her enthusiasm with ABC7, she said, "The legacy of 'General Hospital,' 56 years! Now I'm like inside Kelly's Diner!"
And, you'd bet that Hall would apply the same work ethic she does in her day job to her soap opera debut: "I was up at 5 a.m. … reading over the script." She noted, "I fell asleep with the script beside me in the bed."
Hall watched the scene for the first time along with her live talk show studio audience, admitting, "I never watch myself on TV. I don't even watch our show." In the scene, Hall opens the door to Kelly's Diner, looks around in awe and says, "I don't believe it. Kelly's Diner — I've always wanted to eat here!" You can see her excitedly watching along with the audience and laughing hysterically at herself (hey, you know that awkward feeling whenever you watch yourself on video!). Afterward, Hall commented on her "big teeth" and "big eyes" in the scene. She, of course, looked gorgeous, but we totally can relate to this kind of self-critique.
Tamron Hall is an author
We know that Tamron Hall loves telling stories. But now, she's embarked on a totally new kind of story to tell: In April 2021, the TV journalist announced her first book! And, while you may think that, as a journalist, it's likely the book is a memoir or something news-related, it turns out that's not exactly the case. Hall's first novel was "As the Wicked Watch," which is the first in a series! She wrote on Instagram, alongside a photo of her reading the book on the set of her talk show, "My first novel!! This is [four] years in the making."
And on September 21, 2021, Hall made an exciting announcement to her followers when she revealed she'd be reading pages from her book online! She wrote on Instagram, alongside the video announcement, "You've asked for me to read some of the juicy pages of my first novel, so tomorrow we're starting #WickedWednesday!! See ya then!" Considering its author, we bet this novel is wicked good.