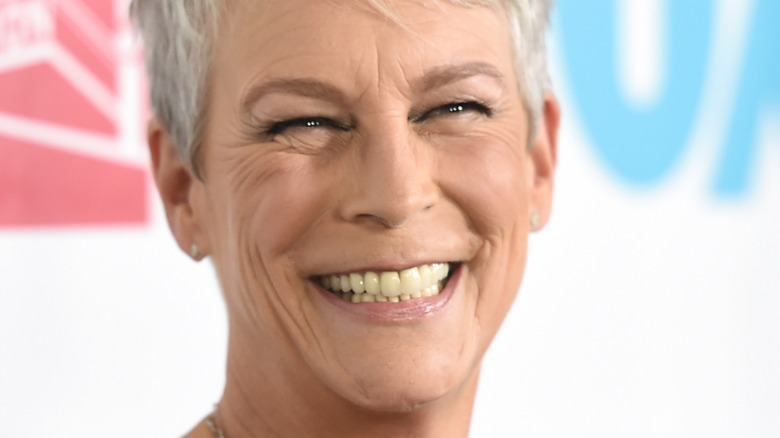 There's no denying Jamie Lee Curtis has had an extraordinary Hollywood career, extending from her early roles in the 1970s to the powerhouse she is today. As an actor, Curtis has been difficult to pigeonhole, effortlessly shifting from genre to genre; how many other Tinseltown stars can count some of filmdom's biggest horror, drama, comedy, and action movies among their credits?
Having celebrated her 62nd birthday in November 2020, Curtis has been doing some of her most interesting acting work as a "woman of a certain age." This includes her wickedly hilarious performance as a cold-blooded heiress in "Knives Out" and her gritty reprisal of her very first starring role — the 1978 horror classic "Halloween" — in the series' 2018 film and its 2021 sequel, "Halloween Kills." In between, she's also shone opposite Eddie Murphy and Dan Aykroyd in "Trading Places," gone quip to quip with Monty Python's John Cleese in the classic comedy "A Fish Called Wanda," starred opposite Arnold Schwarzenegger in the action blockbuster "True Lies," and swapped bodies with teenage Lindsay Lohan in "Freaky Friday," to name just a few.
While many actors of her generation are content to look back on past glories, Curtis appears to be bucking that trend; like a fine wine, she just gets better with age, offering every indication that her most career-defining and memorable work is still to come. To learn more about this multitalented star, read on to find out what you never knew about Jamie Lee Curtis.
Jamie Lee Curtis is both Hollywood royalty and actual nobility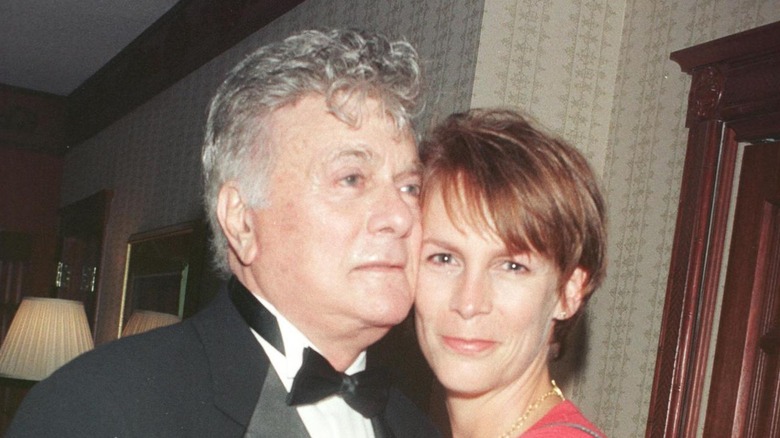 Jamie Lee Curtis is Hollywood royalty in the truest sense, given that her parents are both iconic movie stars: Tony Curtis, known for such classic flicks as "Some Like It Hot" and "Sweet Smell of Success," and Janet Leigh, whose eclectic screen credits range from Alfred Hitchcock's horror classic "Psycho" to the musical comedy "Bye Bye Birdie."
Curtis also has bragging rights as bona fide nobility as well, albeit not by birth. Her husband, actor and director Christopher Guest, holds a hereditary British peerage. "I'm a baron," Guest explained in an interview with The Guardian. "I'm Lord Haden-Guest. And yes, that's a novelty. Born into it by accident, obviously. And then your dad dies and you're the next one." As a result, Curtis holds the official title of Baroness Haden-Guest.
While it's a title that Curtis rarely uses or acknowledges, she was in full-on baroness mode when she accompanied her husband to Britain's House of Parliament in 1999. As People reported, Curtis was "formally dressed in cream satin and a tiara of gold leaves" as she sat among other aristocrats attending the opening of Parliament, where Guest had inherited a seat in the House of Lords.
Hollywood's iconic scream queen is not actually a fan of horror movies
Thanks to Jamie Lee Curtis' early roles in such horror hits as "Halloween," "The Fog," "Prom Night," and others, she was named the all-time greatest "Scream Queen" at the 2020 MTV Movie & TV Awards: Greatest of All Time, reported People. Yet despite her horror pedigree, Curtis herself doesn't enjoy scary movies. "I don't like horror films," she told The New Yorker. "I wouldn't watch a horror movie if you paid me," she confirmed to SFX (via Games Radar), admitting she is "not a fan of the genre."
As she told NME, the reason for her antipathy for horror is that she scares way too easily. "I mean, f**king 'Aladdin' scared me. I'm not joking! You know when Jafar becomes a dragon? With his red eyes and stuff? That s**t scared me," she confessed. Pondering the incongruity of an actor famed for horror roles who's too afraid to watch her own movies, Curtis suggested to SFX that her easy-to-terrify nature could actually be the secret to her horror success. "Maybe they found the perfect actress because I don't like it," she theorized. "Maybe that's why I'm good at it!"
However, she's also come to terms with playing Laurie Strode in the "Halloween" franchise, seeing it as more blessing than curse. She told Variety that her obituary will probably read "'Halloween' Actress Dead."
She originally wanted to be a cop
When young Jamie Lee Curtis was pondering her future career plans, following in the footsteps of her famous parents to become an actor wasn't actually at the top of her list. One reason for that, she revealed in an interview with The New Yorker, was that her teeth had a grayish hue, due to her mother taking tetracycline during her pregnancy. "My teeth were gray. I was not pretty … I never thought I'd be an actor, ever, ever, ever, ever," she said.
In fact, her initial plan was to pursue a career in law enforcement. "I was going to be a police officer, because I thought I would be good and you didn't need a lot of schooling for it," she said. That was an important consideration due to her abysmal grades. Regarding her admission to the University of the Pacific in Stockton California, she admitted, "It was the only school that took me with my D average plus 840 combined SAT."
While her dreams of becoming a cop ultimately took a back seat to her acting ambitions, she did get to experience life as a cop — vicariously, at least — when she was cast as a rookie NYPD officer in the 1990 drama "Blue Steel." "It's a wonderful thing to play a woman like this cop," she said of her role in an interview with film critic Roger Ebert.
She's godmother to famous Hollywood hunk Jake Gyllenhaal
Not only does Jamie Lee Curtis have a famous husband and famous parents, but she's also godmother to another Hollywood star in his own right: Jake Gyllenhaal. "I knew him as a babe, as a small kid," Curtis revealed in a 2015 interview with SiriusXM's "Entertainment Weekly Radio," as reported by Entertainment Weekly. "So when he actually started show business, I said, 'Look, I'm your celebrity godmother.'"
According to Us Weekly, Curtis is longtime friends with the "Brokeback Mountain" star's parents, Stephen Gyllenhaal and Naomi Foner, and is also godmother to their daughter, Maggie Gyllenhaal. Curtis even interviewed Foner (a screenwriter and producer whose films include "Running on Empty" and "A Dangerous Woman") for the Daily Beast — not surprising, given that a 2005 profile of Foner in the Los Angeles Times described Curtis as "her best friend."
Curtis has been known to gush over her godchildren on social media, such as in one September 2021 Instagram post in which she honored both Gyllenhaal siblings. In fact, Curtis revealed in an interview with Entertainment Tonight that it was Jake Gyllenhaal who was instrumental in convincing her to return to the "Halloween" franchise. As she recalled, she was vacationing in Idaho when he tracked her down and told her that director David Gordon Green — whom he'd recently worked with — wanted to discuss a role in an upcoming project, which turned out to be Laurie Strode in 2018's "Halloween."
She has a second career as a children's book author
In addition to her multitude of roles in film and television, Jamie Lee Curtis is also the author of children's books. Her gig writing children's books is no passing fancy; since writing her first book in 1998 — "Today I Feel Silly, & Other Moods That Make My Day" — she's since written several others.
Given her lack of academic ability during her school days, nobody is more surprised by her role as a bestselling author than Curtis herself. "I never thought I'd write a book in my life. I got 840 on my SATs — combined," Curtis joked to USA Today.
The secret to her success as an author, Curtis theorized in an interview with Romper, is her ability to entertain children and their parents simultaneously, albeit on different levels. "All throughout my books basically, there's a line of music for children, colors, silly things happening, and a line for the adults," she explained. "That's how my books have been successful. That's my gift with a little 'g,' a baby 'g.'" In fact, she clarified, her books aren't necessarily meant for children, but for families. As a parent who frequently read to her own children, she recalled the exasperation she felt when her daughter continually picked a particular (unnamed) book, and she "would look at the sky like, 'No. Why? Again?'"
She fell in love with her husband before she even met him
In December 2020, Jamie Lee Curtis celebrated 36 years of marriage with Christopher Guest, commemorating the occasion with a sweet Instagram post. Writing about her own "aha! moment" for O, The Oprah Magazine, Curtis recalled first laying eyes on her future husband in the pages of Rolling Stone. "I'd never seen him before, but I pointed at him. 'I'm going to marry that man,' I said to my friend," she wrote of Guest, who was then earning accolades for his brilliant performance as dim-witted guitarist Nigel Tufnel in Rob Reiner's groundbreaking mockumentary "This Is Spinal Tap." She called his agent and requested Guest give her a call, but he never did.
Later, Curtis and Guest saw each other when they happened to be in the same restaurant; he called her the next day. Within a few weeks they'd "fallen in love."
Speaking with The Guardian, Guest confirmed that the picture that sealed the deal with his future missus was one of his actual self and not one of himself in costume as his "Spinal Tap" alter ego. "There were pictures in Rolling Stone magazine in 1984. One of me as Nigel Tufnel and one of me as me. And that was the one where she said to her friend, 'I'm going to marry that guy.' So no, it was not Nigel. That would be disturbing. I mean, it's crazy enough as it is," he acknowledged.
Her biggest tip for a successful marriage is both obvious and brilliant
As Jamie Lee Curtis wrote of her "aha! moment" for O, The Oprah Magazine, she and Christopher Guest have enjoyed a "wonderful, complicated, imperfect life" during what she characterized as "a very real marriage." In 2015, after she and Guest had celebrated their 31st anniversary, she shared her secret to a successful marriage with Today. "Don't get divorced," she declared. "It's a fascinating thing. I could write a book on marriage called 'Don't Leave.'"
Any armchair psychologist could probably surmise that her efforts to keep her own relationship intact are somehow related to the bitter divorce of parents Tony Curtis and Janet Leigh when she was just a toddler. "My parents hated each other my whole life," she said during an appearance on "The View," as detailed in the New York Daily News. "I was raised in a house of hatred."
Her father, in fact, proved to be a textbook example of how not to succeed in matrimony, getting hitched and divorced four more times after his divorce from Leigh, his first wife. As Curtis confirmed during a 2010 appearance on "The Talk" (via the Daily Mail), as unsuited as her dad was for marriage, he was even less so for fatherhood. "He was not a father and he was not interested in being a father," she said, joking that the one thing received from him was "his desperate need for attention."
Both of her children are adopted
When Jamie Lee Curtis and husband Christopher Guest decided to start a family, it was not an easy road. After experiencing fertility struggles, the couple adopted daughter Annie. Becoming a mother, Curtis gushed in a 1994 interview with People, was "the most profound, nondescribable event of my life." In 1996, the couple adopted a second child; in 2021, she revealed that child had come out as transgender, and was now known as Ruby. In an interview with Good Housekeeping, Curtis recalled the first time she held Annie, on the day she was born. "That's a very personal time in every life, but in adoption it's also a very sad day," she mused. "I was aware of the largeness of the moment."
Curtis' experience as an adoptive mom presumably inspired her to write the children's book "Tell Me Again About the Night I Was Born," described by publisher HarperCollins as "a special celebration of the love and joy an adopted child creates for a family."
In 2017, Curtis marked National Adoption Day by tweeting a reference to her book. "Adoption is a sacred exchange, filled with joy & sorrow," she wrote. "Like all child rearing, it is a journey."
She's been brutally candid about her struggles with substance abuse
Substance abuse was something that Jamie Lee Curtis grew up around. As she told Variety, her brother Nicholas suffered a fatal heroin overdose when he was just 21. Meanwhile, her father, actor Tony Curtis, had his own issues with addiction. "I did cocaine and freebased once with my dad," she revealed, noting "that was the only time I did that, and I did that with him."
According to Curtis, a few undiplomatic words about her "puffy eyes" from a blunt-talking cameraman on a movie set ultimately led to her own battle with addiction. Mortified by the cameraman's comments, she underwent "routine" cosmetic surgery, and was given Vicodin for the pain. She liked the way the pills made her feel and admitted she "chased that feeling for a long time."
When she eventually came to realize she had a dependency, she confronted it head on and has been sober ever since. In fact, she's a big believer in recovery meetings, telling Variety she's attended them all over the world, wherever she happens to be working. If she can't find a meeting, she simply hosts her own on the set. "I put a sign up by the catering truck saying, 'Recovery meeting in my trailer,'" she said.
If you or anyone you know is struggling with addiction issues, help is available. Visit the Substance Abuse and Mental Health Services Administration website or contact SAMHSA's National Helpline at 1-800-662-HELP (4357).
She's a major fan of video games
One of Jamie Lee Curtis' geekier traits is her affection for video games, and it's something she's made no secret of over the years. She has also been known to cosplay as her favorite characters. Back in 2015, for example, she took to Twitter to share a photo of herself, husband Christopher Guest, and their children, all costumed as characters from the classic arcade game "Street Fighter." Later that same year, she tweeted a pic of herself wearing a "World of Warcraft" monster mask for an incognito appearance at BlizzCon. "I ended up wearing an Orc mask that has purple hair and horns coming out of his head," she told Digital Trends.
At the premiere of "Warcraft" following year, she donned a whole new cosplay look, this time as an "Orc shaman" from "World of Warcraft."
Curtis' interest in video games collided with her movie career in 2021 when she was cast in "Borderlands," director Eli Roth's film adaptation of the popular game. A few months after that announcement, Curtis shared a photo on Instagram, taken from the set, of her character in the film, Dr. Patricia Tannis, describing the doc as "INSANE (LY) SMART with an emphasis on the first part!"
She invented and patented a game-changing new diaper
In addition to her status as an actor, author, and video game aficionado, Jamie Lee Curtis is also an inventor. Her specialty: diapers. These are not your garden-variety diapers, mind you, but "a disposable infant garment which takes the form of a diaper including, on its outer side, a sealed, but openable, moisture-proof pocket which contains one or more clean-up wipers," according to a description in The Atlantic.
In fact, Curtis believed enough in her groundbreaking new pocket-equipped diaper that she patented it. As she explained during an appearance on NPR's "Wait, Wait, Don't Tell Me," she dubbed her invention "Dipe and Wipes," explaining, "So when — before you take off the diaper, you peel off the tape, reach in, pull out the wipes, undo the diaper, check out whatever's going on, take the wipes, boom, boom, boom, Bob's your uncle, done."
Interestingly enough, that was not Curtis' sole exploration into the vagaries of diaper technology. In fact, she actually patented another diaper design in 2016 that takes the concept even further. According to the patent, Curtis devised a "unitary, disposable diaper possessing integrated soilage-management structure including a portion structured to form a selectively deployable, ultimately closable and sealable, soilage-impervious disposal container which enables after-baby-clean-up discarding of the entire, integrated, soiled diaper componentry as a compact disposable unit."
She's BFFs with Sigourney Weaver
One of Jamie Lee Curtis' best friends is fellow actor Sigourney Weaver, something that became apparent when she interviewed Weaver for Interview magazine. While Curtis pointed out that she and Weaver — whom she affectionately refers to as "Siggy" — are "so diametrically different," Weaver noted they also "have much in common." However, Curtis explained that the two "are in many ways opposites," saying, "You are a New Yorker, you are an intellectual, you went to drama school. And I am the vulgarian from California."
Yet despite those superficial differences, Curtis explained, there are some core similarities that bond them, including being "women of a similar age" who are both in long-term marriages. Of course, what connects them even more intimately, Curtis added, is that they have both experienced the ups and downs of show business, or, as Curtis jokingly called it, "'show-off' business." Another common denominator is that both Curtis and Weaver have worked with director James Cameron — Curtis in "True Lies," and Weaver in "Aliens" and "Avatar."
They are also just a little bit competitive with each other, something the women played up when they co-starred as rivals in the 2010 comedy "You Again." While promoting the movie, Curtis joked to WNBC, "I'm in no competition with Ms. Weaver. And I don't throw my 5 million books sold number at her at all."
She spent years doing Activia commercials to be with her family
There was a period of time — several years, in fact — that Jamie Lee Curtis served as the spokeswoman for Activia yogurt, appearing in numerous television commercials extolling the product's purported ability to get sluggish bowels moving. What viewers of those commercials, which found Curtis spoofed by Kristen Wiig in a "Saturday Night Live" parody, likely didn't realize is the important role they served in her family life.
During an appearance on "The Kingcast" podcast, Curtis revealed that she had deliberately slowed down her movie career during that period in order to stay close to home so she wouldn't have to be away from her husband and children for extended periods of time.
"It's the reason that I sold yogurt that makes you s**t for seven years," Curtis bluntly quipped, as reported by Today. "Part of the reason why I've done commercials … I've been doing commercials for a very, very, very long time partially so I can ameliorate all of that distance from my family. It allowed me to earn money and stay home."
She's big into organization
Jamie Lee Curtis is all about neatness and order in her home, and it's something she takes seriously. As she explained in a 2010 interview with Good Housekeeping, keeping a sense of order not only keeps her home free from clutter, but she also considers it to be "emotional good housekeeping" that influences one's mental state. "I've created a system that allows me the brain time to disengage from what I call the custodial part of mothering and being a wife, and focus on the intimate side [of my life]," she explained. "And I can't do it if I'm trying to do backflips to get everything in order. That's why I keep things in order."
She's also a devotee of clutter-busting queen Marie Kondo, revealing in an Interview magazine chat with pal Sigourney Weaver that she had become "a deep believer" in Kondo, "who has revolutionized the art of getting rid of s**t." Referencing Kondo's mantra, Curtis joked, "That's the tattoo I'm going to get, 'Does it spark joy?'"
Her focus on organization, she explained to Good Housekeeping, was a byproduct of her sobriety. Becoming sober, she said, led her to realize that if one's "external life is super-organized, but the internal life is a mess, then everything is completely out of balance, and your life just looks good."