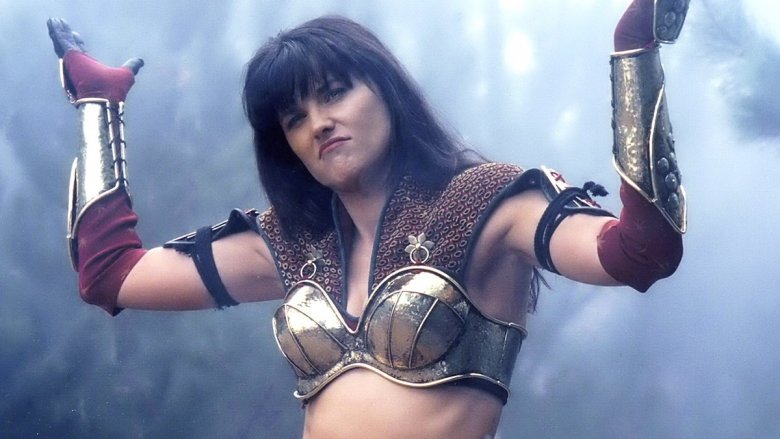 If you've watched even just one episode of the quirky cult-adventure series Xena: Warrior Princess, then there's a strong likelihood that you became immediately and irrevocably obsessed with the charismatic star of the show, Lucy Lawless. So much so that you may have found yourself wondering, probably out loud and at inappropriate moments, whatever happened to the actress who played Xena? Well, as it happens, a lot happened to her. And all of it is good. Though a long-speculated Xena: Warrior Princess reboot was scrapped at NBC in 2017, there's every chance that Lawless could possibly someday return to the role.
But why wait for a whole new Xena fix when there are plenty of Lucy Lawless' other projects to catch up on and enjoy? You've probably seen her in something over the years, even if you didn't make the connection. Here's all the great stuff that's happened for the Xena star since the end of her iconic, breakout '90s role.
Lucy Lawless is a cameo queen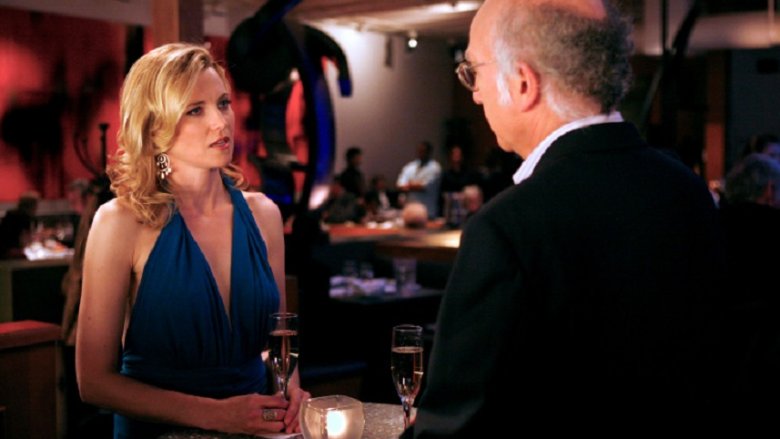 Having forged her career as one of the greatest cult icons of our time, Lawless has managed to maintain that status by briefly appearing in dozens of beloved productions. In 2006, for example, she starred as an FBI agent attempting to extract some sensitive information from Neptune's savviest teenage detective in Veronica Mars, and a year later she enjoyed a guest appearance on Curb Your Enthusiasm as a version of herself stuck on an excruciatingly bad date with Larry David.
Lawless has enjoyed a number of unexpected guest appearances, which have included comedies like Flight of the Conchords and Two and a Half Men, dramas like Top of the Lake and Burn Notice, animations like Adventure Time and The Simpsons, and comic book adaptations like Agents of S.H.I.E.L.D and Justice League: The New Frontier, in which she very appropriately provided the voice of Wonder Woman.
Xena has become a lesbian icon
For years, many diehard fans of Xena have maintained that the rumored romance between Xena and Gabrielle amounted to more than just innuendo and queer subtext. And in 2003, Lawless was happy to confirm that the two were "definitely … gay" and said "it wasn't just that Xena was bisexual and kinda like her gal pal and they kind of fooled around sometimes, it was 'Nope, they're married, man.'"
As well as enjoying a two-episode guest appearance in the groundbreaking LGBT drama The L Word in 2009, Lawless has attended various LGBT celebrations and events in proud public support of the community. In 2017, she even received the Ally of the Year Award at the 2017 Australian LGBTI Awards and in 2018 attended the inaugural New Zealand LGBTI Awards Ceremony as their proud ambassador.
While speaking about the influence Xena had in providing visibility and encouragement to the lesbian community, Lawless describes the LGBT community as being "a force for good" that she's "immensely grateful for." Lawless said, "Nobody else outside of our world is going to understand or appreciate that but I know and they know that that was a profound experience for all of us."
Facing the music
Anyone with a fond memory of the (frankly groundbreaking) musical episodes of Xena will already be aware that Lawless is kind of an amazing singer. What you may not be aware of is just how much Lawless loves being a musician. In 2009, the actor (who has a background in musical theater) was a contestant on the Australian singing competition Celebrity Duets, where she sang opposite such musical legends as Dionne Warwick and Bonnie Tyler. She lost out on winning the competition to Alfonso Ribeiro from The Fresh Prince of Bel-Air.
More recently, however, Lawless has returned to her musical theater roots by leading a timely show called Pleasuredome: The Musical back in her homestead of New Zealand. Billed as being a "dirty urban musical" with a queer love story at its core, the camp '80s-set musical is produced by her husband and focuses on a female business owner (Lawless) standing up against a bigoted businessman. Lawless told the NZ Herald this "big gay musical" feels more timely than ever, since the LGBT community is "under threat like it hasn't been since the '70s."
Football Wives
It's clear from Lawless' career that the actor has a real talent for comedy and a genuine love for camp. And both of those things would have put her in great stead in 2007 when she was cast as Tanya Austin in the short-lived TV show Football Wives. Intended to be a US adaptation of the trashy British hit dramedy Footballers' Wives, the ABC show would have seen Lawless starring opposite a stellar cast of trash TV stalwarts including James Van Der Beek and Gabrielle Union. Sadly, the show was canceled before it even had a chance to get going, resulting in a standalone TV movie pulled from the show's pilot episode.
The show was a notorious disaster, with Lawless admitting Football Wives "needed to be spoofier and really trashy," just like the British source material was. As TV Guide puts it, the show really toned down Lawless' character, who in the British version was a "bitch-slapping, coke-snorting, hypersexed hubby killer." Lawless agreed: "They were never going to put all that stuff in the American version. Disney owns ABC. If you're going to take all the bad behavior out of it, then you don't have a show … Football Wives taught me there is no such thing as a sure thing." What a waste!
Lucy Lawless doesn't want to get caught in the past
Though Lawless has enjoyed a diverse career since leaving Xena, it's also easy to see that the actor may have been typecast in a very specific type of role: as a strong, ferocious woman in period pieces. The actor has returned to such depictions time and again in productions like Salem and Spartacus. She's clearly proud of these roles, but according to a conversation with Interview Magazine, these "tough woman" characters aren't the ones that interest her the most.
Crucially, Lawless is interested in seeking out characters who allow her to reflect on her own life and identity, and from the sounds of it, much of that has little to do with being a warrior princess: "As an artist, you want to be able to explore facets of yourself. The roles that I'm proudest of … are the ones where I get to be a stain on the wall … I like to play women who are not strong at all, because there's certainly plenty of myself that is no kind of a warrior."
Battlestar Galactica
Possessing the nerd-cred that she does, it made sense when Lawless joined the cast of the Battlestar Galactica reboot in 2005. Arriving in the eighth episode of Season 2, Lawless depicts D'Anna Biers, a trashy tabloid reporter for the Fleet News Service who is filming a warts-and-all report about the Galactica. The episode is disarmingly fun and lighthearted, but it comes with a bombshell revelation at the end of it that has been called Lawless' "most spectacular and unexpected moment of television ever" (spoilers!): D'Anna is actually Cylon Number Three. Boom!
Considering Lawless' love for philosophy, it's unsurprising that "the religious aspect" of some of the deeper themes of Battlestar Galactica are what drew the actor to the show. She saw D'Anna as a character "consumed" by "the nature of the philosophy of God," Lawless told Galactica.tv, and she loved the character's complex, questioning spirit. "She was a zealot, she was an outlaw, she was a betrayer and yet she saw herself as a great patriot in a way."
Romancing Ron Swanson
By far one of Lawless' most beloved roles since leaving Xena has to be as Diane Lewis in Parks and Recreation, the single mother with whom Nick Offerman's Ron Swanson falls madly in love -– and eventually marries. A self-confessed Parks & Rec superfan, the role was a huge win for Lawless, who once gushed that "Ron Swanson is sexy" (a relatable statement to anyone who appreciates the potent combination of a mustachioed man with a great love of breakfast foods and whiskey).
Lawless only appeared in ten episodes of the widely adored comedy between 2012 and 2014, but her character was pivotal in taking Swanson out of his comfort zone. Diane transformed Ron from a surly bachelor into a surly husband and father, giving the character "something he's never had before … a real grownup relationship."
On top of confessing that Diane is the character most closest to her own personality of anyone she's ever played, Lawless has also copped to being a "P-and-R aficionado" who'd seen every episode of the show prior to stepping foot on set -– to the point that she was able to correct Offerman about P&R continuity during filming. Lawless told IGN, "Nick said something [about Duke Silver] … and I knew it wasn't right."
Evil Dead muse
Fans of the quirky cult filmmaker Sam Raimi will likely know that he likes to work with the same people time and again. And while he might not be as visible in Raimi's productions as someone like Bruce Campbell, Robert Tapert shares producer credits with Raimi in works including The Grudge, Don't Breathe, The Evil Dead franchise, and, of course, Xena: Warrior Princess.
Tapert and Lawless obviously made a terrific impression on one another, because in 1998, the star of Xena went on to marry the producer. They remain married to this day, as well as creative collaborators. In 2011, Lawless appeared in Raimi and Tapert's Spartacus series before snagging a supporting role in Ash vs Evil Dead in 2015 — even though the actor confessed to being less than a fan of the original movie when it was first released.
Lawless made the surprising confession in an interview with Rotten Tomatoes, where she admitted that she was so outraged by The Evil Dead as a 17-year-old that she marched out of the movie after the infamous tree rape scene: "I was so mortally offended that I got up and I stomped out saying, 'These people are misogynists and sick and that movie's awful.' Twelve years later, I was married to one of them. Trick of fate."
Making the grade
Though it would be easy for someone with as much cultural capital as Lawless to simply sit back and let the tough girl roles roll in, the actor has actually been spending her time on ventures far away from the limelight. One such venture saw Lawless returning to university, where she studied philosophy part-time. In a 2012 interview, the actor shared that she went on to pursue acting after learning three languages in her first time at university. However, her thirst for knowledge, and for philosophy in particular, was rekindled in later life when she attended a UN conference on sustainable development in Brazil.
Lawless stated that she's "very concerned about climate change" and became interested in delving deeper into the philosophy behind political policies after seeing "people who really just want to survive to make it to the next election, rather than making means of change." All of which made her question, "What is a just society? Because, all of these people feel justified. So what is justice?"
As well as making "a lot of new friends who are 18," Lawless also found that studying philosophy helped her in all aspects of her life, making her calmer, happier, and a better activist. "If you're on top of an oilrig, fighting with politicians, or whatever – you need a bit of wisdom to realize that you're not always right, or that you're not always being reasonable, or you're not always listening."
The Xena actress is an eco-warrior princess
Lawless isn't kidding about those climate change concerns, either. The Xena star is a passionate activist and even worked with Greenpeace as a climate ambassador in 2012. Clearly, the title wasn't just for show, as the star joined in on some direct action and was arrested for it along with seven other activists after climbing to the top of a Shell oil drilling ship in opposition of planned oil drilling operations in the Arctic.
At the time, Lawless stated that her reasons for the protest were logical, and said, "I believe passionately that renewable energy is the way of the future … We don't have to go to the ends of the earth to suck out every last drop of oil. Instead we need to smarten up and begin the transition to a clean, green, sustainable energy future and right now that means keeping Shell out of the Arctic."
Interviews that followed her arrest showed that Lawless remained proud of her actions and that her celebrity -– something she calls "a very silly kind of currency" -– helped to raise visibility and awareness in the urgent fight against climate change. Lawless later pleaded guilty to trespassing charges and was ordered by a New Zealand judge to pay a minor fine and to complete 120 hours of community service.
Charity work
In interviews, Lawless has stated that she and her siblings were raised by their hardworking parents "to be contributors." They grew up watching how they spent their weekends visiting people: "Maybe they were sick or celebrating their diamond jublilee, that sort of thing." Since leaving Xena, it's clear that contributing to communities and to good causes has continued to be a great passion of hers.
Over the past couple of decades, Lawless has done a great deal of work for various charities aiding LGBT people, environmental causes, breast cancer research, and HIV/AIDS causes. She even sits on the board of trustees for The Starship Foundation, which provides fundraising efforts for New Zealand's largest children's hospital. Lawless' altruistic nature is something that has long inspired her fans to do the same.
In 2007, Lawless and her fans set up Feel the Love Week, an annual charity drive at the end of September that encourages fans to support a charity they care about, be it by donating money, supplies, or volunteering. Speaking to Vice in 2017, Lawless suggested it's the thing she's most proud of in her career thus far: "People started doing random acts of kindness in their communities rather than giving to my charity or something I'm involved in. I asked them to go and do something to enrich their own communities and we did amazing things."
My Life Is Murder
A self-described "court ghoul," Lawless is something of a true-crime fanatic who is so fascinated that she attends trials whenever she has the chance. As she tells it, attending such trials "teaches you so much about life and your own society and justice and about yourself." She has also discussed the thrill of chatting about trials "with the cops and journos afterwards." That fascination appears to have led her to one of her more recent projects, the Acorn TV streaming series My Life Is Murder, which "closely mirrors" her personal interests.
Depicting a witty ex-homicide detective with a love of bread baking who also happens to speak one of the three languages that Lawless does (German), My Life Is Murder is a comedy-crime show set in Melbourne in which the star's character is tasked with obsessing over, and solving, baffling crimes. It's no surprise that the character so closely aligns with many of Lawless' interests, since the star has stated that creator Claire Tonkin wrote the role with her in mind. Lawless told AP News, "There's a lot of me in the character and that's the advantage of having writers build something around you. I'm a very lucky woman."