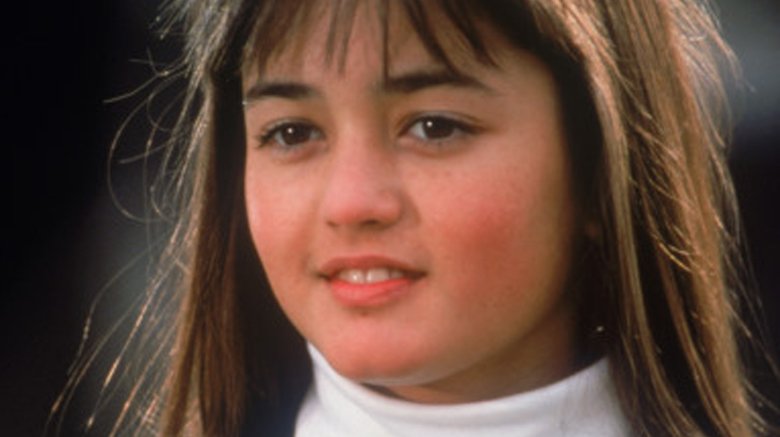 For millions of TV viewers who came of age in the late 1980s and early 1990s, Winnie Cooper was perfection, the dreamiest of dream girls. Sharing that opinion was Kevin Arnold (Fred Savage), who lived next door to Winnie Cooper. Over the 1988-1993 run of the ABC dramedy The Wonder Years, both Kevin and Winnie grew up, and Winnie became more than a friend. Kevin shared his first kiss with her, and she became his first love. They dated off and on throughout the show's history, and when they weren't together, Kevin pined for her.
So where's Winnie Cooper today? Well, Winnie Cooper isn't a real person, but seeing as how she graduated high school in 1971 (per The Wonder Years), she'd be in her mid-sixties now. The woman who brought Winnie Cooper to vivid life is actress Danica McKellar. She's still working in Hollywood, among other activities in a full life. So here's what happened to the person who portrayed your number-one crush, '80s and '90s kids.
She went where other '90s TV icons went — to basic cable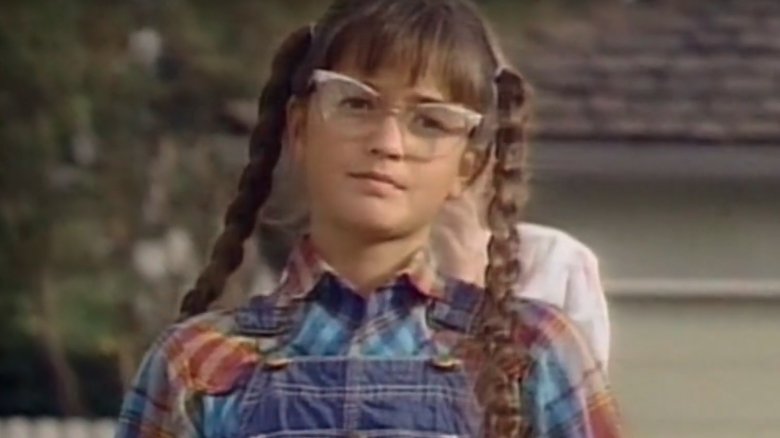 There's a specific kind of celebrity out there: the ones that made a name for themselves on early '90s television, which is now fondly remembered by a generation who grew up watching them on stuff like Full House, Lois & Clark, and The Wonder Years. Today, those same actors have parlayed the general goodwill the public has for them into successful if low-key careers in fun and formulaic made-for-basic-cable movies (mostly romantic comedies). And where goes Candace Cameron and Dean Cain, so goes Danica McKellar.
"They're just so good natured," McKellar told NBC's Today of Hallmark Channel movies while promoting one called Love in Design. "They tell good stories about good people."
McKellar must enjoy making Hallmark movies, because she's starred in eight, as of this writing, including Coming Home for Christmas, My Christmas Dream, Crown for Christmas, Love at the Christmas Table, and Perfect Match. Over on Lifetime, where they trade more in the "women in peril" genre, McKellar has starred in the crime dramas The Wrong Woman and Mommy, I Didn't Do It.
When someone asks 'Hey, isn't that Winnie Cooper?' they're probably correct
The Wonder Years was a really popular show. And Winnie Cooper was worshipped by so many kids and teens that actress Danica McKellar is iconic to those now-grown viewers. As such, she's made a nice little source of income and exposure for herself in the world of TV cameos — she can pop up on a show for an episode or two (as herself, or as a character) and the studio audience (if there is one) will go absolutely wild.
McKellar showed up on How I Met Your Mother as one of Ted Mosby's brief love interests; on The Big Bang Theory as one of Raj's brief love interests; and appeared on shows like NCIS, The West Wing, and throughout the educational Netflix tween show Project Mc². McKellar played a character named "Danica McKellar" on an episode of The Secret Life of the American Teenager, and as a rock n' roll warrior named "Winnie Cooperre" (get it?) in Avril Lavigne's "Rock N Roll" video. Of course, she also made appearances on reality show larks such as Dancing With the Stars (she and partner Valentin Chmerkovsky finished in sixth place) and Impractical Jokers, where she interviewed an oiled-up guy in a Speedo, as one does.
Open your ears and you'll find her
Voice acting is a gig both sweet and challenging. Performers don't have to spend hours getting their hair and makeup camera ready, and then more hours waiting around to shoot their scenes, because all they need to use is their voice … which is the only tool they get to bring a character to life. Danica McKellar has a versatile if slightly high voice, which has made her very in demand as an actress to voice young female characters in a slew of animated projects.
She's performed on action and superhero shows like Rise of the Teenage Mutant Ninja Turtles, Transformers: Rescue Bots, G.I. Joe: Renegades, Justice League, and Young Justice; funny direct-to-home-video movies like Scooby-Doo! Abracadabra-Doo, The Jetsons & WWE: Robo-WrestleMania!; and princess-heavy fare like Shimmer and Shine. So while viewers may not see McKellar's face terribly often on TV, they've probably heard her voice if they've been in the room during their kid's daily screen time allotment.
She's seriously a math genius
So many former child and teen stars take some time off from the Hollywood grind to have a "normal" life and attend college. Natalie Portman, for example, went to Harvard. Okay, maybe that's a shade above "normal," but the point remains that taking a Hollywood hiatus isn't so unusual.
After The Wonder Years wrapped up, Danica McKellar attended UCLA, and graduated in 1998 with a degree in mathematics. As she told the UCLA alumni association, her "favorite place to study" was in the math building's graduate lounge. "Somehow I got a key even though I was an undergraduate." That "somehow" alludes to how McKellar was something special as an undergrad — a true prodigy, or "math whiz," if you will. She co-wrote and published an academic paper, which is almost exclusively the domain of doctorate students and full-fledged professors. Along with student Brandy Winn and UCLA professor Lincoln Chayes, McKellar penned "Percolation and Gibbs states multiplicity for ferromagnetic Ashkin-Teller models on Z2." As a result of that study, McKellar even has a theorem named after her (which is like an Oscar and having a street in one's hometown named after them combined). She's the "McKellar" part of the "Chayes-McKellar-Winn Theorem."
From acting in the past to filmmaking in the now
Danica McKellar made her name as an actress, and from an early age at that — The Wonder Years premiered a couple weeks after she turned 13. She's since racked up around 100 acting credits, as of this writing, acquiring enough on-the-job experience to give making movies and TV shows a try. In 2006 and 2007, McKellar starred in two Inspector Mom movies and a 10-episode TV series as Maddie Monroe, a suburban mom who solves mysteries — like the murder of a soccer coach, and the people behind a kidnapping ring — in her seemingly normal neighborhood. McKellar also co-wrote the movies and the show. In 2014, she combined her Hollywood career with her world-class math skills to co-create and host the educational web show Math Bites.
The actress and writer has also given directing a shot. She's helmed two short films that she also wrote, "Speechless…" and "Broken." The former, a drama about a woman (McKellar) attempting to get a non-speaking man to talk, won Best Short at the 2002 California Independent Film Festival.
She's been married, divorced, and married again (but never to Kevin Arnold)
Danica McKellar turned 44 years old in 2019, and just by the sheer fact that she's been alive for a long time, she's had some ups and downs in her personal life. She's been married twice, and, sorry Kevin-and-Winnie-forever-in-real-life shippers, neither one was to her TV boyfriend, Fred Savage.
Back in 2001, McKellar started up a relationship with film and television composer Mike Verta. After eight years of dating, they made an honest man and woman out of each other and, according to People, married at a church by the ocean in California. (The Wonder Years contingent solidly represented: While Savage wasn't in attendance, Dan Lauria and Allie Mills, who played Kevin Arnold's parents, were.) Verta wrote original music for the wedding, but alas, it wasn't meant to be — McKellar filed for divorce in 2012 after just under three years of marriage, which at least led to the birth of her son, Draco. But TV's Winnie Cooper found love again. In a November 2014 ceremony at dawn, she got hitched to a lawyer named Scott Sveslosky (pictured above).
She'll show you how to do math
In case the whole "being a gorgeous working actress" thing doesn't work out for Danica McKellar, she at least has the whole "world renowned mathematician" thing to fall back on. But she's not waiting — she's out there sharing her math abilities and explaining advanced mathematical concepts. As Stephen Hawking or Neil deGrasse Tyson made science fun, cool, and palatable for the layperson, McKellar has done with math.
Part of her mission included penning Math Doesn't Suck, and instructional guide geared toward helping middle-schoolers — specifically female middle-schoolers — understand the suddenly rather difficult math concepts thrown at them at that time, including percentages and pre-algebra. "Math can be cool," McKellar told USA Today. "I also included stories of my own personal struggles with math and ordinary, everyday life, to let girls realize we're all the same."
Math Doesn't Suck became a New York Times bestseller, so McKellar kept filling the demand for heroically demystifying math books with fun titles, including like Kiss My Math and Hot X: Algebra Exposed. She's sold more than 500,000 math books (which have helped countless students), making her one of the most popular math writers ever.
She made a lot of cheesecake
The early 2000s were an odd time. The rise of high-speed internet made graphic smut freely available to all, but magazines in which famous, conventionally attractive women wore very little clothing in non-nude pictorial spreads were the top-selling toast of the publishing world. Publications like Maxim and Stuff balanced articles about "guy stuff" like stereos and action movies with pictures of women — so like Playboy, but without the nudity.
In an attempt to crowdsource ideas for future issues, Stuff asked its readers which '90s star they'd most like to see in its pages, in her undergarments. The readers chose Danica McKellar, and the actress gamely agreed to some cheesecake photos in skimpy unmentionables for its July 2005 issue. "Maybe after this article comes out, people will start giving me grittier roles," McKellar said (via SFGate) in the accompanying copy. And maybe that's why McKellar did a similar pictorial in 2010 for Maxim.
As evidenced by her relentless output of Christmas-themed romantic comedies for the Hallmark Channel, McKellar didn't have much luck with that plan to get work in edgier products. But at least she got millions of trucker hat-wearing dude-bros (as it was the mid-2000s) all hot and bothered.
There's still a lot of 'Wonder' in her life
Winnie Cooper didn't wind up with Kevin Arnold, and Danica McKellar didn't end up with Fred Savage. But The Wonder Years was such a special and formative experience for McKellar that more than 25 years after the series went off the air in 1993, she's still very much in touch with her co-stars. We already mentioned that Dan Lauria and Allie Mills attended her first wedding in 2009, and on the FAQ section of her website, McKellar likens the former to "a second dad."
She reunited with Savage on a couple of episodes of his late '90s sitcom Working, and as they're both big players on the voice actor circuit, their paths have crossed a few times in that world. (Not everybody stays in touch with the person who gave them their first kiss — Winnie and Kevin's first kiss also happened to be McKellar's first kiss.) It would be understandable if that iconic pop culture relationship cast a shadow on the actors' real-life relationships. That was the assumption behind the lack of McKellar at Savage's 2004 wedding — rumors spread that Savage's wife, Jenny Stone, actually forbade the former Winnie Cooper from attending. Not true, McKellar told TV Guide (via Paramount Comedy). "I was out of town. Jenny is very sweet. I've met her many times." It would seem that, as the Wonder Years theme song says, she gets by with a little help from her friends.