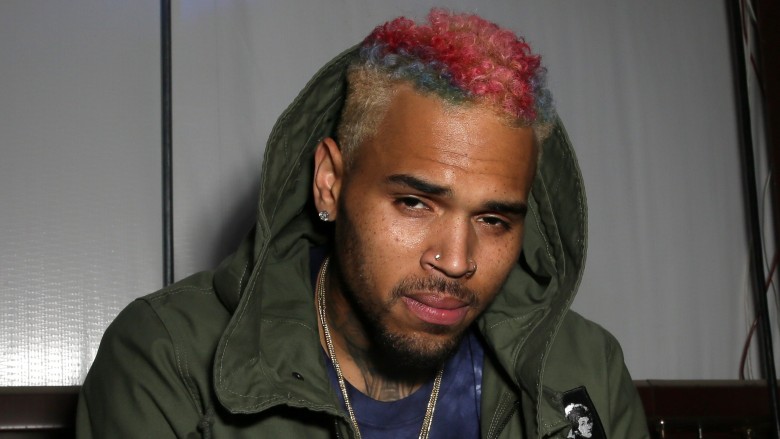 Make no mistake: singer Chris Brown has a lot of issues, and he's responsible for his own behavior, especially in light of the recent domestic violence allegations lobbed by his ex-girlfriend, Karrueche Tran. Brown is an adult. He has agency, and ultimately, he has accountability for his legal problems, career setbacks, and personal troubles. That said, when you examine the R&B star's past, it's not entirely surprising that his behavior would manifest this way. Here's hoping Brown can get the help he needs to straighten himself out and forge a better future for himself and his daughter.
He grew up in an abusive home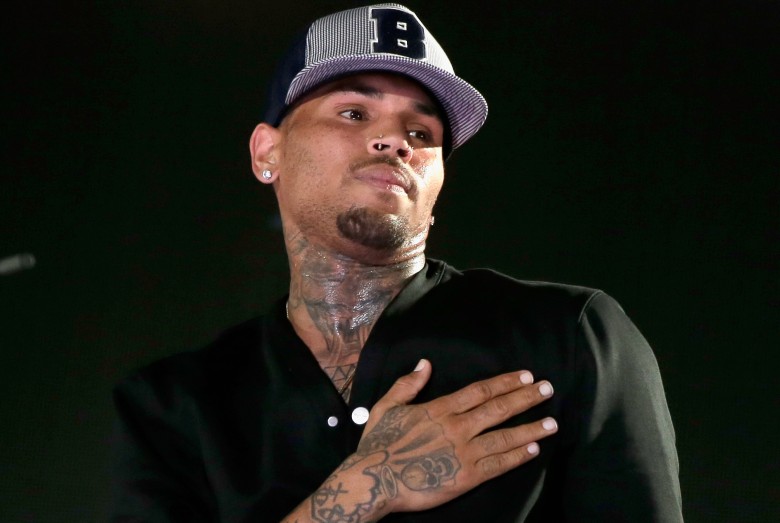 Brown's parents separated when he was 7 years old and, according to a 2007 interview in Giant magazine (via Jezebel), his mom remarried and moved Brown into a trailer with her and her second husband. Brown's stepfather reportedly attempted suicide by shooting himself. He survived but was blinded. In his interview with Giant (via Today), Brown opened up about the abuse he witnessed growing up at the hands of his stepfather. He says he told his mother at the time, "I just want you to know that I love you, but I'm gonna take a baseball bat one day while you [are] at work, and I'm gonna kill him." Brown explained, "He used to hit my mom…He made me terrified all the time, terrified like I had to pee on myself. I remember one night he made her nose bleed. I was crying and thinking, 'I'm just gonna go crazy on him one day.' I hate him to this day."
He wanted to break the cycle
Brown said the abuse he endured growing up drove him to be more respectful towards women. Before his 2009 assault on then-girlfriend Rihanna, Brown told Tyra Banks on Tyra, "[The abuse] affected me…especially towards women, I treat them differently. I don't want to go through the same thing or put a woman through the same thing that [my stepfather] put my mom through."
"For the most part, it's changed me because now that I got older, I've realized how to overcome stuff…but I was always scared and timid when I was young," Brown said. "I used to be so scared, I used to pee in the bed! I think it was me being nervous and scared to get up." He added, "My mom used to try to hide it from me and my sister, but we knew what was going on…" He said he kept Bible under his pillow and tried to talk to his mother about the abuse "all the time…but when a woman's in love, you don't look at it like that."
The Rihanna assault may have changed him
Before the Grammy Awards in February 2009, Brown and Rihanna suddenly canceled each of their appearances at the show. News later broke that Brown had reportedly assaulted Rihanna before the event. The "Umbrella" singer was hospitalized, and the details were grim: punching, biting, choking. Photos of Rihanna's injuries were leaked to the press.
Brown was dropped from several endorsement deals, apologized "for what transpired," and said he was receiving counseling. In April 2009, he pleaded not guilty to felony assault, but by June of that year, he'd struck a plea deal and was sentenced to 180 days of community service. Brown expressed frustration at retailers for allegedly not stocking his albums, and he postponed a European tour when the UK refused to grant him a visa.
Rihanna later told Diane Sawyer on 20/20, "It wasn't the same person that says I love you. It was not those…eyes…He had…no soul in his eyes. Just blank…He was clearly blacked out. There was no person when I looked at him."
Rihanna felt like she had to save him
Perhaps because of his past, when Brown assaulted Rihanna, she still felt like he was a victim too. "I was that girl. That girl who felt that as much pain as this relationship is, maybe some people are built stronger than others," she told Vanity Fair in October 2015. "Maybe I'm one of those people built to handle s**t like this. Maybe I'm the person who's almost the guardian angel to this person, to be there when they're not strong enough, when they're not understanding the world, when they just need someone to encourage them in a positive way and say the right thing…I was very protective of him. I felt that people didn't understand him. Even after…But you know, you realize after a while that in that situation you're the enemy."
He may suffer from substance abuse
Brown has been somewhat candid about his past drug use. In October 2014, he told Ebro in the Morning, "I was off the syrup, the Xanax…that's the hood cocktail. I was falling asleep on video sets, I was cussing people out randomly. I was doing crazy stuff. I would wake up and be like, 'Hey man, what time we shooting this video?' And they would be like, 'Dude we shot it yesterday.' I'd be like 'Damn!'" Brown realized, "This ain't for me. As time progressed I was like, 'Let me chill out.' I don't want to be a zombie when I meet people. Or say the wrong thing, or end up punching somebody or doing something crazy…like I did…because I was under the influence of some bull."
Unfortunately, Brown may not have actually quit using substances when he says he did. In November 2015, TMZ reported that Brown's loved ones were concerned that he may be addicted to sizzurp (a concoction made from codeine cough syrup and soda) and drinking it around his daughter, Royalty. In January 2016, Brown's baby mama, Nia Guzman, accused him of putting their daughter at risk of asthma by allegedly smoking marijuana around Royalty. Guzman also expressed concerns about Brown allegedly using sizzurp.
In May 2016, Brown and his crew were kicked off a private jet for allegedly smoking enough marijuana before the plane even took off to make the entire aircraft reek of weed. In June 2016, his tour manager, Nancy Ghosh, quit after the singer allegedly threatened her when he was supposedly "irrational and high on drugs," reported TMZ. Ghosh's exit coincided with a controversial trip in which Brown narrowly escaped DUI charges in Amsterdam for riding a dirt bike immediately after enjoying one of the city's infamous "coffee" shops.
Brown has denied all of the aforementioned allegations.
His attorney said Brown is battling mental illness
Brown's attorney claims the singer's alleged substance abuse may be a method of self-medication for mental illnesses.
In October 2013, Brown was arrested for assault in Washington, D.C., after allegedly punching two men. He spent 36 hours behind bars, after which his charges were reduced to a misdemeanor, and he headed back to California for a probation hearing.
Following the fight, Brown went to an anger-management rehabilitation facility "to gain focus and insight into his past and recent behavior, enabling him to continue the pursuit of his life and his career from a healthier vantage point," reported CNN, but less than three weeks after he checked in, he was reportedly kicked out for allegedly violent behavior. A judge subsequently sentenced Brown to an additional 90 days of treatment at a different anger-management facility.
In a court filing from a probation hearing obtained by E! News, Brown's attorney claimed mental illness was fueling Brown's problems, saying that the singer required "close supervision by his treating physician in order to ensure his bipolar mental health condition remains stable. It is not uncommon for patients with Post Traumatic Stress Disorder and Bipolar II to use substances to self-medicate their biomedical mood swings and trauma triggers…Mr. Brown became aggressive and acted out physically due to his untreated mental health disorder, severe sleep deprivation, inappropriate self-medicating and untreated PTSD."
His lawyer added that Brown "would like to inform the court that he appreciates what he has learned in the rehabilitation facility, as it has allowed him to change his life for the better…he remains thankful to the court for the opportunity to find out and learn about himself, his anger issues and the type of person he wants to become, which is a man who is able to better himself and be a positive role model."
The judge in the case noted that Brown was showing signs of improvement and ordered the "Loyal" singer to stay for two more months. That didn't happen. Less than three weeks later, Brown was reportedly booted from the facility and taken into police custody for allegedly getting too close to women, refusing a drug test, and for making a "mockery" of the program during a group session, reported TMZ.
He was sexually abused as a child
In 2013, Brown told The Guardian that he lost his virginity when he was just 8 years old to an older girl who was "14 or 15." Based on consent laws, that constitutes rape, but Brown didn't see it that way. "It's different in the country," he chuckled to The Guardian, explaining that he and his large group of male cousins watched a ton of porn as kids. "By that point, we were already kind of like hot to trot, you know what I'm saying? Like, girls, we weren't afraid to talk to them; I wasn't afraid. So, at eight, being able to do it, it kind of preps you for the long run, so you can be a beast at it. You can be the best at it."
Is he a pop culture pariah
While Brown is certainly no saint, there have been a lot of other celebrities who've done similar or worse things and not been trolled by the likes of Chrissy Teigen and the rest of the world for it. Actor Charlie Sheen has a slew of domestic disturbances under his belt; Mark Wahlberg blinded a man; Sean Penn was accused of kidnapping and abusing Madonna; Michael Fassbender was accused of dragging his ex-girlfriend alongside their car…the list goes on and on.
Brown's seeming lack of remorse and accountability for his actions has played a role in his demonization, but some have suggested race and media bias have had a hand in the public's unwillingness to forgive him—which may, in turn, be a reason why he can't seem to stop acting out.
"I've taken my fair share of lashings. I've dealt with the media. Instead of being an artist, I've been called a woman beater; I've been insulted in public and judged," he told JET (via CNN). "I'm not perfect, and I don't have to be. We are supposed to make mistakes. I'm not an android or a robot."