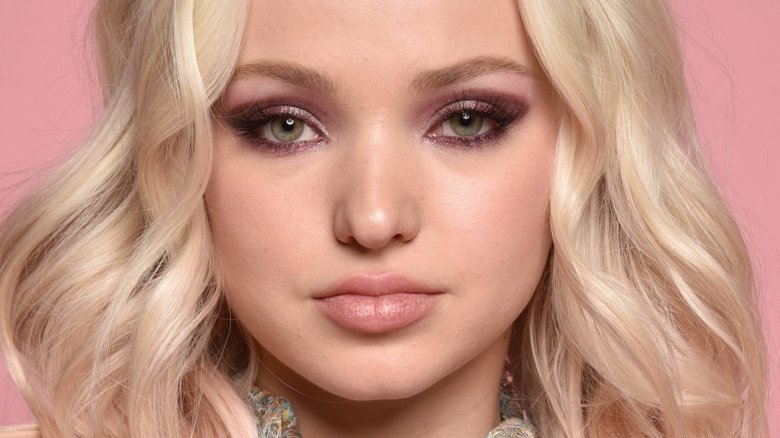 From the outside looking in, it would appear that actress Dove Cameron lives a charmed life. The former star of the Disney Channel series Liv and Maddie is a triple threat in the entertainment industry, wowing her fans with her singing, dancing, and acting capabilities. With gigs outside of the Disney Channel piling up, including the role of Amber Von Tussle in NBC's 2016 production of Hairspray Live!, she is clearly ready to break free from her squeaky clean child star image and prove to the world that she's a bonafide actress. But behind her accomplishments and her megawatt smile lies a harrowing past full of tragedy, dark moments, and depression.
From insecurities about her looks to a heartbreaking loss in her family, the platinum blonde TV star has dealt with her fair share of suffering — all before she even entered her 20s. Below is Dove Cameron's tragic real-life story.
Struggling with self-image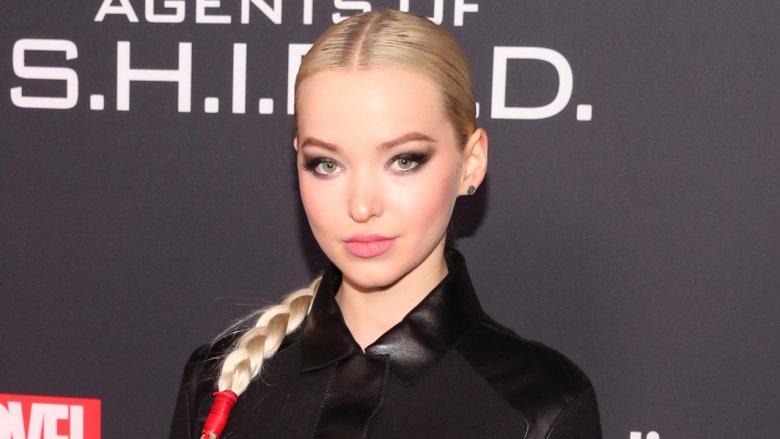 We all struggle with insecurities from time to time, and, though she's now a star, Cameron is no different. While she's in a much better place these days, she has admitted to feeling down about her appearance in the past. When TigerBeat asked her in 2016 if she'd always felt confident going makeup-free, her response was, "Definitely not! I wore a lot of makeup during school."
Although she saw makeup as something fun to experiment with, Cameron also used the products to cover up how she really felt about herself. She revealed, "But there was also a part of me that really wanted to wear makeup all the time [when I was younger], because I felt like I wasn't beautiful underneath it."
Thankfully, Cameron learned to "appreciate" her face, and she made peace with her insecurity as she got older. "It's really maturing and understanding that there is more to life than looking good," she explained.
Amen, sister!
Teenage trauma
The actress gave an interview to Yahoo! alongside her mom, Bonnie Wallace, and spoke about the traumatizing moments she had faced during her formative years, revealing that she had been a victim of bullying in her youth. Recalling how she'd felt during her younger days, Cameron said she would think to herself, "These kids don't like me, they don't accept me."
Some of the most devastating moments of her youth included when a group of girls locked her in a janitor's closet and when other students would attempt to trip her as she walked down the hallways. One time, another girl at school purposely spilled a drink on a dress Cameron had crafted. But it was an incident during a school field trip that was the most jarring. "Once in high school, on a field trip away from school, some girls brought razors to shave their legs and threw them at me and told me to kill myself," she remembered.
'Weird' beginnings
Since her childhood, Cameron has gone on to form strong bonds with various celebrities in the industry, including her Descendants co-star Sofia Carson. However, Cameron didn't always have a ride-or-die BFF in her life. In 2017, she told Just Jared Jr., "I was always really strange." She continued, "I never had a crowd. You know how even the weird kids find a weird crowd? I was too weird for the weird kids. I'm serious. I look very conventional today, but I was … not, growing up."
So what exactly was she like as a kid? Well, she revealed that she would wear different costumes to school and would "dress up as Johnny Depp every day." She even asked her mom to cut her hair "like a boy" so she could fool her classmates into thinking she was a male.
"I was weird," she said. "I had no friends. But I loved it."
Being friendless can feel isolating, but we're glad Cameron found joy in her solitude. And we wouldn't be surprised if her former classmates are now kicking themselves for not befriending the weird chick who wore all the eccentric costumes!
Family tragedy
When Cameron was just 15 years old, her family was struck by tragedy when her father, Philip Alan Hosterman, took his own life (via Entertainment Weekly). Cameron has remained pretty mum about the details of his passing, but, over the years, the actress has shed a little bit of light about her relationship with her dad.
In 2016, she posted a touching tribute to her father on her Instagram account, which included a touching yet heartbreaking message. A portion of the caption read, "You still teach me lessons every day, and make me laugh as the lessons you instilled at a young age begin to settle into my bones and make more sense. You set me up for the best life imaginable, and I plan to make your proud every single day and never waste it."
She continued, "I love you eternally, and can't wait to see you again, maybe in our next life as we find each other over and over. Forever your best friend, and your little girl."
Losing a parent at any age is devastating, and we admire Cameron for handling her grief with such grace.
Discovering her dad's dark secret
In a July 2017 interview with Entertainment Weekly, Cameron opened up about the loss of her father and revealed some surprising information about his lifestyle. "He took his own life, and he also was closeted, which we only found out after he died," she said.
Learning that her dad was gay was a light bulb moment for her, providing her with more clarity about the devastating situation than she could have ever imagined. "When I found that out [that he was closeted], I was like, everything adds up," she said, before describing him as a sensitive person who had "bursts of anger."
While Cameron may not talk about her father much, her fans may be able to learn even more about her dad's life one day if things go as planned. "I'd really like to write a movie about him one day," she revealed to EW, "because my dad was just the most fascinating human being."
Adopting Dove
Many people don't realize that, like many other celebrities, Dove Cameron doesn't go by her real name. The Descendants star was actually born as Chloe Celeste Hosterman. In September 2017, she took to her Twitter to give the sentimental reason as to why she doesn't use her real name professionally. "My father always called me Dove," her tweet read. "He took his own life when I was 15, I didn't get to say goodbye, so I changed it in honor of him."
But "Dove Cameron" isn't just the actress' professional moniker — it's now her legal name. Speaking with StyleWatch, Cameron noted that she'd changed her name, noting, "So it's on my passport – everything legal is Dove" (via J-14).
The name change has apparently helped Cameron connect further with her father, despite his tragic passing. When a fan noted on Twitter that it must be like Cameron's father is talking to her every time someone calls her "Dove," Cameron replied, "Exactly."
Okay, is someone cutting onions in here? Because we can't stop crying.
Identity crisis
In an interview with SheKnows, the actress spoke about being "too much of a people pleaser" at one point in her life. She explained, "A lot of performers are, that's just the nature of performing — it completely relies on how people feel about you. I really dealt with that and trying to be someone else for every different crowd that I had. I felt like a different person at home, with my friends, with my boyfriend, classmates, bandmates, coworkers."
Thankfully, the Cloud 9 star finally managed to work through the issue once she realized it was much easier to just be herself! "There is one true version of myself and I feel really strongly that being anything but that is a disservice to myself," she said. "That's something that I'm learning right now."
We're glad to hear that Cameron is coming into her own and living life her way.
Anxiety issues
Cameron has always used her Twitter to talk about important issues that not only she has faced but that a lot of kids have also experienced. One of her Twitter followers asked if she suffered from anxiety, and, as usual, Cameron was very candid with her answer. She tweeted, "Yes but it has made me that much more disciplined in my thoughts. So it has been a blessing in disguise."
In a subsequent interview with Just Jared Jr., the Disney alum shared that it was her "dark" and "craziest childhood imaginable" that sent her into a tailspin. Although she dealt with the disorder "a lot," she didn't resort to medication to combat it. Instead, she decided to just "power through" it by refusing to let it take over her life.
"Anxiety is up and down. And anxiety comes and goes," she said. "So I don't ever really feel full days of that. And if I do, I keep going, like I know it's going to pass."
TV troubles
Following her dad's passing, Cameron and her mom moved to Los Angeles where she enrolled in a new school. She battled with depression during those early years and found that acting helped her through that tumultuous period in her life. "I felt very vulnerable, so I locked myself in this emotional nobody-can-touch-me kind of zone," she said to EW. "And the only way I could really get out of that was by being somebody else."
Once she landed the breakout role on Liv and Maddie, she began having "panic attacks." The stress of processing her dad's death while being in front of the cameras was just too much for her to handle. "I finally got clear-eyed when I realized that Disney Channel is for kids. And I love kids. And I was going to get to work with kids all the time," she said. "And I started to cry all over again. Because what a treat, to be able to be someone for kids, to be a good role model, to be a big sister because I never was one."
We're sure glad she was able to forge ahead with her acting career while managing her mental health in the process. We don't even want to imagine what Liv and Maddie would've been like without her.
Tragedy strikes again
Cameron had to deal with yet another tragic event almost five years after her father's untimely passing when The Voice contestant and YouTube star Christina Grimmie was shot and killed in St. Petersburg, Fla. by a crazed fan. The gunman later killed himself after being tackled to the ground by Grimmie's brother, Marcus, according to CNN.
Cameron and Grimmie had a close relationship, and they had even collaborated on the 2015 song "What A Girl Is," alongside fellow artist Baby Kaely.
Upon hearing the news of Grimmie's death, which happened just two days before an Orlando nightclub shooting that left 49 people dead, Cameron took to her Twitter to express her grief and anguish over both incidents, tweeting, "I am so sad. How can you move on from a weekend like this. I love every single one of you. Humanity is confusing. Love as much as you can."
The devastated actress also revealed in a follow-up tweet that she hadn't "stopped crying in 3 days."
Doubts about Disney
Viewers were captivated by Cameron's portrayal of identical twins Liv and Maddie Rooney on Disney Channel's Liv and Maddie. Although she nailed the characters' different personalities flawlessly, the role pushed her into unchartered waters. "Right when Liv and Maddie had started, there was no roadmap for how to do a show where one girl played two," she told Playbill.
Before the show "figured out a rhythm and a way to get through it," she admitted she struggled with the filming schedule while trying to maintain a healthy work-life balance — something that many other Disney stars before her had struggled with. "It was a long period of time where I was really struggling with the energy, and the workload, and shooting everything twice, then recording on the weekends, and still sleeping, and having a social life," she said.
It even came to a point where she considered walking away from the series. "There was definitely a time when I [told] my mom, 'I literally think I'm not capable of doing this. I do not think I will survive this. I think I am going to let all of Disney Channel down,'" she said.
In the end, she decided to stick with the show up until it came to an end after four seasons. She was able to execute the roles of both characters so seamlessly that viewers were likely none the wiser about the inner turmoil she faced.