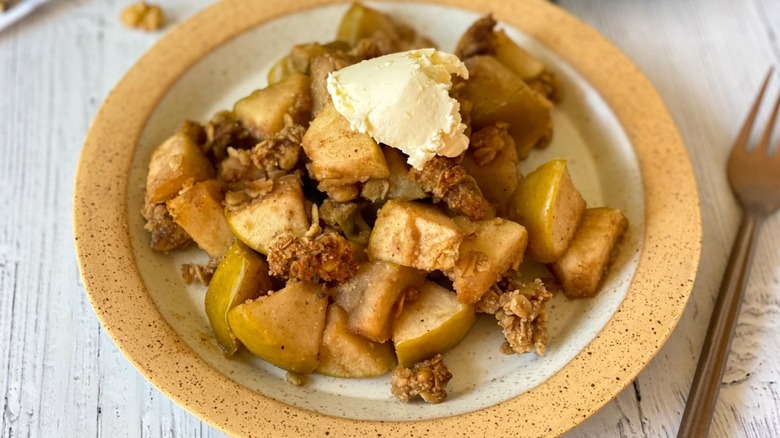 Each of the four seasons offers its own sensory pleasures, and for foodies there is, of course, a natural tendency to associate the various seasons with certain kinds of foods. Think: peppermint cocoa in winter, avocado tomato salad in spring, and pastas made with fresh summer veggies in summer. But for some of us, there is simply nothing that can compare to autumn with all of its various apple concoctions — apple muffins, apple kugel, apple turnovers. We could go on, but since it was the changing of the seasons from summer to autumn that actually inspired recipe developer Hayley MacClean to come up with this wonderfully healthy apple crisp recipe, we're going to stop right there and contemplate the delightful scent of apples, caramelized with cinnamon and nutmeg.
"I love apple crisp, MacClean told Health Digest, "because it reminds me of all the best parts of the changing seasons: the leaves changing, chilly mornings, and of course, cozy meals such as this!" And this recipe in particular is rich with warming spices that are "perfect for an autumn evening." Plus, it's sweetened with maple syrup, which offers a more deeply layered sweetness while also bringing to mind the snowy days to come wherever you are. Ready to fall into fall with this healthy apple crisp recipe?
Gather your ingredients for this healthy apple crisp recipe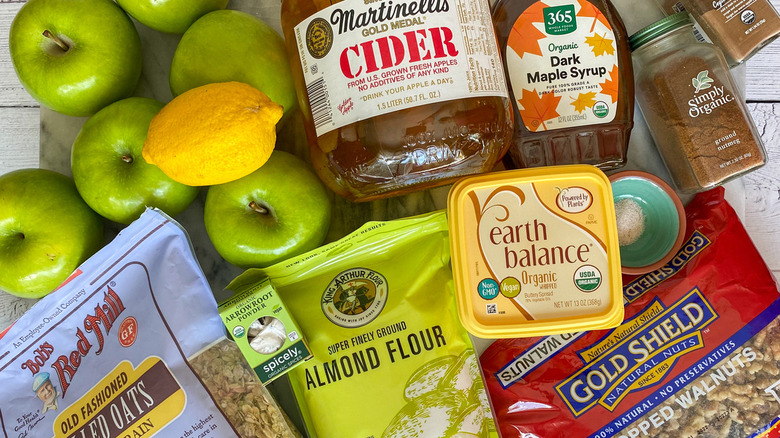 When preparing to make this recipe for healthy apple crisp, MacClean thinks about it as two mini recipes. The first is for the filling, or, which you might think of as the base. For the filling, you'll need six medium to large Granny Smith apples, two tablespoons of maple syrup, two tablespoons of apple cider or juice, half of a tablespoon of fresh lemon juice, one teaspoon of arrowroot powder, tapioca powder, or any other edible powdered starch that you like to work with, a teaspoon of cinnamon, and a quarter teaspoon of nutmeg.
The second is for the topping. For that, you'll need to gather up half a cup of old-fashioned oats, half a cup of almond flour, half a cup of chopped walnuts, a quarter teaspoon of salt, two tablespoons of melted butter or butter substitute, and some more cinnamon and maple syrup.
You'll also need a nine-by-13-inch baking dish to bake your healthy apple crisp in, and you'll want to spritz it with some nonstick cooking spray so that the apple crisp filling doesn't adhere.
Preheat your oven and chop your apples for this healthy apple crisp recipe
Let's go ahead and preheat the oven to 350 F. Because the rest of your prep shouldn't take too long, the oven should be heated or well along the way by the time you're done with the prep. The first bit of prep you'll need to do is coring and cutting the apples into bite-sized pieces for the filling. MacClean recommends keeping the peels on your apples but says it's fine if you would prefer your apples peeled.
"To core the apples, first cut them in half, then use a paring knife to cut out the seeds and woody core," MacClean advises. "After that, I cut each half into four quarters and each quarter into four more pieces." That should leave you with bite-sized pieces of about one square inch. That said, for "rustic" recipes like this one, it can be charming to have your bite-sized pieces vary slightly in size (not too much though, or they won't cook evenly).
Stir some warming spices into your prepped apples
Once you've cored and chopped your apples into bite-sized pieces, grab a large mixing bowl, and transfer the prepped apples into it. Add the maple syrup, the apple cider or juice, the lemon juice, and the cinnamon and nutmeg, and don't forget the arrowroot (or whichever edible powdered starch you've decided to use) because that helps thicken up the filling, making, as MacClean puts it, "a nice sauce for the apples to swim in!"
Once everything in the bowl is completely combined, transfer the spiced apple mixture to your greased nine-by-13-inch baking dish.
Mix up your apple crisp topping
In the same bowl that you were just working with, you should now add the oats, almond flour, walnuts, salt, melted butter (or butter substitute), and the remaining cinnamon and maple syrup. Using a large spoon (a wooden spoon is fine), stir until thoroughly combined. And now a word about the butter substitute option: MacClean, herself, prefers to use real butter, but anyone who has any dietary restrictions should feel free to use a butter substitute, "especially those that are vegan/vegetarian or dairy-free."
Assemble your healthy apple crisp, bake, and enjoy!
Grab the baking dish into which you transferred the apples. Over the apples, pour all of the topping that you just made, spreading it as evenly or unevenly as you'd like for this rustic recipe. Pop the dish into the oven, and set a timer for 40 minutes. For the last 20 minutes, cover the baking pan loosely with aluminum foil. This will finish the baking process without over-browning the crispy topping.
Remove the apple crisp from the oven, and spoon into individual serving dishes. Serve warm with vanilla ice cream, whipped topping, or Greek yogurt. If you happen to end up with any leftovers, they will stay fresh for as many as seven days in the fridge, but after the third day, MacClean says you may find the apples have grown a bit mushy.