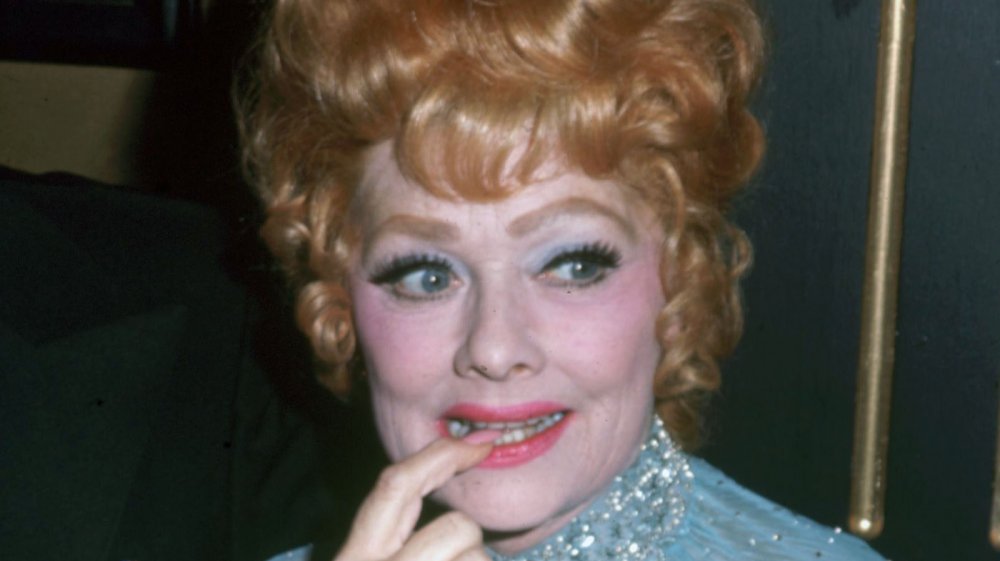 There are few American stars as famous — or as impactful on their medium of choice — as Lucille Ball. In the 1950s, she helped make television into a viable and extremely popular source of entertainment with I Love Lucy, a show she developed with co-star and husband Desi Arnaz. Things always seemed to go hilariously awry for Lucy in her sitcom scheming, resulting in perfect-for-small-screen comedy; her performances were broad, slapstick, and crowd-pleasing, whether she was stuffing chocolates in her mouth, trying to get discovered by Hollywood talent scouts, or getting drunk on medicine.
Ball, who was already a movie and radio star long before TV came calling, continued to delight millions of viewers on a weekly basis for years, starring on and guiding hits like The Lucy Show and Here's Lucy, working up almost until her death in the late 1980s. On screen, Ball brought joy to countless fans. Off screen, her life was full of drama, tragedy, and sadness. Here's the inside story on the not-so-funny side of America's favorite comedian, Lucille Ball.
A tragic death in the life of young Lucille Ball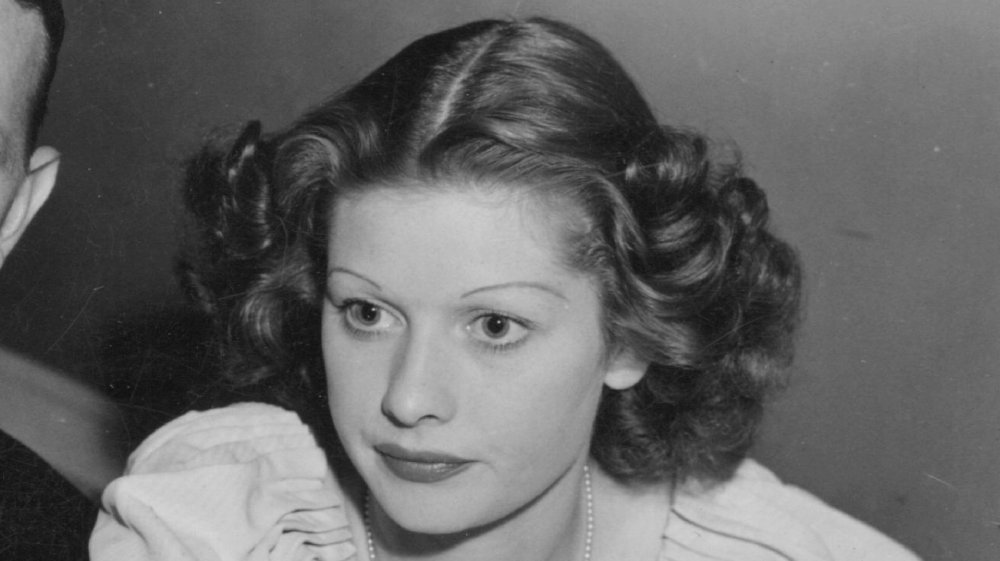 According to Lucille Ball's autobiography Love, Lucy, the comedian was born to parents Henry and Desiree Ball in western New York in 1911, but experienced something of an itinerant childhood. They moved for a spell to Montana, then it was on to Michigan, where Henry, an electrician and lineman, found work with telephone company Michigan Bell. Lucille's young life would take a tragic turn before she was even old enough to go to school. After Henry came down with influenza, a severe winter storm hit the Balls' suburban Detroit neighborhood. The patriarch of the family braved the cold and snow to climb poles and fix broken lines. Henry's condition only worsened: He contracted typhoid fever, according to Charles Higham's The Real Life of Lucille Ball (via the Los Angeles Times), forcing the whole family to live under quarantine to prevent the spread of the deadly disease.
After a temperature spike and a series of neurological and gastrointestinal symptoms, Lucille's father died in February 1915. She was only three years old at the time. A few years after Henry's death, Desiree remarried metal polisher Ed Peterson, and the family soon thereafter moved once more, to Celoron, New York, into a house with young Lucille's grandparents.
Lucille Ball witnessed a traumatic accident
When Lucille Ball moved to New York and into her grandparents' home, hers was among the three families that would reside under one roof. "My grandparents had little money," she wrote in Love, Lucy, "but they gave us a richly satisfying family life." Ball remembered a day in her teen years when their grandfather came home with what she described as "a mysterious object wrapped in brown paper." It was birthday presented for her brother, Fred Ball. For his 12th birthday, he was gifted a .22 caliber shotgun. Lucille recalled that her brother "wanted to shoot crows right away," so their stepfather, Ed Peterson, set up some target practice with some tin cans in the backyard and Lucille invited neighbor kids Cleo, Johanna, and Warner over to join in the gun fun. But when it was Johanna's turn to shoot and she picked up the firearm, Warner's mother called out for him to come home. Warner ran "right in front of the rifle"… just as Joanna fired. He was rushed to a local hospital, where doctors discovered that the bullet had severed Warner's spinal cord, leaving him unable to walk again.
Peterson offered to pay Warner's medical bills, but his family declined, filing a lawsuit instead. They won, and they got everything, including the Balls' house. "My grandfather never worked again," Lucille wrote. "The heart went out of him. It ruined Celoron for us; it destroyed our life together there."
Lucille Ball was told she wasn't good enough
One would be hard-pressed to find someone familiar with the history of television who would say that Lucille Ball is bad at acting or that she didn't have a profound effect on audiences. And yet there's one early figure in the life of the four-time Emmy Award winner whose negative assessment stuck with her for a very long time. According to the Los Angeles Times, in 1926, 15-year-old Ball left regular education behind in favor of New York City's Broadway scene and a spot at the John Murray Anderson school for the Dramatic Arts. The staff were none too impressed with Ball's talents.
According to NPR, they didn't like her dancing at all and didn't care for her pronounced Midwestern accent. One teacher told her she ought to give up acting entirely. Her tenure at the school was primarily spent in the shadow of future two-time Oscar-winning classmate Bette Davis. After about six months, the school gave up on Ball entirely and expelled her. "Lucy's wasting her time and ours," a note sent to Ball's mother read. "She's too shy and reticent to put her best foot forward." Thankfully, Ball didn't give up. She moved back in with her mother to regroup. Within a few months, she was back in New York, landing bit parts in Broadway shows and modeling gigs.
Lucille Ball's marriage to Desi Arnaz was not easy
Before they made I Love Lucy, Lucille Ball and Desi Arnaz starred in several big-screen comedies together. The first being the 1940 musical Too Many Girls, where, according to History, the two struck up a romance on set. They were married within six months. Their relationship was, as their daughter, Lucie Arnaz, recalled to Closer Weekly, quite tumultuous. According to People, Ball filed for divorce in 1944 after she apparently reached a breaking point with Arnaz's alleged extramarital affairs and alcoholism. However, the couple reconciled. Part of working on the relationship involved getting Arnaz, a successful bandleader, off the road and at home more, which is a big factor in why they decided to develop a sitcom together.
As Ball and Arnaz played a happily married couple on TV, their real marriage faltered as Arnaz kept stepping out. According to People, Ball got so upset with her husband during one fight that she apparently shot him in the head; the gun malfunctioned and Arnaz was unscathed. "It got so bad that I thought it would be better for us not to be together," Ball said during a 1960 court proceeding when she filed for divorce for a second time. This go-around, it stuck, and both remarried — Ball to comedian Gary Morton, Arnaz to his neighbor Edie Hirsch — and stayed close. In 1986, Ball visited Arnaz before he died of lung cancer, and was spotted sobbing at his funeral.
Lucille Ball's son struggled with drugs
Lucille Ball and Desi Arnaz's second child, Desi Arnaz, Jr., arrived on January 19, 1953. Ball's I Love Lucy character Lucy Ricardo was pregnant, too, and on the exact same day that Arnaz, Jr. came into the world, "Little Ricky" was born on TV. Arnaz followed his parents into television, appearing as a series regular on mom's Here's Lucy as a teen, which, along with a singing career, elevated him to teen heartthrob status. A People profile from 1978, however, implied that Arnaz, Jr. was just as big a fan as women as they were of him — before the age of 20, he was romantically linked with Patty Duke, Liza Minnelli, and Tina Sinatra. According to the New York Post, he secretly fathered a child with a model when he was just 15 years old. Carousing wasn't Arnaz, Jr.'s only vice, as he struggled with addictions to drugs and alcohol. "I was destroying myself," Arnaz, Jr. told Closer Weekly in 2020. "I got tired of being me."
Her son's substance abuse issues left Ball devastated. "I can't tell you how much his addiction hurt us," Ball once said (via Psychology Today). "It tore me apart." In the early '80s, Arnaz, Jr. entered a drug rehabilitation program, with the full and public support of both of his parents. "Sometimes people in the public eye don't want to reveal anything going on inside them in front of even one other person, and it was extraordinary that they did it," Arnaz, Jr. told People in 1989.
The FBI kept tabs on Lucille Ball
By 1953, Lucille Ball was the biggest star of the small-screen — in its second season, I Love Lucy ranked as the No. 1 show on television. That made her one of the most famous people in the country, and thus unable to avoid the political climate or public scrutiny. The year 1953 fell in the middle of Senator Joseph McCarthy's "Red Scare," a tireless drive to root out Communists. According to the Washington Post, an investigation by the associated House Un-American Activities Committee revealed that in 1936, Ball had registered to vote as a Communist, which the actress defended in 1953 as something she did to please her socialist grandfather, and that she'd never been an active member of the party that served as the ideological backbone of the Soviet Union.
Ball's perceived transgression was forgiven, but FBI director J. Edgar Hoover wasn't ready to trust TV's brightest star. After her death, it was revealed that Hoover kept tabs on Ball and Desi Arnaz for years. While the agency says it never opened an official investigation on Ball and Arnaz, it did secretly collect data and issue confidential memos about the pair. For example, the FBI knew that in 1937, Ball allowed a Communist Party meeting to take place at her house (even though she didn't attend) and in 1971, the Nixon administration requested a background check on the actor, believed to be in relation to a White House visit.
Lucille Ball's movie career flopped
Not only was Lucille Ball one of television's first stars, she was among its longest-lasting ones. too. For nearly 25 barely interrupted years, she headlined a hit sitcom, a run that included I Love Lucy, The Lucy-Desi Comedy Hour, The Lucy Show, and Here's Lucy. Ball was so deeply associated with television — and television comedy, especially — that resistance was strong when she tried to do anything else. Before TV, Ball had enjoyed a successful film career, and she tried to restart it in 1974 with Mame, a musical version of the 1958 movie Auntie Mame. Ball portrays the title character, a vivacious, hard-partying socialite tasked with raising her adoring orphaned nephew. The original version was a hit: It earned six Academy Award nominations and was the second highest-grossing film of 1958.
Mame, which heavily relied on Ball, was not as successful. It bombed at the box office and critics hated it; John Simon of Esquire called Mame "one of the most inept and repugnant items ever to crawl out of the Hollywoodwork." Ball would never make another big-screen attempt, and her next film was the 1985 made-for-TV effort Stone Pillow. In this socially-conscious melodrama, Ball portrayed a homeless woman named Florabelle, which TV critics gleefully tore apart.
Lucille Ball's final sitcom tanked
NBC's The Cosby Show marked the triumphant return to TV of small-screen favorite Bill Cosby, and according to Uncle John's Bathroom Reader Tunes Into TV, ABC wanted a similar success of its own. So, the network sought to bring back arguably the biggest TV star of all time: Lucille Ball. ABC catered to the actor's long list of demands, which included a guaranteed spot on the fall 1986 schedule, and full creative control, which meant she could hire writers and crew members she'd worked with since the 1950s. On Life with Lucy, Ball portrayed Lucy Barker, a widowed, 70-year-old health fanatic who takes over her dead husband's hardware store and moves in with her daughter and grandkids.
With its extremely broad comedy mixed with some physical, slapstick stunts, the show was vintage Ball. And that was the problem: As Ball had hired her veteran writers, the show felt like a dated throwback, and the studio audience cringes and gasps as they watch a 74-year-old attempt physical comedy. It even looked weird: Ball's red hair at least made her stand out under several layers of makeup and thick lens filters that gave the show a strange, hazy appearance. After dismal ratings and a critical drubbing, ABC ended Life with Lucy after eight episodes. It would mark Ball's last TV series, and the performer was so saddened by the show's failure that, as she told the titular host of The Late Show with Joan Rivers, "I cried. My god, I cried."
The sudden death of Lucille Ball
In June 1988, Lucille Ball made headlines for the first time since the quick and undistinguished run of Life with Lucy in 1986, but unfortunately it wasn't for any show business moves. As husband Gary Morton told the Los Angeles Times, Ball suffered "a very slight heart attack" a few weeks prior and was on the mend. Morton dismissed rumors that Ball had checked in to Cedars-Sinai Medical Center in Los Angeles because of a stroke.
Less than a year later, Ball's heart problems would rear up once more. According to an AP news bulletin from April 18, 1989, Ball, after complaining of moderate chest pains and difficulty breathing, arrived at Cedars-Sinai conscious. Then, she went under the knife for seven hours of open heart surgery, which the Times described as a procedure to replace part of her aorta and aortic valve.
Hospital spokesman Ronald Wise reported that once news broke about Ball's situation, the facility's telephone lines were jammed with calls from fans from around the world. Ball remained hospitalized for her recovery, and she was under medical care when less than a week later, another part of her heart gave out — a different section of the aorta, not the one doctors operated on, ruptured. "There was nothing to indicate this would happen," Wise explained. That medical emergency ultimately led to complete heart failure and an hour of revival efforts by doctors and nurses were unsuccessful. Lucille Ball was 77 years old.
Lucille Ball's great-granddaughter died tragically young
While Lucille Ball had a life fraught with almost as much tragedy as it was with success, unfortunate and heartbreaking events have occurred in the lives of her descendants, too. Desi Arnaz, Jr., son of Lucille Ball and Desi Arnaz, Sr., fathered a child as a teenager back in the 1960s, according to the New York Post. That child grew up to be Julia Arnaz, and she had a daughter with Mario Anzalone named Desiree Anzalone, according to Legacy.
Sadly, Ball never got to meet her great-granddaughter: The I Love Lucy star died in April 1989, about five months before Julia Arnaz gave birth in September of that year. Desiree Anzalone was an artist and photographer, and in April 2019, she revealed on Instagram that she was in the midst of a health struggle, diagnosed with stage 4 breast cancer. Anzalone wrote what would turn out to be her final Instagram post in August 2020, sharing a painting by Frida Kahlo with a quote from playwright Antonin Artaud about transcending pain, a quote she said brought her "comfort" during her fight with cancer. On September 27, 2020, Anzalone died at Smilow Cancer Hospital in Connecticut. She was 31 years old.