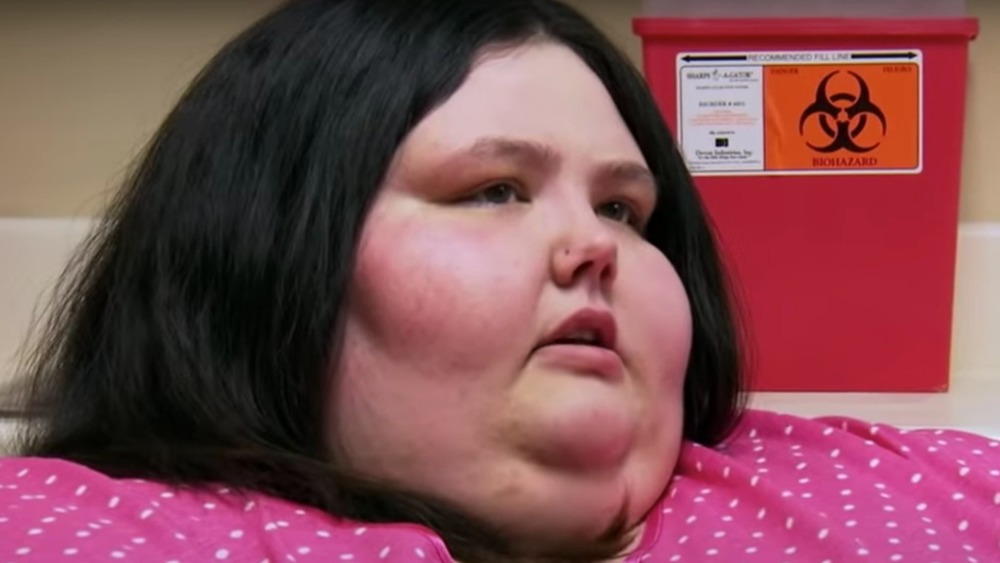 For years, viewers have watched TLC's My 600-Lb Life, witnessing morbidly obese patients completely transform their bodies and lives. The patients profiled on the show all start out hundreds of pounds overweight, with the devastating health and emotional problems that come with that. From being unable to walk and do everyday tasks to being homebound, the patients suffer the most extreme physical and emotional consequences of obesity.
But all of them have something in common — hope and a desire to change. In comes the show's central figure, Dr. Younan Nowzaradan. "Dr. Now," as his patients call him, is a bariatric surgeon who performs weight loss surgeries on his patients and coaches them along the road to a healthy weight. Over the seasons, dozens of people have made a complete turnaround, going from barely mobile to active and fit. And while most patients on the show lose weight, there are some that really stand out.
Check out some of the most stunning weight-loss success stories to ever be chronicled on My 600-Lb Life.
Amber Rachdi transformed into a glamorous pin-up girl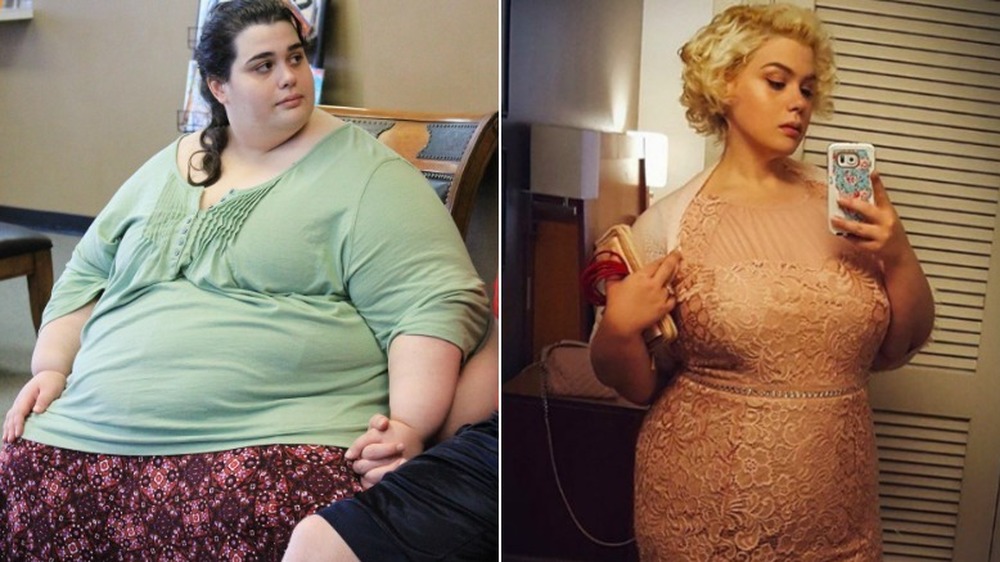 Amber Rachdi's transformation is one of the most jaw-dropping. When she first appeared on the show at age 23, she weighed 657 pounds and said she felt like a "nasty, yucky monster." Her legs carried a great deal of her weight, and, as a result, she said she couldn't stand for more than 30 minutes at a time. After losing 20 pounds in order to qualify for gastric bypass surgery with Dr. Now, she underwent the procedure and ended up getting down to 377 pounds within a year!
But she didn't stop there, she ultimately lost over 400 pounds and kept it off, profiling her journey with glamorous pinup-style selfies on Facebook and Instagram, where her profile once read: "I spent a long time not liking me, so I'm documenting moments I feel pretty."
Rachdi, who confessed on her episode of My 600-Lb Life that her weight prevented her from being intimate with her then-boyfriend, now has a lot to celebrate when it comes to her personal life. She got engaged in 2016 and has since tied the knot.
Brittani Fulfer finally got her skin surgery
Brittani Fulfer's desire to do more with her life is what led her to the office of Dr. Now, who knew then that he had his work cut out for him; despite being one of the shorter participants to have appeared on My 600-Lb Life, Fulfer still tipped the scale at over 600 pounds. In the end, she got "sick and tired of being sick and tired," she told Women's Health. "I wanted to be able to travel, have a family, and be the wife that my husband deserves. I felt I had more to offer myself, friends, and family than just having them help take care of me."
Fulfer was 605 pounds when we were introduced to her in Season 4, but, through will power and surgery, she got all the way down to 222 pounds. Shedding all that weight was like escaping from "prison" to her, she told the lifestyle mag. "Since losing weight, I am able to do things I have always wanted to do. I am no longer angry, upset, or feel the need to hide." She was given the okay for knee surgery and skin removal by Dr. Now in a Where Are They Now? episode and she looks like a different woman nowadays, but some issues can't be fixed by surgeons. Fulfer has revealed that she's been suffering from depression since slimming down, using the hashtags #mentalhealth and #bipolar in a 2020 Instagram post (via Olympia TMS).
My 600-Lb Life's controversial Angie J is still making waves
Angela Marie Dunham-Johns was introduced to viewers as Angie J. The 643 pound Ohio native with an admittedly bleak backstory caused waves in Season 7 after she branded Dr. Now's dietary requirements "bulls**t" and derailed his treatment plan with illegal drugs. She managed to lose just under 50 pounds in the eight months that the cameras followed her, but that still left her a long way off the target weight she'd been asked to hit in order to qualify for gastric bypass surgery. Her episode ended with little to no progress made, and Angie J appeared to be a lost cause, but she carried on working towards her goal off-camera and appears to have finally achieved it.
Angie had set up a GoFundMe (via Starcasm) to help pay for her support prior to her debut on My 600-Lb Life, and she updated it the day after her divisive episode aired. She revealed that she had dropped the required amount of weight since filming and would indeed be going under the knife after all, but there was also some bad news to share — her husband had left her and her house had been "burglarized," all within the space of 48 hours. She's now had the surgery, and there's apparently a new romantic interest in her life, but her journey isn't quite over yet. In 2020, she started a new GoFundMe to help her get back to Texas so Dr. Now can take care of her excess skin.
My 600-Lb Life changed Justin McSwain into a new man
Justin McSwain weighed 687 pounds at his biggest, and he was in a very dark place back then. "When I go into the bathroom, I do everything I can not to look at myself in the mirror because when I look in the mirror I see a mistake and someone who's destroyed his life for food by becoming one of the largest people alive," he said (via the Daily Mail). Dr. Now told him that he would need to lose 100 pounds if he was going to proceed with surgery, and even though he fell just short of that target (he hit the gym hard and got rid of 92 pounds), the doc gave him the go ahead. Today, he's a different man.
McSwain is active on social media, where he shares snapshots of himself doing things that he never imagined possible, like wall climbing and mountain hiking. In May 2019, he shared a side-by-side photo with followers to show just how far he'd come in one year, and it was shocking. Maintaining his impressive new weight is a daily struggle, however, especially when it comes to having his picture taken. "I'm still very self-conscious about my body," he captioned a black and white photo of himself looking slimmer than ever in March 2021, via Instagram. "The loose and excess skin, how I hold myself and what parts I show. But every now and then someone manages to get a picture I feel confident in."
Zsalynn Whitworth shed her weight and her unsupportive husband
Zsalynn Whitworth weighed 375 pounds by the time she left high school. Instead of hiding behind her weight, she leaned into it, making friends through the National Association to Advance Fat Acceptance. "I met this whole world of men, really good-looking men, really well-off men, who liked fat women," she told My San Antonio. "I was like a kid in a candy store. I would travel to the NAAFA conventions, and I would meet people there who would fly me places." She ended up married with a daughter, but her marriage to larger lady-loving Brit, Gareth, fell apart when she got gastric bypass surgery and lost the weight.
"My life is so much better now, and part of that is because Gareth and I are finally, officially divorced," she said in her My 600-Lb Life follow-up episode (via the Daily Mail). "He didn't want me to lose the weight, and I didn't deserve to feel bad about choosing my health." Whitworth shed 316 pounds after her gastric bypass, and she feels obliged to keep it off. "I have a lot of people saying, 'You're so inspirational, I admire you,' but they're holding me accountable, and I like that," the Kerrville native told My San Antonio, adding that public recognition from the show even helps her avoid making bad decisions as small as buying "a candy bar" at a convenience store.
Angel Parrish became a better mom thanks to My 600-Lb Life
Angel Parrish weighed 570 pounds when she first appeared on My 600-Lb Life, riding in a wheelchair and relying on her boyfriend, Donnie, for everyday needs. She said that her eating habits had been triggered by the trauma of placing a baby for adoption at age 14, and the situation got worse when she later experienced postpartum depression after giving birth to a son with Donnie.
Donnie went so far as to say (via the Daily Mail) that she "just stopped living" after their son Andrew was born. He threatened that if she didn't get help, he'd have to leave her and take Andrew with him.
Parrish rebounded in a big way by losing over 150 pounds through diet changes, and then undergoing weight-loss surgery with Dr. Now. She adopted a fitness routine and ultimately dropped over 300 pounds. After losing the weight, she reflected, "It's been a long time since I could look at myself and see someone that I thought was beautiful."
After slimming down, she was able to be a more active parent, and said, "I wake up and it's not to eat — it's to get Andrew ready for school!"
Losing weight improved Nikki Webster's career and personal life
Nikki Webster is one of the most notable success stories on the show. She originally weighed in at 649 pounds, and her weight was affecting her career in costume design. Luckily, she had strong support from her family (her dad lost 40 pounds in solidarity) and was able to undergo gastric bypass surgery with Dr. Now.
According to People magazine, she ultimately lost 450 pounds. In 2017, she told the mag, "It's hard to imagine now how I used to live. It's just become so vastly different. … It has been the hardest two years of my life, but it's been the most victorious and exciting."
She explained how she stays fit, telling People, "I do a lot of walking, that's my favorite thing to do. I'll walk at least 2 to 3 miles a day or I try to. I'll also try to do weight training and that kind of thing. I go to the gym every now and then and do those sorts of things."
In 2018, Nikki revealed on Facebook that she'd gotten married, writing, "I kind of got married. He's the absolute best, and I honestly couldn't be more happy…It's been a busy few months."
My 600-Lb Life helped Christina Phillips shed over 500 pounds
Christina Phillips' weight loss story is nothing short of amazing. After debuting on Season 2 of My 600-Lb Life, she shocked everyone when she lost over 500 pounds, going from a dangerous 708 to an incredible 171 pounds. Speaking to Women's Health, she revealed that she sought out Dr. Now's expert help when performing simple tasks became too much for her. "Getting up and walking just a few feet made me feel like I was going to die," Phillips said. "I couldn't drive, walk far, or go out with friends and family. I was miserable, and I knew I had to do something."
The Mississippi native just kept on shedding the pounds after her successful gastric bypass surgery, enabling her to do things that she never dreamed of doing before. "I've been able to try indoor skydiving," she said, but it's the simple things that mean the most to her. She added: "I can walk miles without getting tired. And that's a long way from when just a few feet made me feel like I was dying."
Losing weight doesn't always mean shedding all your problems, however. Christina divorced her long-time husband, Zach, after he failed to adjust to her new life as a mobile person, and she's been beset by mental health struggles, too. "My fear of gaining weight has crippled me," she said in a catch-up episode (via Metro). "But I have to move past that fear if I want to live my life."
Tara Taylor had her heart broken after losing half her body weight
606 pound mother Tara Taylor was barely able to stand when she came under the care of Dr. Now in Season 2. She was relying on her family to take care of her two kids, though thankfully she doesn't need them anymore; she burned 300 pounds and was able to be a parent to her children for the first time in a long time. She was also able to start dating, as she revealed in her Where Are They Now? episode. "I have never in my life been on a traditional date," she said (via Starcasm). "This is a whole new world for me."
She'd known the man that she went on that date with for a long time, which made things easier. Old pal Eugene was blown away by how "stunning" she looked, and they went from friends to partners that night. Before long, they were engaged. "The reason I am willing to give Eugene a chance is that he is a good man," she said, though it seems as though she may have spoken too soon.
In 2020, the former My 600-Lb Life participant took to social media to call her fiance out for creating a profile on a dating website to organize flings behind her back. "He had the nerve to make this when he was engaged to me," Taylor said (via Starcasm). "When someone shows you who they are, believe it."
This My 600-Lb Life star ditched the pounds and got a career and kids in the process
Melissa D. Morris shed almost 500 pounds with the help of Dr. Now, who she now calls boss. In 2019, the former My 600-Lb Life participant revealed that she'd secured a job at his office in Houston, calling it her "favorite place in the world" in a celebratory Instagram post. At her heaviest she weighed 653 pounds, but, after surgery and some strict dieting, she got down to an amazing 157 pounds. "Before I lost the weight, I was miserable and barely living life," she said 10 years after her surgery. "My dream was to have kids."
Her dream became a reality; she and her husband brought three kids into the world, all of whom are big fans of Dr. Now. "They just find it amazing that Mom works for the cool doctor on television but little do they know that without him they wouldn't not be here," she captioned a pic of the kids with her savior and new employer. Morris dotes on the children, but being a mother came a cost — her weight has crept back up to 270. "I didn't realize how hard it was gonna be when you have kids and have food for them around you all day long," she said in her 2016 follow-up episode. She's still aiming for her ideal weight of 150 pounds, but she's doing it without the support of her husband, Chris. In 2021, Morris confirmed that she was a single mom.
My 600-Lb life helped Paula Jones lose 400 pounds
When Paula Jones decided to lose weight, she had a powerful and tragic motivation — her husband had died from weight-related complications from weighing over 600 pounds. A year after he passed away, Jones herself weighed 542 pounds and worried that she too would suffer a life-threatening complication from obesity, leaving her four children on their own.
She decided that it was time to change and paid a visit to Dr. Now, but she was stunned when she set foot on the scale and saw her weight. "I'm huge. I look like a monster," she said sadly.
Jones followed through with her commitment to trim down, moving her family from Georgia to Texas in order to have surgery. According to Woman's World, it paid off and she experienced amazing results, ultimately losing 400 pounds! The mag reported that her relationship with her kids has improved, with Jones saying, "I can be more active with them. I've learned how to be emotionally healthy as well as physically healthy."
With 400 pounds down, Chuck Turner wants to transform his love life, too
Chuck Turner weighed in at 693 pounds when he first appeared on the show. He said that he started gaining weight years earlier after his first wife was murdered. He eventually married his second wife Nissa and they adopted a son together, but his marriage became strained when his obesity prevented him from helping her with anything around the house.
According to In Touch Weekly, his situation had grown even more complicated because a 40-pound growth called a lymphedema had developed on his leg, hindering his movements even further. He told TLC producers, "I'd rather be a dead man than have to live like this for the rest of my life."
Luckily, he was able to have weight-loss surgery with Dr. Now, and he ended up losing 433 pounds! Unfortunately, he and Nissa eventually split up, but, according to In Touch, he said in a reunion special that he was looking for love again.
Donald Shelton overcame incredible odds to shed the pounds
Donald Shelton's weight loss journey was a bit of a bumpy road with lots of twists and turns. When viewers were first introduced to him, he weighed 678 pounds and his weight made it hard to move around, causing him to ride in a wheelchair. His immobility led to severe bouts of depression.
After weight loss surgery with Dr. Now, he was able to lose almost 400 pounds, but, according to In Touch Weekly, he was unfortunately diagnosed with Guillain-Barre syndrome, which affected his ability to walk and required him to be wheelchair-bound again. Unfortunately, after this devastating setback, he reportedly gained back 200 pounds.
But, like the other highly motivated stars of My 600-Lb Life, Shelton didn't give up. According to In Touch, he was ultimately able to drop some of the weight he put on, and he looked trim and happy in later social media posts.
A new body and a new romance for My 600-Lb Life's Laura Perez
Every story on My 600-lb Life is heartbreaking, but when Laura Perez revealed the origins of her episode of the show, it made for particularly difficult viewing. At five years old, an older cousin began abusing her, and food became her coping mechanism. "I never told my parents anything, so the molestation went on for years," she revealed (via the Daily Mail). "My whole life just changed, so I turned to food. That was my comfort."
When viewers were introduced to Perez in season 3, she weighed 594 pounds. She was confined to a wheelchair and needed an oxygen tank to breathe. "She is physically in one of the worst shapes I have ever seen," Dr. Nowzaradan said. The surgeon removed 80 percent of Perez's stomach during a gastrectomy and she managed to shed an amazing 412 pounds, but her new figure caused problems with her marriage.
During her March 2018 Where Are They Now special, Perez revealed that her husband was having a hard time accepting the new her. "Joey and me seem to be fighting more than ever," she said. "I want to keep becoming more independent and get a job and have a career. He doesn't want me to do that… I'm not 600 pounds anymore, I don't need to be trapped." In April 2018, a man named Eric Juarez revealed that Perez (who has been going by the name Angelika) had left Joey for him.
Diana Bunch's painful past didn't stop her from losing hundreds of pounds
Like Laura Perez, Diana Bunch's food addiction was triggered by childhood trauma, but it didn't take over her life until years later. According to The Wrap, she "was molested by two older boys at 11 years old," and binge eating helped her cope. But her mother pressured her to diet even though Bunch spent her teenage years weighing around 115 pounds. Once she flew the nest, however, that all changed.
According to InTouch, the Seattle resident joined the Air Force, but was discharged because her size meant she couldn't perform her duties. Out of work, Bunch started getting bigger. She became confined to her one-bedroom apartment, eating herself to a dangerous size — a reported 620 pounds at one point.
"When you're morbidly obese, everyday life, just getting through it, it's miserable," she said during her first appearance on the show. "Pain is a constant visitor throughout my day, but my legs are what hurt the most." Her lymphedema was crippling, leaving her with swollen legs covered in open sores. "I don't look human," she said. "If I don't get help, I know that this apartment is where I'm going to die."
It was her niece, Megan, who convinced her to move to Texas and see Dr. Now, who removed 70 percent of her stomach. She was able to shed 265 pounds as a result, and is now living life to the fullest. Every Tuesday, Bunch updates her Facebook page with something she's thankful for.
This My 600-Lb Life star is 'enjoying life again'
When My 600-lb Life viewers first met June McCamey, her relationship with her girlfriend had reached breaking point. Longtime partner Sadi was buying fast food for McCamey on a daily basis, sometimes making up to three trips out a day in order to avoid confrontation. "She acts like an addict," Sadi said. "Her fix is food." McCamey was well aware that she'd become a burden on her girlfriend, admitting that she felt like a prisoner in her own home.
"I'm living in a nightmare," she said during her first appearance on the show (via Life&Style). "I feel imprisoned into my body. I have three seats; the bed, the bathroom toilet, and my chair. My world is confined. I feel suffocated." McCamey had steadily gained weight over the course of four pregnancies, and let herself go altogether after the tragic death of her 17 year old son, Mack. By the time she agreed to meet with Dr. Now, she was worried that her knees were about to give way. "I don't think they're going to last," she said.
They did last, however, and today those knee joints are under considerably less pressure. After going under the knife, McCamey was able to start losing weight for the first time in a long time. By 2018, she'd dropped in excess of 200 pounds. "I'm way more mobile than I was almost a year ago, I'm not sick like I use to be," she said. "I'm truly enjoying life again."
Nicole Lewis thinks My 600-Lb Life defrauded her
Nicole Lewis was just 23 when she debuted on My 600-Lb Life, but she was already too big to fit into her own bathroom. The 684 pound mother-of-two's relationship with her own mom (who had become the primary caregiver to the kids) was at breaking point by the time Dr. Now entered the picture. "When I was little, me and my mom never really got along, because she had a really bad temper, and would explode on me for things that I just didn't understand," Lewis said (via the Mirror). "And when that happened, I would always run to the garage, because my dad would be out there working on something. So I would just sit with him, and he would give me a snack."
Her weight problems really exploded after her truck driver dad was jailed for crimes related to drugs, which were apparently a regular sight at home. By the time she turned 16, Lewis was tipping the scale at 400 pounds. She's shed hundreds of pounds since her My 600-Lb Life days, according to Starcasm, but she's not on good terms with the people who make the show. Lewis is one of the many former My 600-Lb Life participants suing production company Megalomedia, which failed to meet its contractual obligations to her, she claims. The lawsuit (obtained by Starcasm) alleges that producers "failed to pay for [Lewis'] surgeries and medical care and this has caused her injury and damages."
Chay Guillory lost weight and embraced her true identity
When Chay Guillory joined Season 3 of My 600-Lb Life, it was the beginning of a journey in both weight loss and gender identity. Guillory was determined to lose all that debilitating weight and start living life as a transgender woman, and that's exactly what happened. "I feel like for so long I have lived a lie … once I lose the weight, it will be possible for me to be the person I have always identified as — and that person is a woman" she explained in her 2016 Where Are They Now? episode (via the Daily Mail). She even toyed with changing her name to "Lola," but revealed in a subsequent update that "once people started calling [her] that, she didn't like it for [herself]."
The Louisiana native weighed just shy of 600 pounds when she first arrived at Dr. Now's HQ in Houston, but the surgery helped her shed almost 220 of them. "My body moves easier. There is more pep in my step, and I just feel so much better, and I can do so much more," she said in 2016 following her weight-loss surgery.
Big changes happened in Chay's personal life since the, too. She got engaged to her boyfriend in 2019, and the lovebirds tied the knot the following year. A happily married Guillory shared a wedding photo on Instagram to celebrate their first anniversary in March 2021, captioning the pic, in part, "Can't imagine life with anyone else."
At over 800 pounds, Charity Pierce was one of My 600-Lb Life's heaviest women
My 600-Lb Life has shown time and again how weighing over 600 pounds can be crippling. Add another 200 pounds to that, and this is the life that Charity Pierce was living when she turned to Dr. Now. She'd weighed at least 500 pounds since her early teens, and had gotten to the point where she "would rather die than live this way," she told a documentary crew. At just shy of 800 pounds, she was considered one of, if not the heaviest woman in the world at the time, and she knew changing that would be a mammoth task. She shed 100 pounds in order to get the green light for gastric bypass surgery, which helped her shrink down to half the original size, losing a whopping 400 pounds.
She continued to lose weight (by her Where Are They Now? episode she was under the 300 pound mark for the first time in years), but her health took a sudden turn for the worse. In a 2020 Facebook post, Pierce revealed that she had been diagnosed with kidney cancer. "The next step was to get my kidney removed as soon as possible before it had a chance to spread to other organs in my body," she said. "So on March 2 my kidney was removed. And now I'm recovering at home trying to heal." A few months later, her daughter posted to say that Pierce "had some struggles but is doing great now."