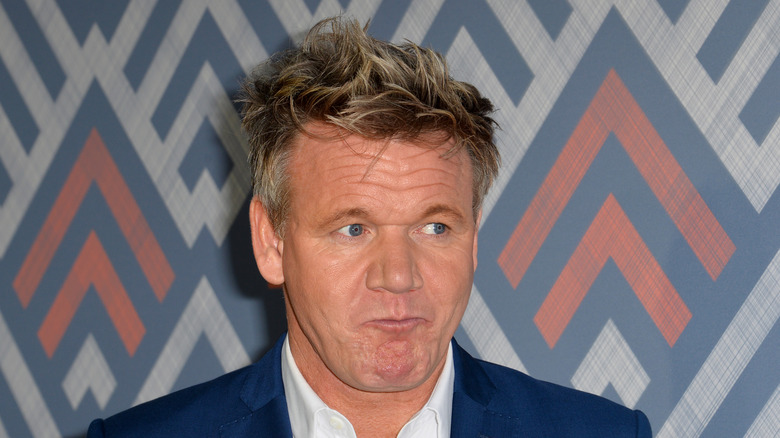 Most television food personalities appear to be nice people, or at least they're good at playing nice people on TV. The food world doesn't tend to produce the volume of drama and beef that you see in the sports and music industries. Despite the generally collegial atmosphere of food media, celebrity chefs will inevitably rub each other the wrong way from time to time and start fights. Occasionally those fights even spill onto the gossip pages and become messy public spats. Sometimes these disputes arise from celebrities' competitive impulses. Sometimes they come from simple differences in personality. Other times, they materialize out of thin air, with no reasonable explanation.
Of course, some famous food personalities are more prone to conflict than others. This whole list could have easily been composed entirely of feuds involving Anthony Bourdain or Gordon Ramsay. That would be boring, though, and some of the juiciest chef beefs are between people you would never expect to start drama with each other. These celebrity chef feuds show that the cooks we see on TV get mad sometimes in real life, just like everyone else.
Anthony Bourdain vs. Paula Deen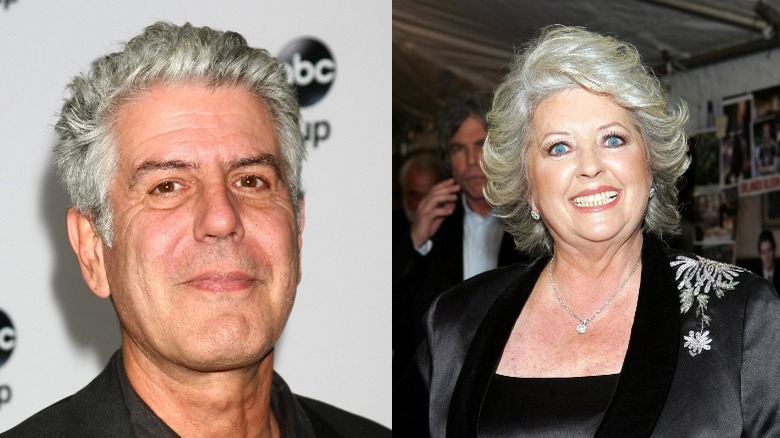 Paula Deen nearly tanked her career with a racism scandal in 2013. But that wasn't the first time the Southern cook found herself on the wrong side of public opinion. She caused a stir in 2012 when she announced that she had been diagnosed with Type 2 diabetes and would be partnering with pharmaceutical company Novo Nordisk to promote the diabetes drug Victoza (via CBS News). Many people thought it was hypocritical for Deen to benefit financially from a diabetes drug after she built her career off of high fat, high sugar recipes that increase diabetes risk. The criticism increased after it was revealed that she had known she was diabetic for three years before she announced her diagnosis to the public (via Eater).
The late Anthony Bourdain was one of Deen's most vocal critics, telling Eater, "When your signature dish is hamburger in between a doughnut, and you've been cheerfully selling this stuff knowing all along that you've got Type 2 diabetes … It's in bad taste if nothing else." This wasn't the first time that Bourdain took aim at Deen. In 2011, he trashed her in an interview with TV Guide, calling her "The worst, most dangerous person to America" and saying that "her food sucks." Deen, for her part, refused to enter the fray, telling ABC News, "I don't care what the haters and naysayers say. If they make jokes about me, I'll laugh because they'll probably be funny." Like many of Bourdain's feuds, this one was thoroughly one-sided.
Gordon Ramsay vs. Marco Pierre White
Perhaps no type of feud cuts deeper than a rupture between two close friends, and that's exactly what happened with Marco Pierre White and Gordon Ramsay. That first name might not ring any bells for those of us in the U.S., but Marco Pierre White is one of the biggest chefs in U.K. history. According to The Express, he has been called "the first celebrity chef," and by age 32 he was already Britain's most critically-acclaimed restaurateur, the first-ever in the country to earn three Michelin stars. He was the prototypical angry chef, saying that he "used to go f***ing insane" in the kitchen. He might be the reason for Gordon Ramsay's famously irate television persona, as Ramsay worked under White early in his career. It seems as though Ramsay is better at doling out criticism than taking it, as White says that after receiving a verbal thrashing, "Gordon crouched down in the corner of the kitchen, buried his head in his hands and started sobbing."
Although a confrontation like that would destroy many friendships, it's not what finally severed ties between the two chefs. White told British GQ that his breaking point with his former employee was when Ramsay took a camera crew to White's wedding without asking for permission. Ever since then, their relationship has been rocky, with White kicking Ramsay out of a restaurant and Ramsay falsely accusing White of theft.
Bobby Flay vs. Masaharu Morimoto
Bobby Flay was one of the Food Network's first big stars, beginning his career there in 1994. One of his biggest platforms on the network was "Iron Chef America," a program he was involved with for 17 years before resigning in dramatic fashion in 2017 (via Vanity Fair). Although Flay ended up being a fixture on the show, his first taste of the franchise ended on a sour note.
In 1999, the original Japanese version of "Iron Chef" traveled to New York City to film a battle between Iron Chef Japan (and Flay's future "Iron Chef America" coworker) Masaharu Morimoto and Bobby Flay. After time ran out, Flay jumped on his cutting board and raised his fists in the air. This brash, cocky move from Flay horrified the reserved Morimoto, who told an interviewer that Flay "is not a chef." Morimoto took offense to Flay's disrespect for the tools of their profession, saying "He stood on the cutting board. In Japan, the cutting board is sacred to us." The controversy ultimately benefited both chefs, as it turned "Iron Chef" into a ratings bonanza and publicized Flay and Morimoto's names in countless media outlets.
Jacques Pepin vs. Gordon Ramsay
Gordon Ramsay is a prolific feud participant, but Jacques Pepin doesn't seem like the kind of guy to start fights with other chefs. He's more likely to show up in wholesome anecdotes about what a nice person he is than to slag off about another cook. Despite this, Pepin took time off from his busy schedule to write a blog post criticizing the type of competitive reality competition show Gordon Ramsay made famous (The Daily Meal). Pepin's complaint couldn't be more on-brand for the genial, grandfatherly chef: He worried that Ramsay wasn't nice enough.
In an interview with the Washingtonian, Pepin singled out "Hell's Kitchen" as his least-favorite cooking show, saying, "​​When I saw a show like that where everyone is yelling, everyone gets terrorized, there is no way you can produce great food under that type of condition." He later elaborated on his distaste for "Hell's Kitchen"-style shows in a personal essay, writing that these shows "portray the restaurant kitchen in a chaotic and negative light, and I believe it is a disservice to our trade and to young people who want to go into this business." For Pepin, cooking is inherently an act of love, and well-run restaurant kitchens don't feature the aggression and chaos so fundamental to the "Hell's Kitchen" formula. Of course, the famously nice Pepin felt the need to clarify on Twitter that he never meant to attack Ramsay personally, aiming his criticisms squarely at reality TV producers.
Martha Stewart vs. Rachael Ray
Martha Stewart is the original queen of food and lifestyle content, and she doesn't take challengers to her throne lightly. Stewart told ABC News in 2009 that Rachel Ray "cannot bake," and that "She … just did a new cookbook which is just a re-edit of a lot of her old recipes … and that's not good enough for me." Before the interview, Stewart and Ray had just guest-starred on each others' shows, and Stewart tried to remain diplomatic while talking smack about her counterpart. Said Stewart, "She's different … she's more of an entertainer … with her bubbly personality, than she is a teacher, like me."
Although Stewart's comments may have stung, Ray knew better than to lash out at the domestic goddess. "Her skill set is far beyond mine," Ray said told ABC when she was asked to comment on Stewart's trash talk. "She does have a better skill set than I do when it comes to producing a beautiful, perfect, high quality meal. I'd rather eat Martha's than mine, too." Ray conceded Martha's main points, but she made sure to advocate for the validity of her own more informal approach, arguing that she was also doing important work in the food television space.
Alton Brown vs. Adam Richman
Alton Brown loved torturing chefs on his devious reality show "Cutthroat Kitchen," and his taste for combat didn't end when the cameras stopped rolling. In 2010, Brown decided to pick a fight with Adam Richman. He told Zap2It that Richman's Travel Channel show "Man vs. Food" was "about gluttony, and gluttony is wrong. It's wasteful. Think about people that are starving to death and think about that show. I think it's an embarrassment" (via Eater). Brown is passionate about hunger issues, revealing to blogger Michael Rosen that he supports Heifer International, a nonprofit that works to end global hunger.
Although Brown's criticisms may have come from a noble place, they stung Richman, who had previously idolized the Food Network star. Richman aired his grievances on Twitter, writing "Alton Brown: MvF is about indulgence-NOT gluttony-& has brought loads of biz to Mom-n-Pop places. You were my hero, sir. No more." He later tried to clarify his stance with a statement claiming that "My previous Tweet is not to start some foolish Twitter feud." With respect to Richman, if it looks like a Twitter feud, it's probably a Twitter feud.
Jamie Oliver vs. Gordon Ramsay
Although you kind of expect every fight that involves Gordon Ramsay to be his fault, Jamie Oliver fired the first shot in this U.K. celebrity chef spat. Oliver took issue to some insulting comments Ramsay had made about an Australian celebrity and decided to wade into battle uninvited, telling the Sun that "It's never good to criticize a woman, especially when they're loved by their country and you do it on national television" (via Eater). Once provoked, Ramsay was more than willing to fight back, mocking Oliver's cooking skills by calling him a "one-pot wonder." Ramsay later doubled down on his insult, saying that he had to complain about his most recent meal at "Jamie Oliver's restaurant" ( via TMZ).
The petty catfight between these two adult multimillionaires continued a couple months after Ramsay's TMZ run-in. In an interview with the Mirror, Jamie Oliver said, "If I was to choose between Gordon Ramsay's cookbook or Tana Ramsay's, it would be Tana's every time. In my opinion, her books are a damn sight better than his." This proved to be a killing blow, as responding to that comment would have required Ramsay to publicly declare that he thought he wrote better cookbooks than his own wife. Even he wasn't hotheaded enough to take the bait and blow up his relationship!
Andrew Zimmern vs. Tyler Florence
Andrew Zimmern comes off as a pretty affable guy, so it was pretty surprising when he decided to launch an unprovoked attack on fellow TV food celebrity Tyler Florence. Although the two men previously had no history together, Zimmern decided his negative reaction to Florence's appearance on Ryan Seacrest's reality show "Momma's Boys" warranted its own post on his personal blog. According to Grub Street, the "Bizarre Foods" host complained that "Watching Florence wolf down the food, stare and ogle every a** that strolled by his cutting board and play the role of local TV stud was high comedy of the highest order." He also called Florence "the world's least talented TV chef." (Zimmern swiftly took his blog down after it caused a stir.)
Florence didn't take these insults lightly, and came back swinging. He responded with a salty message on his Facebook page that described Zimmern as "the guy who eats dried camel c**k for a living." Florence was hurt that he received such stern criticism for a TV appearance that he viewed as a favor to Seacrest, his close friend. He finished his statement with another ad hominem attack, saying of Zimmern, "I guess it's hard to have a sense of humor when you're on your 10th take of eating Yak testicles, smiling to the camera, wondering where your life went wrong." We must say, both combatants came up with some sick burns during this feud.
Martha Stewart vs. Gwyneth Paltrow
After firmly putting Rachael Ray in her place, Martha Stewart once again earned her title as America's most vindictive lifestyle influencer by sniping at Gwyneth Paltrow. Although you wouldn't think of Paltrow as a celebrity chef necessarily, her lifestyle brand Goop includes a lot of recipe content, a fact which displeased Stewart greatly. "She just needs to be quiet," said the food media doyenne to Porter Magazine in 2014 (via The Daily Meal). "She's a movie star. If she were confident in her acting, she wouldn't be trying to be Martha Stewart." She then cranked the shadiness all the way to 10 and published a dessert feature called "Conscious Couplings" in her self-titled magazine. The title, of course, sarcastically aped Gwyneth's infamous description of her divorce from Coldplay's Chris Martin as a "conscious uncoupling."
Paltrow wasn't as conciliatory as Rachael Ray in response to Stewart's attacks. She published a jailbird cake recipe in Goop, a move that could be seen as a dig at Martha Stewart's prison stint for insider trading. Apparently there is room for only one rich blonde woman at the top of the luxury lifestyle content game.
Anthony Bourdain vs. Guy Fieri
Anthony Bourdain was a gossip journalist's dream, always ready to provide a spicy quote for any subject he was asked about. Frequent cultural punching bag turned pandemic food industry hero Guy Fieri was no exception, and Bourdain didn't have many nice things to say about the mayor of Flavortown. He qualified his criticism by stating his admiration for "the guy's pluck," but complained that Fieri's restaurant in Times Square had "single handedly turned the neighborhood into the Ed Hardy district" (via Eater). He also called Guy's American Kitchen and Bar a "terror dome."
Bourdain's disdain clearly got under Fieri's skin, and he used and interview with GQ as a platform to vent his frustrations about his fellow TV host. In a profanity-strewn rant, Fieri said, "I don't like him making fun of people, and I don't like him talking s**t." Fieri thought that Bourdain's criticisms of him were petty and unwarranted, and said that the "No Reservations" host didn't have the courage to confront him face-to-face. Bourdain responded with the classic "u mad, bro?" defense, saying to E! Online that "If you can't tell jokes about Guy Fieri, comedy as we know it is dead."
Mario Batali vs. Gordon Ramsay
Although any discussion of Mario Batali in the present era must start with an acknowledgement of the pattern of alleged harassment he perpetrated for decades, his feud with Gordon Ramsay had nothing to do with the sins that led to his fall from grace. No, he fell out with the notorious British yeller for a much sillier reason: He made fun of his pants. Before Batali's name became synonymous with the Me Too reckoning in professional kitchens, he was famous for wearing bright orange cargo shorts in public. Evidently Gordon Ramsay found Batali's sartorial choices humorous, and he took to referring to the chef as "Fanta Pants" (via Delish).
Batali apparently had thinner skin than a nice ravioli and decided to ban Ramsay from all of his restaurants because of the schoolyard taunting. He left the door open for reconciliation, however, reportedly saying "[If Gordon] called me himself and said, 'Let's sit down for a drink.' I'm sure it would be fine. We'd be cool." The historical record is silent on whether these two ever resolved their differences.
Giada De Laurentiis vs. Bobby Flay
Longtime "Food Network Star" co-hosts Giada De Laurentiis and Bobby Flay are close friends. So close, in fact, that they have been periodically dogged by rumors that they are romantically linked. Towards the beginning of their relationship, however, Flay did something that pissed De Laurentiis off so much that she didn't speak to him for over half a year (via People).
The offending incident occurred during a 2006 episode of "Iron Chef America" that pitted Giada and Bobby against Mario Batali and Rachael Ray. Team Batali-Ray went home victorious, and De Laurentiis thought it was because Flay treated the competition too lightly. She said on the podcast "Beyond the Plate" that "I felt like he sort of half-assed it" and "we lost and he thought it was funny." Flay's callous attitude left her feeling like he was a jerk, and they didn't repair their relationship until eight months after that episode was filmed.