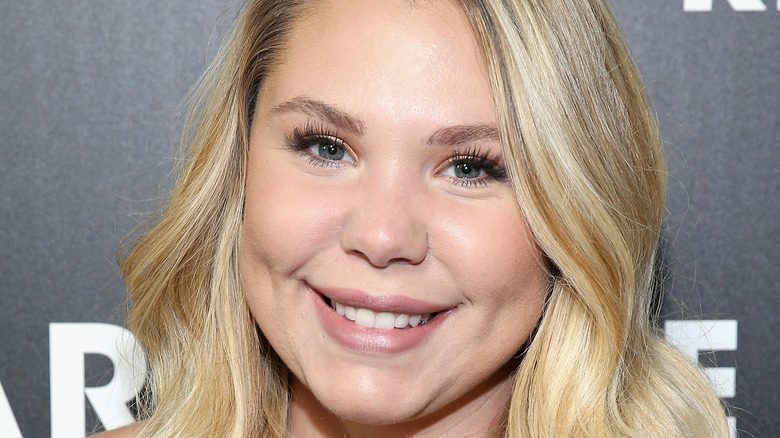 MTV's "Teen Mom" came as a spinoff of the popular series "16 and Pregnant," per The Futon Critic. Fans obviously bonded with the young women featured in "16 and Pregnant," and became invested in their early journeys into motherhood. Hence, "Teen Mom" came along as the answer to the level of investment from audiences.
"Teen Mom" has always been especially poignant because not only do the stars work through the challenges of motherhood, they became mothers at such young ages. As such, we've journeyed with these families as they've juggled relationships, careers in the spotlight, and some intense drama. Some couples have stayed together while others have split. Some of the Teen Moms have aired major secrets and there are some we'll never know. The stars have also transformed before our very eyes in front of the cameras.
There has also been some turnaround on the show. Farrah Abraham, a familiar face since the days of "16 and Pregnant," was let go by the franchise. Jenelle Evans was fired from "Teen Mom" following a horrific scandal involving her partner, David Eason. Nevertheless, as we take a deep dive into the net worths of the Teen Moms, we are still including some of the former cast members since they were once OGs. So without further ado, here are the richest Teen Moms.
Jade Cline's spending purchases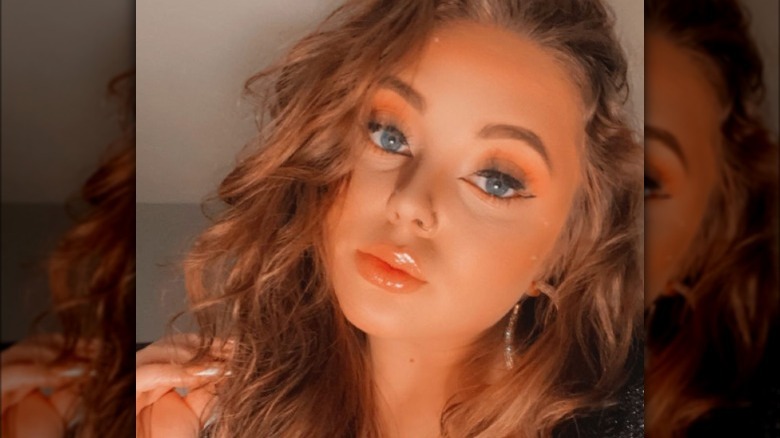 Jade Cline joined the cast of "Teen Mom" after she gained notoriety on "Teen Mom: Young and Pregnant." In fact, Jade came on to the show following MTV's firing of Jenelle Evans. A source reached out to The Ashley's Reality Roundup in May 2019 to share the news: "The network plans to move Jade from 'Young and Pregnant' and she will be the fifth girl on 'Teen Mom 2.'"
Since Jade only joined the cast in 2019, though of course she did have prior time on TV, it makes sense that her net worth is lower than many of the longer-running members. As such, The Cinemaholic put Jade's net worth at $250,000. Apparently, when she was cast on "Young and Pregnant," Jade was making about $5,000 an episode, so it's plausible that she's making more as her tenure with MTV goes on. However, the outlet also notes that Jade, along with co-star Briana DeJesus, have complained about their pay on "Teen Mom." As The Sun notes, Briana used her Instagram stories to speak about the disparity in pay between the cast members in November 2020. "Let's be honest here – I don't get paid like the other girls do," Briana wrote. "Neither does Jade but guess what – we aren't crying about it on the internet."
Nevertheless, Jade has a few special splurges she likes spending money on, namely plastic surgery. As a later publication by The Sun notes, Jade got a Brazilian butt lift and liposuction in February 2021. You go, girl!
Cheyenne Floyd's late but lucrative start
Cheyenne Floyd was actually on a show prior to joining the cast of "Teen Mom." She was a part of MTV's "Are You The One?" a dating show that matches singles through psychologists and relationship coaches, per MTV. Following her first taste of reality TV, Cheyenne was a natural fit for "Teen Mom" and joined the cast in season 7, according to The Sun, which chronicled the birth of her daughter, Ryder, who was born on April 2, 2017.
Cheyenne has a net worth of $450,000, part of which comes from her MTV career but also from her very lucrative presence on social media. As of this writing, she has 1.6 million followers on Instagram and many of her posts are sponsored content. She posts ads for Shein, the online clothing retailer. She posts ads for baby retailers, which makes sense since she now has not one but two children. Cheyenne also has a fitness and lingerie brand called The Ruu, where she sells her products online. Cheyenne also has a YouTube channel called Our CRAZ Family with over 200,000 subscribers, so clearly Cheyenne knows how to market herself.
With so much clout, Cheyenne also puts her influence behind causes close to her heart. For example, on Instagram, she posted about breastfeeding, saying she was invested in "normalizing breastfeeding, raising awareness, & improving support for breastfeeding parents." What a great cause to get behind!
Briana DeJesus had to fight for her salary
As we already saw when speaking about Jade Cline, Briana DeJesus has been vocal about pay discrepancies on "Teen Mom." It can be tough to keep track of the spinoffs from the popular franchise, but Briana first came on the screen with "Teen Mom 3," according to The Cinemaholic. The show only lasted one season in 2013 before it was cancelled but Briana was so liked by audiences that she joined the much more popular show, "Teen Mom 2" in its eighth season, according to TV by the Numbers.
Briana's complaint about her early salary on the show was legitimate. As Distractify notes, on her first season on "Teen Mom 2," she was paid $20,000 for the entire season. To put it in perspective, other long-term cast members were making six-figure salaries. The outlet noted, though, that by December 2020 Briana was making $100,000 a season.
So all things combined, Briana has a net worth of $750,000, The Cinemaholic notes. Briana has over 1 million followers on Instagram, so she certainly has sway there. But also, and more interestingly, Distractify notes that Briana has a job outside of MTV. She's pretty tight-lipped about it but the outlet notes that she has made mention of employment with a timeshare company. So she certainly keeps busy!
Jenelle Evans has lost a ton of money
Jenelle Evans has had one of the more notorious runs on "Teen Mom" and is no longer a part of the franchise. She was fired by MTV, according to Us Weekly, after her husband, David Eason, shot and killed their dog. MTV said in a statement: "[W]e have stopped filming with Jenelle Eason as of April 6, 2019 and have no plans to cover her story in the upcoming season." In light of the situation, the couple also faced ongoing custody battles and all three of Jenelle's children were put in the care of relatives, according to People. To get her children back, Jenelle had to get a legal team to help her.
With ongoing court appearances and access to lawyers, Jenelle's net worth has changed considerably over the years. Back when she was on "Teen Mom," her net worth was estimated to be $2 million, according to The Hollywood Gossip but since she was fired from the show and has faced such expenses, her net worth is now much lower. In fact, Celebrity Net Worth puts Jenelle at $30,000.
After her time on MTV came to a close, Jenelle tried other ventures. She launched JE Cosmetics and sold $40 eyebrow kits but based on what her husband did to her dog, people started dropping away. Venues pulled out of hosting launch parties and even her manufacturer terminated the relationship, according to The Sun. Jenelle does remain active on YouTube, however, with over 200k subscribers and remains active on TikTok.
Leah Messer uses her social media for good causes
Leah Messer first came to MTV through "16 and Pregnant" and in 2011, she landed a role on "Teen Mom 2," according to The Cinemaholic. Leah's been with the show since its beginning, so she can command a higher seasonal salary than new arrivals. In fact, Leah makes approximately $300,000 a season. While she's been in the game a while, Leah's net worth is harder to pinpoint and is somewhere between $750,000 to $1.2 million, according to The Hollywood Gossip.
Thanks to Leah's years in the spotlight, she has a massive fan base and 2.5 million followers on Instagram. Leah's also on Cameo, where she charges $75 for a personalized video. Leah also wrote a memoir published in 2020 called "Hope, Grace & Faith." She's clearly good at diversifying her skill set!
While Leah's great at making money, she's also active with good causes on social media. On Instagram, she posted a fundraiser for the Ronald McDonald House where they were able to raise $15,000. But there's another cause close to Leah's heart. Her daughter, Ali, has titin myopathy muscular dystrophy, according to The Sun. Naturally, Leah posts about muscular dystrophy on Instagram with the goal of raising awareness for the disease. "We're all in this together! Together we're stronger, and our voices are louder!" Leah wrote. Obviously, she's great at making money but family comes first.
Amber Portwood's tough time on 'Teen Mom' impacted her finances
Amber Portwood has had a rocky time on "Teen Mom." The star first began on MTV, like many others, through "16 and Pregnant," as ScreenRant notes, where fans watched her relationship with then-partner, Gary Shirley, as they journeyed through different spinoffs, finally landing on "Teen Mom 2."
Amber was accused of abusive behavior towards Gary and actually went to jail in 2010, following a disagreement between them. She was also arrested on drug charges a few years later. She embarked on a new relationship with Andrew Glennon but things took a darker turn when they had an argument and she hit a door with a machete which he had closed behind him, while holding their son James, per TMZ. Amber pled guilty to domestic battery and intimidation following the incident. Amber is still a part of the "Teen Mom" franchise, but many fans called out MTV for firing Jenelle Evans after the incident with husband, David Eason, while still keeping Amber on the show.
So what does this have to do with Amber's net worth? When Amber was first on "Teen Mom OG," she was making approximately $280,000 a year, according to Distractify. After years on the show, The Hollywood Gossip estimated her net worth was over $1 million. Unfortunately, due to legal fees and her tumultuous history, Distractify puts Amber's net worth now at $10,000. Part of this also goes to Gary for child support, because he has primary custody of their daughter, Leah.
Gary Shirley's success in real estate
While not exactly a main staple of the "Teen Mom" franchise anymore, Amber Portwood's ex, Gary Shirley, was such a regular in the early days, it's worth noting his net worth too. And since he and Amber share a daughter, Leah, he'll always be a part of her life.
Gary has done well for himself and has had success in real estate. As The Sun reports, Gary began buying homes in Indiana in 2015. He has continued adding land to his real estate portfolio and now owns four homes plus two plots of land. Where does this leave him financially? As The Hollywood Gossip points out, Gary has a net worth of $500,000.
Gary currently lives in one of his homes with his wife, Kristina, The Sun notes. They live there with their daughter, Emilee, and Leah. Compared to many of the other cast members of "Teen Mom," Gary has taken a step back from the spotlight. He was working as a certified nursing assistant but in 2019, he became a police officer in Indiana, according to ScreenRant. Gary has clearly opted for a more "normal" life, evidenced by his charmingly domestic Instagram account. He mostly posts pictures of his cooking and vegetables grown in his garden. Hey, that sounds like a great life too.
Kailyn Lowry knows how to hustle
Kailyn Lowry might be one of the most impressive Teen Moms in terms of hustle, with a whopping net worth of $2 million, according to Distractify. Kailyn is no stranger to the camera and first became famous on MTV for appearing on "16 and Pregnant" in 2010, according to Us Weekly. She then became a staple of "Teen Mom 2" where she chronicled her journey with her exes, Jo Rivera and Javi Marroquin. The mother of four brings in $300,000 a season for appearing on "Teen Mom 2," according to Distractify.
While that's the foundation of Kailyn's income, the star is involved in a ton of other projects. She is a co-host of "Coffee Convos," a podcast she shares with Lindsie Chrisley of "Chrisley Knows Best." The podcast seems to be quite lucrative for Kailyn. In June 2021, Kailyn didn't appear on an episode of "Teen Mom" and when fans freaked out, she jumped on Instagram stories to explain what was going on. "I chose not to appear in tonight's episode because I didn't feel that the content that was being asked for was genuine or authentic to who I am," Kailyn said, per The Sun. "Truthfully I make more money on my podcast than I do on an episode of Teen Mom," she added. "I'm choosing my peace of mind over a paycheck." Kailyn is also a New York Times best seller and has written four books, including her popular 2014 memoir "Pride Over Pity." Very impressive!
Javi Marroquin benefited from his relationship with Kailyn Lowry
On the topic of Kailyn Lowry, let's look at her ex, Javi Marroquin, since he was a recurring personality in the "Teen Mom" franchise. The pair share a son, Lincoln, and were married from 2012-2017, per The Sun. Over the years, they've sparked reconciliation rumors, especially when Kailyn said on her podcast, "Baby Mamas No Drama:" "We are finally in a good place and co-parenting and working together. I don't want to mess that up," Kailyn began, adding, "I won't say that we will never get back together because I feel like never say never, but I do really like where we're at right now. We're getting along and having our space and things like that."
Javi joined the Air Force but there's no precise amount listed for his net worth. However, he clearly has benefited from exposure on "Teen Mom," something that Kailyn mentioned on her "Coffee Convos" podcast. "Look at the situation with Javi and I… how much did he gain financially by being with me? And that's not to pat myself on the back, that's like truly, 'OK we'll give him the Air Force thing because I just planted the seed and he exactly did the work," Kailyn said (via a later publication by The Sun).
"But let's take finances and brand deals and other opportunities because of him being with me and being a part of Teen Mom 2… so then what?" Kailyn added, clearly noting that he benefited financially from their relationship.
Catelynn Lowell's financial troubles
Catelynn Lowell is another iconic member of the "Teen Mom" franchise, along with her husband, Tyler Baltierra. They also got their start on "16 and Pregnant" and have moved through different reality TV series, including "Couples' Therapy," according to The Sun. The pair rank really high in terms of popularity with fans so it's no wonder that they're such a huge part of MTV. Much of the net worth information listed about Catelynn combines Tyler in the conversation. So as Distractify lists, the couple makes $500,000 per season but they do so much more, making their total net worth $1.3 million.
Catelynn and Tyler owned a clothing brand called Tierra Reign, which they launched in 2017. However, as Radar Online reports, they didn't complete annual business statements in 2018 or 2019 and the business has since folded and their website is no longer active. But the outlet notes that they certainly could start things up again if they wanted. Like many of their co-stars, Catelynn and Tyler also wrote a book, "Conquering Chaos," published in 2015, so they're good at diversifying their stream of income.
However, the couple has had their own tribulations with money, too. Not only did their clothing business fold, a later publication by The Sun from April 2021 noted that they owed $7,000 in property taxes on their two homes and were facing an $800,000 tax lien, so while things are mostly good, they face their fair share of financial worries.
Maci Bookout gets real about money and fame
Maci Bookout is another of our classic favorites from the "Teen Mom" world. Maci was a part of the original cast and as such, she commands a $500,000 salary from MTV, as Showbiz CheatSheet says. As such, Maci's net worth sits at an estimated $1.5 million, per The Hollywood Gossip.
Like her co-stars, Maci has published two books. Her first, "Bulletproof," came out in 2016 and is a memoir of her early life and time on reality TV. Her second, "I Wasn't Born Bulletproof: Lessons I've Learned (So You Don't Have To)" was published in 2017 and offers a deep-dive into her journey to resiliency, per Simon & Schuster.
It was actually in her first book, "Bulletproof," that Maci dished some truth about reality TV and money. "Reality TV can make you very famous, but you basically get the s**t end of the deal: Everyone knows your name and talks about you, but there's no red-carpet prestige or glamorous piles of money," Maci explained. "Once you become a so-called reality TV star, people immediately think you're a high-end celebrity and you travel the world and have a mansion and so much money and all these other things they associate with having your face on television. The fact is, my real life isn't that much different from what it would have been without MTV. I still live in Chattanooga and go to Wal-Mart and buy bread and milk." So despite a decent net worth, Maci sticks to her humble roots.
Chelsea DeBoer has an impressive entrepreneurial spirit
Chelsea DeBoer (née Houska) is no longer a member of the "Teen Mom" fam, but she was such an iconic part of the series that it's worth mentioning her here. When she was a part of the cast, Chelsea made $250,000 a season, as Radar Online notes. As her time went on, Chelsea made closer to $300,000 an episode, The Cinemaholic notes, leaving her with a net worth of $2 million.
But this huge net worth didn't just come from MTV. In fact, Chelsea has a strong spirit for business. She runs a home decor line called Aubree Says. She also runs a furniture line, Down Home DeBoers, with her husband, Cole DeBoer. This isn't even the end of it. She and Cole also have a company called the Chelsea + Cole Collection for Itzy Ritzy, which features items for parents. They brand the line as products for the "ultimate 'cool parent.'"
Part of Chelsea's success comes from her massive influence on social media. She has over 6 million followers on Instagram. She has numerous collaborations and sponsored content with nutrition programs and of course, she uses her platform to promote her many brands.
However, things haven't been entirely smooth sailing for Chelsea. Heavy published an article in September 2021 of a collection of buyers' complaints that people found identical items on other websites that were notably cheaper than what Chelsea's brands were selling the items for. Reddit users complained that she was just "cash grabbing." Yikes!
Cole DeBoer's many streams of income
Cole DeBoer, Chelsea DeBoer's husband, was another mainstay of the reality show and it's worthwhile looking into his net worth too. Of course, as we noted with his wife, many of Cole's enterprises are in collaboration with Chelsea, so the duo has a hefty net worth from teaming up. But Cole also has several streams of revenue, giving him an estimated net worth of $500,000 according to The Things. Cole's steady source of income comes from his job as a traffic control specialist. The average income for this line of work is $61,000 a year, according to Zippia, but it can go up to $90,000.
It's unclear how much Cole made from "Teen Mom" and his pay was definitely less than his wife's, as The Things notes, since he wasn't a major star. But like most reality TV personalities, Cole has a big Instagram following, boasting over 2 million followers. He uses his social media presence not only to post adorable photos of his kids and Chelsea, but to advertise products from the Chelsea + Cole Collection for Itzy Ritzy and sponsored content for products like Mr. Clean Magic Erasers. While Cole was never a mainstay of "Teen Mom," he's certainly made the most of his time in the spotlight!
Farrah Abraham is the richest 'Teen Mom' star
A list of the "Teen Mom" names wouldn't be complete without Farrah Abraham. The splashy, and at times notorious reality TV star, is the richest of the group. As Showbiz CheatSheet says, Farrah is worth $5 million.
This impressive amount comes even though she was fired by MTV in 2017 after she continued pursuing a lucrative stream of income via adult film content, according to The Sun. Never one to take things quietly, Farrah went after the network and said in a statement: "Even though #Viacom fired me today they couldn't help but to exploit myself & my daughter for their promotional gain- Viacom let me go because as a Business Mogul I act like an adult and [partake] in adult promotions and activities that other adults do for FREE or in private!" (via Showbiz CheatSheet). But Farrah's stance was also a positive step in standing up against sex work shame, so there's that!
Thriving after her "Teen Mom" time, Farrah has 3 million followers on Instagram where she's busy with tons of sponsored content. She's also on Cameo, where she charges $75 for a personal video. She also launched a meditation app, specifically "for moms, kids, singles, and those mourning a loss." On the podcast "Impaulsive" with Logan Paul, Farrah explained that the lion's share of her income comes from licensing deals and social media content, so she's one busy gal!