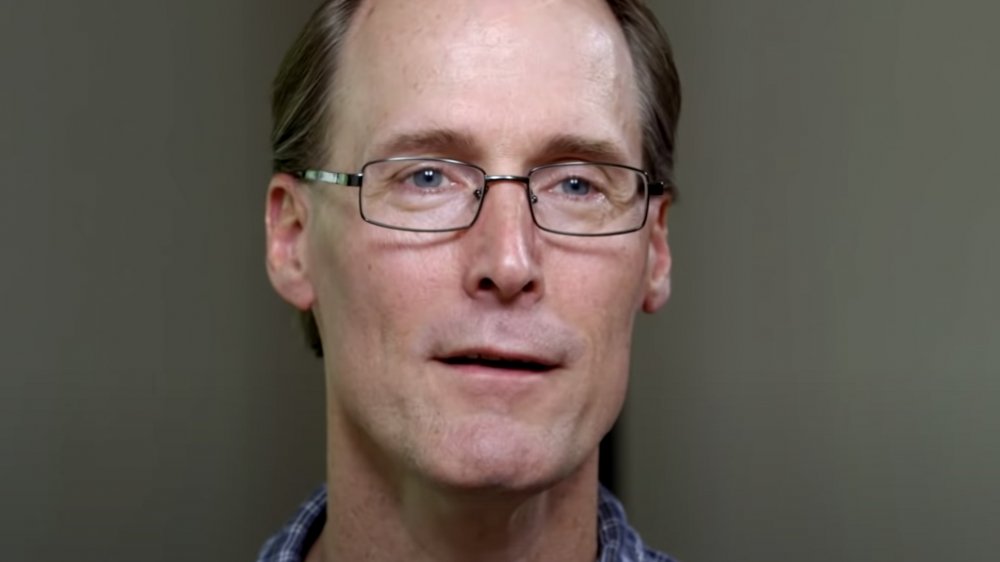 Barry Plath from "Welcome to Plathville" is the patriarch of the ultra-conservative Plath family. The 11-strong group living out in rural Georgia follows their strict religious faith to the letter, even when it means foregoing sugary drinks, watching movies, and doing plenty of other stuff. Barry presides over his nine children — Ethan, Hosanna, Micah, Moriah, Lydia, Isaac, Amber, Cassia, and Mercy — alongside wife Kim, to whom he's been happily married for over two decades. The duo met thanks, of course, to their all-consuming faith.
TLC's "Welcome to Plathville" takes a closer look at Plath family life, from the struggle to resist the sweet lure of soda to eldest son Ethan's decision to marry Olivia, a young woman with plenty of opinions about the Plaths' way of life that don't always go down well with his parents. The show may provide a fascinating insight into Plathville, as it were, but Barry himself remains something of a question mark.
Barry Plath is all about family and religion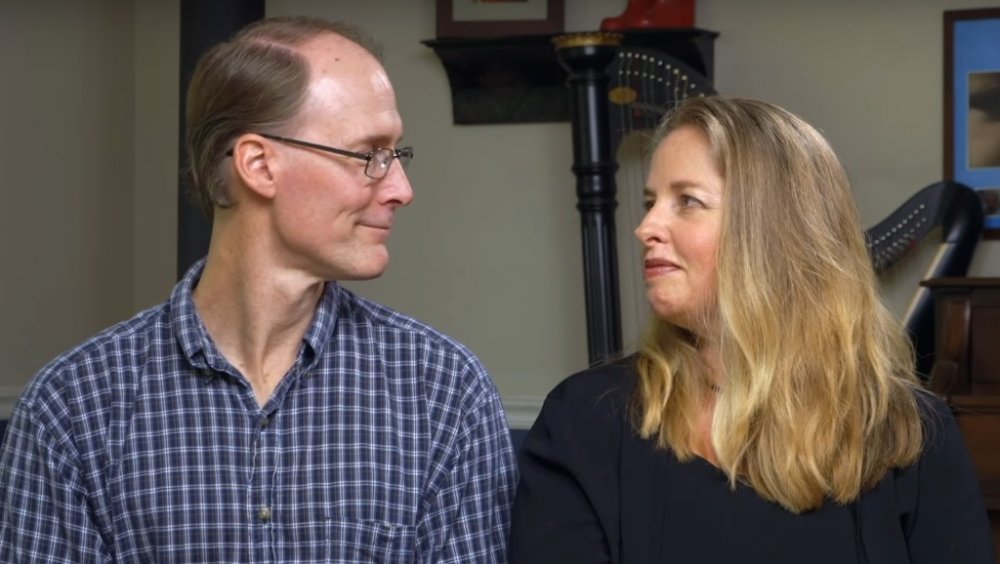 The Plath family website advises that Kim and Barry Plath homeschool their children; perform in a family band with them, which Barry presumably manages; and hold down day jobs. While Kim is a naturopathic doctor, Barry is a transportation planner who's held his job for "the same private firm for over 25 years." (This likely means Barry has to use a computer for work, even though his kids are largely banned from doing the same.)
Religion is at the forefront of Barry's life, as anybody who's even had a passing glimpse at "Welcome to Plathville" can attest. His faith and the faith of his family guides them in every aspect of their daily lives, too. Barry and Kim lost their 17-month-old son Joshua in a tragic accident back in 2008, and, according to a posting by Kim on the family website, her husband was an incredible support to her during that time.
Is Barry Plath hiding some dark secrets?
According to Barry Plath, the Plath family farm is "heaven on Earth," and, for just $100 a night, you could experience it for yourself as, according to Soap Dirt, the property is listed for rental on Airbnb. The posting led to accusations that the Plath family didn't actually live there full time as they reportedly purchased a house back in 2017 in the more suburban area of Cairo, Ga., which is close to plenty of major outlets and chain stores like Walmart and Pizza Hut. This calls their strict lifestyle into question. And it turns out that the family did, in fact, move, as they shared in the Season 2 premiere of "Welcome to Plathville." (As of August 2021, the Airbnb listing is still active and the home's rate has increased to $125 a night.)
Another potential secret Barry's been keeping has to do with daughter-in-law Olivia and the show. As fans know, Barry and Kim have had significant issues with Olivia, Ethan's wife. According to CheatSheet, following an Instagram post in which Olivia appeared to lay out all the ways the Plaths had wronged her, she claimed in the comments that it was actually Ethan's parents who manipulated them into appearing on the show in the first place, promising their son he'd get to see his estranged siblings if they agreed to take part.
Barry Plath has a surprisingly modern approach to marriage
Barry and Kim Plath live their lives according to God's will, but their marriage is surprisingly modern. As CheatSheet reported, during an episode of "Welcome to Plathville," Barry opened up about his long-term relationship with Kim, describing it as a "two-way street." Likewise, parenting their children is an ongoing, constantly evolving "process" for which he and Kim, who notably tied the knot just a few months after they started dating, frequently and equally require each other's participation.
As revealed in a clip of the show shared to Instagram, the couple originally met at church (of course). They were initially just friends, since, presumably, Kim didn't really see anything romantic happening between the two. That is, until the voice of God informed her Barry was the man Kim was meant to marry. Other, similarly strict religious families observe patriarchal rules when it comes to their home lives, but clearly Barry and Kim don't subscribe to such beliefs despite their untouchable faith in God.
Barry Plath is concerned about his children going down the wrong path
In a teaser for "Welcome to Plathville" shared to Instagram, Barry Plath admitted he wants to keep his kids young and untouched by the horrors of the outside world for as long as possible. Hence why he and Kim banned their brood from technology and junk food. Although the dedicated parents have worked hard to raise their children, in recent years, the elder kids have pulled away from the family in a significant way, which gives the patriarch cause for concern. As CheatSheet noted, Barry shared it was tough to see Micah and Moriah leave the family homestead and "go out and explore beyond what [they] provided for a home environment."
As parents, he and Kim make plenty of mistakes, by Barry's own estimation, but although the Plath patriarch hopes his children can experience great things in their lives, "there is a bit of concern about, 'What path are they going [to] want to [go] down?'" He also worried they might make the wrong decisions down the line, too.
The Welcome to Plathville star is trying to learn from his mistakes
Although the Plath parents are intent on keeping their kids safe from the harsh realities of modern life, Barry and Kim are open to adjusting when necessary. For instance, during a particularly tense episode of "Welcome to Plathville" (via YouTube), teenagers Micah and Moriah confronted their folks for neglecting to prepare them for the real world. Micah argued in a confessional that, as parents, they should've aimed to educate their kids as much as possible, but instead Barry and Kim let them down, as he and his sister explained in no uncertain terms.
Although Barry quipped that, as parents, they "haven't reached that level of perfection" yet, he listened to Micah and Moriah's comments — particularly when it came to sex and relationships. Micah implored his parents to do a better job with his younger siblings, while they still had a chance. In a follow-up episode (via YouTube), the committed father approached son Isaac to have "the talk" in a reasonable and upfront manner. Although clearly uncomfortable, Barry acknowledged it gave him the "opportunity to connect with Isaac" in a completely different way, too.
Barry Plath wants to repair his relationships with his kids
The Plath family has fractured since their show premiered, and as a result, Barry and Kim have found themselves cut off entirely from son Ethan while teenagers Micah and Moriah moved out of the family home and spoke out about what they wished their parents had done differently. Barry might be pretty stuck in his ways in many areas, but he's always willing to try when it comes to his kids, as evidenced by the sweet moment when he and Isaac surprised Moriah at work one day. "I do want to maintain good connections with the children that aren't living under the house anymore," Barry explained (via YouTube). As embarrassed as Moriah was, she clearly appreciated the gesture.
Barry's relationship with Ethan is slightly more complicated. Following an explosive incident at the house, Barry expressed regret that things had gotten so bad. As Soap Dirt noted, the Plath patriarch admitted it would "take a miracle" to repair their bond. However, he also acknowledged believing in miracles, opining that if he and Kim could find common ground with Micah and Moriah, then there was hope for their relationship with Ethan, too.
Barry Plath is still coping with the loss of his young son
Losing little Joshua left an indelible mark on the Plath family, particularly the parents. Barry and Kim's relationship was understandably tested by the tragic accident but, as Soap Dirt noted, Barry never blamed his wife even in those moments she blamed herself. He understood that Kim was going to take it incredibly hard, so Barry didn't want to add to her grief any further. Although they don't like to bring up the topic too often, for obvious reasons, in a Season 2 episode of "Welcome to Plathville," the Plath parents shared their loss with the children after repeated questions about Joshua.
While reminiscing about the boy, Barry recalled, "He was a very good snuggler." It's been over a decade since Joshua's passing, but the wound feels just as fresh. The Plath parents visited their son's grave to pay their respects, with Barry saying, "We can just celebrate that we had 17 months to just be with him, and he with us. It was short … some would say it's a premature departure, but we're happy to have had 17 months getting to know him … a special little guy."