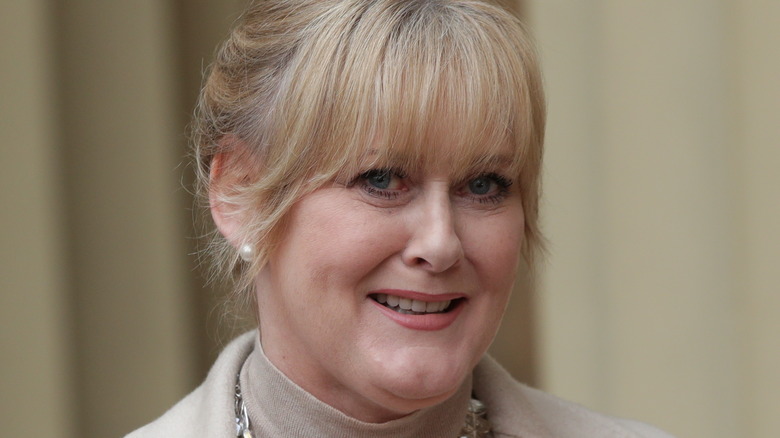 Born Sarah-Jane Abigail Lancashire in Lancashire, England in 1964, this talented actress has been entertaining audiences since she was a teen (via IMDB). The only girl of 4 children, Lancashire has an older brother, younger brother, and also a twin. Her parents are Geoffrey and Hilda Lancashire. According to a Sunday Mirror UK interview republished on Tumblr, she describes the family dynamic as, "My three brothers were all quite intellectual, while I was a bit dippy as a child. I just went round singing, 'La, la, la,' and doing handstands. The best my mother hoped for me was that I would meet a nice man, settle down and have children."
Clearly, Lancashire achieved far more than settling down. She continues to delight audiences both in the UK and US with roles on titles like "Happy Valley" and "Last Tango in Halifax." Ahead of her highly anticipated new role as the iconic chef Julia Child in the TV series "Julia," here's what you need to know about Sarah Lancashire.
Lancashire's newest role will portray legend Julia Child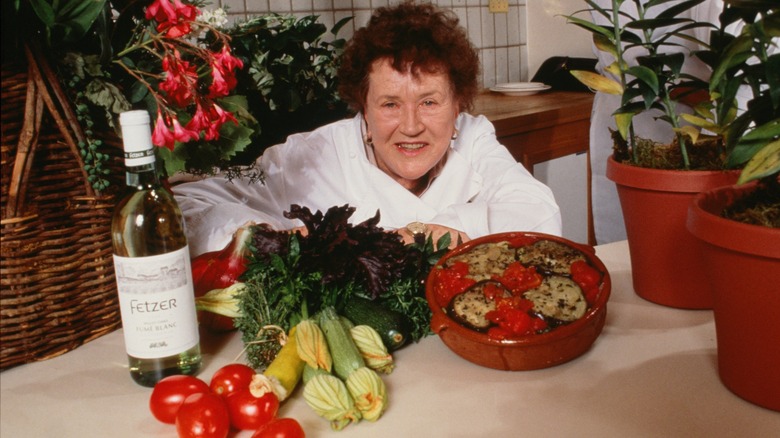 As Vulture reports, Lancashire will be playing the titular role in the new HBO miniseries "Julia." The series will involve topics such as the "emergence of public television as a new social institution, feminism and the women's movement, the nature of celebrity, and America's cultural growth," and is centered around chef Julia Child's "middle-age years."
Lancashire's role was almost taken by another talented actress: Joan Cusack, who "fell out" of the project, possibly due to pandemic-related schedule changes. And quite honestly, Lancashire couldn't imagine a better fit for this iconic role as can be seen by sneak peeks on Twitter where she simply nails the image of the famous tv chef. As one fan tweeted in reply, "Wow. A good likeness. Sarah you have some mad acting skills. Your acting range off the charts."
Seriously, she looks JUST like Julia Child!
Lanchashire's early years
As IMDB notes, Sarah Lancashire began her acting career in television in the 1980s. She is probably best know to British '90s audiences as the "dizzy blonde barmaid Raquel" from "Coronation Street," one of Britain's most iconic and long-running series (via Lancashire Telegraph). More recently, audiences may recognize her from 2000's "Seeing Red" or as Sergeant Catherine Atwood in the "Happy Valley" series, which began in 2014.
Per the Scottish Sun, Lancashire married young to first husband Gary Hargreaves with whom she had 2 sons. They were married from 1987 to 1997. Throughout her early professional years Lancashire suffered from terrible depression that she believes inhibited her career at the time. "In my early days depression did inhibit me," she told Closer Online. "I was too debilitated and terrified to tell anyone why I couldn't get on a train from Manchester for auditions in London." She credits her mother Hilda for helping her overcome these challenges allowing us to see the talented actress and empowered woman she has become today.
A family history on Coronation Street
"Coronation Street" is the long-running British soap that began in the 1960's and has become as much a staple to British daytime television as "Days of our Lives" is to U.S. audiences — IMDB notes it's the "world's longest-running television soap." So ingrained in British culture is this television series that it has even been acknowledged by the Queen herself, who is a huge fan and bristled at the notion of missing a single episode. In 2000, Prince Charles even briefly appeared on the beloved "Corrie" (via Hello Magazine).
For the Lancashires, "Coronation Street" is a family tradition. Sarah played the roles of Raquel Wolstenhulme / Raquel Watts / Wendy Farmer from 1987-2000, and also appeared in the 1995 feature-length special (via IMDB). In addition, Television Heaven notes that Lancashire's screenwriter father, Geoffrey, also helped create scripts for the series, writing on 200 episodes of the show. Talk about a unique family tradition!
Sarah Lancashire's marriage to Peter Salmon
Lancashire married second husband Peter Salmon, who at the time served as the BBC Director of Sport, in a small ceremony that generated big headlines in 2001 (via Lancashire Telegraph). The couple are still together today. Per the Daily Mail, they parent several children, including three sons from Salmon's previous relationship and two from Lancashire's. The couple also has 1 son together, who was born in 2003.
Lancashire and Salmon's relationship originally made headlines for coming on the heels (or stepping on the toes, depending on speculation) of the 20-year relationship Salmon had with common-law wife Penny Watt. And while headline-grabbing at first, this relationship has clearly stood the test of time, likely in part due to the couple's longtime initial friendship.
In addition to his successful beginnings, including helping to bring Wallace & Gromit's "The Wrong Trousers" to home viewers, Salmon has worked on more serious broadcasts in such as Crimewatch UK. In 2020, Salmon accepted the role of Executive Chairman for Banijay, a French company described as "the world's largest content producer and distributor." The company's portfolio includes titles like "MasterChef," "Mr Bean," and "The Island with Bear Grylls" (via Prolific North).
Lancashire's favorite role is mother
A mum to a blended family of 6 boys, Lancashire has always been vocal about the importance of her role as parent. The famous actress emphasizes that when it comes to her kids, she's just a mum. In an interview with The Sunday Mirror in 2000, she describes, "To my children I am a mum. I am nothing more. I am a mum who happens to work on television, which they have been used to since they were born, so there's no big deal. With the amount of Press attention the Street attracts, it means the whole family is dragged into it" (via Tumblr).
While generally very private about her family life, Lancashire shared how she was absolutely thrilled to be a new mum again with the addition of son Joseph in a 2004 interview. "Being a new mum is amazing. I am loving every minute I spend with Joseph and all my boys," she told Mirror UK.
And as for her future wishes, she wisely shares what matters. "Getting old doesn't bother me. As long as myself and my family have got our health, that's all that matters." We hope this talented actress and family will be able to embrace "what matters" for a long time too.