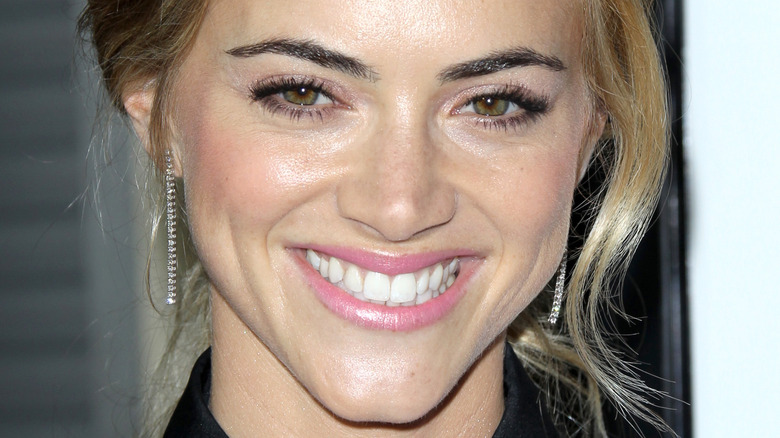 Back in 2013, CBS mega-hit "NCIS" bid farewell to star Cote de Pablo when she made the surprising decision to exit the fan-favorite role of former Israeli Mossad agent Ziva David. For fans of the show, the loss of that beloved character held a silver lining with the arrival of Emily Wickersham. In her new role as NCIS Special Agent Eleanor Bishop, the one-time NSA analyst wasn't so much a replacement for Ziva but an unexpected new flavor, adding fresh zest to a beloved and familiar cast. Fans quickly embraced the new arrival as writers fleshed out the character and how she fit in with the rest of the team.
Since her arrival on the show in 2013, Wickersham's Bishop has been part of countless investigations and storylines, endearing herself to the show's legions of fans throughout the world. In May 2021, after eight years and 172 episodes, she announced plans to exit the show.
After all that time, "NCIS" fans who've come to love Eleanor Bishop might not realize how much they may not know about the actor who played her. To find out more, keep reading and discover the untold truth of Emily Wickersham.
She's Austrian and Swedish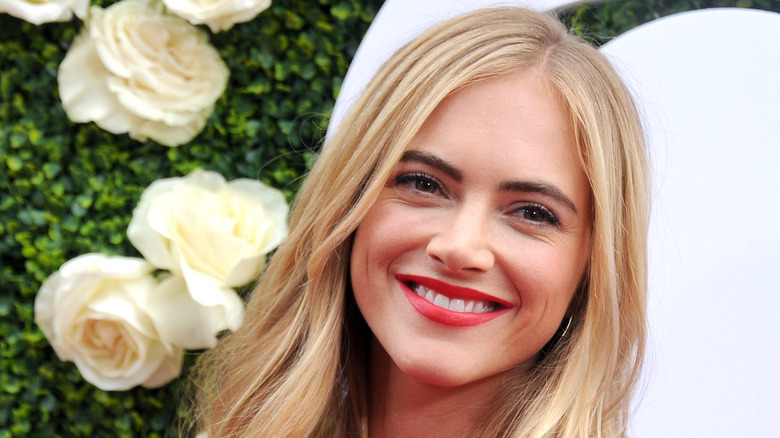 Not long after the introduction of Eleanor Bishop to "NCIS," Emily Wickersham joined host Craig Ferguson for an appearance on "The Late Late Show." Right at the top of the interview, Ferguson pointed out that his guest's name sounds "very English." Wickersham agreed but pointed out that while her name is English, "I am not." In fact, as she told Ferguson, she's actually "Austrian and Swedish — born in Kansas."
She also revealed a recent discovery she'd made about her surname, having learned that "there are Wickersham brothers in a Dr. Seuss book," although she admitted she didn't know which Dr. Seuss book it was — a bit of a rambling conversation that left Ferguson's animatronic sidekick Geoff Peterson "very confused." (To clear things up, the Wickersham brothers are a malevolent trio who harass the titular elephant protagonist in "Horton Hears a Who," and even perform a song-and-dance number in the animated TV adaptation.)
A different line of questioning yielded another nugget of info about Wickersham, when Ferguson asked if she was a vegetarian. "I am a vegetarian," she replied, with Ferguson triumphantly insisting, "I knew you would be!" When she asked how he could have possibly known that about her, Ferguson admitted, "Well, you're an actress … it's kind of a 50/50 shot, really."
Early roles for Emily Wickersham
As Emily Wickersham's IMDb credits demonstrate, she racked up plenty of roles prior to landing her big break on "NCIS." Among these were TV series including "Law & Order: Criminal Intent," "Gossip Girl," and HBO comedy "Bored to Death," in addition to such films as "I Am Number Four," and "Gone."
One of her earliest jobs, however, was one of her most memorable: the recurring role of Rhiannon Flammer in HBO's iconic mob hit "The Sopranos" during its sixth and final season. Rhiannon, as the show's fans will recall, was dating a friend of A.J. Soprano (Robert Iler), but later came to be the Soprano scion's girlfriend when they were both patients in a psychiatric hospital. In one particularly memorable scene in the series finale, Rhiannon and A.J. are making out in his car when the catalytic converter overheats and catches fire, forcing them to flee the vehicle before it goes up in flames and explodes.
In September 2021, Wickersham appeared on the "Talking Sopranos" podcast, hosted by "Sopranos" actors Michael Imperioli and Steve Schirripa, with the latter asking her if appearing in the much-watched (and still-controversial) episode helped her land more acting work. "I think it did," Wickersham remarked. "'The Sopranos,' to me, and I think to most people out there, is like the ultimate TV show … so I think it does grab a lot of people's attention."
NCIS was her 'first big TV job'
While Emily Wickersham's role on "The Sopranos" did indeed grab some attention that resulted in more acting work, it wasn't until she was cast as Bishop in "NCIS" that she really felt that she'd arrived. Speaking with CBS Watch, Wickersham described "NCIS" as her "first big TV job, really being on a show as a main character," and admitted she "was nervous in the beginning" as she found herself integrating with a cast that had already gelled after working together over the course of numerous years.
In fact, noted the New York Post, producers looked at "hundreds" of actors for the role, with Wickersham selected as one of four finalists brought in to audition on camera with "NCIS" stars Mark Harmon, Michael Weatherly, and Sean Murray. "We had written scenes, even though there wasn't a script yet," said Gary Glasberg, then the show's exec producer and showrunner (he died in 2016 at age 50). "And in walks Emily Wickersham, and she does this fantastic scene with Mark Harmon that left us all looking saying, 'I think that's it.'"
When she was offered the part, no one was more surprised that Wickersham. "By no means was I expecting to get the job," she admitted, recalling she may have actually been preparing for another audition when her agents called with the extraordinary news she'd won the role.
Her first day at NCIS
Being hired on "NCIS" was "a big, big thing," Emily Wickersham mused to the New York Post. Not surprisingly, she found her first day on the set to be more than a little nerve-racking.
"My first day here, I was really, really nervous and intimidated," Wickersham said. "When I get nervous, my heart races and I talk more than I usually do." Wickersham was well aware that landing the role of Bishop was far from a slam dunk; the character — and her performance — needed to be accepted by "NCIS" fans who were still mourning the departure of Cote de Pablo.
"You always worry a little bit about what's going to happen," her co-star Sean Murray, who plays Special Agent Timothy McGee, told the New York Post. "But it's also taking a brick out of the wall. You want to make sure the new brick is going to slide right in there nicely."
What Wickersham didn't realize was that even though she'd landed the part, her audition wasn't over, as producers, crew, and cast scrutinized her off-camera behavior as well. As Murray explained, she passed that stage of the audition as well. "She's bubbly, super excited to be here and to tackle whatever is put in front of her," he told the Post. "There was just something about her that felt right."
Gun training
Not only was Emily Wickersham unprepared for the instant stardom that would result from joining the cast of "NCIS," she also had a pretty steep learning curve when it came to realistically portraying a former NSA analyst and gun-brandishing NCIS special agent. As the New York Post pointed out, Wickersham received some expert tutelage in everything from weapons to handcuffs from Leon Carroll, a one-time actual NCIS agent serving as the series' technical advisor.
"I had never held a gun in my life, but my character becomes an agent so I had to know how to shoot," Wickersham explained in an interview with CBS Watch. Carroll, she said, took her to a gun range, where she "felt like the gun was going to turn around and shoot me, even though I was pointing it away."
However, Carroll told the Post, Wickersham "didn't flinch" when she pulled the trigger and was met with an explosive noise and a furious recoil. Still, she told TV Fanatic, her first time firing a gun was "the scariest thing. I think I'm more comfortable with it now; I definitely feel better and more comfortable about it … but I was so scared and nervous about it at first."
Emily Wickersham leaves NCIS
In May 2021, Emily Wickersham took to Instagram to share a major announcement with her 345,000 followers. "Hangin this hat and jacket up. What a great ride it's been," she wrote in the caption, accompanying a photo of herself costumed as Ellie Bishop on the set of "NCIS." She continued by writing, "I can't say enough kind words about this group that I've had the pleasure of working with for close to 8 years now and 172 episodes later. This business is finicky and weird and consistency is a rarity. I've been lucky enough to be a part of a show where I got to show up and act and laugh and learn with wonderful people. A moment in time I surely won't forget."
Wickersham's fans, however, were not prepared to say goodbye, and many of them shared their shock on social media. "Please tell me Emily Wickersham is not leaving!!" wrote one "NCIS" viewer on Twitter. "We are not ready for Bishop … tell me she's in next season 19? I just don't accept it," tweeted another.
Another fan tweeted a sentiment that was likely shared by many: "I will still continue to watch, but it's going to be really different. Emily Wickersham was my favorite."
L.A. real estate
It's no exaggeration to say that 2021 was a year of big changes for Emily Wickersham. Not only was that the year she revealed she was calling an end to her eight-season adventure on "NCIS," but she was also ready to move on in a very physical sense by selling her home.
According to Dirt, in June of that year, Wickersham put her house on the market, described as a "delightful 1930s Spanish-style cottage in Los Feliz," asking $3.85 million. Interestingly enough, the home has something of a Hollywood pedigree; the previous owner, in fact, was singer/songwriter Alexandra Edenborough, whom Dirt pointed out was the "fourth ex-wife" of Oscar-winning actor Gary Oldham. Prior to Wickersham's purchase, the home had undergone a "thoughtful renovation while preserving historical details throughout."
As American Luxury reported, Wickersham sold the house, receiving her full asking price. That sale added a few dollars to her bank account — $1.25 million of them, to be precise, given that she purchased the 3,341-square-foot abode in 2019 for the "discount" price of $2.6 million.
Bad jokes are okay
If there's one thing that makes Emily Wickersham laugh, it's a bad joke. That became apparent in a video for Esquire, in which a "funny joke" is told by "a beautiful woman," accompanied by a disclaimer reading, "Esquire cannot guarantee that this joke will be funny to everyone." As Wickersham jokingly points out in the video, she used to tell "self-deprecating jokes" but was admittedly "very awful, and terrible, and stupid at it."
As for the joke itself, it's of the type that typically elicits groans, not laughs. "So a mushroom goes into a bar and asks the bartender for a drink," Wickersham says. "The bartender says, 'Sorry, we don't serve mushrooms here.' The mushroom says, 'Come on! I'm a fungi!'"
In a second Esquire video, Wickersham shares her comedic tips for holiday gift-giving when one is at a complete loss. "When in doubt," she quips, "a gift card is a great way to show someone that you don't care about them all that much."
The rocker ex-husband
With perhaps a few rare exceptions, Emily Wickersham has had a tendency to keep her private life tightly under wraps. This has included her marriage. As the Express reported, in 2010 she wed Blake Hanley, lead singer of the indie band Ghost Lion.
The marriage, however, didn't last. According to the Express, the couple divorced in 2018, and neither has publicly addressed the split (Hanley, in fact, has no social media presence on which to address it).
However, Hanley did make an oblique reference to the breakup in a 2019 interview with Palm Beach's CBS affiliate, while promoting a Ghost Lion gig. In the interview, Hanley discussed the experience of returning to his hometown of Palm Beach in the wake of his divorce. "Coming home after such a long time, it felt odd. I had gone through a lot of heartbreak," he explained, referencing his split from Wickersham. "With everything I've gone through, it has been a year … it has been a journey," he added.
The actor's big news
Emily Wickersham's announcement that she was leaving "NCIS" was big news, but the reason underlying the announcement was even bigger. On July 30, 2021, just over two months after her exit post, Wickersham shared another photo on Instagram, this one featuring her bikini-clad self appearing to be quite pregnant. In the caption, she wrote that her mother was "taking a photo of a future mom with a baby boy on the way!"
That makes perfect sense when considering that Wickersham's IMDb profile shows no movies or TV series lined up after "NCIS" (at the time of this writing), indicating the plan could be to take some well-earned time to spend with her new baby before jumping back into another project. For the mother-to-be, the future is wide open. Given the fanbase she developed during her years on "NCIS," it's a no-brainer that she'll be able to have a wealth of opportunities waiting.
Meanwhile, Wickersham — who divorced husband Blake Hanley in 2018 — has not publicly revealed the identity of her baby's father. There is some evidence, however, indicating the daddy may be actor James Badge Dale. Dale, known for roles in such TV dramas as "24" and "Hightown," has regularly shared photos of Wickersham on social media, including one of her on a beach and another in which she appears to be giving him a peck on the cheek. "Happy Third Trimester baby," he wrote in the caption.
An early arrest
Emily Wickersham has not been the kind of celebrity whose name appears in scurrilous tabloid headlines. And while she's certainly no Shia LaBeouf or Lindsay Lohan, there was at least one time when Wickersham wound up on the wrong side of the law.
During a joint appearance on "Rachael Ray" with her mother, Amy, Wickersham opened up about her criminal past. That revelation came when the mother-daughter duo played a game in which Wickersham's mom answered three questions about her daughter, with Wickersham then asked to guess what those responses had been.
When asked about the most scandalous thing her daughter had done while attending college, Wickersham's mom wrote, "Caught drinking beer in a bar and was taken away in a squad car." Wickersham, however, was quick to defend herself. "For the record, it was just because of the fake I.D. Nothing else!" she insisted. Her mom, however, also pointed out that her daughter's arrest had led to a certain degree of notoriety, landing her "on the cover of the college paper the next day."
The star's secret talent
Emily Wickersham is more than just a beloved actor. In a 2016 interview with Good Housekeeping, she shared a secret talent that would likely prove surprising to those who only know her from her television and movie roles. "I can throw a football pretty well. Perfect spiral. Just sayin'," she boasted.
In that same interview, she also revealed the one skill she has not managed to develop. "I'm not the best in the kitchen, but if someone gives me something to do, I can do it," she admitted. "I'm a good teammate. Come Thanksgiving time, I kind of just do what my mom tells me to. I can put the turkey in the oven and make a mean salad, but that's the extent of it!"
As for who would be the cook in her household, she joked, "The cook in my house doesn't exist. The cook exists in all the restaurants and my surrounding area. We do a lot of Postmates. I'm Postmates' #1 customer."
She didn't set out to be an actor
Becoming an actor hadn't necessarily been the plan for Emily Wickersham. As she revealed in an interview with CBS Watch, she had other aspirations driving her when she was younger.
"I grew up as a total tomboy," she explained. "My childhood consisted of lots of tennis," she added, and at one point considered pursuing the sport seriously. "As a kid, I fantasized about becoming a professional tennis player while at lots of Long Island Sound beach clubs and riding my bike," she said.
After graduating high school, Wickersham attended Muhlenberg College in Allentown, PA, where she majored in painting. This, she explained, was a natural extension of growing up in a family in which "my mother is a painter, my father does art, too, and my brother is a photographer, so there are lots of artists in my family …" However, she admitted, a future in art "didn't feel quite right, so I dropped out and moved to New York City."
Emily Wickersham's net worth
Prior to landing her life-changing role as Ellie Bishop on "NCIS," Emily Wickersham was making a name for herself in a series of small roles that ultimately led her to the CBS procedural drama. While she likely didn't make a whole lot of money with those earlier roles, that certainly changed when she joined the established network hit.
In fact, Celebrity Net Worth reports that she's amassed a tidy fortune estimated at $6 million — not too shabby for a college dropout who had never envisioned a career as an actor. As Wickersham told CBS Watch, she was somewhat directionless at that point, living in New York City and wondering what she was going to do with her life. It was then, she explained, that she "started taking acting classes because I felt like, 'If I've dropped out of college, I should probably do something worthwhile and challenge myself.' Before that, acting had not been on my radar at all."
As she admitted in an interview with The Chic Spy, studying acting led her to feel "out of my element, but intrigued and interested in learning more." It wasn't until she'd landed an agent and booked her role on "The Sopranos," she said, that she became "totally hooked and just wanted to do more and more."