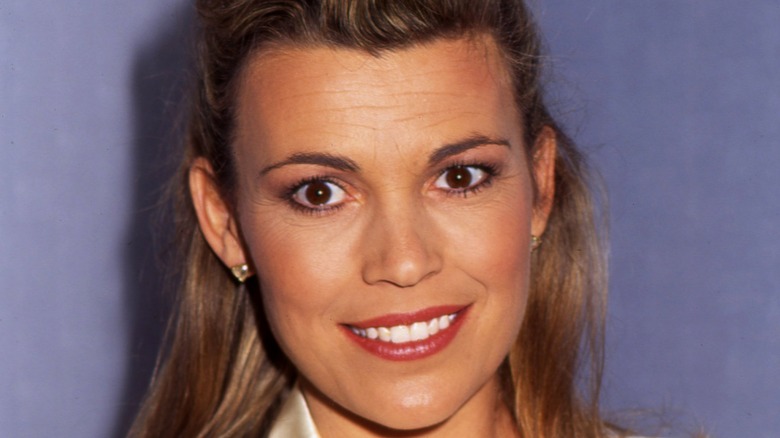 Vanna White was propelled to fame by glamorizing a glorified version of the morbid hangman game. Instead of watching a doomed stick guy appear piece by piece, "Wheel of Fortune" contestants get to gaze at the iconic White, who perpetually flashes her veneer-free pearly whites and glides across the stage in glittering gowns. She's been turning and touching letters since the early '80s, and we're fairly certain that a large fraction of Wheel Watchers are actually Vanna Viewers.
Vanna will be the first to tell you that her work on "Wheel of Fortune" is as easy as it looks. "I can't say that it is a hard job, because it's not," she told The Believer in 2018. However, the man who hired her, entertainment mogul Merv Griffin, argued that her job does require a certain level of skill. "She has to know where the lights are going to pop, and if you swing those letters too far, they turn back around," he told Entertainment Weekly in 1991. "That's a lot to think about — especially in high heels."
Speaking of White's wardrobe, she's worn over 7,000 dresses on the show. Many of them are gowns worthy of a red carpet event, but she told ABC News' "Nightline" that she prefers pieces with higher hemlines so she doesn't have to worry about tripping. However, there's so much more to White than glamour and good looks, so read on to solve the puzzle of why she's one of our favorite TV icons.
How appendicitis played a role in Vanna White's entertainment career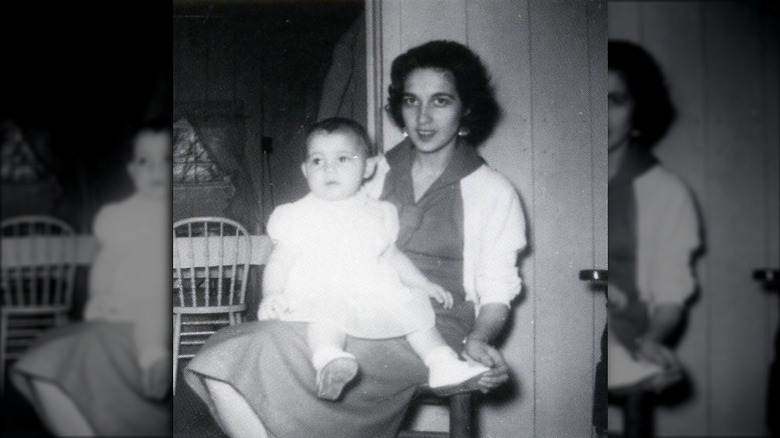 Vanna White was born on February 18, 1957. She told The Believer that she's named after a neighbor of her grandmother's, but her mom upped the moniker's "Wheel of Fortune" value by adding an extra "N." Her biological dad walked out on the family when she was young, so she adopted her stepfather's surname when her mother remarried (via Grand Strand Magazine).
White spent her childhood in North Myrtle Beach, South Carolina, where her father was a postal worker and her mother worked as an accountant. "We didn't lock our front doors at the time. It was a very simple life," she said. But while she speaks fondly of her upbringing, it wasn't long before she realized that staying in her small town of 5,000 people wasn't the future she wanted.
When she was 10 years old, White had to have her appendix removed and was watching TV on the couch while she recovered. Her mother noticed that the show "Rat Patrol" was on and informed White that her "uncle," Christopher George, was an actor on the series. "I thought: Wow, I have an uncle on TV," White recalled. "I wanna be on TV." Years later, George (who was actually a family friend) offered her some advice about making it in Hollywood that she shared in her autobiography "Vanna Speaks" (per The Chicago Tribune): "Vanna, you can't get a job in this town lying on your back."
Vanna White was a pageant queen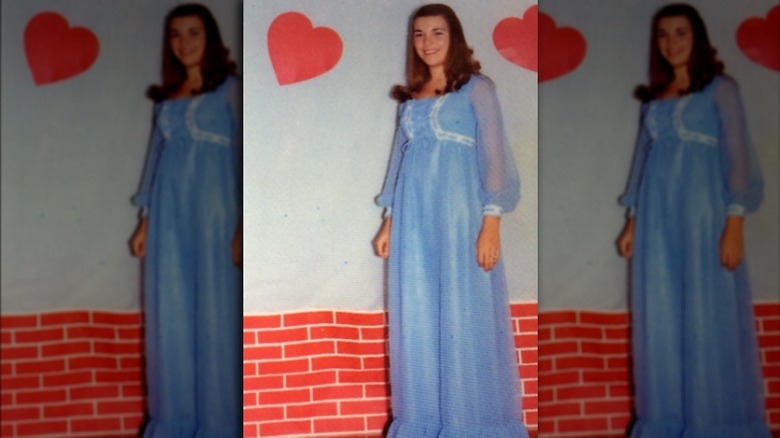 As you can see from Vanna White's 1975 prom photo above, she is not a natural blonde. However, she was rocking her iconic golden locks by the time she moved to Atlanta, Georgia, after high school. There, she enrolled in the Atlanta School of Fashion in hopes of becoming a model (via Grand Strand). She also competed in the 1978 Miss Georgia Pageant, where she was fourth runner-up. The event's host, Jim Gibson, shared a video of White competing in the event on his YouTube channel. He explained that White looked "confused" during the swimsuit segment because "the contestant before her fell off the runway and fractured her leg." We're just going to guess that White didn't tell her to break a leg beforehand.
White told The Believer that she actually watched "Wheel of Fortune" while she was living in Atlanta and even wrote to the show in hopes of being a contestant. She received a letter back encouraging her to audition if she ever visited Los Angeles. She eventually decided to move to the city to pursue her dreams of being an actor. However, when she arrived, she was closer to being bankrupt than she was to earning big money. "I immediately got a job as a waitress so I could pay the bills. I slept on the floor, too," she said on the "1on1 with Jon Evans" podcast. "We didn't have furniture or anything. But I was following my dream."
Vanna White had a negative experience as a contestant on The Price is Right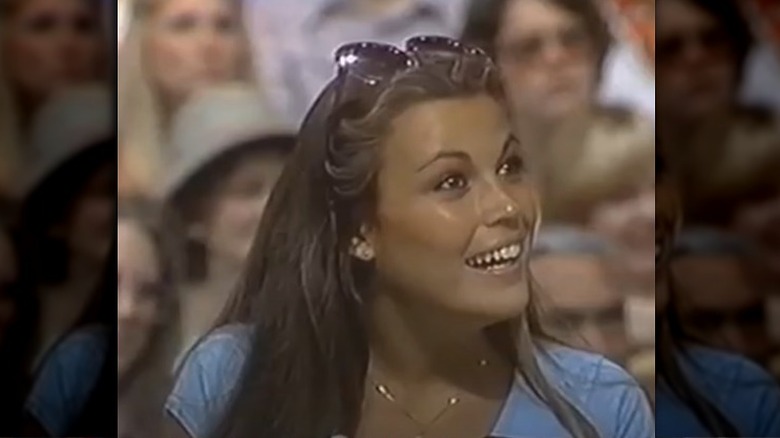 The summer after Vanna White moved to Hollywood in 1979, she had to return home to visit her ailing mother, who soon died from ovarian cancer (via Grand Strand). The loss just made White even more determined to make it. "That was devastating to me," she told Closer Weekly. "But it gave me the strength to prove that her support was going to help me achieve my goal." That same year, White finally managed to get on TV — as a contestant on "The Price is Right."
When Pat Sajak interviewed White for a 2000 episode of "Larry King Live," he asked his co-host about her first game show appearance. She didn't win any prizes after being invited to "come on down" to Contestants' Row, and the way Bob Barker treated her further soured the experience. She described him as "rude" and recounted how he accused her of not being serious about the game. "He said if you would stop looking in the monitor maybe you might win something," she recalled. "But what I was looking at was my girlfriend that was in the audience." She explained that the pal was trying to help her out by telling her prices for her bids. Unsurprisingly, White never became one of "Barker's Beauties," but she did land a few acting roles in the movies "Graduation Day," "Looker," and "Midnight Offerings" before finally getting her big break.
How a hockey WAG helped Vanna White get her Wheel of Fortune gig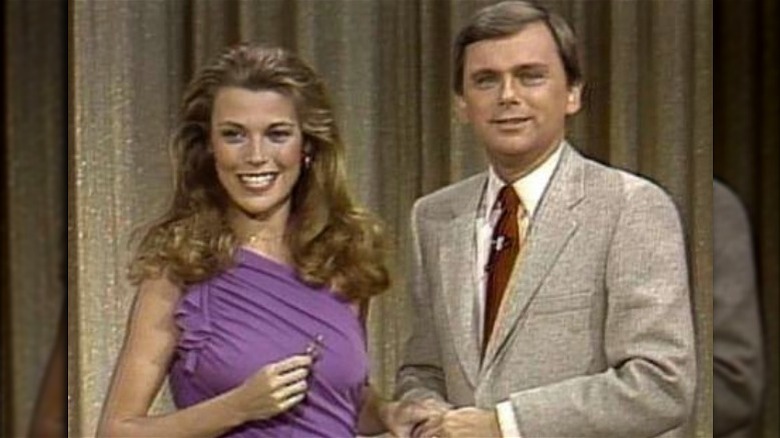 Fortune smiled on Vanna White when original co-host Susan Stafford left the daytime version of "Wheel of Fortune" (via CBS News). During a Television Academy Foundation interview, White recalled the fateful day in 1982 when she and her boyfriend at the time, actor John Gibson, attended a taping of the Merv Griffin-produced show "Dance Fever." She knew one of the dancers there, who just so happened to be Janet Jones, the future wife of hockey great Wayne Gretzky. White asked her friend if she could introduce her to someone who could help her get an audition for the "Wheel" gig. "She introduced me to Merv's right-hand man. He said, 'Here's my card. If we haven't made a decision by October 5, you can come in and audition,'" White recalled to The Believer.
White got her chance to audition. Her competition originally included over 200 hopefuls, but it eventually came down to her and author Vicki McCarty Iovine, who was "a very good friend" of hers (via Fox News). While speaking to Pat Sajak on "Larry King Live," White recalled how she felt during her life-altering audition. "I think I did terrible, because I was so nervous. I couldn't talk. My knees were shaking," she recollected. She also felt intimidated by her competition. "The girl I was competing against was the complete opposite of me: poised and brunette and perfect," she told The Washington Post.
Pat Sajak made a shocking confession about Vanna White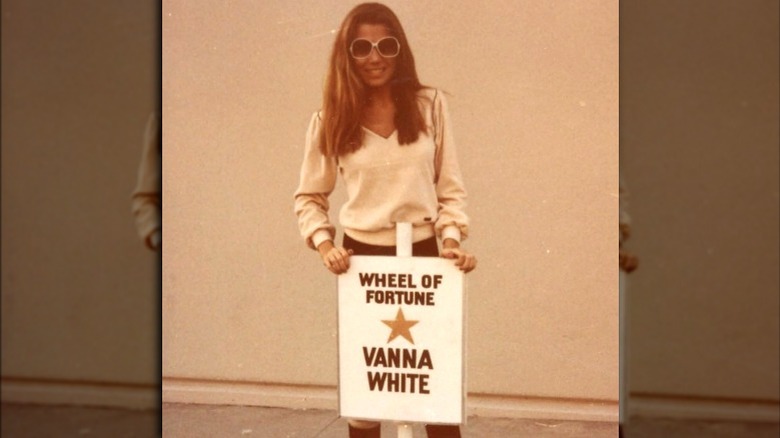 Luckily for Vanna White, Merv Griffin saw something in her and wanted her on his show. He told Entertainment Weekly that she got the "Wheel of Fortune" gig because she had "the Rita Hayworth look," while White remembers she was chosen because she "turned the letters better than anyone else," per The Believer. During a 2019 interview with Us Weekly, she suggested that a diet and exercise plan that helped her lose 25 pounds also played a role in getting her the job. "Maybe it was a certain glow that made me stand apart from the other 200 girls," she said. "I believe that my diet and exercise program had a great amount to do with it."
Pat Sajak thought his boss was making the wrong decision, and he told him so. "So I said to Merv: 'Now, I don't know about — you know, this other girl is more polished,'" he recalled on "Larry King Live." Griffin responded by suggesting that White's competitor was a "little too polished." Luckily, White didn't hold a grudge against Sajak for speaking out against her, and she told Fox News that they've only ever argued about one thing: her controversial use of a popular condiment. "I put ketchup on my hot dog. He does not like that," she told ABC News. "It wasn't too long ago, actually. He thought it was absolutely disgusting."
Vanna White had a falling out with Hugh Hefner over lingerie photos after her fiancé died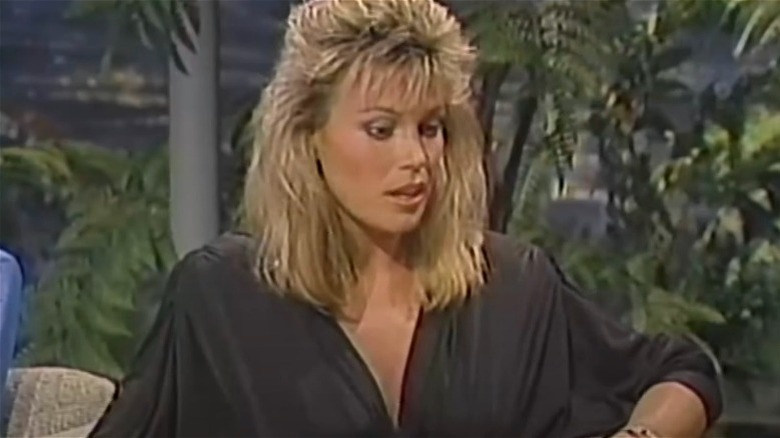 By 1986, "Vanna-mania" had gripped the nation. Vanna White was preparing to lift some of the mystique surrounding her by releasing her memoir "Vanna Speaks," and her relationship with Playgirl centerfold John Gibson was making her adoring public even more interested in her life. The couple was engaged but never made it to the altar. That May, a coroner showed up at White's home to inform her that Gibson had died in a plane crash. "The second I heard about it, I fell to my knees. It was just devastating," she told People.
White credits her fans with helping her cope with her grief by reaching out to her and sharing their own experiences with loss. Unfortunately, she was dealt another blow the following year when Playboy published photos of her from an old lingerie shoot. She told Fox News that she had posed for the pictures when she first moved to Hollywood and was in desperate need of money, and Hugh Hefner later purchased them. "I knew Hugh Hefner, and I actually went to him and said, please don't do this," she said on "Larry King Live." "I just started on this show, and it can really hurt my career." After he ignored her pleas, she appeared on "The Johnny Carson Show" to apologize for the photos and never visited the Playboy mansion again (via ABC News).
Vanna White played the Goddess of Love and stole Sylvester Stallone's heart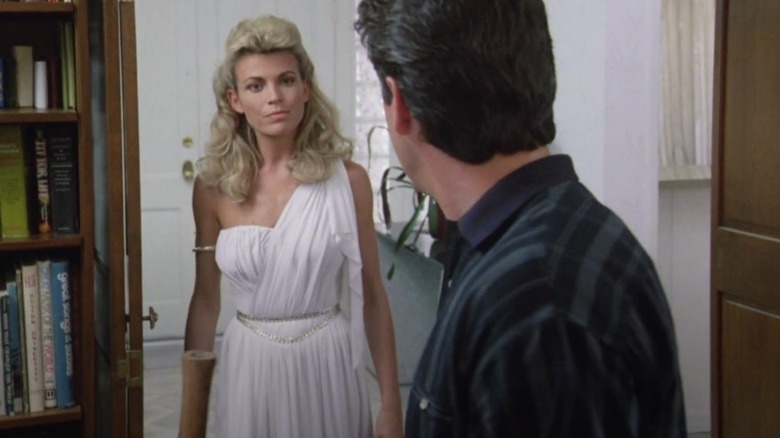 In 1988, Vanna White finally made her acting dreams come true by landing the lead role in the made-for-TV movie "Goddess of Love." She played the goddess Venus, who had been turned into a statue by Zeus and freed in the '80s. White had to endure being covered with plaster for 45 minutes while in Venus' sculptural form (via The Chicago Tribune).
Knowing that her budding career as an actor was at stake, White worked with an acting coach to prepare for the part. "My butt is on the line," she told The Los Angeles Times. "This could make or break me." Unfortunately, critics destroyed her chances of landing future acting roles like a bolt of Zeus' lightning, with The Chicago Tribune deeming the movie "simply Beyond Dreadful."
While critics didn't fall in love with White's acting, she did become the leading lady of one of the era's biggest movie stars: Sylvester Stallone. The meat beater and the letter-turner might seem like an odd match, but they met at a book convention (Where else?) and hit it off, according to The Buffalo News. White was Stallone's date at the White House Correspondents Dinner, and the "Rocky" star reportedly mentioned her while meeting with a young fan with cerebral palsy. He joked that the boy wanted his job, but let him know there was one thing he couldn't have. "Don't take Vanna from me," he said, per UPI.
Vanna White kissed Pat Sajak before getting married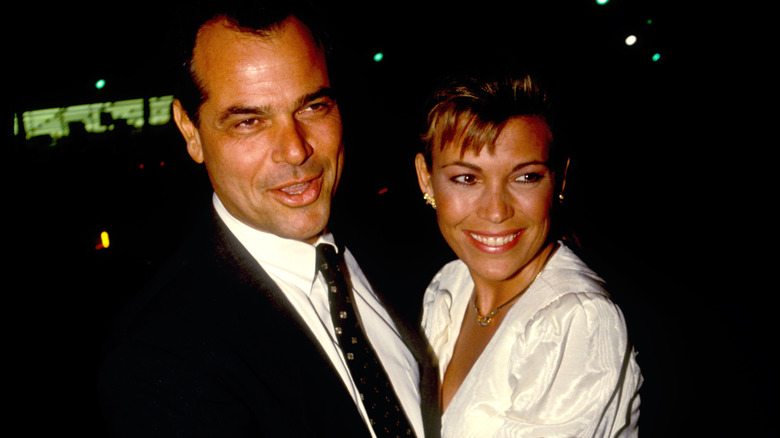 In 1988, Pat Sajak decided to exit the daytime edition of "Wheel of Fortune" to host his short-lived talk show, and he made sure that he went out with a splash. After saying his farewells to the audience, he turned his attention to Vanna White. "Come here, baby," he said to his co-host before sliding his arm around her waist. White shot the audience an incredulous look as Sajak grabbed her neck and kissed her passionately. The shocking liplock lasted about 10 seconds before Merv Griffin stepped in to stop it.
Because fans have watched Sajak and White work together for years, they've naturally wondered whether the couple has ever been romantically involved. However, White told Closer Weekly that they "are like brother and sister," which makes that kiss even more uncomfortable to watch. During an interview for The Television Academy Foundation, Sajak and White recalled playing an April Fool's Day joke on fans by acting like they were "together" and being showered with wedding gifts like toasters and crockpots for years.
By 1990, White was receiving real wedding gifts — she and restauranteur George Santo Pietro tied the knot that year on New Year's Eve. During their "Larry King Live" chat, Sajak pointed out that he and his wife, Lesly Brown, also wed on the holiday and had two children, just like White and her husband. "I did all this stuff first, so you pretty much copied my thing," he said.
Vanna White made a happy announcement on Wheel of Fortune before suffering a tragic loss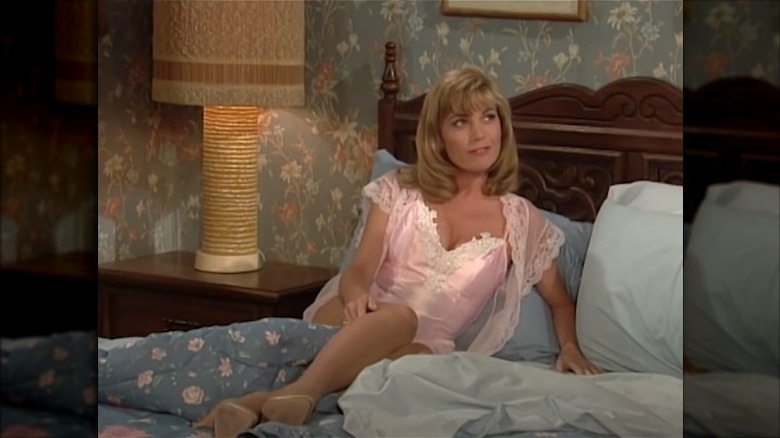 In 1992, Vanna White and George Santo Pietro learned that they were expecting. White was so excited that she decided to share the happy news on "Wheel of Fortune" in the form of a puzzle reading, "Vanna's Pregnant" (via People). Sadly, her joy was short-lived — she suffered a miscarriage just days later. "I don't know how you describe that loss," she told Closer Weekly in 2018. Her father, Herbert White, spoke to the Orlando Sentinel after the sad news broke. "Vanna's a trouper, and she said she'll be trying again," he said.
By the following October, White was pregnant again, and her acting career was on the upswing. That May, she had appeared in an episode of "Married… With Children" titled "The Proposition," a sendup of the movie "Indecent Proposal." White once told The Morning Call that she'd love to play "a vixen," and she got her chance when she portrayed a seductive ex of Al Bundy (Ed O'Neill) who offered $500,000 to take him off Peggy's (Katey Sagal) hands.
It was a role that showed White's range, but her priorities changed when her son Nicholas, a.k.a. Nikko was born in June 1994. "Prior to having my first child, I had a huge ambition to go into movies and TV," she told The Washington Post in 2013. "But after I had my children I just became . . . mother was my first job."
Vanna White's marriage ended after she talked to Pat Sajak about relationship issues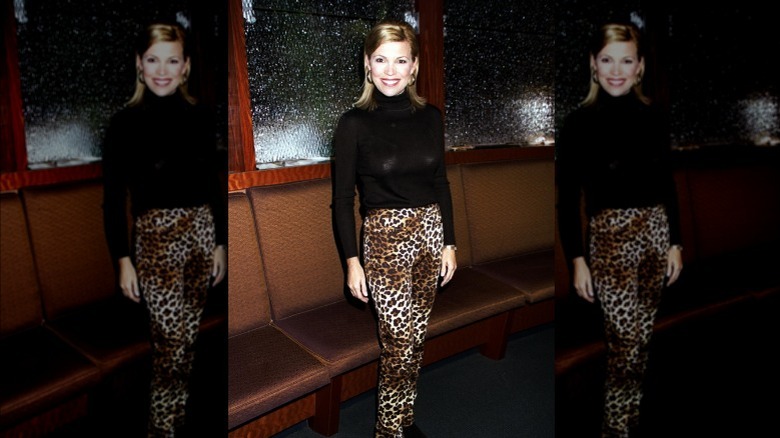 Nikko was just seven months old when Vanna White announced that she and George Santo Pietro were expecting their second child. "It makes everything better," she told The Baltimore Sun of her experience with motherhood. "It makes life worth living." Her daughter Giovanna, a.k.a. Gigi was born in 1997, which is the same year White's career got easier — instead of manually turning letter cubes on "Wheel of Fortune," she began touching a computerized screen to make those consonants and vowels appear. She told CBS News that the switch "saved hours" of work for the show's crew.
Sadly, the happy times didn't last for White's family of four. In 2000, she told Pat Sajak that her marriage wasn't in a good place. However, she denied tabloid reports that she and Santo Pietro weren't living together. "Marriages do have their ups and downs, and, you know, we have been going through a bad time, but we are working through it. And hopefully a good outcome will happen," she said during their "Larry King Live" interview. But by 2002, the couple had decided to divorce. According to Closer Weekly, they remained on "civil" terms for the sake of their kids. Two years later, White got engaged to businessman Michael Kaye. A friend of White's told Closer that he seemed like an ideal match for her because he was "low-key and a bit of a homebody."
Vanna White ended another relationship and fulfilled a big Hollywood dream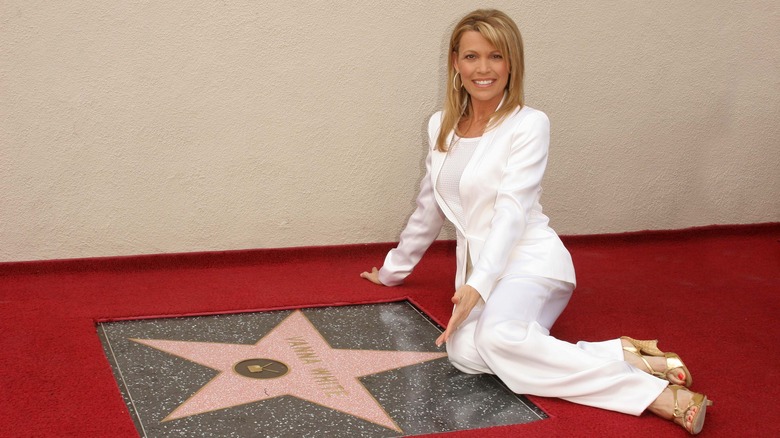 In 2006, Vanna White suffered another heartbreak when she and Michael Kaye parted ways (via ET Canada). However, she had a reason to celebrate that same year when she received a star on the Hollywood Walk of Fame. She would later make Time's list of the "Top 10 Dubious Walk-of-Fame Stars," but the magazine can't take away the fact that she got her name immortalized in pink stone ahead of George Clooney, Julia Roberts, Brad Pitt, and Angelina Jolie (via Newsweek). It had been a dream of White's for a long time. "When I first moved to L.A., I went walking down the Hollywood Walk of Fame and I would tell myself, 'One day I'm going to have my own star,'" she told Fox News in 2017.
That star is just one of the many reminders of White's status as a pop culture icon. She played herself in a number of movies and TV series, including "Naked Gun 33 1/3: The Final Insult," "The A-Team," "The King of Queens," and she received a shoutout from Nelly in the rapper's 2001 hit "Ride Wit Me." "I be on the next flight / Paying cash; first class – sitting next to Vanna White," he sings. White met Nelly at a party and asked him about the reference. "I said, 'Did I sit next to you on a plane?'" she recalled to ABC News' "Nightline." "He said, 'No, it just rhymed.'"
Vanna White was honored for holding a world record after finding love again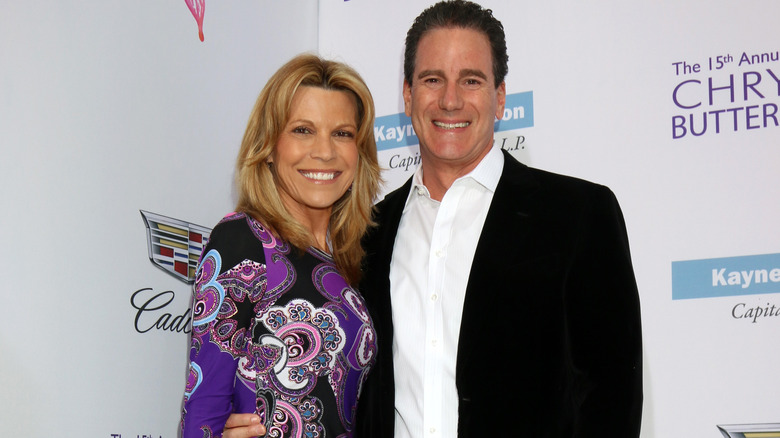 In 2012, Vanna White began dating real estate developer John Donaldson. Their romance had a Southern start befitting a South Carolinian belle like White: They met at a barbecue cookout, where they were introduced to each other by White's best friend. "I remember looking at him and thinking, 'He's really cute,'" she recalled to People. The two struck up a conversation that lasted for "a long time," proving that "Vanna Speaks" quite a lot when she's smitten with someone. "He is kind, understanding, and lets me be me," she told Closer Weekly of her beau. In 2018, she updated the outlet on their relationship status, saying that she wasn't sure if marriage was in the cards. "At this point, I feel like I am married. Everything is so good, there's no reason to change anything," she stated.
A year after White met Donaldson, she had another reason to celebrate. On "Wheel of Fortune," a Guinness World Records representative presented the co-host with a plaque honoring her as the world's "most frequent clapper." It was estimated that she clapped her hands together an average of 606 times per show for a total of 3,480,864 claps at the time of the award presentation. "And I have no calluses to prove it," she said during a 2017 Focus TV interview.
How Vanna White used her love of crocheting to raise millions for a good cause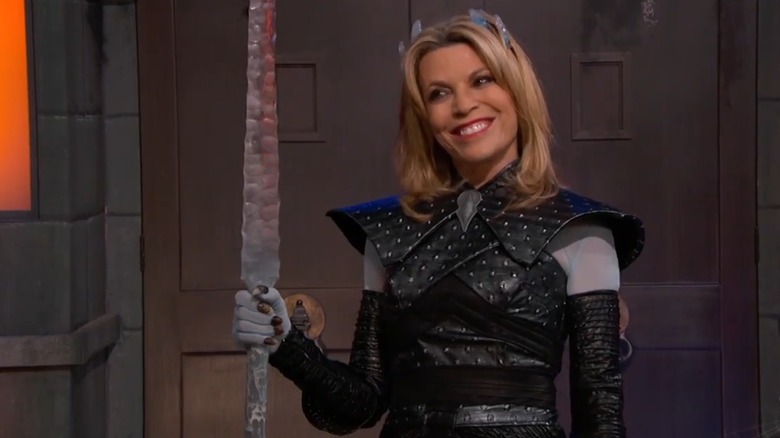 Because Vanna White's job looks so simple, she's had to endure a lot of hate from critics over the years (We're just going to assume they're jealous of her success). According to The Chicago Tribune, she's been called a "dumb blond" and a "bimbo," when in reality, she's a brilliant businesswoman. She's used her celebrity to sell a variety of products, including clothing and fragrances (via The Morning Call). And while she has often been compared to Barbie in a manner that's meant to be disparaging, she didn't let those hateful comments stop her from putting money in the bank by selling her own fantastic plastic Vanna doll.
One of White's most successful business ventures is her Lion Brand yarn line, Vanna's Choice. She got involved with the company because she actually uses a lot of yarn. "When I was five years old, my grandmother taught me how to crochet," she told ABC News. She dropped the hobby for a while, but "picked it up again" when she began filming "Wheel of Fortune." Half of the proceeds from sales of her yarn go to St. Jude Children's Research Hospital, and the donations reached $2 million in 2018. White loves making baby blankets, but we wonder if the "Game of Thrones" fan could crochet a "Vanna White Walker" costume like the one she wore for Jimmy Kimmel's 2017 Half & Half Halloween Costume Pageant.
How Vanna White felt about subbing for Pat Sajak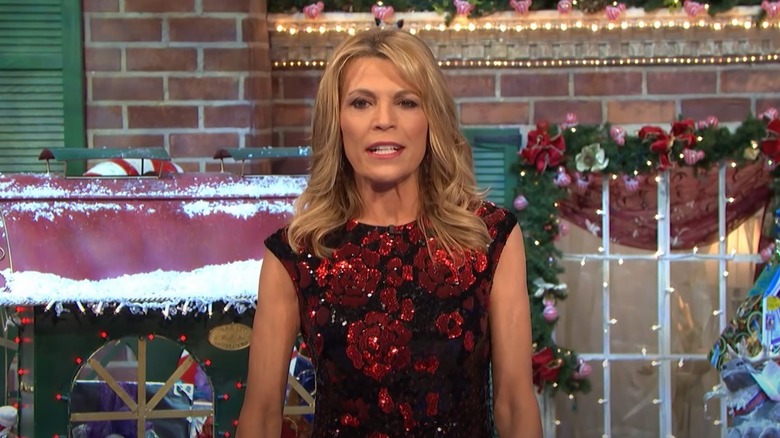 Vanna White faced what was arguably the biggest challenge of her career in 2019 when she was asked to temporarily take over hosting duties from Pat Sajak. He had to undergo emergency surgery for a blocked intestine, and the suddenness of the health scare gave White little time to prepare. "To have to carry the show was kind of scary," she told Closer Weekly. Luckily, her stint in Sajak's shoes got a warm reception from fans, but she told CBS News that doing it again was "not at the top of my list."
In 2020, White did something else unprecedented on "Wheel of Fortune," and it involved her wardrobe. "Can you believe, for the first time ever, I wore the same dress twice after 7,000 dresses?" a clearly annoyed White said in a video on the "Wheel of Fortune" YouTube channel.
Since the beginning of her career, White has gone from making $200 per show to $10 million a year, and her net worth is reportedly $70 million (via Celebrity Net Worth). This isn't bad for someone who only has to work four days a month and loves what they do. "I will be the first to make fun of my job — I turn letters for a living, really?" White told NPR in 2017. "And in the beginning I was put down quite a bit for that. But I've made the best of my job. I love my job."