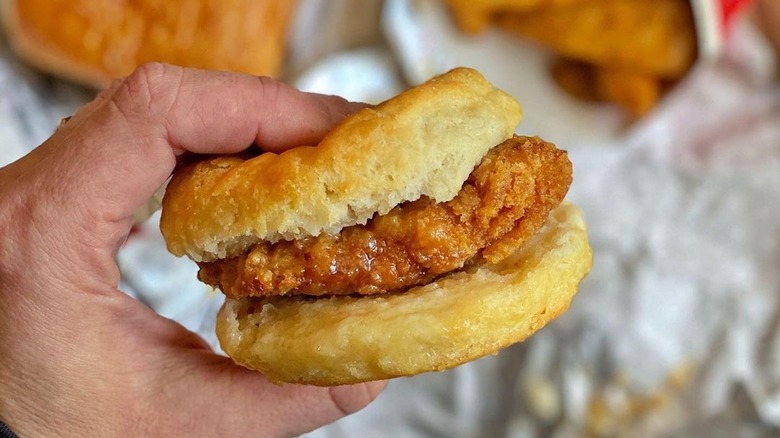 Like macaroni and cheese or shrimp and grits, fried chicken and biscuits are a classic food duo that's famously associated with Southern food. There's just something special about biting into a juicy, tender hunk of fried chicken with a crispy, craggy, golden brown crust, served alongside a soft and flaky biscuit slathered with butter, gravy, or something sweet. Of course, not everyone has the time to fry their own chicken and bake biscuits from scratch. Thanks to the ever-expanding menus of fast food chains across the country, however, you can scratch that comfort food itch for only a few dollars.
While spots such as KFC, Popeyes, and Bojangles are well known for their own impressive line-up of fried chicken and biscuits, other fast food giants have begun to incorporate the Southern-style treat into their menus. Hardee's offers a chicken biscuit sandwich that's smothered in hot honey, according to its menu; McDonald's briefly rolled out a McChicken Biscuit back in 2020 (via CNBC); and Chick-Fil-A, of course, also serves its famous chicken in a buttermilk biscuit sandwich, per its website. Did you know you can also order fried chicken and biscuits at your local Wendy's? The hamburger house tosses its hat into the ring — or shall we say, fryer into the fast food chicken wars — with the Honey Butter Chicken Biscuit.
What is the Honey Butter Chicken Biscuit?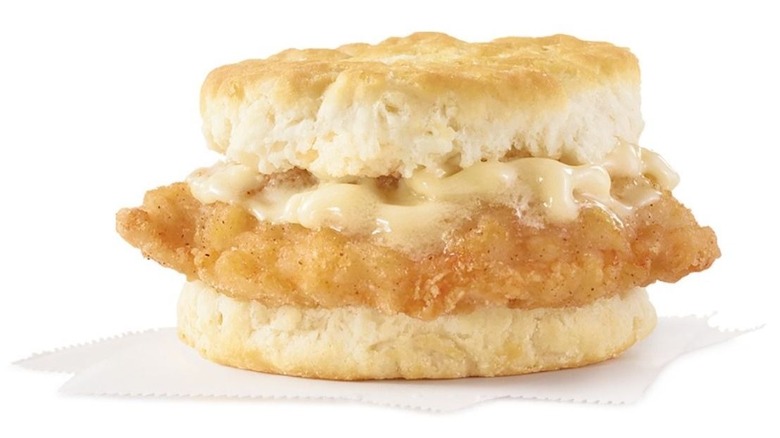 Chain restaurants are known to offer fast food versions of favorite comfort foods from time to time, and each has been met with varying degrees of success. Amid hits, like KFC's chicken pot pie, or flops, such as Burger King's meatloaf sandwich, the Wendy's Honey Butter Chicken Biscuit follows this industry trend of riffing on a classic indulgent food combination.
According to Wendy's, the Honey Butter Chicken Biscuit is a "perfectly seasoned" crispy chicken fillet topped with maple honey butter and served inside a fluffy buttermilk biscuit for a sweet and savory sandwich that's "a great reason to get out of bed in the morning." It joins the ranks of the chain's other biscuit options, which include the traditional bacon, egg, and cheese breakfast sandwich or the filling biscuits with sausage gravy. Wendy's even offers a honey butter biscuit sans chicken, perhaps for those who want a smaller side with their brunch meal.
How much does it cost?
While Wendy's offers some menu deals, such as the 4 for $4 promo or $5 Biggie Bags, at participating locations nationwide (via Wendy's), the cost of the Honey Butter Chicken Biscuit seems to vary slightly from region to region. Brand Eating reported a price of $3.49, a writer from The Impulsive Buy purchased theirs for $3.39, and the Business Insider team scored theirs at $2.79 in New York City. It's safe to assume that wherever you're located, the cost of a Honey Butter Chicken Biscuit will land between $2 to $3.50, roughly the same as a $3.19 McDonald's bacon, egg, and cheese biscuit, per Real Menu Prices.
How does the Honey Butter Chicken Biscuit compare to other items on the Wendy's biscuit menu? According to information listed by Food Menu Prices, a sausage biscuit and a Honey Butter Chicken Biscuit cost the same at certain locations at $2.39. Considering that the chicken sandwich also comes with a sauce, it may be a better deal.
Does it taste good?
There are perhaps few food combinations more beautiful in this world than that of sweet honey and creamy butter. Just saying the phrase aloud brings to mind something delicious that fills your heart with warmth and your tastes buds with temptation. But is the condiment a good-tasting addition to Wendy's fried chicken, or is it just a sticky mess?
Texas Monthly ran a review of the Wendy's Honey Butter Chicken Biscuit, comparing it to the identically named (and maybe more famous) dish from the Texas-based Whataburger chain, which started serving the sandwich first. The review noted a lack of ample honey butter on the Wendy's biscuit compared to the Whataburger biscuit, but it praised Wendy's for having a more consistent biscuit-to-chicken ratio.
Wide Open Eats agreed with Texas Monthly's point about skimpy honey butter on the Wendy's sandwich, ultimately deciding that the spread has far too much of a maple flavor and would taste better with more honey. The meat, however, was up to par, as seconded by Brand Eating, which found the chicken "meaty" and the biscuit soft and fluffy. Finally, if you like your breakfast extra savory, take a cue from the YouTuber who added bacon to their biscuit, pictured above.
Nutritional information about the Honey Butter Chicken Biscuit
If one's being honest, a combination of fried chicken fillet, buttermilk biscuits, and butter sweetened with maple and honey may not be the first thing one thinks of when considering health food. Of course, there is nothing wrong with enjoying a sweet pick-me-up to start your day on a high note, especially if you follow it with balanced activities, like a walk on your lunch break or vegetables at dinner.
The Honey Butter Chicken Biscuit is 500 calories, with 29 grams of total fat (nine of those being saturated fat), 35 milligrams of cholesterol, 44 grams of carbohydrates, and 1,260 milligrams of sodium, according to Wendy's. Of the restaurant's biscuit selections, it is 190 calories more than the plain biscuit with honey butter and 50 calories more than the sausage gravy and biscuit. It is, however, a slightly lighter choice than the sausage, egg, and cheese biscuit, which comes in at 610 calories.
How do I get a Honey Butter Chicken Biscuit?
Fortunately for you, the Honey Butter Chicken Biscuit is not on the Wendy's secret menu. It seems to be a staple offering at the chain and can be purchased just as easily a Baconator or a Frosty. The one catch is this: It's only available during operating breakfast hours, which are usually from 6:30 a.m. to 10:30 a.m., according to the restaurant's website. So, if you wanted to get some flaky biscuits and fried chicken from your local Wendy's for lunch, you may be out of luck.
When desperation hits outside of breakfast hours, you can always grab an order of crispy chicken nuggets from Wendy's and a biscuit from another location, then doctor it up with homemade honey butter in your kitchen. Otherwise, head to KFC or Popeyes for a similar treat, or just wait until the next morning to enjoy a sweet, salty, sticky, crispy, fluffy, and flaky breakfast treat.