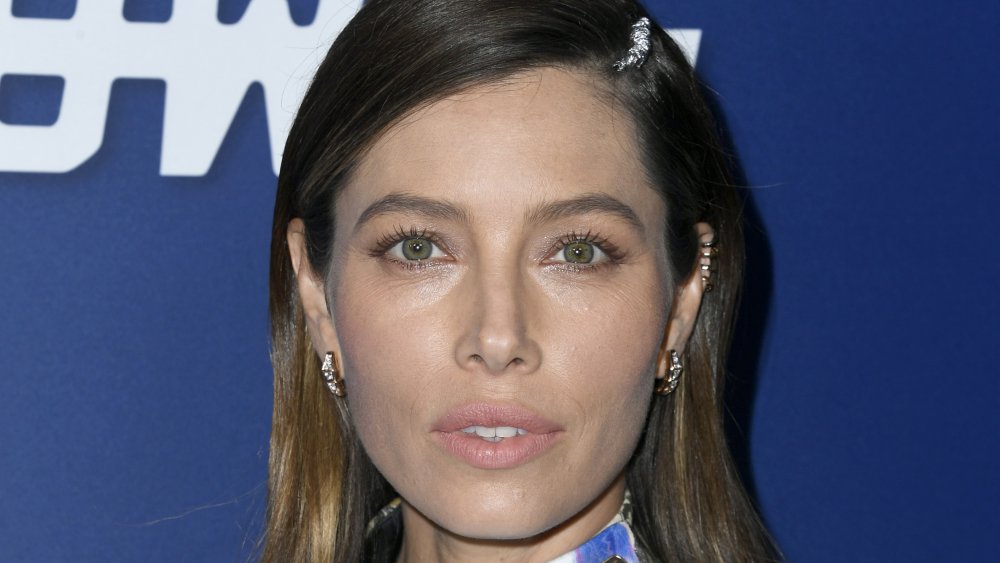 Seriously, when was the last time you saw Jessica Biel in a movie? Or, rather, when was the last time you saw a movie because Jessica Biel was the star? Things have been relatively quiet for the wife of Justin Timberlake over the past few years when it comes to parts in must-see productions. The actress who once charmed fans as Mary Camden in her decade-long gig among the large cast of 7th Heaven has pretty much flown under the radar for years now. So, what happened to her starring roles?
While some actresses have been known to ruin their careers with scandalous and offensive behavior, Biel's rise in the entertainment industry instead faced a daunting range of unexpected setbacks, as well as one headline-making situation involving her famous husband. Despite the fact that Biel once had the potential to reach an enviable level of fame and acclaim — and possibly still does (everyone loves a comeback after all) — here's why Hollywood hesitates to cast the TV star these days.
Jessica Biel is easy to overlook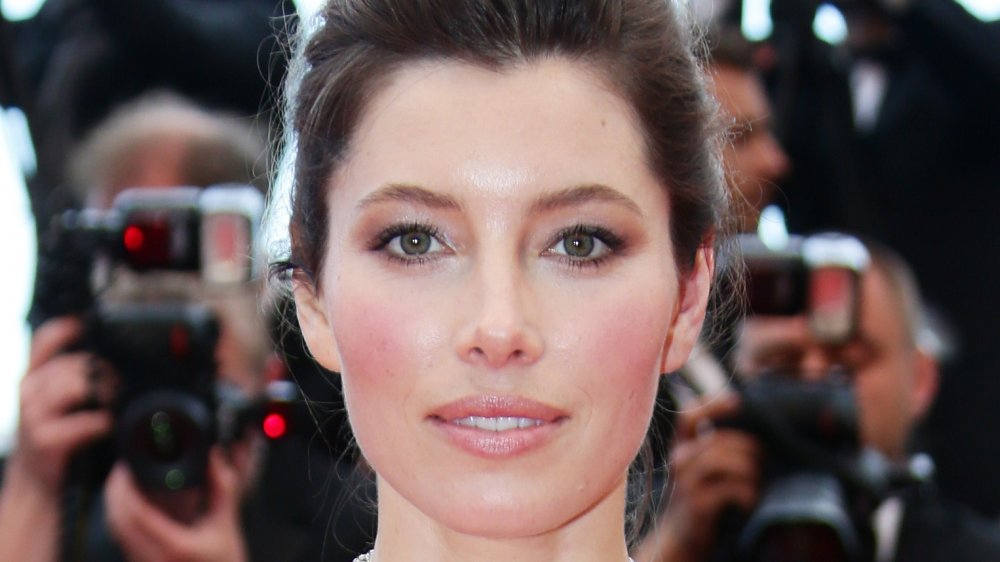 In an industry that's flooded with talented actresses, Jessica Biel just doesn't stand out. An insider explained to the New York Daily News, "There is nothing extraordinary about her, like Carey Mulligan or even Amy Adams, so she's not on the studios' radar unless they're love-interest roles."
Even when Biel does nab a role, it's never the kind of gig that will allow her to make a serious mark in the business. Salon notes that Biel has "been the female lead in just about every recent movie that barely has a female lead at all. Her strange husk of a career — working all the time, but called upon to stretch herself never — is the consequence of a Hollywood machine that needs actresses to exist in order to look pretty and sell tickets, but has no earthly idea of what to do with them."
Even being named Esquire's "Sexiest Woman Alive" in 2005 didn't give Biel's career the boost she was hoping it would. She told Radio Free Entertainment, "When this whole thing went down … I thought, 'Oh, this is going to be great! I'm going to get so many jobs from this!' … [laughs] That wasn't really the case … I felt like I was kind of on this pedestal a little bit, and it definitely didn't just open all the doors for me, which I thought it would." Apparently, it takes more than just being beautiful to make it in Hollywood.
She was hired for her looks, not her talent
Being deemed the "Sexiest Woman Alive" may not have led to the abundance of job offers that Jessica Biel was hoping it would, but that doesn't mean that her eye-pleasing appearance is totally worthless in the entertainment industry. In fact, she's often landed roles because of her looks as opposed to her acting skills.
According to the New York Daily News, an agent warned that Biel "should get an acting coach and do an independent film or two that would show off her talent, not her beauty." It sounds harsh, but the agent added, "She may be a gorgeous girl, but her acting ability just isn't where it needs to be. She hasn't proven that she's a real actor."
Biel is fully aware of the fact that people in Hollywood don't think that she has what it takes talent-wise. "For a very long time, I wasn't thought of as anyone with any credibility in the film world," she told Marie Claire (via IMDb). "Everybody is tramping through the swamp every day in this business. 'I'm worth it, I'm credible…believe me, give me a shot!' That's the way I feel on a consistent basis." Only time will tell if she will indeed get a shot to show audiences and decision-makers behind the scenes that she can be the kind of star they're looking for.
Does Jessica Biel rely too much on Justin Timberlake for relevance?
Being married to a fellow famous figure doesn't always help boost your profile. In fact, it can sometimes hurt your career. And that seems to be the case when it comes to Jessica Biel's relationship with singer and former NSYNC member Justin Timberlake. In October 2012, Biel and Timberlake got married in southern Italy. And while the romance occasionally stirs up headlines, it may be what the actress is most well known for at the moment, which is obviously not ideal.
According to an insider who spoke to Vulture, when Biel "started dating Timberlake, [she] cement[ed] her name-brand celebrity." Another top talent agent added that "her claim to fame of late is that she married Justin Timberlake," while an insider who talked to the New York Daily News backed that up, saying, "Being married to Justin Timberlake is [Biel's] calling card at the moment."
One PR veteran confirmed to Vulture, that "dating Justin is a big part of Biel's appeal," but added that her "work does have to speak for itself." Maybe if Biel had married a nobody, or even just a B-lister, she'd have had more luck shining alongside them. We just hope she can eventually escape JT's shadow.
Jessica Biel is competing with Oscar winners
Any time Jessica Biel is considered for a role, she not only has to prove that she can handle the job, but she also has to compete with award-winning actresses who have already proven their worth in Hollywood.
For instance, the New York Daily News reports that Biel was in the running for the role of Catwoman in The Dark Knight Rises, but the gig went to Anne Hathaway. "Jessica was fuming when she heard she didn't get the role of Catwoman," the insider dished. "She really thought she was going to get it, but when Christopher Nolan handed the role to Hathaway, she was devastated." Catwoman wasn't the only role that Biel lost to Hathaway — she also auditioned for the role of Fantine in Les Misérables, for which Hathaway won the best supporting actress Oscar in 2013. Ouch!
Biel talked to People about losing out on the roles she'd love to land, saying, "Parts I really want aren't going to me. Like The Other Boleyn Girl with Scarlett Johansson and Natalie Portman. I don't want to say that there's nothing I love that I can't have. But there's still the occasional script that the director doesn't want to see you for. They want that top tier of girls." It's hard to reach the top when it's already crowded up there.
Her films have garnered underwhelming box office numbers
When Jessica Biel was hired for roles in the past, the films didn't exactly perform in a way that would have Hollywood movie-makers scrambling to bring her on board for their next project.
According to Vulture, "Only two of Biel's films have topped $100 million — Valentine's Day and Chuck and Larry — but other, bigger stars did most of the heavy lifting there. Her franchise wannabes like Stealth, The A-Team, and Total Recall all came in under the $80 million take that Biel reached in 2003 for her remake of The Texas Chainsaw Massacre."
Granted, $100 million (or even $80 million) may sound like a lot of money, but it's really not a lot at all when top-earning flicks can bring in staggering amounts that reach over a billion dollars worldwide. For example, Captain Marvel starring Brie Larson took in over $1 billion in 2019, according to Business Insider, while Avengers: Endgame brought in well over $2 billion. Maybe Biel should try to score herself a role in a new Marvel movie.
Jessica Biel's big breakout role barely saw the light of day
Jessica Biel is ready and willing to take on edgy roles that might change the way people in the industry view her. Unfortunately, the part that might have been her big breakout ended up facing trouble even before it epically bombed in theaters.
In 2008, David O. Russell directed a film called Nailed , in which Biel starred as a woman who became a nymphomaniac after a clumsy workman got a nail stuck in her head and she couldn't afford insurance. It was a timely film speaking about an important issue in an interesting way. However, because of studio financing problems, the project was shelved indefinitely. The film finally came out in 2015 as Accidental Love in a limited release, and it was put together so sloppily that Russell changed the directorial byline on the film to "Stephen Greene."
"David O. Russell's long delayed Accidental Love (which had been known as Nailed for most of its troubled life) probably should have stayed shelved," Indie Wire sadly explained, noting that the film was co-written by former Vice President Al Gore's daughter, Kristin Gore, and also starred Jake Gyllenhaal, Bill Hader, Tracy Morgan, and Kirstie Alley. "Millennium released the film in 10 theaters this weekend and it took in only $4,500 — averaging a pretty tragic $450 per theater." Oof!
This actress' agents may be to blame
Jessica Biel may not be completely to blame when it comes to her lack of lasting success in Hollywood. Those around her may be leading the star astray.
"[Biel] should be picking better projects," a so-called "PR guru" told Vulture. However, the industry expert explained that it might not be the star's fault that she's not attracting the kind of jobs that she wants. Performers don't tend to decide to even audition for a part without their agent advising them and pulling certain strings behind the scenes. That's why the expert added, "I don't think this is a PR problem — it's an agent problem."
Maybe it's time for Biel to take a good look at who she's working with and decide whether or not the advice that she's getting and the decisions that are being made on her behalf are really getting her to where she wants to be.
Jessica Biel is a mom now
Jessica Biel's time away from the spotlight may also have been slightly deliberate. In April 2015, Biel and her husband, Justin Timberlake, welcomed their first baby into the world, a son named Silas, who has understandably consumed a good chunk of their day-to-day lives — or, at least their social media accounts, anyway.
"[Silas is] wonderful. He's just a joy," Biel told Today in October 2019, while talking about her little guy. She added that "[motherhood is] an amazing, amazing experience." However, Biel also admitted, "[It's] incredibly hard, the hardest job in the world and I've never been more thankful and grateful to my own mother. Oh, my gosh I'm going to call her right after this actually and just thank her. What you have to do for your kid — it's an amazing responsibility and the biggest joy ever." Seriously, who needs an Oscar when you've got that much joy in your life thanks to your family?
Biel is busy doing other things
Like many other actresses before her, Jessica Biel has recently decided to extend her skill set well beyond the famous Hollywood sign. In 2016, the actress teamed up with a bunch of famous foodies and other LA types to open Au Fudge, a restaurant in West Hollywood designed to please both kids and adults.
"The shabby-chic spot has all the trappings of a typical celeb-magnet WeHo spot — organic and seasonal everything, lots of champagne, fresh fruit-forward cocktails — but this one also has its own kids playhouse," wrote Zagat in its preview. "So, you know, have lunch in the stylish dining room or on the patio, then send off the wee ones to the playroom and 'treehouse,' which is staffed with babysitters (called au pairs)." Hey, we never said Biel was relatable.
Unfortunate for Biel, the business wasn't the grand success that she was surely hoping it would be. After two years, the Au Fudge restaurant closed in July 2018. The star took to Instagram to write, "While this is the end of an era, it's also the beginning of a new chapter for @aufudge. We are so very proud of the happy place we created for families and the community we were a part of. Going forward, Au Fudge will be available for private events and please stay tuned for #AuFudgeCamp news! We have so much love for our Au Fudge family." Au revoir, Au Fudge!
Jessica Biel's resume was never that good to begin with
If you're going to debate why Hollywood won't cast Jessica Biel anymore, you have to consider the fact that her filmography was never really all that good to begin with. In fact, she's co-starred in enough bombs to fill an entire DVD discount bin at Best Buy.
Among her worst offenses: the poorly-timed Adam Sandler-Kevin James movie, I Now Pronounce You Chuck & Larry, for which she received her first Razzie nomination for worst supporting actress — along with a second regretful nomination for Next, co-starring Nicolas Cage and Julianne Moore, which came out that same year. Biel also appeared in a botched remake of The A-Team, as well as the ridiculous and convoluted Garry Marshall rom-com Valentine's Day, which Slate felt was a movie that "lacks … charm, humor, and intelligence." And then there was Total Recall, for which she received yet another Razzie nomination.
With those kinds of bombs under her belt, nobody should be surprised that Martin Scorsese and Steven Spielberg aren't knocking on her door.
Her big shot at prestige movies failed
Before Jessica Biel's career took a quality nosedive, the actress had a brief run co-starring in highly-anticipated prestige dramas. The first came in 2005, when she played the ex-girlfriend of Orlando Bloom in Cameron Crowe's big follow-up to Almost Famous, Elizabethtown. That movie never really made it off the ground, though. The reviews were terrible, and Biel's part was pretty innocuous to begin with.
With one botched effort to her name, Biel then turned to the magician drama The Illusionist, opposite Edward Norton. To her credit, the film received pretty decent reviews; even the toughest of critics seemed to give Biel a pass. Unfortunately, the movie was overshadowed that year by another movie about magic, Christopher Nolan's The Prestige, which had the massive star power of Hugh Jackman and Christian Bale, as well as the popular following of Nolan. Casting Biel in Oscar hopefuls just didn't seem to take; by the following year, she was co-starring opposite Nicolas Cage in the jaw-dropping disaster, Next. That about sums it all up.
Jessica Biel's career never really matured
Many teenage actors struggle — and admittedly fail — to keep their career momentum going as they begin to age. Such has been the case for Jessica Biel, who still seems to be trapped in a time when the TV channel The WB still existed.
Ask anyone to name something that Biel has done, and they'll probably say 7th Heaven. The former '90s kid star even eagerly embraces her past on the family-friendly show that she started on when she was just 14 years old. In February 2017, she reunited with her former 7th Heaven costars and on-screen siblings, Beverley Mitchell and Mackenzie Rosman. "I have been truly blessed with these two beautiful women who really are like sisters [to] me!" Biel wrote on her blog. "They challenge me, they inspire me, and they make me a better person! Though we don't see each other as often as we would like, it is always like we have never been apart and I couldn't be more thankful!!! I love these two beyond words and have to say that after a few hours together today my heart is full!"
While Biel's fans surely appreciate the nostalgia, the fact that she never actually left the 1990s fully behind doesn't exactly bode well for the coming decades.
This actress thinks her beauty holds her back
If you ask Jessica Biel why she can't get work, she thinks she's just too hot. She once told Allure (via HuffPost), "I'm in there with everybody else, fighting for the good parts … I just want an opportunity. If you don't like the audition, don't hire me! But if you don't want to even see me — that's hurtful. And why? You know nothing about me!" When the mag asked if her beauty is holding her back, she replied, "It really is a problem. I have to be blunt."
Biel also explained that she isn't always the right kind of beautiful and that her looks have typecast her in a way. Frankly, according to the star, the fact that she's so seductive sometimes works against her when it comes to scoring certain roles. She told Elle (via People), "[One director told me,] 'I'm not looking for the sexiest woman; I'm looking for the girl next door.'"
When asked by IGN if her status as a sex symbol enhances her box office draw, Biel explained, "Well, I don't really know if it enhances it or not. I don't know if it does. It's not my plan or whatever in my life to be a sex symbol. It never is. You are who you are, but you can't help what you look like."
Biel's attempt at a major comeback came in hot but fizzled
Jessica Biel's career may be "down," but it's certainly not out. All she needed to do was (temporarily?) give up on movie roles. It turns out that the actress may simply be better suited for the small screen.
Indeed, in 2017, the then-35-year-old actress landed the starring role in the USA Network television series, The Sinner, about "a young mother (Biel) who, in a fit of unexplainable rage, seemingly kills a stranger," according to Entertainment Weekly. The series, which co-starred Bill Pullman, premiered that August and received rave reviews, with Biel's performance earning her both a Primetime Emmy nomination and Golden Globes nomination for her leading role.
"The Sinner is superbly executed," read Vulture's review. As for Biel, the actress is "technically strong … nailing the body language and psychology" that are required to successfully portray such a complicated character. And nailing this role was exactly what Biel needed to do in order to show industry decision-makers that she can handle a wider range of onscreen opportunities. However, Biel didn't return for the series' second season — perhaps due to the show's crime anthology turn by focusing on a new case for Pullman's detective character per season. Instead, she leveraged her executive producer credit and crime/mystery experience from The Sinner into her 2019 starring and producing gig on the admittedly less successful Facebook Watch series, Limetown.
Jessica Biel's marriage to Justin Timberlake might be in trouble
Jessica Biel may be busy trying to score acting roles while also raising her son, Silas, but it turns out that on top of that, she's been dealing with some potential marital problems with husband Justin Timberlake.
In November 2019, The Sun published photos that appeared to show Timberlake getting a little too cozy with his Palmer co-star, Alisha Wainwright, while the two were on location in New Orleans. That December, he took to Instagram to address the situation, writing, "I stay away from gossip as much as I can, but for my family, I feel it is important to address recent rumors that are hurting the people that I love. A few weeks ago I displayed a strong lapse in judgment — but let me be clear — nothing happened between me and my costar."
Timberlake claimed to have had too much to drink and explained that he regretted his seemingly shady behavior, adding, "This is not the example I want to set for my son. I apologize to my amazing wife and family for putting them through such an embarrassing situation, and I am focused on being the best husband and father I can be."
Despite Timberlake's public apology, a source told Us Weekly that Biel reportedly "still has her suspicions." Supposedly having to manage a bumpy marriage probably won't help the actress focus on her career prospects.