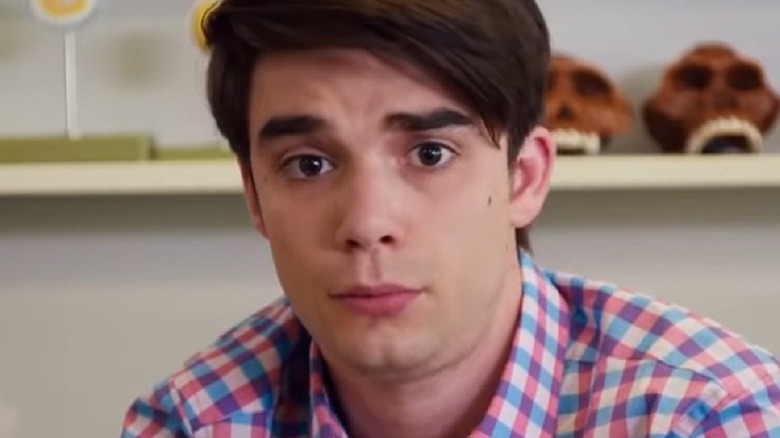 The romantic movie genre can provide a little something for everyone, from cheesy rom-coms to films that are flooded with drama. And with its impressive catalog of movies, Netflix tends to have a little something for everyone — from happy couples to hopeful lonely hearts. In addition to bringing on beloved titles from established studios, Netflix also does a fantastic job of producing original content that's perfect if you want to see some people fall in love. But which films are the best of the best? Well, if you're a dedicated romance fan or want to try something new, there's a title for everyone. Enjoy your next Netflix romantic movie!
Updated on October 15, 2021: Netflix has an ever-evolving library of movies, and we'll keep you up to date on what's coming and going. Once you've been through all these perfectly splendid films, make sure to check back each month to see what new romantic movies Netflix has to offer.
Catching Feelings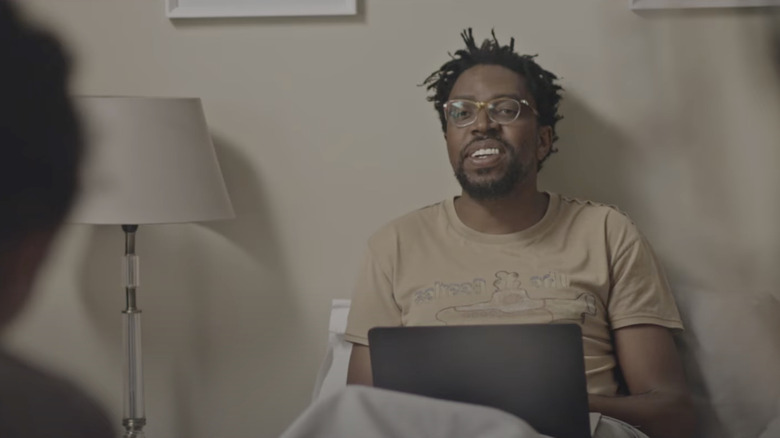 In "Catching Feelings," we follow the tale of Max Matsane, a writer turned professor who seems to be doing okay. He's happily married to a charming journalist, Sam, and they've got big plans for their future. However, things get a bit wild when a literary giant with large appetites moves into their home. What could possibly go wrong? It's a smart little dramedy that's worth the price of admission, and in this case, that's a Netflix subscription. "Catching Feelings," in the eyes of Rotten Tomatoes, is a perfect movie. Need we say more?
Starring: Kagiso Lediga, Pearl Thusi, Akin Omotoso

Director: Kagiso Lediga

Year: 2017

Runtime: 116 minutes

Rating: TV-MA
My Fair Lady
Turning back the clock, "My Fair Lady" was released in the '60s. The film follows a snooty phonetics expert named Henry Higgins who intends to make a poor flower girl, Eliza Doolittle, presentable in high society. It's an all-time musical classic, complete with some truly charming songs, great costumes, and wonderful sets. Of course, the main attraction here is Audrey Hepburn, giving one of the best performances of her career. Critics and audiences in the '60s were suitably impressed, and it won eight Academy Awards. In other words, whether you're a fan of romance flicks or not, "My Fair Lady" is an absolute must-watch.
Starring: Audrey Hepburn, Rex Harrison, Stanley Holloway

Director: George Cukor

Year: 1964

Runtime: 173 minutes

Rating: G
The Artist
Given that "The Artist" is a black-and-white silent film, it might not be for everyone, but it's certainly worth the watch if audience members are willing to budge out of their comfort zone a bit. The film follows a rising star and an older silent film star who start a relationship as sound starts creeping into Hollywood films. Of course, even though it starts off in the 1920s, the film was released in the 21st century. "The Artist" won five Oscars and is a glorious little throwback to a simpler (and quieter) time. And you can bask in its glory on Netflix right now.
Starring: Jean Dujardin, Bérénice Bejo, John Goodman

Director: Michel Hazanavicius

Year: 2011

Runtime: 100 minutes

Rating: PG-13
Marriage Story
"Marriage Story" very well could rip your heart out, especially if you can relate to the context of the movie, but it's worth at least one viewing. In a nutshell, the film is about a couple that goes through a divorce. This occurrence is hard enough by itself. Making things even more complicated is that the husband lives in New York, the wife has moved out to Los Angeles, and they have to figure out how to raise a son while living on two coasts. "Marriage Story" stars Scarlett Johansson and Adam Driver as the story's leading duo. Needless to say, when a film features Johansson and Driver, it's best to hit play and watch masters of the craft at work.
Starring: Scarlett Johansson, Adam Driver, Laura Dern

Director: Noah Baumbach

Year: 2019

Runtime: 136 minutes

Rating: R
Howards End
Based on the 1910 novel by E.M. Forster, "Howards End" has a pretty intriguing premise: A man doesn't accept his wife's dying wish, a decision that would never bring on any problems, right?
In the film, we meet an Edwardian woman named Margaret Schlegel who befriends the well-to-do Ruth Wilcox. The two hit it off, and right before she passes away, Ruth decides to give her new BFF a beautiful house in the country. Unfortunately, Ruth's husband, Henry, keeps her final words a secret, as he wants the property to stay in the family. Things get even more complicated when Henry starts developing feelings for Margaret.
"Howards End" scored big during award season, taking home three of its many Oscar nominations. And it features some brilliant performances from British legends like Anthony Hopkins and Emma Thompson. So if you're a fan of the books of E.M. Forster or the films of studio Merchant Ivory, then this is a can't-miss production.
Starring: Anthony Hopkins, Emma Thompson, Helena Bonham Carter

Director: James Ivory

Year: 1992

Runtime: 142 minutes

Rating: PG
Silver Linings Playbook
In "Silver Linings Playbook," we're introduced to Pat, a man struggling with bipolar disorder who was recently released from a psychiatric hospital. After moving back in with his parents, he attempts to navigate the trials of tribulations of life with a mental disorder. But while trying to get back together with his wife, Pat meets Tiffany, a woman who's dealing with her own mental health issues. Their dynamic is explosive and contentious — one that gives way to romance and an unforgettable dance contest. "Silver Linings Playbook" is a movie that puts mental health issues in the mainstream, all while accompanied by an impressive cast that sticks the landing. Plus, despite the serious subject matter, it's one of the funniest rom-coms you're ever going to see.
Starring: Bradley Cooper, Jennifer Lawrence, Robert De Niro

Director: David O. Russell

Year: 2012

Runtime: 122 minutes

Rating: R
Set It Up
"Set It Up" features two employees who are overworked and need a break from their bosses. So they decide to set them up on a date. The sentiment is relatable, especially if you've ever felt overworked at your job and would do anything for a break. Yet "Set It Up" takes place in the romantic comedy realm, so audience members can expect some delightful movie magic sprinkled on this production. And as you might expect, as our two adorable heroes try to get their bosses to hook up, they start feeling a little spark between each other.
Starring: Zoey Deutch, Glen Powell, Lucy Liu

Director: Claire Scanlon

Year: 2018

Runtime: 105 minutes

Rating: TV-14
Been So Long
"Been So Long" follows a single mother who, at long last, decides to go out for a night. And because this is a musical that's glittered in romance, her life is forever changed after she meets a total stranger. If you fancy musicals, love, or anything in between, then "Been So Long" is a must-watch. Interestingly, instead of taking place in New York City or Los Angeles, the film is set in London, which is a nice change of pace for American romance fans. And if Michaela Coel blew you away with "I May Destroy You," you'll definitely enjoy her performance here in a much a lighter project.
Starring: Michaela Coel, Arinzé Kene, George MacKay

Director: Tinge Krishnan

Year: 2018

Runtime: 100 minutes

Rating: TV-MA
Ali's Wedding
Lies have a way of spiraling out of control, as a web of falsehood is created, with one strand leading to the next, the next leading to another. Ali finds himself in this predicament after lying to everyone about how well he's doing at his university. Things get even more complicated for our hero when he winds up in an arranged relationship, even though he's madly in love with a classmate. This wonderful story is full of laughs and is just waiting to be streamed on Netflix.
Starring: Osamah Sami, Don Hany, Helana Sawires

Director: Jeffrey Walker

Year: 2017

Runtime: 109 minutes

Rating: TV-MA
She's Gotta Have It
"She's Gotta Have It" follows a young woman who's dating three completely different men. That is, if we're being honest, the perfect setting for a dramedy, especially when the three guys eventually all meet each other. In addition to being a great film in its own right, "She's Gotta Have It" is a pretty important film in Hollywood history, as it's the feature-length directorial debut of Spike Lee, who'd go on to make classics like "Do the Right Thing" and "Malcom X." And fortunately, if you're a fan of this '80s comedy, it's important to note that the film was adapted into a series, which can also be devoured on Netflix.
Starring: Tracy Camilla Johns, Tommy Redmond Hicks, John Canada Terrell

Director: Spike Lee

Year: 1986

Runtime: 84 minutes

Rating: R
Always Be My Maybe
Just imagine being in the presence of your childhood sweetheart after 15 years of not seeing them. Feelings, whether good or bad, would inevitably arise, and it would be natural to wonder what went wrong. "Always Be My Maybe" tells this exact story. The film is a can't-miss romantic comedy that you'll want to rewatch again and again, especially if you're as big of a fan of the genre as we are. And in addition to starring the hilarious Ali Wong and Randall Park, the movie features one of the greatest celebrity-portraying-themselves performances you'll ever see. We won't spoil it here because it's way too funny, so be sure to check it out yourself.
Starring: Ali Wong, Randall Park, James Saito

Director: Nahnatchka Khan

Year: 2019

Runtime: 102 minutes

Rating: PG-13
Titanic
Although "Titanic" doesn't really need an introduction, the epic romance/disaster film follows a wealthy woman who falls in love with a charming yet poor man during their time on the legendary, titular ship. It's a tale of unlikely love and tragedy –– and this movie, in particular, is bursting at the seams with talent. In addition to the incredible cast, the movie boasts some mind-blowing effects, and it also delivers on the action front. And, of course, it features one of the most iconic love songs ever sung. "Titanic" is cheesy in all the right ways, and it's the perfect film if you desire a romance film that gives you all the feels.
Starring: Leonardo DiCaprio, Kate Winslet, Billy Zane

Director: James Cameron

Year: 1997

Runtime: 194 minutes

Rating: PG-13
The Incredible Jessica James
Granted, "The Incredible Jessica James" has a tropey storyline. An aspiring playwright, fresh off a bad breakup, meets an unlikely divorcee in New York. What happens next? Okay, you know what happens next. However, what really makes this movie special is lead star Jessica Williams. Critics lavished her with praise for this film and rightly so. Her charming and hilarious performance makes this movie dance. So if you don't mind the overdone storyline, click the play button on "The Incredible Jessica James," and watch Jessica Williams deliver a tour de force of charisma and comedy.
Starring: Jessica Williams, Chris O'Dowd, LaKeith Stanfield

Director: Jim Strouse

Year: 2017

Runtime: 83 minutes

Rating: TV-MA
Our Souls at Night
"Our Souls at Night" follows two people who've both lost their significant others. To feel less lonely at night, they decide to sleep in the same bed despite not having a relationship with one another. This film proves that shared trauma (or some form of it) can hold great power, and its a powerful look at loneliness and how we can find healing and comfort with others. And with talented veterans Robert Redford and Jane Fonda in the lead, well, that's a cinematic slam dunk right there.
Starring: Robert Redford, Jane Fonda, Matthias Schoenaerts

Director: Ritesh Batra

Year: 2017

Runtime: 103 minutes

Rating: TV-14
Loving
Based on the true story of Richard and Mildred Loving, "Loving" follows a couple who are arrested for interracial marriage. This story takes place in the 1960s, and it begins a legal battle that leads all the way to the Supreme Court. This breathtaking biographical drama sheds light on the actual case while portraying the power of love. Needless to say, this isn't a whimsical rom-com. It's a pretty heavy story, but if you're in the mood for some real-life drama and world-changing romance, you can't do any better than this incredible biopic.
Starring: Joel Edgerton, Ruth Negga, Marton Csokas

Director: Jeff Nichols

Year: 2016

Runtime: 123 minutes

Rating: PG-13
As Good As It Gets
In "As Good As It Gets," we're introduced to Melvin Udall, an odious homophobe with OCD who hates pretty much everyone. And, oh yeah, he writes romance novels for a living. But Melvin's life starts changing after his gay neighbor is attacked, and our cantankerous protagonist has to take care of his dog. Soon, Melvin's heart starts opening up, and he begins bonding with his neighbor. At the same time, he also starts trying to woo a waitress, as she makes him want to be a better man.
The film's stacked cast includes Jack Nicholson and Helen Hunt, both of whom won Academy Awards for their lead roles in the film. If you want to see the power of love and compassion thaw an icy heart, then "As Good As It Gets" is, well, as good as it gets.
Starring: Jack Nicholson, Helen Hunt, Greg Kinnear

Director: James L. Brooks

Year: 1997

Runtime: 138 minutes

Rating: PG-13
Someone Great
A devastating breakup tends to be a key ingredient of a good romantic comedy. Lo and behold, "Someone Great" features this time-tested element as, fresh off of a breakup, Jenny enjoys a final outing in NYC with her friends before leaving the glamorous city for her dream job. If that's not the makings of a solid rom-com, then we don't know what is. "Someone Great" is waiting for someone like you to hit play.
Starring: Gina Rodriguez, Brittany Snow, DeWanda Wise

Director: Jennifer Kaytin Robinson

Year: 2019

Runtime: 92 minutes

Rating: R
Happy Anniversary
An anniversary is supposed to be a celebration — a cherished moment that couples tend to enjoy. And in "Happy Anniversary," we follow Mollie and Sam on their third anniversary … but instead of looking to the future, they look at their history and contemplate whether or not they should stay together. That isn't exactly how couples are expected to spend this supposedly merry ceremony, but these events also make for a great romantic comedy film. Don't believe us? Give "Happy Anniversary" a try … just not on your own anniversary.
Starring: Noël Wells, Ben Schwartz, Rahul Kohli

Director: Jared Stern

Year: 2018

Runtime: 78 minutes

Rating: TV-MA
Let It Snow
Romantic comedies that feature a talented ensemble cast deserve all the praise. Throw in the fact that a movie revolves around Christmas, and you have a total winner. "Let It Snow" hits all those marks. The film takes place during a snowstorm on Christmas Eve, which inadvertently brings a group of people together in ensemble fashion. "Let It Snow" plays with a lot of rom-com cliches, and if you're a fan of the genre, it's always entertaining to watch a movie that's aware of itself. It's really good at being exactly what it is while also sprinkled with holiday elements.
Starring: Isabela Merced, Shameik Moore, Kiernan Shipka

Director: Luke Snellin

Year: 2019

Runtime: 93 minutes

Rating: PG-13
Alex Strangelove
In "Alex Strangelove," high school student Alex and his girlfriend, Claire, make a date to sleep with one another. But their romantic plans are upended when a boy named Elliot enters their lives, causing Alex to wonder about his own sexuality. The resulting film does an impressive job of navigating topics like coming out and teen sexuality while bringing a fresh spin to the teenage rom-com genre.
Starring: Daniel Doheny, Antonio Marziale, Madeline Weinstein

Director: Craig Johnson

Year: 2018

Runtime: 99 minutes

Rating: TV-MA
The Guernsey Literary and Potato Peel Society
"The Guernsey Literary and Potato Peel Society" portrays a writer who's introduced to a book club, but the story, of course, is so much more meaningful than that, especially as it delves into the book club's past and connections to World War II. The film is part drama, part romance, and 100% just waiting to be streamed on Netflix. With Lily James and Michiel Huisman starring, "The Guernsey Literary and Potato Peel Society" is bound to become part of your romance movie rotation.
Starring: Lily James, Michiel Huisman, Glen Powell

Director: Mike Newell

Year: 2018

Runtime: 123 minutes

Rating: TV-PG
The Theory of Everything
Stephen Hawking is one of the most famous people on the planet — iconic for his incredible intellect and his struggles with ALS. But few people know about his private life, and that's where "The Theory of Everything" comes in. The film follows Hawking's early days, as he makes a name for himself and falls in love with a fellow student named Jane Wilde. However, as Hawking's health issues set in, their relationship is put to the ultimate test, resulting in a tale that's part theoretical physics and part star-crossed romance. It's also the film that earned Eddie Redmayne his Oscar for Best Actor.
Starring: Eddie Redmayne, Felicity Jones, Charlie Cox

Director: James Marsh

Year: 2014

Runtime: 123 minutes

Rating: PG-13
Mystic Pizza
Picture Julia Roberts coming of age while working at a pizza joint in a fishing town. That's "Mystic Pizza" in a nutshell. Just for the record, the romantic comedy-drama film also features Matt Damon in his film debut, and it's a lot of fun seeing the future "Ocean's Eleven" stars on-screen together at such a young age. And if you're a fan of Julia Roberts rom-coms, you can't go wrong with one of her first and finest.
Starring: Annabeth Gish, Julia Roberts, Lili Taylor

Director: Donald Petrie

Year: 1988

Runtime: 104 minutes

Rating: R
Ghost
In this all-time classic, Patrick Swayze ends up getting murdered right off the bat and soon comes back as a ghost. Demi Moore plays his lover, a woman he's trying to save. And Whoopi Goldberg is a psychic — basically the middle man in this otherworldly romance. If that doesn't catch your attention, then "Ghost" probably isn't for you. But as fellow romantic movie fans, we know you're intrigued.
In addition to the romance and sexiness, the film features aspects of horror, comedy, and mystery. There's a little something in there for everybody. And to the surprise of no one, it took home two Oscars, including one for Goldberg's fantastic supporting turn. In other words, the cast here is marvelous, and that famous pottery scene is just as good as you've heard.
Starring: Patrick Swayze, Demi Moore, Whoopi Goldberg

Director: Jerry Zucker

Year: 1990

Runtime: 127 minutes

Rating: PG-13
The Duff
After learning that her supposedly more attractive and popular classmates have "gifted" her with a degrading label, high school senior Bianca crafts a plan to turn the tides on the entire social hierarchy. Based on the 2010 novel by Kody Keplinger, the movie's main strength is the fantastic performance from Mae Whitman, who you might recognize from "Arrested Development" and "Good Girls." Seriously, she shines throughout the movie, making this delightful rom-com definitely worth a watch.
Starring: Mae Whitman, Robbie Amell, Bella Thorne

Director: Ari Sandel

Year: 2015

Runtime: 101 minutes

Rating: PG-13
A Christmas Prince
"A Christmas Prince" is the ideal movie for anyone who desires a holiday rom-com. The film follows a young journalist who gets the assignment of a lifetime. Her mission? To go undercover and study the daily life of a foreign prince. We don't want to give too much away, but we will say this: "A Christmas Prince" spawned sequels. And they're all on Netflix. Watching one after another isn't a bad way to spend a cozy afternoon.
Starring: Rose McIver, Ben Lamb, Alice Krige

Director: Alex Zamm

Year: 2017

Runtime: 92 minutes

Rating: TV-PG
Legally Blonde
When it comes to movies, "Legally Blonde" is a national treasure. After being dumped, Elle Woods follows her ex-boyfriend to law school, hoping to get him back. What ensues is a personal journey that forever changes her life for the better, as she discovers that, hey, she just might have what it takes to make it as a lawyer.
Featuring Reese Witherspoon's most famous character, "Legally Blonde" was a box office success that led to a series of films, natch. And regardless of whether or not you're a fan of rom-coms, "Legally Blonde" is a pretty incredible movie — both inspirational and hilarious.
Starring: Reese Witherspoon, Luke Wilson, Selma Blair

Director: Robert Luketic

Year: 2001

Runtime: 96 minutes

Rating: PG-13
Ibiza: Love Drunk
In "Ibiza: Love Drunk," a 30-year-old American woman travels to Barcelona for work. But because you can't just go to Barcelona for business — and also because this is a romantic comedy — she meets a man who just so happens to be famous, and the two hit it right off. Basically a hang-out movie featuring some very funny comedians (as well as Robb Stark himself from "Game of Thrones), "Ibiza: Love Drunk" is a fun movie where you get to live vicariously through some really great, lovable character.
Starring: Gillian Jacobs, Vanessa Bayer, Phoebe Robinson

Director: Alex Richanbach

Year: 2018

Runtime: 94 minutes

Rating: TV-MA
To All the Boys I've Loved Before
Imagine writing secret letters to all the people you love. And then one day, those letters get out and come into those people's possession. And the setting is high school, a time and place when everything you do tends to be judged. If it were happening to you, it might be a nightmare. But when it happens to the hero of "To All the Boys I've Loved Before," it's one of the most charming rom-coms imaginable. This lovely little flick also kicked off a a series of teenage romance films that are based on Jenny Han's 2014 novel of the same name. So if you love this movie, then you can always catch the entire series on Netflix.
Starring: Lana Condor, Noah Centineo, Janel Parrish

Director: Susan Johnson

Year: 2018

Runtime: 100 minutes

Rating: TV-14
To All the Boys: P.S. I Still Love You
The sequel to "To All the Boys I've Loved Before" starts off with our hero Lara Jean in a relationship. But while things should be picture prefect, another boy enter the picture, making Lara Jean's love life more than a little complicated. If you enjoyed the first installment of the series, then "To All the Boys: P.S. I Still Love You" is a delightful and worthy follow-up to the original. (And don't worry, the third film is on Netflix too.)
Starring: Lana Condor, Noah Centineo, Jordan Fisher

Director: Michael Fimognari

Year: 2020

Runtime: 102 minutes

Rating: TV-14