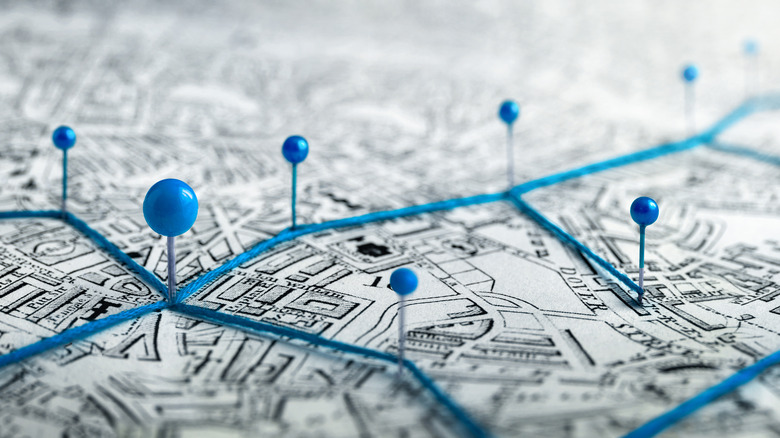 Countless parts of Europe are safe for tourists and other individuals who are traveling to the continent for both pleasure and business. However, there are several cities that you may want to avoid because they're not as safe as others. In addition, it's probably a good idea to keep some of Europe's most popular capitals and other destinations off your bucket list — at least for the short term.
The number one reason why you should avoid some of these cities is that they have been the targets of terrorist attacks in the past and could easily be targeted again. Some of these cities have also been subjected to ongoing armed conflict, which makes them particularly dangerous to travelers. Elsewhere, regions are gripped by high rates of COVID-19. And of course, many cities have a lot of street crime like pickpocketing and mugging, so it's a good idea to do your research before you jump on a plane and travel overseas for your next vacation.
Brussels, Belgium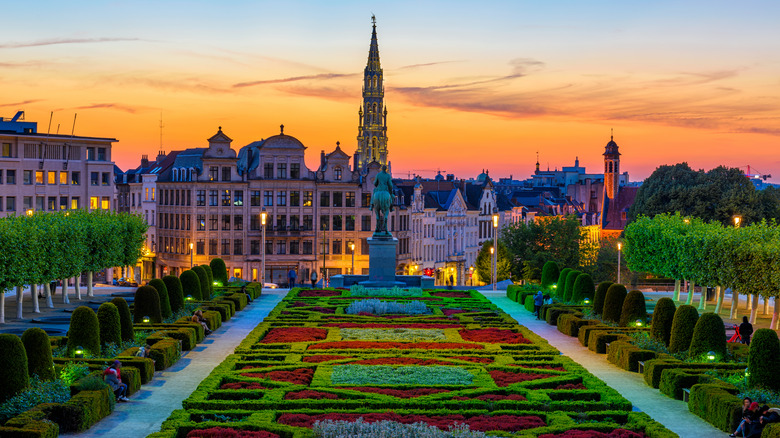 Brussels, Belgium, is the capital city of the European Union, and it has a lot to offer to residents and tourists, including UNESCO World Heritage Sites such as the Grand-Place square in the heart of the city, museums, and excellent eateries. It's a great place to have a beer, eat some chocolate or waffles, and enjoy the scenery.
However, you have to be aware of pickpockets and terrorism. Even though the city has a generally low crime rate, terrorist attacks in public areas have occurred in the past and could strike again in the future, according to The Broke Backpacker. The reason for this heightened terrorism risk is that the city is home to several EU facilities, the NATO building, the European Commission, and foreign embassies.
The last coordinated terrorist attacks took place in 2018 at Brussels Zaventem Airport, the metro, and Brussels Central Station — all areas that attract locals and foreign visitors. The city also experiences demonstrations that are usually peaceful but can turn violent. Although the country as a whole is not dangerous, murder and manslaughter increased over the last decade and peaked in 2018 with 194 cases, according to Statista.
Naples, Italy
While Italy is one of the most popular places to visit in the world, not every one of its cities is a tourist's paradise. Naples is a huge draw to pizza lovers who want the classic, wood-fired Neopolitan pizza that the city is known for. It's also renowned for other delicious food, including pasta, pastries, and seafood. The Museo di Capodimonte features works by Michelangelo, Botticelli, and more, and there are plenty of other neat attractions to see.
Situated in the Mezzogiorno region in the south, one deterrent to visiting Napels is the local mafia known as the Camorra, according to Business Insider. And one of the things it has been doing since the '90s is illegally dumping industrial and nuclear waste and other toxic garbage in landfills. Notably, the surrounding towns have significantly higher rates of breast cancer and birth defects compared to the national average, which is a worrisome statistic.
In addition, the Camorra — referred to as "the system" by locals — is pretty much in charge of the city and has been known to open fire on the streets. It's a huge group of 100 clans and thousands of associates, and while the Camorra minimizes some street crime, it also creates its own. Plus, physical fights are common in the Piazza del Gesu due to the heavy bar scene, and tourists are often victims of pickpocketing. So, if you want to visit Naples, it's best to be aware of the dangers before making the trip.
Donetsk, Ukraine
Ukraine isn't on a lot of people's bucket lists, and that's likely because some areas in the country are not just inhospitable but downright dangerous. In the past few years, there have been assassination incidents involving firearms and car bombs in the country, according to Smart Traveller. In addition, large gatherings and protests have been known to turn violent, and Donetsk and Luhansk are particularly dangerous due to "ongoing armed conflict." As such, there are landmines in the area, and foreigners have been threatened and even kidnapped in these two cities.
According to the U.S. Department of State, Ukraine as a whole is risky to visit due to COVID-19, crime, and civil unrest. And on top of violent demonstrations and politically targeted assassinations/bombings, there have also been attacks on minorities and law enforcement by radical groups. The problem with the Donetsk and Luhansk oblasts is that the area is controlled by Russian forces, and armed conflict has caused over 13,000 fatalities. Given that American citizens are targets, the U.S. government has restricted its employees from traveling to these cities.
Kyzyl, Russia
Most foreigners aren't familiar with Kyzyl, Russia, which is the capital of the country's Tuva region. According to eTurboNews, it boasts that it's the "Center of Asia," and it features several monuments and Buddhist prayer wheels that make it an intriguing place to visit. Unfortunately, it's one of Russia's many dangerous hot spots. One of the problems is that the city is a leader when it comes to its murder rate, which is 35 deaths per 100,000 residents. Other cities that are dangerous in Russia include Moscow, St. Petersburg, Ekaterinburg, Rostov-on-Don, Shakhty, Chelyabinsk, Blagoveshchensk, Ulan-Ude, and Magadan.
The U.S. Department of State strongly urges Americans not to travel to Russia at all due to "terrorism, harassment by Russian government security officials, the embassy's limited ability to assist U.S. citizens in Russia, and the arbitrary enforcement of local law." COVID-19 is also an issue in the country, and there's a risk of kidnapping and civil unrest. In general, U.S. citizens may be subjected to harassment, mistreatment, and extortion by Russian officials. Plus, it can be hard to leave the country as visitors may be denied access to consular assistance. Even worse, terrorist groups and those with extremist ideology have been known to plot attacks in the country, making tourist locations a dangerous place to congregate.
Istanbul, Turkey
Istanbul, Turkey, is one of the world's largest cities, and it's a great place to visit if you enjoy seeing palaces and houses of worship, such as the Blue Mosque. It also has the famous Grand Bazaar for those who enjoy shopping and an excellent scene for foodies and lovers of Middle Eastern cuisine. The Hagia Sophia museum is also a huge tourist attraction that draws visitors every year. Unfortunately, terrorist activity is something to be wary of — the last attack occurred in 2016 at the airport, killing 41 and injuring 230, according to the BBC.
While most terrorist attacks take place in the southeastern part of the country and are connected to Kurdish separatist groups, it's a valid reason to avoid visiting. Overall, visitors need to be careful in tourist spots in Istanbul — as well as at restaurants and on public transportation — because there are many thefts and pickpocketing incidents, according to Travel Safe Abroad. Violent crime is also a problem, and tourists have been mugged and drugged in the city. The good news is that Istanbul recently installed a network of cameras to keep a watchful eye on the streets 24 hours a day, which has decreased the number of muggings and purse snatchings.
Mitrovica, Kosovo
Mitrovica, Kosovo, is probably not a city travelers think of visiting when they're planning a European vacation. The Ibar River runs through the city, and it has a bridge that separates the Serbs and Albanians. According to EuroNews, the bridge serves as "both a symbol of the town's division and its most popular tourist attraction." Yet, it's not the best place to be if you're a traveler. The U.S. Department of State has a "Level 4" advisory against visiting Kosovo due to terrorism risks and the high level of COVID-19 in the country.
When it comes to Mitrovica, the agency warns against visiting North Mitrovica and other areas specifically because there's a "potential for civil unrest due to ethnic tensions." While recent unrest is linked to political issues and hasn't targeted tourists or foreigners, bystanders can get stuck in the wrong place at the wrong time. There is also a possibility that terrorist groups will plan an attack in the country, and they can do so with little to no warning. They may attack tourist spots, transportation facilities, shopping areas, government buildings, hotels, clubs, restaurants, local parks, places of worship, airports, and other public spots.
Sofia, Bulgaria
Sofia is the capital of Bulgaria and has a lot to offer tourists, particularly those who are interested in historical attractions like churches, mosques, and other structures, per The Crazy Tourist. The combination of new and old makes this city an intriguing one to explore with sites such as the St. George Rotunda, National Institute of Archaeology, Borisova gradina, and Central Mineral Baths. However, travelers should be cautious if they decide to visit. According to the Overseas Security Advisory Council, Americans have experienced credit card fraud, theft, robbery, and ATM skimming when visiting the city.
Another problem Americans face is poor road conditions, which lead to more crashes. Ambulance services can take up to 30 minutes to respond to accidents, and it's sometimes better to call a taxi if you need medical assistance. In 2019, eight crimes were reported involving U.S. citizens in the country. Pickpocketing is a problem, particularly when it comes to public transportation or when visiting busy markets, shopping streets, etc. In 2019, 40 percent of all robberies and 55 percent of car thefts occurred in Sofia. The country also has criminal organizations that run bars, nightclubs, and prostitution rings.
London, England
You're probably surprised to see London, England, on this list of dangerous European cities because it is one of the most popular places for tourists from all over the world to visit. There are a ton of attractions to see, including the Tower of London, Buckingham Palace, Big Ben, and the London Eye. And it's also where the British royal family hangs out, so it can't be too bad, right? According to Insider Monkey, London is not as safe as you'd think because it's known for mugging and knife attacks.
In fact, 30 percent of London residents have been assaulted or robbed at least one time, according to a Gallup/United Nations Interregional Crime and Justice Research Institute (UNICRI) survey. While the data is from 2004, crime has only gotten worse in the last 15-plus years. Notably, crime grew from 139,380 incidents in 2010-11 to 222,000 incidents by 2019-2020, per Statista.
According to Shergroup, the highest rate of gun and knife crime incidents occur in the boroughs of Southwark and Lambeth. According to 2021 data from the Metropolitan Police, violence against people is the most common type of crime. So far this year, 1,617 violent crimes were reported in Croydon, making it London's most violent borough. In addition, killings in the city increased by 100 for a sixth consecutive year in 2020. In the first three months of 2021 alone, six teenagers were stabbed to death.
Marseille, France
Marseille, France, is located on the Mediterranean, and its water, harbor, and markets make it a scenic city to explore. Greek mariners initially settled in the city, and in addition to French residents, it's occupied by those of Italian and Spanish descent who moved there following World War II. It's France's second-largest city, and it's a popular tourist destination, according to Travel Safe Abroad. Unfortunately, Marseille, like all of France, has a high terrorism risk due to threats by Islamist terrorist groups.
In general, visitors have to be careful to avoid pickpockets, and while most of the city is pretty safe, some areas should be avoided. Street crime is a common occurrence, and thieves are known to steal credit cards, passports, and other items if you don't keep them securely by your side. These pickpocket gangs typically work in the center of the city, and the risk of being mugged or seriously assaulted increases at night — particularly on certain metro lines. The good news is that if you're careful and stay away from certain spots in the city, you should be pretty safe (as long as terrorists don't interfere with your plans).
Tbilisi, Georgia
National Geographic dubbed Tbilisi "The World's Most Bohemian City" due to its thriving social scene. The capital of Georgia has cobblestoned streets in the old town area and attractions such as the Narikala Fortress, which was initially erected in the fourth century. There's also a tramway to take in the city's scenic views and many other historic attractions to visit, according to Viator. But it's not the safest place to include on your bucket list, reports the Overseas Security Advisory Council. The U.S. Department of State has labeled it a "medium-threat location for crime," which increased 14.6 percent from 2018 to 2019.
Americans and Westerners have been victims of aggravated assault, sexual assault, credit card fraud, and robbery. It's not uncommon for hustlers to try to exhort large amounts of cash at small bars and nightclubs while threatening physical repercussions if not given what they want. The city has organized crime, and street gangs and drug dealers are common. It's also dangerous to drive in the country because it has the highest rate of traffic accidents in Europe. Its location near Iran, Turkey, Azerbaijan, and the North Caucasus region is also a little concerning because these areas have all experienced terrorist-related activities.
Belgrade, Serbia
Not many people think of visiting Belgrade, Serbia, during a European vacation. But some travelers prefer places that aren't overrun by tourists and are considerably less busy than many other European capital cities. The city and its residents are known for being friendly, and it has a great nightlife, according to Travel Safe Abroad. And it's becoming an increasingly popular place to visit, particularly during the summer. However, the U.S. Department of State warns that Serbia is not a great country to explore right now due to crime and the threat of COVID-19. In fact, the Centers for Disease Control and Prevention recently issued a "Level 4 Travel Health Notice" for the country because it has such a large amount of COVID-19 cases.
The agency also warns that violence linked to organized crime and high-profile sporting events can also be an issue. Other problems particularly associated with Belgrade include street crimes like pickpocketing and purse snatching, which typically occur on public transportation. These thieves are very good at stealing, so it's a good idea to avoid public buses. In addition, tourists have been scammed in bars, nightclubs, and by street vendors, and have been victims of drink spiking at strip clubs.
Paris, France
Paris is hugely popular with tourists and features several famous attractions, including the Eiffel Tower, Louvre Museum, Cathédrale Notre-Dame de Paris, and the Arc de Triomphe. It's known for its food and fashion and has been dubbed the "City of Love" because it's a great place for honeymooning and celebrating long-term relationships. Unfortunately, the city and other parts of the country have been subjected to some pretty terrible things over the past few years. In November 2015, Islamic State extremists carried out terrorist attacks in Paris that killed 130 people, according to EuroNews. The bombings and shootings took place across Paris, including at the Bataclan concert hall.
Since 2014, 264 people have died, and 1,200 have been injured in France in terror attacks, per the country's domestic intelligence agency. And the threat is not over. According to Marc Hecker, Director of Research and Communications at the French Institute of International Relations (IFRI): "The threat level is still very substantial in France right now, and we've had several attacks over the past months perpetrated by lone actors." In the past year and a half, there were seven jihadist attacks. Elsewhere, five attack plots were stymied before they occurred.