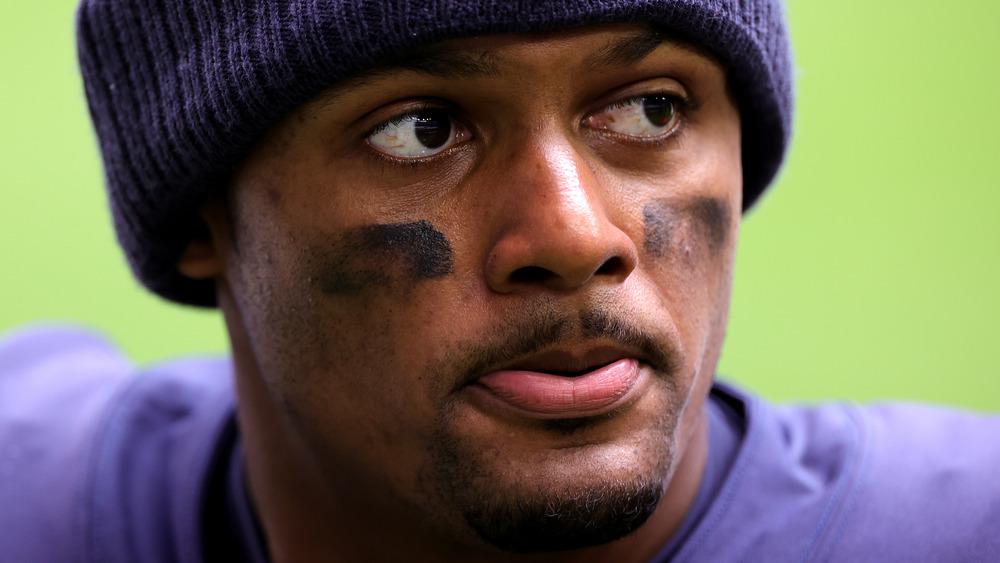 Houston Texans quarterback Deshaun Watson is one of the NFL's brightest young stars. After playing through his rookie deal, Watson signed a four-year, $177.5 million contract extension on Sept. 5, 2020, which made him one of the league's highest-paid players (via Bleacher Report). "It's just an amazing moment for me to be able to extend my career in a location, in a place, in a home, I would say, that my family loves, that I love," Watson said at the time (via ESPN). "I want to continue to dive into the community most of all and just continue to build my legacy, just build our legacy as a whole and do something that we've never done before."
The honeymoon didn't last. By January 2021, Watson was reportedly demanding to be traded after being unhappy about not being consulted during the team's new coach and general manager search. The speculation about Watson's potential new NFL home was the talk of sports media until two months later when the three-time Pro Bowl quarterback was hit with his first civil lawsuit alleging sexual harassment and assault.
By the end of March, Watson had 16 civil lawsuits filed against him from massage therapists from the Houston area and beyond, who allege everything from inappropriate sexual behavior to sexual assault. Every one of the alleged victims are represented by Houston-based lawyer, Tony Buzbee, who has called an all-out blitz on the signal caller. Let's take a look inside the allegations against Deshaun Watson.
Deshaun Watson vowed to 'clear his name' after the first allegation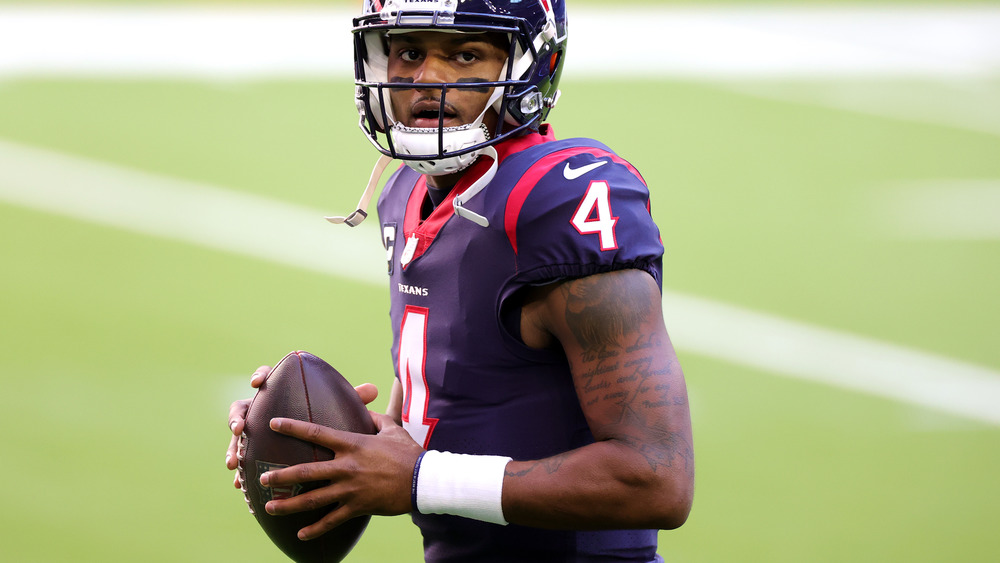 On March 16, 2021, a Houston massage therapist filed a lawsuit claiming that Deshaun Watson pressured her into sexual acts and threatened her job if she didn't comply. "It became apparent that Watson wanted a massage for only one reason — sex. Scared, a bit confused, and not wanting to upset the much bigger and athletic Watson, Plaintiff did not know what to do" the therapist's suit alleges (via Yahoo! Sports).
The suit also alleges that "Watson continued to aggressively attempt to steer the conversation to how Plaintiff was not rubbing him the way he wanted," including initiating unwanted touching of the therapist with his genitals. The suit further claims Watson attempted to threaten the therapist's "career and a reputation" if the massage did not take the explicit turn he wanted.
In a statement posted to Twitter, Watson vehemently denied the allegations: "I recently became aware of a lawsuit that has apparently been filed against me. I have not yet seen the complaint, but I know this: I have never treated any woman with anything other than the utmost respect. The plaintiff's lawyer claims that this isn't about money, but before filing suit he made a baseless six-figure settlement demand, which I quickly rejected. Unlike him, this isn't about money for me — it's about clearing my name, and I look forward to doing that."
A second allegation against Deshaun Watson quickly followed
The day after the first accusation, Deshaun Watson was hit with another lawsuit alleging he sexually assaulted another massage therapist. She claims that she flew from her home in Atlanta to meet Watson at the Houstonian Hotel in August 2020, where she alleges Watson insisted on being completely naked, because "he gets hot easily" (via Yahoo! Sports).
The suit claims that Watson allegedly "grabbed her hand and started to rub her arm, pulling her towards him, saying, 'It is okay, it is okay,'" and "aggressively attempted to redirect" the massage in a sexually explicit way, including initiating unwanted touching of the therapist with his genitals. The suit additionally claims Watson only paid for half of the session and that the alleged victim is seeking a trial by jury and damages for "enjoyment of life and peace of mind" and reimbursement for "medical, counseling, psychiatric, therapeutic and related expenses."
It was at this point that Watson would be represented by Rusty Hardin, an attorney who has handled high profile cases of several NFL players, including Michael Bennett and Adrian Peterson. "I'm extremely proud to represent Deshaun Watson and wholly stand behind him against what we believe are meritless allegations," Hardin said in a March 19, 2021 statement, adding, "We will wait to comment in detail until we've completed our review of the numerous, evolving allegations from Mr. Buzbee. We will respond next week and ask you to keep an open mind until we do so."
A third allegation against Deshaun Watson opened the floodgates
On March 18, 2021, a third massage therapist filed a lawsuit claiming that Deshaun Watson forced her to engage in a sexual act during a session, which she "did not consent to." The lawsuit states that during the assault, "Plaintiff blacked out for a few minutes from the fear." The suit goes on to allege that after Watson left, the victim severely traumatized, and "left shaking, violated and ashamed."
The very next day, Tony Buzbee announced that he was representing nine more women, bringing the total of allegations against Deshaun Watson to 12. None of the identities of the alleged victims have been made public, as of this writing, but Yahoo Sports! reports that Buzbee claims they are "a diverse group of African American, Latina and white women, including some who are married or engaged" as well as "single mothers."
Buzbee added that none of the alleged victims had reported their incidents to the police. "That's going to be our next step," the victims' lawyer said, adding, "We're going to get all the [civil] lawsuits on file first, put together a package, submit it to the police department. We're not sure — not every victim may want to come forward."
The 14th accuser called Deshaun Watson a 'serial predator'
By May 23, 2021, Deshaun Watson was now the defendant in 14 lawsuits alleging sexual assault. The suit filed by the 14th woman, a traveling massage therapist in California, called Watson a "serial predator" and claimed that the quarterback "assaulted and harassed Plaintiff by exposing himself to her" and, yet again, initiating unwanted touching with his genitals (via ESPN).
The suit states that once the alleged victim arrived at the agreed upon address, Watson "locked the doors behind him" and "forced" her to touch his genitals. During the massage, Watson allegedly told the woman that he wouldn't make her sign a non-disclosure agreement, but not to "ever talk about this."
At this stage, only two of the 14 allegations against Watson did not take place in Houston, so the Harris County district attorney's office was asked for comment but declined. "It would be inappropriate for the District Attorney's Office to comment on a civil lawsuit, and we refrain from publicly discussing allegations in any matter until and if a criminal charge is filed; we do this out of fairness to all," Dane Schiller, a spokesperson for the Harris County district attorney said in a statement.
Did one of the alleged victims attempt to blackmail Deshaun Watson?
In a sworn affidavit presented by Deshaun Watson's lawyer, the quarterback's marketing manager, Bryan Burney, claimed he was contacted in January by who he believes is the third plaintiff, known as Jane Doe, in the multiple lawsuits against Watson. "It is clear to me that the person I spoke with met with Deshaun on December 28, 2020, the same day that Jane Doe contends in her petition that she met with Deshaun," Burney stated (via PFT). When I spoke with Ms. Doe in January, she stated that she wanted a 'settlement' from Deshaun, though what exactly she wished to 'settle' was not clear to me," Burney continued.
Burney says she reportedly demanded $30,000 for her "indefinite silence," but said everything that happened between herself and Watson was consensual. "I asked Ms. Doe why Deshaun should pay for silence regarding something that was consensual — whatever it was. She said that it was a matter that both she and Deshaun would wish to keep secret and that she would need to be paid for her 'silence,'" Burney continued.
Burney further claims he was then approached by her business manager, who allegedly told him that, "It's not extortion, it's blackmail." Burney stated that Watson wouldn't be paying anything, adding, "I do not believe him capable of the conduct that Jane Doe has anonymously accused him of in this case."
Deshaun Watson's lawyer blasted Tony Buzbee for creating a 'circus-like atmosphere'
After the lawsuits against Deshaun Watson reached 16 plaintiffs, his lawyer, Rusty Hardin, claimed to have "strong evidence" that at least one of the allegations is false and thereby "calls into question the legitimacy of the other cases as well" (via ESPN). He added that "any allegation that Deshaun forced a woman to commit a sexual act is completely false." This is reportedly in reference to the third plaintiff who contacted Watson's marketing manager, Bryan Burney.
Prior to the latest two allegations, Hardin blasted Tony Buzbee for orchestrating "a circus-like atmosphere by using social media to publicize 14 'Jane Doe' lawsuits," and refusing his requests "to confidentially provide the names of the plaintiffs so we can fully investigate their claims."
Buzbee stated that Watson and Burney "repeatedly insisted that Jane Doe sign" a non-disclosure agreement, although the reason for the request — and her denial to do so — wasn't clear. In a scathing statement in response to Hardin, Buzbee didn't hold back…
Tony Buzbee fires back at Deshaun Watson's lawyer
In response to Rusty Hardin's claim that the allegations against Deshaun Watson might be false, Tony Buzbee (above) fired back in a lengthy statement, claiming that new information in the case is on the way. "I have been asked to respond to a released statement by Mr. Watson's counsel," he said (via TMZ). "My first reaction is that there have been so many massage sessions from Instagram that Mr. Watson can't keep track of them … I can't tell you how many people have stepped forward to report similar conduct or provide information. That info will be released, again in public filings — not in the media."
Buzbee then questioned why Watson, a professional athlete with access to the world's best trainers and massage therapists "had [to] sex for pay with a massage therapist, consensual or otherwise," and why both he and Watson's marketing manager allegedly attempted to get said therapist to sign a non-disclosure agreement, of which he claims to have a copy.
Buzbee added, "I do appreciate Mr. Hardin's professionalism and his words of support for victims, but would respectfully suggest there are many facts here, that we will put in public filings, that Mr. Hardin might not be aware of." Kenneth Williams, a professor at South Texas College of Law in Houston, told USA Today that he fully expects Buzbee to "retrieve" Watson's text messages to build his case.
Will Deshaun Watson face criminal charges?
At the time of this writing, all of the lawsuits Deshaun Watson is facing are to be tried in civil court, since no police reports have been filed by any of the alleged victims. But according to New Orleans attorney Craig Mordock, Watson's third allegation (filed on March 23, 2021 in Harris County Court), could result in criminal charges against the former Heisman Trophy finalist (via Yahoo! Sports).
According to the suit, after Watson allegedly sexually assaulted the plaintiff, she "immediately called her mom and her best friend to tell them what happened and said she was traumatized." She also claims to have "received a text message from Watson that same day asking her if she was OK." The suit adds, "for weeks afterwards, Watson repeatedly contacted Plaintiff asking if he could book her again," but she ignored him.
Mordock explained to Yahoo Sports! why this allegation could be the most damaging. "This is clearly the one with the most credibility to it and clearly the one that could present criminal problems for Watson," Mordock said. "It is the key to these cases. It signals that the alleged victim in the matter knew that it was severe enough that she had to tell someone right away. They knew something was wrong right away. Then you have him following up asking if she is OK?" That is not a particularly good fact for Watson."
Where does Deshaun Watson stand with the NFL?
Prior to the allegations, nearly every NFL team was set to trade for the young megastar. But since the slew of accusations against Deshaun Watson have come to light, a lot of teams are backing off. NFL reporter Benjamin Allbright says teams are cooling on the quarterback, because they feel his legal troubles could drag on for a long time. "For us it's a football decision," he tweeted one team as saying, adding, "We don't know about guilt, but we know this won't be wrapped by the draft."
According to Aaron Wilson at the Houston Chronicle (via Panthers Wire), however, a handful of teams are still interested in acquiring Watson. including the Carolina Panthers, Philadelphia Eagles, San Francisco 49ers, Denver Broncos, New York Jets and the Miami Dolphins. Those teams will have to wait a while, because the NFL is currently conducting its own investigation into the allegations against Watson, with league spokesperson Brian McCarthy telling USA Today that "the matter is under review of the personal conduct policy."
Watson's current team, the Houston Texans, confirmed the investigation. "The NFL informed us today that they will conduct an investigation into the allegations made in the civil lawsuits filed against Deshaun Watson. We will stay in close contact with the league as they do," read an official statement (via USA Today).
Where does Deshaun Watson stand with the Houston Texans?
After Deshaun Watson first demanded a trade, Houston Texans general manager Nick Caserio made it clear that the organization had no intention to trade its franchise star. "Organizationally, I just want to reiterate our commitment to Deshaun Watson," Caserio said during a press conference in February 2020 (via NFL.com). "He's had a great impact on this organization, a great impact on a lot of people, a great impact on this team, and we look forward to the opportunity to spend more time with him here this spring once we get started."
Caserio added, "We have a great plan, a great vision for him and for this team and his role on our team. We look forward to the opportunity to spend more time with him here this spring." Houston Chronicle sports reporter John McClain disputed Caserio's statement, claiming the team had planned to trade Watson before the 2021 NFL Draft to maximize its return, but the allegations may have driven down the price since teams were bracing for the fact the allegations might earn Watson a lengthy suspension from the NFL.
"After Watson met with coach David Culley on a Zoom conference call earlier this month and reiterated his determination to leave the Texans, they planned to trade him by the draft rather than endure a long holdout that would delay the rebuild," McCain said (via Texans Daily).