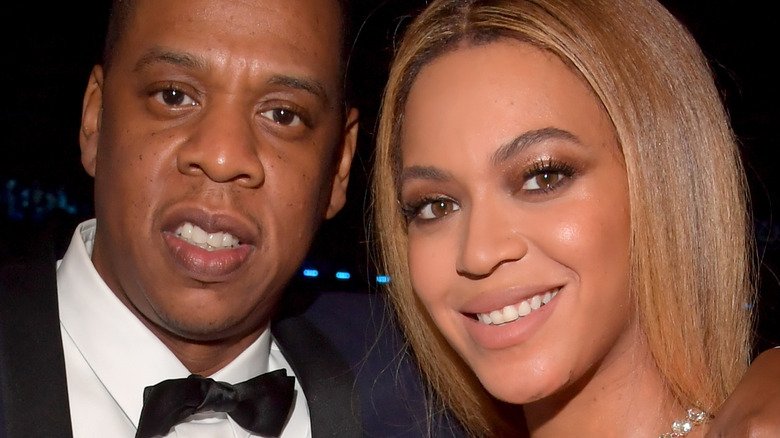 It's easy to envy a celebrity that has it all. However, the rich and famous are not without scandal, and when something as big as an affair makes its way to the tabloids, stars can't just buy their way out of their mistakes. Not only must they face their partners and attempt to save their relationships, they must also address their fans of their infidelities. Such drama can ruin their likability and even hurt their careers. Alas, cheating scandals and rumors of infidelity are nothing new in a place like Hollywood, and many star couples have called it quits after suffering an embarrassing affair from their partners.
Yet, in some celebrity couple cheating scandals, divorce may not be an option. While there is a temptation to leave, fans will be surprised to learn how many stars actually want to work on their relationships and stay with their unfaithful spouses. When these stars said "for better or for worse," they really meant it. The following celebs dealt with a partner who allegedly broke their trust and engaged in an extramarital affair…or two…or three, but instead of kicking their spouse to the curb, they decided to stick around and work things out. The following couples survived huge cheating scandals.
Usher and Grace Miguel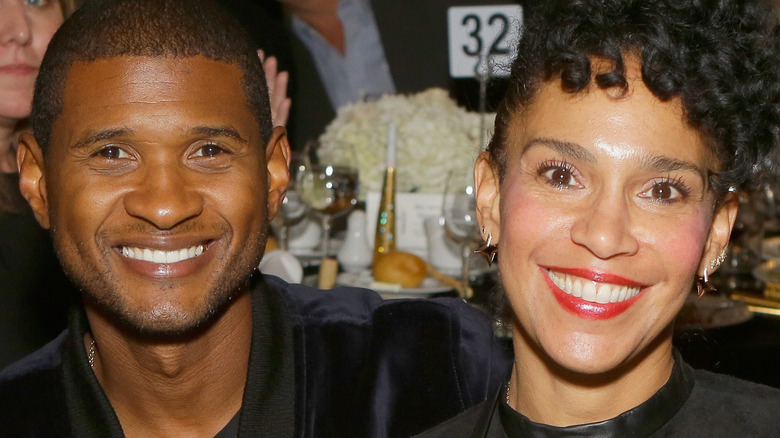 Usher Raymond had several "confessions" to make when Radar Online discovered that a woman alleged she'd contracted herpes after hooking up with the singer. He denied having the virus, but according to the outlet, his doctors declared that he was an "asymptomatic carrier." The R&B star ended up paying the woman's medical bills and settled the case in 2012, coughing up $1.1 million. In 2017, more women came forward to claim that they too had sexual contact with Usher. During that time, the star was married to his manager, Grace Miguel, who he wed in 2015. TMZ reported that the singer was hit with a $20 million lawsuit by a woman who claimed he had exposed her to the virus. According to E! News, the lawsuit was dismissed, but fans wondered how Miguel felt about all the allegations. Many expected his wife to leave him, especially since one woman claimed to have had sexual relations with him twice in 2017, after he and Miguel were already married. However, she stuck by his side for a while, with TMZ stating that the couple was "rock solid."
Alas, the rock eventually crumbled. Usher and Grace Miguel ended up splitting in March 2018, with the singer filing for divorce in December of that year, per People. As of this writing, Usher is dating Jenn Goicoechea, who welcomed their second child together in September 2021.
Woody Harrelson and Laura Louie
During a tell-all interview with The Hollywood Reporter, actor Woody Harrelson spilled his guts about his scandalous 2002 affair while he was in a long-term relationship with Laura Louie. The actor was reportedly in a London bar when a group of women approached him and offered him a foursome. Unbeknownst to him, one of the women just so happened to work as a paparazzo, and she took an incriminating photo of him that was later published in a tabloid magazine.
Harrelson shared that he never read the tabloid that ran the humiliating snap, but sure enough, Laura found out about the incident. In the aforementioned THR feature, "The Hunger Games" actor stated that she didn't react the way he expected. Instead of getting all angry and taking a Louisville Slugger to both headlights, she supposedly told him: "That must be really hard for you, to have this s**t exposed."
Looking back on the incident, Harrelson told THR, "Now that doesn't mean she wasn't upset. How did I apologize? You know, just your standard Texan grovel. But she forgave me, and we're still together." Harrelson and Louie finally tied the knot in 2008, on the island of Maui, and were surrounded by a few close friends and family, including actors Owen Wilson and Sean Penn, per Us Weekly. As of this writing, the Hollywood couple is still together.
Jaime Bergman and David Boreanaz
David Boreanaz may be known as Angel in the early-2000s series "Buffy the Vampire Slayer" and its eponymous spin-off, but years later, his fans knew him better as an apologetic adulterer. Boreanaz married Playboy Playmate Jaime Bergman in 2001 and the pair welcomed son Jaden in May 2002, and daughter Bella in 2009. But in 2010, the actor was forced to come clean about his affairs.
In a sit-down interview with People, where Bergman was also present, he shared, "I haven't been faithful to my wife. Our marriage has been tainted with my infidelities." The actor fessed up after allegedly being hit by "some sort of extortion attempt" by the woman and stated that he had "felt threatened." Despite his infidelities, Bergman shared that she was willing to work on their marriage.
Unfortunately, the mystery woman wasn't the only person Boreanaz was involved with. The actor also revealed he had cheated on Bergman when she was pregnant with their second child. That mistress was none other than Rachel Uchitel, per Daily Mail. If that name sounds familiar, it's probably because Uchitel made headlines when she found herself in the center of golfer Tiger Woods' sex scandal and subsequent divorce from wife Elin Nordegren. Thankfully, Boreanaz's marriage didn't suffer the same fate as Woods'. At the time of this writing, he and Bergman are still going strong.
David Letterman and Regina Lasko
In 2009, just seven months after marrying production manager Regina Lasko, late-night TV host David Letterman was forced to confess to being sexually involved with multiple staff members who worked on his hit show. Addressing the "Late Night With David Letterman" studio audience (via People), he apologized for his actions and said Lasko had been "horribly hurt" by his behavior. One of Letterman's mistresses was his former assistant, Stephanie Birkitt, who would sometimes make brief appearances on the show. She was also reportedly in a relationship with CBS News producer Joe Halderman at the time.
When Halderman discovered Birkitt was cheating on him with Letterman, he allegedly attempted to extort $2 million from the late-night host in exchange for silence, per People. Letterman's on-air admission was his way of getting ahead of the scandal, and in the end, Halderman was the one who paid the biggest price. In 2011, he pleaded guilty to second-degree grand larceny and was sentenced jail time, probation time, and community service time, according to CNN. Per the Washington Post, Birkitt's presence has reportedly been wiped clean from the CBS catalog of Letterman footage on YouTube–almost as if she never existed. As for Letterman, his reputation took a hit, but he managed to keep his marriage intact.
David Beckham and Victoria Beckham
Ever since tying the knot in 1999, David and Victoria Beckham have been celebrated for having one of the most successful couples in Hollywood. However, this marriage hasn't always been a smooth ride, most notably when cheating rumors emerged in 2004. The Telegraph reported that U.K. tabloid newspaper News of the World ran a story in which David was having an affair with his former personal assistant Rebecca Loos. Becks denied the allegations. "The simple truth is that I am very happily married, have a wonderful wife and two very special kids. There is nothing that any third party can do to change these facts."
However, Loos' brother, John Charles, told the Daily Mail that his sister confided in him and "confirmed" the affair. Victoria appeared to stand by her husband's side after the allegations arose, telling Grazia, "I have never listened to, or commented on, the rumours about any aspect of my life… David and I have nothing to prove." Years later, in January 2017, the football star seemingly hinted that the couple was not the perfect pair fans had always assumed. "Of course you make mistakes over the years. Whenever we've come through tough times we talk," he admitted to radio show Desert Island Discs (via Express). That vague statement alone sent tabloids into a frenzy and prompted many to assume it was a subtle confession, but whether the rumors are true or not, this power couple continues to go distance.
Ozzy Osbourne and Sharon Osbourne
Ozzy and Sharon Osbourne have overcome quite the obstacles in their decades-long marriage. The stars both confessed to cheating on each other for years — even long before their 1982 wedding — yet they've always been able to forgive and forge ahead. During an interview with "The Howard Stern Radio Show" in 2003 (via Blabbermouth), Sharon admitted to stepping out on her rocker husband in 1980 with the late Randy Rhoads. While the two were able to get over Sharon's infidelity, Us Weekly reported that in 2016, she had discovered Ozzy having an affair with his hairstylist, and the two split.
What's more, she later revealed in an interview with The Telegraph that he had cheated on her with six different women. "He had women in different countries," she said. "Basically, if you're a woman giving Ozzy either a back rub or a trolley of food, God help you." While co-hosting on "The Talk," Sharon stated that she had kicked him out of their home, but they didn't stay separated for long. On Mother's Day 2017, they renewed their wedding vows and celebrated 35 years together.
When speaking about the state of their marriage, Ozzy told Hello! magazine, "I can honestly say that I have never loved anybody other than my wife." In the same interview, Sharon added, "It was hard to rebuild the trust, but I can't imagine my life without Ozzy." As of this writing, the rockstar couple is still together.
Hillary Clinton and Bill Clinton
The entire world was shocked when the 42nd president of the U.S. became tied up in a sex scandal involving a much younger White House intern. Bill Clinton, who was 49 at the time, stated during a televised speech that he "did not have sexual relations" with Monica Lewinsky, who was 22-years-old in 1998. The president's statement was later disproved, and what happened next included charges of perjury and obstruction of justice, and Lewinsky's infamous soiled blue dress. Yuck.
Lewinsky wasn't the only woman with whom Bill allegedly cheated. According to Vox, when the Lewinsky scandal broke, the president was already under investigation and being sued by a former Arkansas state employee named Paula Jones for allegedly exposing himself to her. But that wasn't all, a woman named Gennifer Flowers stepped forward claiming to have been Bill's mistress for 12 years. During a "60 Minutes" interview, the former president, who was seated alongside his wife, denied that he had an affair with Flowers. However, he would later 'fess up to the claims, per The New York Times. In February 1999, Hillary Clinton stood by her husband's side when he was later acquitted on both charges of perjury and obstruction of justice.
The two have stuck it out, but it hasn't always been easy. In a 2020 interview with The Sydney Morning Herald, Hillary remarked that those days were "painful," but added, "I've always loved Bill, and I always knew he loved me."
Larry King and Shawn King
Larry and Shawn King have been married since 1997 and considering she's his seventh wife, one would think he'd be a marriage pro by now. Think again. This relationship has been rife with so many controversies and cheating scandals, it's difficult to keep up with all the messiness! In 2010, both Larry and Shawn filed separate divorce papers after it appeared that both stars had affairs with other people. Larry filed for divorce after it was revealed that Shawn was having an affair with her son's baseball coach, per the National Enquirer. It was then reported by People that the coach had admitted to the claims. As for Larry, the same tabloid reported that the host was having an affair with his wife's sister, Shannon Engemann. Both stars denied the allegations and called off their divorce that same year.
By 2016, they were on the rocks again. A source told People that Larry was "distraught" about his wife's alleged year-long affair with an unnamed man. However, in an interview with Home & Family (via People), the couple again denied any affair. In 2019, Larry would file for divorce once more, citing irreconcilable differences. Shawn admitted she was "blindsided" by the split, telling DailyMail TV, "I had no idea it was coming." After the host died at the age of 87 in January 2021, Shawn told ET that their divorce was not finalized.
Beyoncé and Jay-Z
After the 2014 Met Gala, Beyoncé's little sister, Solange Knowles, laid the smackdown on Shawn "Jay-Z" Carter inside an elevator. Two months later, Beyoncé made some not-so-subtle changes to the track "Resentment," and cheating rumors really began to buzz. Beyoncé's 2006 song, which is all about being lied to and cheated on by the one you love, got a bit of a curious revamp for the On the Run Tour.
As Us Weekly noted, Bey raised some eyebrows when she took original lyrics "Been ridin' with you for six years" and sang "Been ridin' with you for 12 years" in concert. Wouldn't you know it, that just so happened to be the exact amount of time she and Hova had been together. When Beyoncé released her sixth studio album, "Lemonade," in 2016, fans heard her message loud and clear. The entire visual album points to a tumultuous relationship plagued by a mysterious "Becky with the good hair." Beyoncé's album would be followed up by Jay-Z's "4:44," where he raps about a woman being cheated on. In an interview with The New York Times, Jay-Z admitted to his infidelities but added that the two worked on their albums together and used that time as a "therapy session." In 2018, the couple released a surprise joint album titled "Everything is Love" which indicated that the two were still committed to one another.
Eniko Parrish and Kevin Hart
Comedian Kevin Hart admitted to cheating throughout his first marriage to his ex-wife, Torrei Hart. He's even joked about it in his stand-up, but he appeared to be a changed man when he wed model Eniko Parrish in August 2016. The following year, the seemingly happy couple was expecting their first child together, per People. Instead of joyfully awaiting the arrival of their bundle of joy, Parrish suddenly had to deal with an embarrassing scandal involving her husband. According to TMZ, Hart posted a video online, publicly apologizing to Parrish, and his two children from his first marriage, for leaked video footage that allegedly showed him hooking up with a former bartender named Montia Sabbag.
Parrish stayed with Hart even after, as TMZ reported, an unknown source attempted to extort seven figures from the comedian to keep the scandalous footage private. Parrish later spoke out about her husband's infidelities on Hart's docuseries, "Kevin Hart: Don't F** This Up," sharing (via E! News), "I believe in second chances. I'm all about forgiveness, and you only get two times. Three strikes you're out, you're out of here. So, as long as he behaves, we're good." Parrish gave birth to a healthy baby boy named Kenzo Kash in November 2017, and the Hollywood couple welcomed their second child, a daughter named Kaori, in September 2020.
Cardi B and Offset
Cardi B and Offset's relationship began around 2016 and was set in stone when the Migos member got down on one knee and proposed during a sold-out performance in Philadelphia, putting a $500,000 ring on the "Bodak Yellow" rapper's finger. However, as Billboard noted, that cheating allegations surfaced that same year when a video appeared to show Offset with another woman.
Cardi B acknowledged her fiance's infidelity in an interview with Cosmopolitan, sharing that she made the decision to stay and jokingly shared, "Since when are all these women dating pastors and deacons?" And in 2018, she confirmed that she was pregnant on "Saturday Night Live," with TMZ reporting that the couple tied the knot in September 2017. The pair welcomed daughter Kulture into the world in July 2018, and later that year, Cardi B announced the two had split.
Their breakup was brief, with Harper's Bazaar stating that in early 2019 they were seen walking the Grammy's red carpet, but in 2020, Cardi B shockingly filed for divorce, and TMZ reported Cardi was seeking primary physical custody of their daughter. But, that was short-lived too, and the duo was seen back together the very next month. In September 2021, the couple welcomed a son and shared the news on social media.
Brittany Cartwright and Jax Taylor
Former "Vanderpump Rules" star Jax Taylor has been caught in several relationship scandals on the reality television show, but it came as a shock to many viewers when it was revealed on Season 6, that he had cheated on his girlfriend Brittany Cartwright of two years with fellow castmate Faith Stowers. Taylor spoke to Us Weekly about why he had cheated on Cartwright, stating, "I wasn't thinking. It was one of my usual mess-ups. I really really really regret what I did." However, he did add that the duo was "in a good place" and that he was seeking therapy "to better myself." Cartwright had also opened up to Us Weekly, sharing that she believed Taylor was a changed man after they had worked through the tryst. "I see him every single day making efforts and he's completely changed the way he treats me, the way he talks to me, the way he listens to me," she said. "Every single thing about our relationship is better."
In 2018, the couple announced that they were engaged, and a year later, the two wed in Cartwright's home state of Kentucky. In April 2021, the couple welcomed their first child together, a boy named Cruz, with Taylor sharing on Instagram, "I don't think I have ever been as happy as I am right now, everything else in life seems so insignificant now. I am crying just writing this message."
Tori Spelling and Dean McDermott
Tori Spelling and Dean McDermott said "I do" in 2006, but they didn't stay in a state of wedded bliss forever. In 2013, McDermott admitted to cheating on Spelling with a woman named Emily Goodhand. The aftermath of the affair played out on the couple's reality show "Tru Tori," where McDermott entered rehab for sex addiction and the couple went to therapy, per People. After the scandal, the couple appeared to be in a good place and working on their marriage with Spelling admitting that the birth of their fifth child, a son named Beau, was also a "rebirth" of their marriage, per Us Weekly.
Two years later, McDermott opened up about his cheating past on the "Daddy Issues" podcast in 2019, sharing (via Us Weekly), "It was horrible and I'm an a*****e, piece of s**t for doing it, [but now] our relationship is better than ever."
The couple seemed to be on good terms when Spelling shared a sweet message about her husband on Father's Day on Instagram. She shared, "You are our ROCK and we can't imagine life without you." However, in a June 2021 interview with Jeff Lewis, Spelling admitted she and McDermott had been sleeping in separate rooms. Divorce rumors followed, but that September, McDermott insisted to "The Feminine Warrior" podcast that the stories didn't hold water.
Jessica Biel and Justin Timberlake
Jessica Biel managed to stay mum after several outlets reported that her husband of seven years, Justin Timberlake was seemingly spotted flirting with his "Palmer" co-star Alisha Wainwright in New Orleans, in 2019. According to The Sun, the two were photographed holding hands, Wainwright was spotted putting her hand on the former *NSYNC member's knee as they enjoyed a night out in the lively city. Despite the incriminating photos, a representative for Wainwright told People that it wasn't what it appeared to be, adding, "He's down there shooting [his film] 'Palmer,' they're starring in a movie together and they're cool and everybody was hanging out."
However, that December, Timberlake felt the need to address the speculation and shared on Instagram, "I apologize to my amazing wife and family for putting them through such an embarrassing situation, and I am focused on being the best husband and father I can be. This was not that." Since the scandal, OK! reported that to make Biel feel more at ease and to solidify his commitment to her, Timberlake signed an infidelity clause that states that if he cheats on her, Biel is entitled to "the lion's share of the assets as well as primary custody of the kids."