Matthew Rhys is no stranger to television viewers. He's known primarily for his roles in the ABC drama "Brothers & Sisters," which ran from 2006 until 2011, and FX's acclaimed "The Americans," which ended its six-season run in 2013. In the latter role, Rhys played travel agent Philip Jennings, a typical suburban husband and father living in the 1980s. However, he was hiding a pretty significant secret: He and his wife Elizabeth (Keri Russell) were both Soviet spies, trained in their native Russia as children and planted in the U.S. as sleeper agents.
His role in "The Americans" won Rhys the biggest acclaim of his career, propelling the actor to a level of fame he had previously never experienced — and could barely have imagined when he was a child growing up in Cardiff, Wales. However, he admitted in an interview with Esquire that he always had a sense that America was beckoning to him with the promise of a brighter future. "Growing up, I think we always associated America with hope — the pictures, the TV shows: Anything is possible, justice is always served, and therefore there's hope," he said.
As his stardom continues to expand, there's still a lot about this multitalented actor that his fans may not realize. To find out more, read on and learn the untold truth of Matthew Rhys.
His first screen appearance was as an extra in his native Wales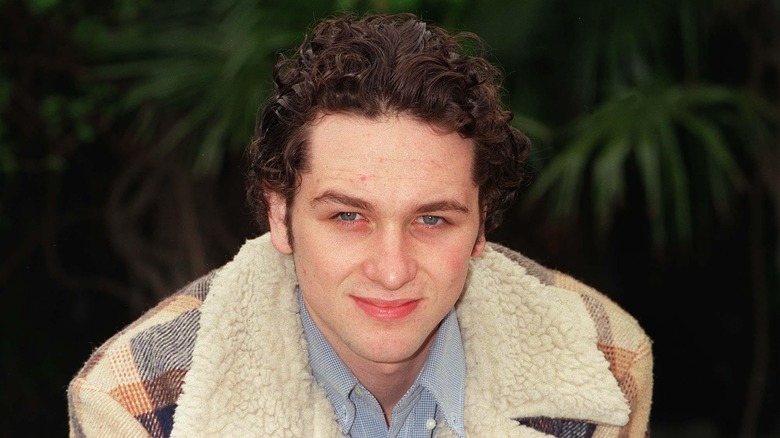 While Matthew Rhys' IMDb credits begin with his titular role in the 1997 Welsh indie drama "Boyo," when he was in his early 20s, that wasn't actually his first appearance onscreen. As Rhys told Rolling Stone, his first time acting in front of a camera was when he was still in school. The opportunity presented itself when he was selected to be an extra in a BBC production shooting in Cardiff. "There was one time, in drama class, where I was picked to be the son of a coal miner," he says, recalling that the project was a "daytime drama."
Despite the fact that he was just an extra, playing the coal miner's son called for a degree of acting skill that he admittedly did not possess at the time. "The miner died in an explosion, and I had to cry, and I thought, 'How am I gonna cry?'" Unable to conjure up tears on command, he told Rolling Stone that he simply buried his face in his hands and pretended he was weeping, which apparently did the trick.
He and wife Keri Russell were co-stars before they became involved romantically
Being cast as covert Soviet spy Philip Jennings in the FX espionage drama "The Americans" was life-changing for Matthew Rhys in more ways than one. Not only did the series lead to his next-level Hollywood stardom, but it also introduced him to co-star Keri Russell, who played his character's wife, Elizabeth. During the course of the series, the actors' relationship progressed from co-stars to lovers, then to co-parents.
Unfortunately, the couple's road to romance was not without complications, given that Russell was married to someone else at the time they met; in 2013, she announced her separation from husband Shane Deary. For the next few months, noted People, rumors swirled that Russell and Rhys were dating. They downplayed those reports by never publicly mentioning their romance, despite People confirming it in 2014. But in early 2016, news broke that they were expecting a child together.
In a 2017 interview with Entertainment Weekly, Rhys opened up about the balancing act of keeping their personal and professional lives separate. "You have to [leave it all on set], otherwise you go insane. You can't bring that amount of work home. We run lines begrudgingly, and that's the sum total of how much work we bring home," he explained. "It's great in many ways. It's also challenging — as anyone, I'm sure, would admit — to work with your partner that intensely for that long."
Matthew Rhys owes his acting ambitions to another famous Welsh thespian
Although he's lived in the U.S. since 1998, Matthew Rhys told Visit Wales that his Welsh identity remains "unwavering in me, it's as strong as oak." When he embarked on his acting career, Rhys told The Guardian in 2019, he owed his ambition to another Wales-born actor who'd achieved worldwide success. "For me, the inspiration was Richard Burton. I grew up watching his films and thinking, hey, there is this world-famous actor and he comes from Port Talbot! And Anthony Hopkins came next as the giant A-lister," Rhys explained. "Without question, the reason I went into acting was Richard Burton," he reiterated in a 2021 tweet.
That tweet, however, wasn't a random expression of admiration, but to promote his audio performance of "Playing Burton," which adapted Mark Jenkins' one-man show for Audible. As Rhys told Audible in an interview, portraying Burton was not only an honor but also something that connected with him on a deep level. "So, Burton was the first, the original pioneer," said Rhys. "There's a line in the play where he says, 'I did it,' because his first language was Welsh, and he goes, 'I did it all in a language that wasn't even mine.' And there was a lot [in that] that I resonated with Burton. He just made it seem it was possible because his journey had been so great and arduous at times, and so, so much of a roller coaster."
He's no dilettante when it comes to mastering accents
It's a testament to Matthew Rhys' mastery of accents that neither viewers of his British period dramas nor fans of his work on "The Americans" or "Perry Mason" would ever realize that he's actually Welsh. Not surprisingly, he expends some serious energy locking down his characters' accents.
As Rhys pointed out in an interview with Backstage, the existence of YouTube has made it significantly easier for actors to study a particular accent or to recreate the specific accent of a particular person. When he was a young actor, however, YouTube had yet to be invented, and he had to make do with whatever tools were available. "I remember back in the old days, research was when you went to a library and read books about a subject. You didn't look at YouTube, which basically can give you any piece of research you need about any part, accent, character, [or] movement," he recalled.
In fact, he detailed some of the extreme efforts he used to undertake when trying to nail down a regional British accent. "I used to get on a train with a tape recorder and stay in a bed and breakfast somewhere for two nights, recording local people and going back and listening to the tapes," he recalled. "Now, you can go to YouTube and listen to any accent or dialect you want."
Sitting next to Michelle Obama left him starstruck
Matthew Rhys has rubbed elbows with his share of A-listers, from co-starring with Tom Hanks in "A Beautiful Day in the Neighborhood" (and Hanks and Meryl Streep in "The Post") to playing the son of Sally Field's character in the television drama "Brothers & Sisters." However, there was one famous couple that left him feeling completely and utterly starstruck: former president Barack Obama and first lady Michelle Obama. After meeting the couple, he described to Wales Online the "totally surreal" experience of sitting next to Michelle Obama when he and partner Keri Russell were invited to attend a state dinner at the White House. "I have never been so nervous in my life," Rhys admitted. "The only thing near comparable was when I met Gareth Edwards," he added, referring to the Welsh rugby legend.
In fact, his anxiety about the White House event began well before he got there. Upon learning he was to be seated next to the first lady, he revealed, "That's when my knees went, my mouth went dry and I thought, 'What on earth am I going to talk about?" However, he said the Obamas made him feel totally at ease. "She's exactly the person she is in public and she and the president are very engaging and very charming," Rhys recalled.
Of course, it didn't hurt that the president was a big fan of "The Americans," with Russell revealing that he was sent advance screeners of the show "because he liked to watch it."
He ran with the bulls in Pamploma
Actors under contract to film and television studios are typically prohibited from engaging in dangerous, life-threatening activities so as not to screw up their projects by inconveniently dying or suffering injuries. Sometimes, however, they will ignore that guidance, which is precisely what Matthew Rhys did while he was starring in the ABC drama "Brothers & Sisters" and decided to take part in the annual running of the bulls in the streets of Pamplona, Spain.
Describing it as his "latest silly escapade," Rhys admitted to WalesOnline in 2008 that he "shouldn't tell you this because the producers on 'Brothers & Sisters' don't know about it — it would have blown my insurance — but I sneaked off and did it anyway." He added, "Obviously, I lied to my mother about it too. She would have chained me to a radiator."
Revealing he was inspired by reading Ernest Hemingway's famed account in "The Sun Also Rises," Rhys described "the run itself" as "the most adrenalized moment of my life." He explained, "The main aim when the cannon sounds is to run like hell. You go flat out, trying to jump clear of fallers, and there's a moment of proper, sheer panic as you instinctively feel the group peeling apart behind you," which indicates that the animals are right on the runners' heels. "I got away unscathed," he revealed, admitting he has no plans to ever participate in "anything that dangerous again."
The new Perry Mason never watched the original Perry Mason
Following the end of "The Americans," Matthew Rhys' next big television role came as the star of HBO's "Perry Mason," a prequel to the iconic TV series of the '50s and '60s starring Raymond Burr as a crusading defense attorney. In the HBO iteration, however, Rhys plays Mason in his years before becoming a lawyer, when he was a jaded, cynical war veteran working as a private investigator in 1930s Los Angeles.
While the original "Perry Mason" ran from 1957 until 1966 and pretty much set the template for TV legal dramas, it was a show that Rhys had never actually watched. "I was very aware of the magnitude of it as a show, it was huge in the U.K. But I never watched it myself," Rhys confessed in an interview with GQ. He decided to keep it that way, realizing that he's "a kind of unconscious thief who mimics" the performances of other actors, which would likely have been the case had he watched Burr in the original series.
Reinventing one of television's most iconic characters didn't come without a certain degree of trepidation, however. "I read this part because I had the opportunity to play it," Rhys told "Good Morning America." "It terrified me. But I said, 'Well, I have to play it because it's such a challenge.'"
He has a love/hate relationship with his Perry Mason hat
In his portrayal of Perry Mason for the HBO series of the same name, Matthew Rhys is rarely seen without his wide-brimmed hat. As Rhys revealed in an interview with Collider, he felt a lot of pressure to find just the right hat for the iconic character. "There were a lot of hats. We tried a lot of hats. I really enjoyed the process of building this guy, costume wise, 'cause I was afforded that luxury of coming on early," Rhys divulged. "I have a big head, as well, so you need a big hat to make a big head look proportionate. I tried on some big hats."
As Rhys pointed out, there were pros and cons to playing a character who nearly always wears a hat. "There are times when the hat is an absolute savior because you can take it off, you can use it as a prop, and it affords you all manner of things. If you're in a sticky moment, it can be an enormous ally," he explained. "And then, there are other times, when you do fight scenes and the hat has to stay on because, at the end of the fight, it was on, so they tape it to your head and it's still falling off, and you're like, 'I f**king hate this hat.' And then, on other days, you love the hat. So, it's exactly that, love/hate."
Matthew Rhys has made his share of British period dramas
Most American television viewers likely first became aware of Matthew Rhys for his role on "Brothers & Sisters," and even more learned about the actor when he went on to star opposite Keri Russell in "The Americans." However, those U.S. viewers — unless they watched a lot of PBS — may have been unaware of Rhys' stature in his native United Kingdom, where he acted in British period dramas. Among these: playing Lord Byron in the 2006 TV movie "Beau Brummell: This Charming Man," a British TV adaptation of Charles Dickens' "The Mystery of Edwin Drood," and the BBC miniseries "Death Comes to Pemberley."
In the latter, Rhys played one of literature's most famous leading men, Fitzwilliam Darcy of "Pride and Prejudice," in a murder mystery based on P.D. James' homage to the iconic Jane Austen novel. Speaking to WalesOnline, Rhys was very cognizant of trying to avoid inevitable comparisons to another actor who'd played Darcy onscreen in a beloved 1995 TV adaptation of "Pride and Prejudice."
"People go, 'Are you playing Colin Firth?' I've been a bit surprised by the reaction it gets from people," he joked about playing Darcy. "He's an icon now. Everyone talks about the pond and the shirt. I'm not doing that! It's a very different Darcy that we meet so the comparisons can't be held up."
He only speaks to his son in Welsh
Matthew Rhys and Keri Russell welcomed a son in the spring of 2016. That summer, Russell announced that they'd named him Sam during a "Today" interview. Speaking with Britain's Radio Times, as reported by BBC News, Rhys revealed that English will not be his son's first language. "I speak to him solely in Welsh," Rhys declared. "He can answer and understand at the moment."
Given that his son was just two years old at the time, Rhys admitted he couldn't predict how much Welsh he'd wind up hanging onto once he started going to school, where he'd be interacting in English with everyone around him. However, Rhys added, "What I hope is that I can continue to speak to him in Welsh and then he'll understand for life." Rhys also joked about the downside all of that Welsh talk could have on their future father-son relationship. "He'll probably resent me for the amount of Welsh I'm going to force upon him," he quipped.
"The Welsh have this impressively rose-tinted mythical idea of what home is. Especially for those who leave," he admitted, explaining the extreme measures he's taking to envelop his son in his Welsh heritage, even expressing his hope that Sam will share his support for the Welsh rugby team in the annual Six Nations championship. "For me Wales is now this place of unicorns and druids, in a way — a place I know I'll never return to," he said.
He gets 'absolutely wasted' filming his series The Wine Show
In addition to Matthew Rhys' work as an actor, he also participates in another less serious venture: "The Wine Show," a TV series in which he and fellow actors James Purefoy, Dominic West, and Matthew Goode are joined by wine experts as they indulge their mutual love of vino by traveling to some of the world's most famous wine regions to sample the bounty of the local vineyards.
Discussing the show during an interview with W, Rhys was asked "how drunk" he became while enjoying all that wine. "Absolutely wasted. Wasted!" he responded. According to Rhys, while filming the first season in Italy, he discovered that "Italians firmly believe that you do not spit the wine like the French do when they do tastings."
This came into play during the series' extended production days. "So, if you imagine we start at 8:30 in the morning, we would stop at like 6:30 in the afternoon — by midday, we were on our knees!" he joked. "All the producers would say, 'You've got to stop slurring, you've got to say something more than, "Oh, this is nice!"' As Rhys recalled, producers soon began to rejig the production schedule to accommodate the drunkenness of their cast. "They started scheduling that into the day because around 2 o'clock we wouldn't have a single linear thought in our heads, and they'd give us time to sleep for a little bit, and see if they could get any more out of us in the afternoon," he explained.
Matthew Rhys had no idea who Mr. Rogers was before starring in a movie about him
In 2019, Matthew Rhys appeared in what was then arguably his biggest movie role: starring opposite Tom Hanks in "A Beautiful Day in the Neighborhood." In the film, Rhys plays a magazine journalist assigned to write a profile on children's TV show host Fred Rogers (Hanks) of "Mister Rogers' Neighborhood" fame. The writer ultimately discovers that what he assumed was crafted-for-TV schtick was simply Rogers' inherent sweetness and decency.
While "Mister Rogers" may be a ubiquitous part of pop culture in North America, the same isn't true in Rhys' native Wales. As a result, his knowledge of Rogers was cursory at best. Appearing on "Rachael Ray," Rhys revealed that he had no awareness of the beloved television icon while growing up, admitting he was "sadder for it. I think we're a poorer nation for not having Fred Rogers, but unfortunately, he didn't make it across the Atlantic."
When he first read the script for "A Beautiful Day in the Neighborhood," he had to ask partner Keri Russell to explain who Fred Rogers was. Once he grew fully aware of Rogers' role as "a true groundbreaker, a pioneer of his time," Rhys came to see Hanks' casting as pretty close to sublime. "I've said, 'America's dad is playing America's dad,'" he stated.
He's a sucker for a good documentary
When Matthew Rhys kicks back in front of his television for a bit of relaxing diversion, he's more inclined to watch a documentary than a fictionalized presentation. "Docs over drama in our house," he said of the viewing preferences in his household, which includes he and partner Keri Russell, in addition to their son and Russell's two children from her previous marriage.
Given the differing ages of the children — which, in the summer of 2021, ranged from five to 13 — Rhys admitted that finding something the entire family can watch together is something of a challenge. "One thing we did find, and went back to a lot, was 'Seven Worlds One Planet,' which was the David Attenborough [docuseries] for the BBC. That blew my mind," he told W. Another documentary he found particularly interesting was "Hemingway," a biographical look at writer Ernest Hemingway that filmmakers Ken Burns and Lynn Novick produced for PBS.
"I've always been a big fan," said Rhys of Hemingway, and he also shared his praise for the sprawling three-part, six-hour film. "I suppose what struck me about the documentary was I was seemingly looking at a subject matter that I didn't know about and I think that's what Ken Burns and Lynn Novick do so well, they steer away from the obvious," he stated. "They mine very interesting things from their subjects. I felt it was fresh, new eyes on Hemingway."
Matthew Rhys has made some serious money — and he's spending it on a passion project
Coming to Hollywood has been beneficial to Matthew Rhys' acting career and, by extension, his financial situation. In fact, Celebrity Net Worth estimates Rhys' fortune as $12 million, a number that promises to keep growing as his star continues to rise.
While Rhys isn't the kind of celebrity prone to ostentatious public displays of wealth, he has been vocal about one big purchase that's very close to his heart. As he told W, a few years back, he stumbled upon a boat for sale: a 1930s-era Wheeler Playmate, a model made famous by Ernest Hemingway. After a little digging, Rhys discovered "there were only four of them left." Learning the boat had been named Rarebit, a reference to an iconic Welsh dish, he told The New York Times that he took it as "a sign from the heavens that I must buy this boat." That's precisely what he did, spending tens of thousands of dollars over the course of four years to restore it, even giving the boat its own Instagram page.
The boat, he told the Times, is now available to charter; when Rhys is in New York and has the time, he'll occasionally lead the charters himself. "In the simplest form, I just want people to enjoy chartering a piece of New York history of this bygone age," he told Entertainment Weekly of his labor of love.