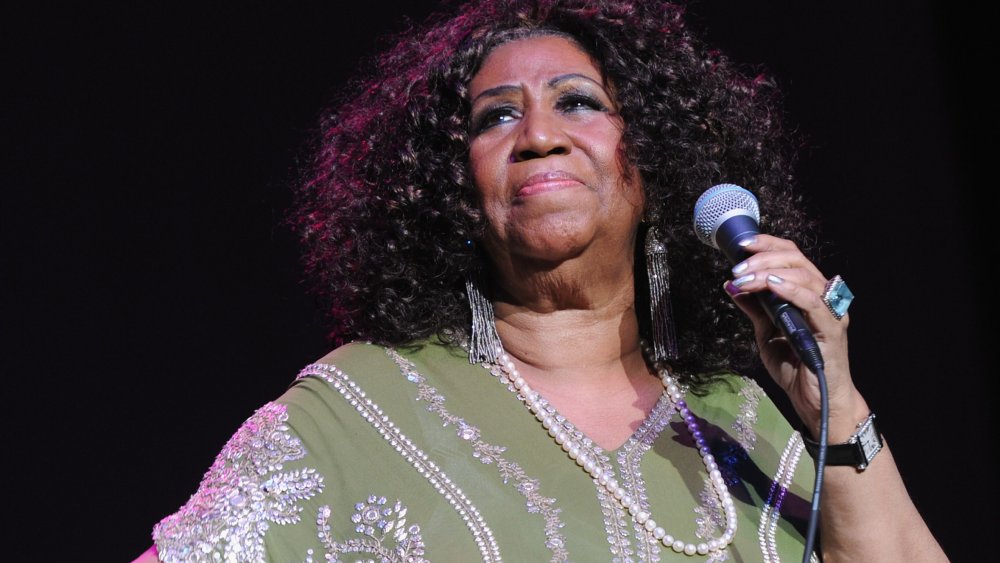 Behind every great musical diva, there's typically a myriad of tragedies — and the legendary Aretha Franklin is no exception. The Queen of Soul was forced to deal with everything from parental abandonment, death, and pregnancy before she'd even entered her teenage years. And the iconic singer, famous for her 1960s anthem "Respect," didn't have things much easier when she reached adulthood, either.
The multiple chart-topper, Rock and Roll Hall of Fame inductee and 18-time Grammy Award winner tried her best to keep her turbulent private life out of the public gaze right up until her death from pancreatic cancer in 2018. However, fans will be able to get an insight into Franklin's life in the 2021 big screen biopic starring former American Idol contestant-turned-Oscar winner Jennifer Hudson, a powerhouse vocalist no stranger to tragedy herself. Here's a look at the hardships that informed Aretha Franklin's incredible yet often incredibly difficult career.
She came from a broken home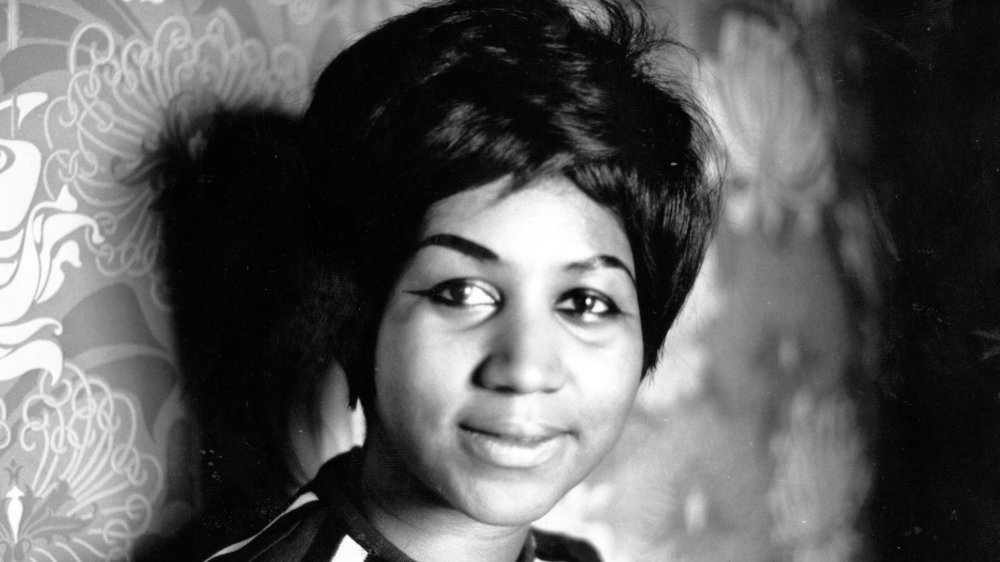 Aretha Franklin's exuberant father, Clarence, didn't exactly practice what he preached. Far from the respectable figure he seemed on paper, the Baptist minister reveled in debauchery, often staging wine and weed-fueled wild orgies at his place of worship (via Daily Mail). Disturbingly, he also reportedly fathered a child with a congregation member who was still just a teenager. In the end, Clarence's promiscuity and depravity became too much for Aretha's mother, Barbara, and she left the family home when the future star was aged just six.
In 2018, Aretha Franklin biographer David Ritz told People magazine, "[Barbara] put out a picture of her having a happy home and happy children and everything was rosy and any stories to the contrary really got her mad."
Having been abandoned by their mother, Aretha and her three siblings were primarily looked after by the various girlfriends and conquests that Clarence, a fellow dubbed "The Man with the Million Dollar Voice," brought into their lives.
She lost her mother at the age of nine
Despite several reports to the contrary, Aretha Franklin still maintained a relationship with her mother (also a gifted gospel singer), following her swift exit from their family home. Alongside her brother Cecil and sisters Carolyn and Erma, the youngster would sometimes visit Barbara during the summer months in her new home in Buffalo and would sometimes be visited in return at the family home in Detroit. As a result, the siblings were also able to continue seeing their half-brother, Vaughn, who Barbara took back to her hometown (via Vice).
Sadly, these intermittent meetings came to an end in 1952 when Barbara suddenly passed away. The pianist and former nurse aide trainee suffered a fatal heart attack at the age of just 34 and just days before her second daughter was due to turn ten. Perhaps as a means of channeling her grief, Aretha subsequently became a soloist at New Bethel Baptist Church.
Aretha Franklin was a teenage mom
With such a libidinous father figure, it was perhaps little surprise that Aretha Franklin became sexually active from a worryingly young age. In fact, while appearing on TV documentary Legends (via the Daily Beast), the star appeared to hint that she'd been intimate with another soul legend, Sam Cooke when she was 12 and he was a much older 23. And two months before she entered her teens, she gave birth to the first of her four children.
Yes, in January of 1955, Franklin welcomed son Clarence into the world. The choice of name did little to dispel the disturbing rumors that he'd been fathered by Franklin's very own pop. The star never answered this rather unsettling game of Who's the Daddy. However, in his biography, Respect: The Life of Aretha Franklin (via People), David Ritz alleges that a school friend, Donald Burke, was the mystery man.
Franklin soon returned to her school, with sister Erma later quoted in Ritz's memoir as saying, "She was an excellent student who did well in all her classes." But her education was disrupted once again, and this time for good, when she fell pregnant with her second son Edward in 1957.
She regularly encountered racial segregation
Dropping out of school for a second time appeared to give Aretha Franklin the impetus to chase her musical dreams instead. After arranging childcare with Big Mama, a.k.a. her paternal grandmother, the singer went on tour with her father as part of his traveling show, Gospel Caravan. Unfortunately, life on the open road wasn't exactly a bed of roses (via Daily Mail).
Indeed, Franklin would later discuss how she and her tourmates would often experience racial segregation while journeying through the Deep South. Not only were they prevented from dining at particular restaurants, but they were even denied access to certain gas stations and their respective bathrooms. According to Franklin (via NPR), Gulf (the gas station chain) was the only one they could depend on at the time.
Of course, Franklin would later become a key figure in the civil rights movement, with her signature cover of Otis Redding's "Respect" adopted as its anthem. As she told Elle in 2016, during her ascent to superstardom, Franklin signed a contract which stipulated that she would never sing for an audience that had been racially segregated.
Aretha Franklin married an abusive pimp
According to Daily Mail, Aretha Franklin's early career was reportedly bankrolled by Ted White, the man she walked down the aisle with at the age of 19 in 1961. But his money came from nefarious means. White was a notorious criminal on the streets of Detroit, with pimping, in particular, his forte.
According to a 1968 profile in Time, he was also a domestic abuser who publicly "roughed" his wife up while the pair were staying at the Regency Hyatt House Hotel in Atlanta. Franklin herself never commented on the incident, but mentor Mahalia Jackson heartbreakingly told the same magazine, "I don't think she's happy. Somebody else is making her sing the blues." Her producer Otis Taylor, meanwhile, is quoted by author David Ritz in Respect: The Life of Aretha Franklin (via Daily Mail) as saying that White "didn't hesitate slapping [Franklin] around and didn't care who saw him do it."
Franklin never publicly commented on these allegations but fans believe she strongly hinted at them in her 1967 song "I Never Loved a Man the Way I Love You" ("I don't know why I let you do these things to me/My friends keep telling me that you ain't no good/But oh, they don't know that I'd leave you if I could"). The star eventually did leave White, also the father of her third son Teddy, divorcing him in 1969.
She developed a drinking problem
By the time Aretha Franklin headed for the divorce courts, she had also developed a serious drinking problem. The soul singer had turned to alcohol as a means of coping with her abusive marriage, but it soon began impacting her glittering career.
As the Daily Mail details, the singer once broke her arm after drunkenly falling off stage mid-gig while performing, although Franklin later claimed that the venue's blinding bright lights had been to blame for her costly stumble. The star also repeatedly disappointed fans by canceling shows at the last minute and "not showing up for studio recording dates," once even suffering the ignominy of an arrest for disorderly behavior.
"She was drinking so much we thought she was on the verge of a breakdown," sister Carolyn said in David Ritz's biography, Respect: The Life of Aretha Franklin, about the crooner's time with Ted White. Thankfully, as the dawn of a new decade emerged, Franklin was able to keep the drinking to a minimum.
She was hospitalized for nervous exhaustion
Aretha Franklin may have managed to get her drinking under control after leaving her abusive husband behind, but she still continued to struggle with her mental health. As sister Carolyn revealed in David Ritz's biography, Respect: The Life of Aretha Franklin (via Daily Mail), the star was plagued by self-doubt and the stresses of working in the music industry. According to Carolyn, "[Franklin] was afraid she wasn't good enough as a singer, pretty enough as a woman, or devoted enough as a mother. I don't know what to call it but deep, deep insecurity."
And Carolyn wasn't the only sibling to be concerned about Aretha's state of mind. She was also hospitalized for "nervous exhaustion" in an isolated Connecticut facility by her brother Cecil. This drastic move initially appeared to do the trick as the singer returned to work in familiar diva mode. However, it was only ever a temporary fix, and the crooner would seek similar help time and time again.
Her father was shot in a robbery
The year 1984 proved to be something of an annus horribilis for the Queen of Soul. Not only did Aretha Franklin divorce her second husband, actor Glynn Turman after six years of marriage, but she also lost the man she perhaps loved more dearly than any other, her father, Clarence.
As per The Washington Post, the New Bethel Baptist Church preacher was shot twice at close range during a botched robbery of his Detroit house five years previously and subsequently fell into a coma from which he never came out of. Clarence spent the first six months after the incident in the hospital before being allowed to receive round-the-clock care at home.
Aretha would later put her career on hold to help look after her father in 1982. However, she would often argue with her siblings and other family members about how best to do so. In David Ritz's memoir, Respect: The Life of Aretha Franklin, booking agent Ruth Bowen argues, "Falling-outs are her specialty."
She lost two siblings within a year of each other
Aretha Franklin's relationships with her siblings were often fraught. Per Daily Mail, the star had a jealous streak which some say manifested itself by holding back the careers of her sisters Erma and Carolyn, two talented singers in their own right. And brother Cecil, who also became the singer's manager following her divorce from first husband Ted White, would regularly be on the receiving end of her sharp tongue. In David Ritz's biography, Respect: The Life of Aretha Franklin (via Daily Mail), he's quoted as saying, "She takes her suffering and turns it into anger. It's all about diva drama. It's hard for her to deal with extreme sadness and loss."
Sadly, the soul legend would lose all three siblings by the turn of the century, and all to different forms of The Big C. Carolyn died of breast cancer in April 1988, while Cecil passed away from the lung form at Christmas 1989. The eldest Franklin sibling Erma succumbed to throat cancer in September 2002, the same year that their half-brother Vaughn also lost his life.
Aretha Franklin became something of a fantasist
Aretha Franklin certainly wasn't afraid to embellish the truth a little. In fact, she often completely fabricated stories about her private life in a bid to dismiss press reports about her mental instability. "Aretha gets up every day and starts creating her own reality," her friend Ruth Bowen is quoted by David Ritz in his biography, Respect: The Life of Aretha Franklin.
Franklin was certainly committed to whichever idea popped into her head. One particular man was no doubt left stunned when he heard that he was due to walk down the aisle with the Queen of Soul, a downright lie that came straight from the horse's mouth (via Daily Mail). As Bowen added, "At some point she started seeing her love life like a soap opera. She began writing a soap opera script — just making up s***, fantasizing about men and relationships that never existed. That became a new pattern for her — making up stories about these beautiful love affairs that happened only in her mind" (via Daily Mail).
She suffered a lengthy cancer battle
Having lost three siblings and a half-brother to cancer, Aretha Franklin was then reportedly diagnosed with the pancreatic form of the disease in 2010. However, as always, the vocalist remained tight-lipped. In an interview with Wendy Williams a year later, Franklin refused to comment on the surgery she'd undergone, simply telling the host, "I've left that behind. I'm feeling wonderful. I'm feeling great."
However, the musical icon would continue to cancel shows throughout the decade to an undisclosed medical condition. The singer officially retired from the stage in 2017, although she promised to continue recording albums, telling radio station WDIV (via the Los Angeles Times), "I feel very, very enriched and satisfied with respect to where my career came from, and where it is now."
Sadly, Franklin never got the chance to release another studio effort as in August 2018, she died from pancreatic cancer at her Detroit home. In his glowing tribute, Barack Obama tweeted that the singer had "helped define the American experience."