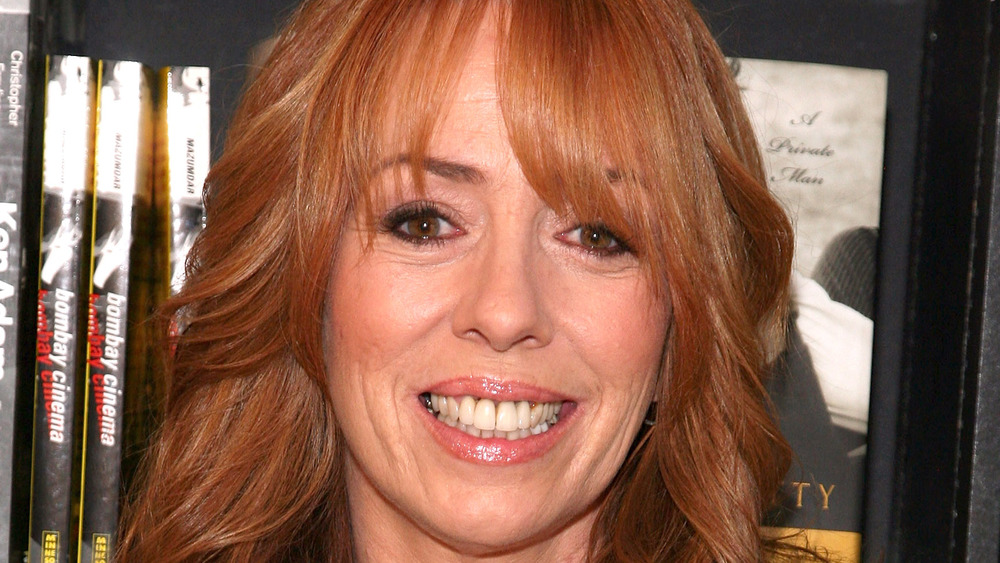 The following article includes allegations of sexual assault and incest, as well as mentions of drug abuse.
The Phillips family is among the most famous, talented, and versatile clans in American entertainment history. Their impact on the arts spans three generations. John Phillips headed the iconic four-part, folk-rock vocal group, the Mamas and the Papas, singing and writing classics like "California Dreamin'" and "Monday, Monday." His daughter, Mackenzie Phillips, became one of the biggest stars on TV in the 1970s and 1980s with her role as rebellious teen Julie Cooper on One Day at a Time. Her half-sister, Bijou Phillips, modeled, made music, and acted in a bunch of movies in the 1990s and 2000s. Another Phillips sibling, Chynna Phillips, was the breakout star of early '90s pop trio Wilson Phillips.
For as much creativity and enduring works produced by the Phillips family, they have also generated a lot of controversy and endured a lot of pain, hardship, and scandal. Here are the most sordid, alarming, and heartbreaking moments in the Phillips saga.
Infidelity ruined John Phillips' first marriage and his band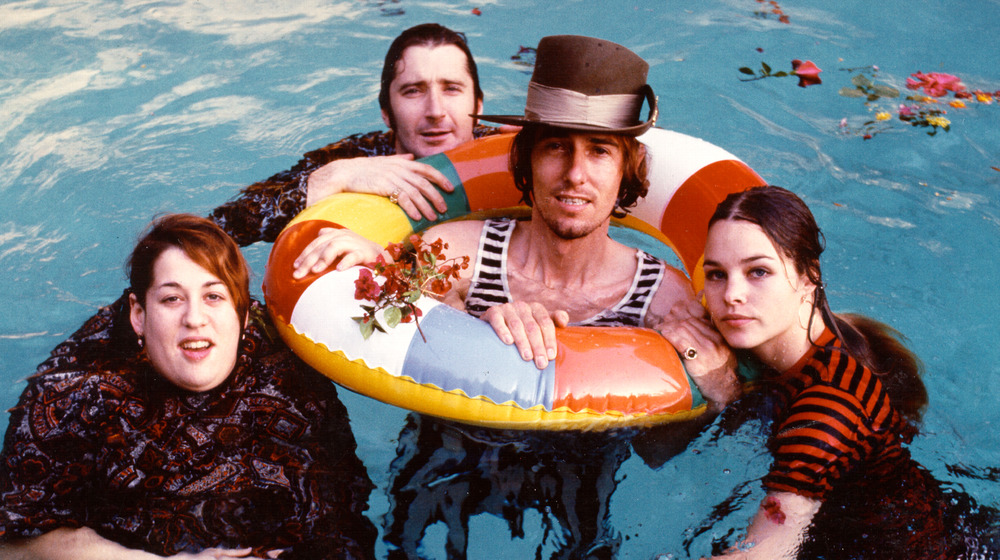 John Phillips co-founded the Mamas and the Papas, a pre-eminent 1960s vocal group that bridged the folk scene from the early part of the decade with the hippie rock that came a few years later. John was an offstage papa, too, as the father of future One Day at a Time star Mackenzie Phillips and mortgage loan officer Jeffrey Phillips (via People), with his first wife, Sue Phillips. Before the group found success, however, "Papa John" Phillips had already left his spouse for Holly Michelle Gilliam, according to Biography.
The two began dating when Gilliam was 17 and John was pushing 30, Vanity Fair reports. They got married and under the name Michelle Phillips, Gilliam also became a member of the Mamas and the Papas. The other half of the band were Denny Doherty and Cass Elliot. The latter had an "unrequited crush" on the former, only for Michelle to cheat on her spouse, John, by taking up with Doherty, per CNN. Big yikes. Perhaps unsurprisingly, all that precipitated the end of the Mamas and the Papas by 1968, according to Reuters.
Calling their short-lived, contractually-forced reunion for 1971's People Like Us "horrible," John later reflected in 1995 (via CNN), "One doesn't try to hold Cass and Denny and Michelle together. It's a useless task to start with. You just sort of stay out of the way and let things roll as they can."
John Phillips had a serious drug problem
The story of John Phillips' time in popular music parallels that of his prodigious drug use. According to The Fix, when John and the other three members of the Mamas and the Papas first met, they all took LSD. After the group found success, they regularly used copious amounts of alcohol, marijuana, opiates, amphetamines, and tranquilizers. After the band broke up, John started hanging around in Hollywood, where he developed a taste for cocaine, and after divorcing Michelle Phillips and marrying actor Genevieve Waite, the couple spent a four-year period mutually addicted to the powerful prescription opioid Dilaudid, according to Vanity Fair.
John also started using heroin in 1976 — and Rolling Stones guitarist Keith Richards feels responsible. As Richards recalled in his 2010 memoir, Life, John witnessed the guitarist do heroin, and convinced him to deliver an injection. John was "hooked hooked hooked" within a week and a half, Richards wrote. "I've never seen a guy become a junkie that quick." John was so drugged at the time that he was unable to record a solo comeback album produced by The Rolling Stones.
In 1981, less than a year after regaining custody of his son, Tamerlane, John was arrested for narcotics trafficking, per CNN. He served just 30 days in jail, and later admitted in his memoir (via Vanity Fair) that he'd worked out an agreement with a pharmacy to sell him heavily-regulated substances.
If you or someone you know is struggling with substance abuse and mental health, please contact SAMHSA's 24-hour National Helpline at 1-800-662-HELP (4357).
The Phillips patriarch had a slew of health problems
In his later years, John Phillips endured a number of health issues and medical ordeals. According to the Deseret News, his decades of heavy drug and alcohol use and abuse left him with a diseased liver by the time he hit his mid-50s in the early 1990s. He was able to make it onto a donor list and in July 1992, John underwent liver transplant surgery at the UCLA Medical Center. "He's doing well," Dr. Ronald Busuttil revealed at the time. "He should be able to go back to a normal pre-illness lifestyle — as long as he doesn't drink or take any drugs."
However, John didn't abide those rules, as the pull of addiction proved overwhelming. A few months after the surgery, per The New Inquiry, he was spotted drinking in public. When questioned on The Howard Stern Show, John quipped that he was "just trying to break in the new liver." According to Rolling Stone, Phillips also fought a stomach virus that adversely affected his kidneys, and in the '90s, he was surgically outfitted with a new hip.
In March 2001, John Phillips died at age 65 at UCLA Medical Center. The cause of death was heart failure.
Mackenzie Phillips also had a devastating drug problem
Now in her sixties, One Day at a Time star Mackenzie Phillips has spent almost her entire life struggling with addiction. According to a 2016 appearance on Oprah: Where Are They Now? she first tried cocaine at the age of 11. "I come from a long line of undiagnosed mental illness, rampant addiction, and alcoholism," she said (via HuffPost). "And then there's the introduction to these types of behaviors at a very young age."
The drug used ramped up, and at age 17, Mackenzie was "arrested for disorderly conduct while under the influence" of intoxicants, per People. Despite being the highest-paid (which implies she was also the most popular) actor on One Day at a Time, producers fired her. Mackenzie continued to abuse drugs, claiming in her 2009 book, High on Arrival, that her father, John Phillips, aided her addictions and even "injected her with cocaine," according to The Seattle Times. While she found sobriety in 1992, Mackenzie had a relapse in 2002 and started using drugs again to deal with lingering surgical pain (via UC Health Today).
In 2008, she was arrested for attempting to bring cocaine and heroin onto a plane, according to Reuters, and finally got clean again soon after, thanks in part to a stint on Celebrity Rehab. By the 2010s, Mackenzie was working as a rehabilitation counselor at the Pasadena Recovery Center and Breathe Life Healing Centers in Hollywood, according to Variety. As she told People, "This is my passion."
John Phillips abused daughter Mackenzie for years
When viewers tuned in to The Oprah Winfrey Show to see Mackenzie Phillips promote her memoir, High on Arrival, they certainly expected her to tease the contents of the yet-to-be-released book, particularly her years of struggling with substance abuse issues. Mackenzie obliged, but she also dropped the bombshell (via CNN) that years earlier, when she was 17 or 18, she awoke from a drug-triggered blackout in the middle of being raped by her father, John Phillips. She confronted him, she recalled, and he reportedly denied the assault, claiming that they had "made love." Mackenzie reflected to Winfrey, "I thought, wow, I'm really on my own here."
For the next 10 years, while Mackenzie was deep into a dependence on drugs, she allegedly experienced a series of assaults. "It didn't happen every day … but it certainly happened many times," she said. "If you're me, you box it away. It's one of those things where you tell yourself don't look. There's a video reel playing in my head, and I've spent 30 years trying not to look." When she was 29, their relationship appeared to turn "consensual," but as Mackenzie explained, "It was the Stockholm syndrome where you begin to love your captor."
John apparently tried to talk Mackenzie into moving to a foreign country and raising his younger children together. However, the actor finally broke free of the situation when she became pregnant and didn't know if the child's father was her dad or her husband. She ultimately terminated the pregnancy, and said, "I never let [John] touch me again."
If you or someone you know has been the victim of sexual assault, you can call the National Sexual Assault Hotline at 1-800-656-HOPE (4673) or visit RAINN.org for additional resources.
Mackenzie Phillips' allegations tore her family apart
After Mackenzie Phillips appeared on The Oprah Winfrey Show in 2009 and revealed the shocking details of her alleged years-long physical and abusive relationship with her father, her half-sister, model and actress Bijou Phillips, released to the talk show a statement in response. Her words weren't exactly supportive, and they called Mackenzie's judgment into question.
"When I was 13, Mackenzie told me that she had a consensual sexual relationship with our father. This news was confusing and it was also scary, as I lived alone with him since I was three," Bijou wrote. "I didn't know what to believe and it didn't help that shortly thereafter, Mackenzie told me it didn't happen. Mackenzie's history with our father is hers, but also clouded with 30 years of drug abuse."
Bijou expressed more thoughts on Twitter (via SFGate). "It ruined my life and my relationship with my father," she said of learning about the incestuous relationship. "Up till that point, I was a normal kid. I got good grades, loved my horse, was pretty innocent." At this time, Bijou "started doing drugs" and "did not talk to my Dad anymore." While she said she reconciled with her father before his death in 2001, she did "not believe" Mackenzie's allegations.
Bijou Phillips dealt with drug addiction
According to Bijou Phillips, her family being torn apart by the revelation of a years-long, inappropriate relationship between her father, rock star John Phillips, and older sister, actor Mackenzie Phillips, set her on a wayward course.
By the time she was 14, The Guardian reports, she'd dropped out of school and left her home and father for New York City. She found work as a model for Calvin Klein in the company's controversial '90s ad campaigns that depicted underage girls in their underwear, and parlayed her earnings into significant amounts of cocaine, ecstasy, and heroin. At age 15, Bijou "lost her virginity to the famously drug-bingeing singer Evan Dando" of the Lemonheads. Such exploits routinely landed her in gossip pages and tabloids, and the heroin overdose-related death of her friend, scenester Davide Sorrenti, hit her hard. As she reflected of this time on Twitter in 2009 (via SFGate), "I was deeply f**ked up."
"Whatever. I was 14 years old. What was I supposed to do?" she previously told The Guardian in 2002. "If you were 14 years old and able to live on your own in an apartment in New York City, and you got invited to all these clubs, and you got a bank account and you had a car service you could call so that you could go wherever you wanted… what would happen?" Bijou's father, who she said "always knew what [she] was up to," came back into the picture when she was 17 and entered her into a rehabilitation facility.
This Phillips family member apologized for bullying her castmates
While Bijou Phillips recorded and released a single album in the late 1990s, she took after her half-sister, Mackenzie Phillips, rather than their father and pursued acting, appearing in more than 30 movies and TV shows. She's never had a massive hit film or series, but she did make her presence felt on a couple of those projects — albeit, not for the right reasons.
During a 2017 episode of her podcast, Shut Up and Listen, actor Heather Matarazzo alleged that Bijou strangled her on the set of 2007 horror movie Hostel: Part II. She recalled (via Hornet) that Bijou "had thrown me up against a wall and put her hands around my neck and started choking me and choked me for a good 15, 20 seconds." Matarazzo explained that these actions, which reportedly occurred at a pre-shoot cast party, were a misguided attempt by Bijou to help Matarazzo stay sober.
Matarazzo's guest on that episode? Actor Daniel Franzese — best known as Damian in Mean Girls — who co-starred with Bijou in the uncomfortably ironically titled 2001 film, Bully. He'd previously claimed on Facebook that Bijou had subjected him to several types of abuse. She reportedly loudly teased him after he "reluctantly" admitted he identified as bisexual, screamed "Ewwww gross!!!" when Franzese removed his shirt as required for a scene, "rubbed her dirty feet on [his] neck, kicked him in the head, and twisted his nipple through his shirt. After Franzese's post, Bijou publicly apologized.
Bijou Phillips required a life-saving kidney transplant
According to a representative of Bijou Phillips who spoke to TMZ in 2017, the actor and model was born with undersized kidneys. When she was in her early 30s in the 2010s, that medical issue had manifested as kidney disease. For five years, she kept her health in check by reducing stress and adopting a vegan diet, but it unfortunately wasn't enough, and she was eventually placed on dialysis.
That February, Bijou suffered a setback and sought emergency hospitalization when she felt ill and experienced a high fever. Doctors in Santa Barbara diagnosed her with a blood infection, and it became apparent that the actor, already on a transplant list, needed a new kidney as soon as possible in order to save her life. Two months later, her husband, actor Danny Masterson, revealed in on Instagram that Bijou had received a new organ from "a tall angel." He characterized his wife's situation as "dying for the past 7 years of an incurable kidney disease," and thankfully said that the transplant was "100% successful."
This Phillips family member's husband faces some very serious charges
According to People, Bijou Phillips married actor Danny Masterson, best known for sitcoms like Fox's That '70s Show and Netflix's The Ranch, after eight years as a couple in 2011. The celeb pairing made headlines a couple more times: in 2014, when Bijou gave birth to their daughter, and again in 2017, when the Los Angeles Police Department opened an investigation on Masterson after three women alleged that the actor sexually assaulted them in the early 2000s, per People. (A fourth woman later came forward, according to HuffPost.)
After one of the women publicly identified herself and called out Netflix for continuing to employ Masterson, the actor was fired and then dropped by his talent agency. In 2020, Masterson was formally charged and arrested, having been accused of three counts of rape that all occurred at his home. After posting bond, Masterson was released by police and awaits trial, as of this writing, at which point he will face a prison term of 45 years to life.
For her part, Bijou has remained mostly quiet on the matter. After Masterson's arrest, his attorney released a statement that said his client "and his wife are in complete shock" and that "ultimately the truth will come out." Nevertheless, in the hours after Masterson was booked and released, Bijou deleted her Instagram account, according to Newsweek.
Chynna Phillips has dealt with addiction and mental health issues
In 1990, the band Wilson Phillips brought its unique soft rock sound to the masses. Marketing as both a girl group and something of a novelty, the trio consisted of second-generation pop stars: Wendy Wilson and Carnie Wilson — daughters of Beach Boys great Brian Wilson — and Chynna Phillips, offspring of the Mamas and the Papas singer John Phillips. Blonde, photogenic, and packing a serious set of pipes, Chynna became the group's de facto lead singer on No. 1 hits like "Hold On," "Release Me," and "You're in Love."
Chynna shared in her family's musical legacy as well as its struggles with addiction and mental illness. "I just didn't understand why I couldn't have a father around," she told TV Guide in 2011, regarding her childhood abandonment issues. "At the time, everyone was keeping me from the big secret: that my dad had this massive drug addiction." In her teen years, Chynna attempted to kill that pain with alcohol and drugs, starting a pattern that led her to drop out of school. According to the Edgewood Health Network, she achieved sobriety at age 22.
Years later in 2010, according to People, Chynna checked herself into an in-patient rehabilitation facility to treat anxiety. Beginning therapy on her 42nd birthday, she spent two weeks seeking treatment after what a source told People was "a combination of things."
If you or someone you know is struggling with mental health, please contact the Crisis Text Line by texting HOME to 741741, or call the National Alliance on Mental Illness Helpline at 1-800-950-NAMI (6264).