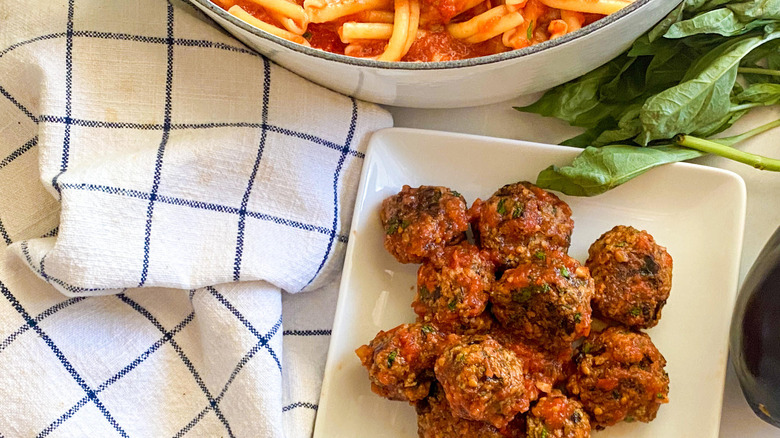 Believe it or not, meatballs are not just for carnivores. If you're a vegan, and you're looking for a great way to enjoy a meatball, but without the meat, then we have just what the doctor ordered. Recipe developer Miriam Hahn came up with this quick and tasty dish that hits the spot in more ways than one. This dish looks like an actual meatball, but you make it with eggplant and onions instead of meat. Trust us when we tell you that they are so incredibly tasty, and this is a recipe you'll want to keep on hand.
"I don't miss the meat at all with these meatballs," Hahn says. "They have a very similar texture and with the breadcrumbs, spices, and fresh parsley, they actually taste like you are eating meat. Plus, you feel energized after a big pasta and meatball meal instead of feeling weighed down and tired!" That sounds pretty amazing to us. And guess what? You don't even need to be a vegan to eat these as they're plenty delicious and filling for anyone. Keep scrolling to find out how to make this delightful dish that will satisfy all of your cravings.
Gather the ingredients to prepare vegan eggplant meatballs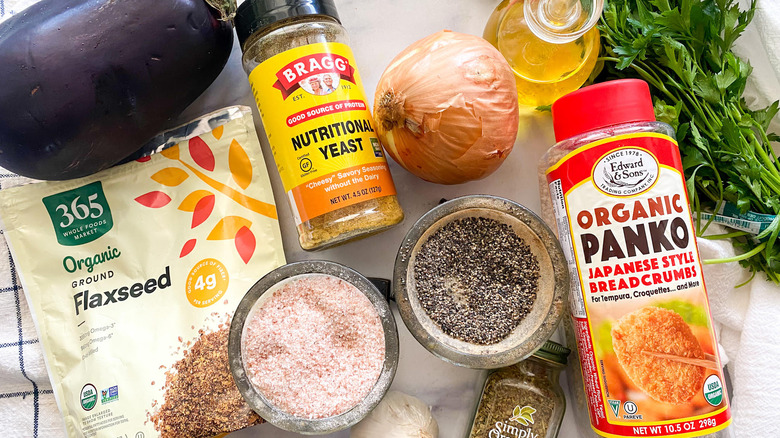 Are you ready to get started? Begin this recipe by gathering all of the necessary ingredients to make it. For starters, you will need some ground flaxseed and a little bit of water. In addition, get a tablespoon of oil, which you hopefully already have at home. You will also need a cup of diced onion, which equates to roughly half of an onion when all is said and done. You will need a few minced garlic cloves.
One of the main ingredients in this recipe is eggplant, and you need 4 cups of it. You will also need to get some chopped Italian parsley and nutritional yeast. Last but not least are a few things to spice it up, including panko breadcrumbs, Italian seasoning, and salt.
Preheat the oven, and mix the flaxseed and water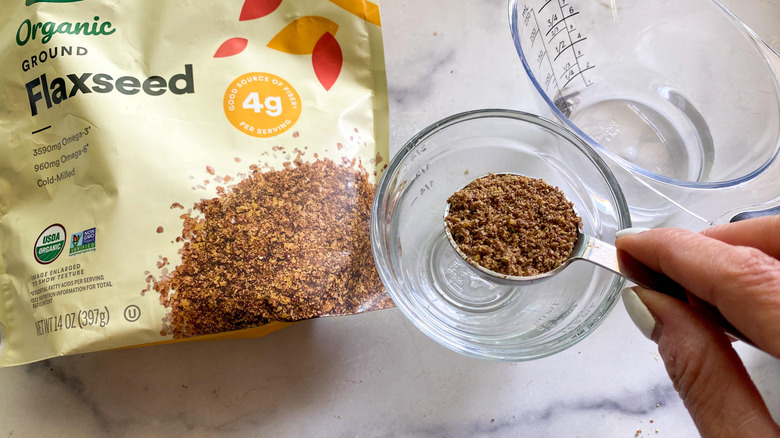 Once you have all of the ingredients gathered in front of you, it's time to get this cooking party started. Before you do anything else, preheat the oven to 375 F. This is the temperature that the meatballs will cook best at, so be sure that you wait until the oven is fully preheated before you put them in.
Then, take out a small mixing bowl, and dump in the flaxseeds and water. Mix them together with a spoon, and then set it aside because you will need it in a few minutes.
Sauté the onion and garlic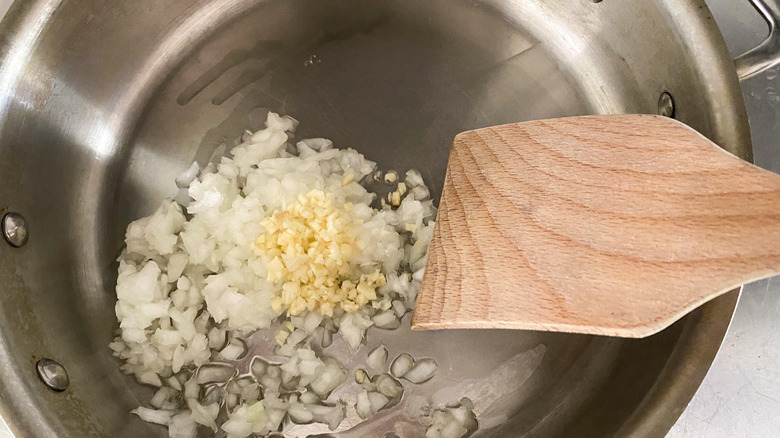 Now, take out a frying pan of your choice and kick up the heat to medium-high. First, put the oil in so that it gets nice and hot. Then, you can add in the onion and garlic. Cook these two items together for about five minutes, using either your timer or just eyeballing it.
Then, add the eggplant, and cook everything together for about 15 more minutes. "I leave the peel on the eggplant for all of the nutrition in that purple skin," Hahn shares. "You can peel if you want, but it is not necessary. It is important to dice the eggplant pretty small because you want it to roll up nicely. The meatballs are on the smaller side."
Then, take it off the heat, and let everything cool for about 10 minutes. Now, you can move on to the next step.
Form the meatballs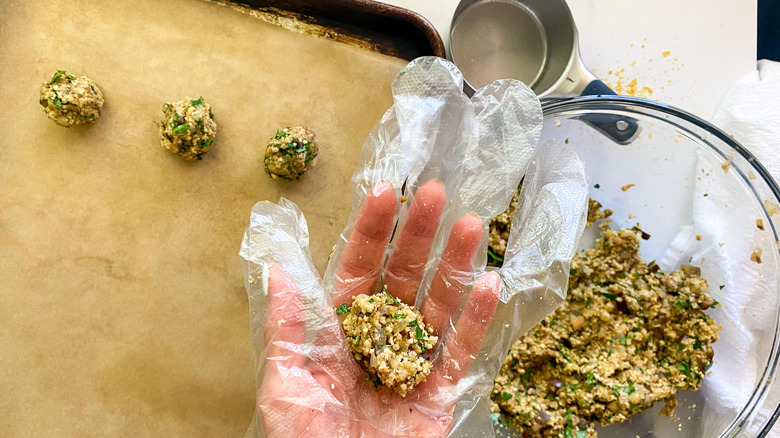 This step is just as fun as it is vital since it involves putting together the meatballs. Take out a mixing bowl, and dump in the eggplant mixture. Next, throw in the flaxseed mix, followed by the parsley, nutritional yeast, panko breadcrumbs, Italian seasoning, and salt. Blend everything well, and form the mixture into 20 small meatballs.
Use your hands to compress the meatballs tightly so they will stay together when they cook. Next, lay the meatballs on a baking sheet lined with parchment paper. The parchment paper will prevent them from sticking to the bottom of the sheet.
Cook the meatballs, and serve
Now, it's time to get cooking. Pop the meatballs into your preheated oven, and set your timer for 30 to 35 minutes. Be sure to turn them about halfway through at the 15-minute mark. When the timer goes off, take them out of the oven, and serve. (Be mindful that the meatballs are very delicate, so handle with care!)
"I love serving these with a great sauce," Hahn raves. "I love these meatballs with regular pasta, zucchini noodles, hearts of palm pasta, or with sauce on a great, whole grain bun." Hahn also says that these will be good with homemade marinara sauce. "Leftovers are great but I wouldn't recommend freezing them. [It's much] better to eat them freshly made," Hahn adds.
2 tablespoons ground flaxseed
¼ cup water
1 tablespoon oil
½ onion, diced (1 cup)
3 cloves garlic, minced
1 medium eggplant (4 cups, diced)
½ cup Italian parsley, chopped
¼ cup nutritional yeast
1 cup panko breadcrumbs
1 teaspoon Italian seasoning
1 teaspoon salt
Preheat oven to 375 F.
Mix the ground flaxseed and water together, and set aside.
Put the oil in a large frying pan, and bring to medium-high heat.
Add the diced onion and minced garlic, and cook for 5 minutes.
Add the diced eggplant, and cook for 15 minutes more. Then, let cool for about 10 minutes.
Mix the eggplant mixture with the flax mixture, parsley, nutritional yeast, panko breadcrumbs, Italian seasoning, and salt. Blend well.
Form 20 small meatballs. Use your hands to compress them tightly so they stay together. Lay them on a baking sheet lined with parchment paper.
Cook the meatballs for 30 to 35 minutes, turning halfway through.
Serve with your favorite sauce.