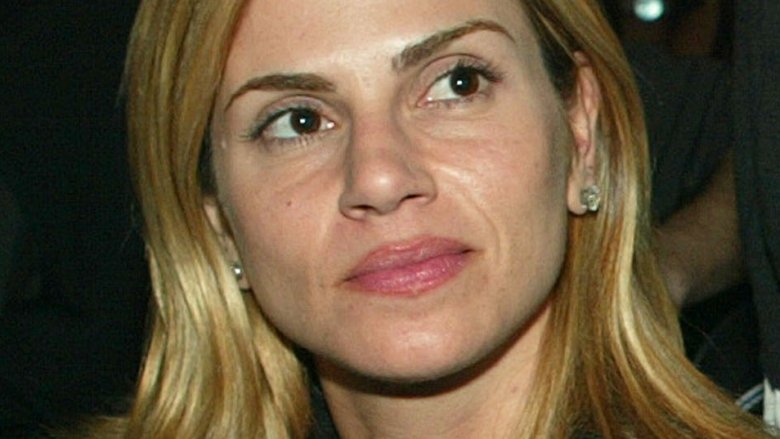 Former professional baseball player Alex "A-Rod" Rodriguez has quite the list of beautiful women in his dating Rolodex, like Madonna, Cameron Diaz, and Kate Hudson, to name a few. However, the former New York Yankees shortstop and third baseman announced his engagement to superstar musician Jennifer Lopez on Instagram in March 2019. Unlike the famous women he's courted, A-Rod's first wife, Cynthia Scurtis, can be described as just your everyday girl next door. The pretty blonde with legs for days met the baseball mogul at a Miami gym when she was in school studying psychology. The two later married and had two daughters, Natasha and Ella.
The couple split in 2008, with Cynthia citing extramarital affairs and emotional abandonment in the divorce petition. But that's really just the beginning of how messy things got. While their public battles have mostly been about money, Scurtis also can't seem to shake the attention of the tabloids, who still find ways to link her to Rodriguez's drama over a decade after their marriage ended.
But, Cynthia doesn't appear to be sitting home crying over spilled milk. She's got a whole new life since leaving the title of Mrs. Alex Rodriguez behind. Let's take a look at what Cynthia Scurtis is doing now.
A-Rod and Cynthia Scurtis' love story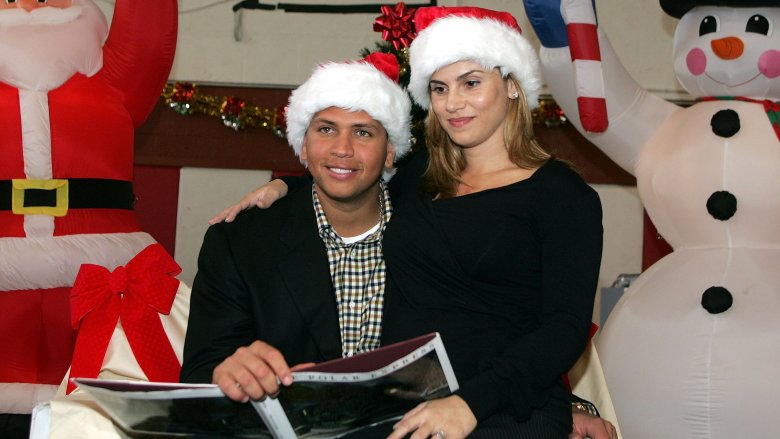 Cynthia Scurtis comes from a prominent Florida religious family in the well-to-do Coconut Grove area of Miami. She is the granddaughter of Rev. Demosthenes Mekras, who was considered one of Florida's "most prominent" Greek Orthodox priests, according to the Daily News. Mekras apparently opened the first Greek Orthodox church in Florida.
Scurtis went to the privileged Gulliver Prep School where the likes of Florida Governor Jeb Bush and O.J. Simpson sent their kids. She "played volleyball and was a popular cheerleader," according to the Daily News. Rodriguez met the naturally pretty girl next door at a Miami gym while she was still in school studying psychology. She wasn't an easy catch for the A-list ball player. "She said no a lot to him," a source told the same outlet.
The couple dated for six years before Rodriguez proposed on Scurtis' 30th birthday. It's rumored that Scurtis' family wasn't thrilled she wasn't dating a Greek, but her grandfather married them anyway in 2002. The wedding took place in Texas where Rodriguez had a $250 million contract with the Texas Rangers at the time.
Trouble in paradise
After the couple tied the knot, Cynthia Scurtis quit her job so she could travel the country with her baller husband. The pair moved to New York in 2004 when Rodriguez became a New York Yankee. Things seemed to be going well for the happy couple until rumors of Rodriguez's wandering eye began to surface. "She always said he was not cheating on her. She always really believed in him," a source told the Daily News. In 2007, photos of Rodriguez with a woman identified as a Las Vegas stripper went public, yet Scurtis stood by her man. She even wore "a white tank top with 'f**k you' printed on the back" to Yankee Stadium, which people thought was a quiet response to the media firestorm.
Unfortunately for Scurtis, stripper-gate was just the start of the cheating buzz. She eventually called it quits with Rodriguez just 10 weeks after giving birth to their second daughter, Ella, in 2008. The press had a field day with allegations that legendary music icon Madonna had something to do with the couple's split. Scurtis told friends that her husband and Madonna had an affair. She even claimed she found a note Rodriguez wrote Madonna calling her his "true soulmate", according to the Daily News.
"The embarrassment over Madonna was the last straw," a source told People, adding, "Cynthia is a strong person… But a wife with two young children can only take so much."
Did Alex Rodriguez cheat on Cynthia Scurtis with Madonna?
The divorce happened fast. Within three months of filing, Cynthia Scurtis and Alex Rodriguez's six year union was officially over in September 2008. According to ESPN, the couple had a prenuptial agreement in place. "The marriage of the parties is irretrievably broken because of the husband's extramarital affairs and other marital misconduct," the petition filed in Miami-Dade circuit court said, according to ESPN. The petition also said A-Rod "emotionally abandoned his wife and children." The divorce papers were ironically filed the day after A-Rod hit his 536th home run, tying Yankees legend Mickey Mantle's record.
Scurtis asked for primary custody of the kids, child support, alimony, and the couples $12 million waterfront home in Coral Gables, Florida. However, when it came to A-Rod's alleged infidelities, Scurtis took "the high road" (per her lawyer, Maurice Kutner) for the sake of her children, by not publicly naming who was allegedly involved with her husband. "There's no vindictiveness here," Kutner told ESPN.
While she remained quiet in the press, the Daily News reported that Scurtis privately told friends that Madonna was one of a "bevy of mistresses" Rodriguez had. However, Madonna denied any wrongdoing with Rodriguez. "I know Alex Rodriguez through Guy Oseary, who manages both of us. I brought my kids to a Yankee game. I am not romantically involved in any way with Alex Rodriguez," Madonna said in a statement published by ESPN.
Cynthia Scurtis moves on
In 2008, ESPN reported that Rodriguez was "baseball's highest-paid player" thanks to a ten-year, $275 million contract with the Yankees. That said, all the money in the world apparently can't buy love, as Cynthia Scurtis was said to be "relieved" when the dust settled on their divorce, according to People. Single and ready to mingle, Scurtis stepped out publicly with real estate investor and accountant Laszlo Fazekas in 2009. The poor guy didn't get the nicest reception when photos surfaced of him with the former Mrs. A-Rod. Fans online commented that Scurtis "traded down" from Rodriguez for a less attractive man, according to Us Weekly. Clearly hurt by the negative comments, Fazekas responded to the tab, saying, "I saw online that folks are comparing me with Alex. That's ridiculous/ I don't care what people say. I'm physically fit and I know I'm not bad looking."
Fazekas also confirmed to the outlet that Scurtis and Rodriguez's daughters, Natasha and Ella, had already met his daughter. "We all hang out. It works great," he said, adding, "She's a very good person. I'd say that, for now, we have a deep friendship that could become much more." Fazekas (who was dubbed the rebound man in the media) gave Scurtis the opportunity to publicly show she was moving on from Rodriguez. However, whatever was going on there eventually fizzled out, as she was soon on to the next.
Alex Rodriguez and Cynthia Scurtis' brother took it to court
With the divorce squarely behind her, Cynthia Scurtis' issues with Alex Rodriguez weren't over – and they weren't all related to her broken union. Her younger brother Constantine Scurtis announced he was suing A-Rod in a $100 million civil suit in 2015. Constantine alleged that the baseball slugger used the family's joint real estate business "to commit insurance and mortgage fraud" after Hurricane Ike, according to the Daily News. He sued the former Yankee for "breach of contract, breach of fiduciary duty, fraud, civil conspiracy, unjust enrichment and tortious interference." Constantine also alleged that Alex "wrongfully" forced him out of their company in 2008 (the same year he and Cynthia divorced), and that Alex "filed a false tax return" resulting in a $388,000 lien on Constantine's Miami home.
Cynthia eventually got dragged into the lawsuit when Alex allegedly threatened to cut the monthly financial support he was giving her if she didn't take his side in the legal fight with her brother. "I'm just trying to defend my child support situation … and it's terrible," Cynthia told her brother in text messages, according to the Daily News. "I have an email from (A-Rod) telling me that he's basically making me pay for not stopping you and (not) telling you that I hate you," she said.
Alex Rodriguez told Cynthia Scurtis to get a job. That didn't go well.
Cynthia Scurits wound up in her own legal fight over money with her ex-husband. You'll recall that Scurtis claimed Alex Rodriguez threatened to cut her monthly support payments, and he apparently wasn't joking since that's exactly what happened in 2018. The two had been split for over a decade, but Rodriguez claimed he was making less money and was paying his ex-wife way too much. "Alex takes good care of his kids and he has been good to Cynthia but feels he is paying excessive amounts to his ex that should be lowered since he is no longer playing ball," a source told People.
Rodriguez's previous support payments amounted to "$115,000 a month tax free in combined spousal and child support," according to TMZ. However, according to the tab, he was annoyed Scurtis refused to put her master's degree in Psychology to work to get a job. Rodriguez's income had allegedly dropped 90 percent from $30 million to $3 million and according to TMZ, the couple's agreement was supposed to change when Rodriguez retired from the Yankees.
Clearly annoyed with his comments, Scurtis defended herself in the press on this one."To ensure that our daughters had a stable upbringing, and given his extensive traveling, Alex requested that I discontinue working and make parenting my primary focus," Scurtis told TMZ through her lawyer. She added that she found it "shocking" and "disheartening" that her ex was seeking sympathy from the public.
Jenny from the block goes to bat for Alex Rodriguez
Things got interesting in the financial support battle when Alex Rodriguez's then-girlfriend, musician Jennifer Lopez, "blindsided" Cynthia Scurtis by showing up to a September 2018 mediation in Miami, per Page Six. Allegedly inserting herself into the ex couple's financial dealings, Lopez reportedly argued that her boyfriend should only be paying $10,000 a month in support to Scurtis. "She's driving the bus," a source told Page Six about Lopez. Scurtis also seemed to hint that Lopez may have been the cause for her newfound issues, telling the tab, "All I can tell you, there's been a shift, and I'm not sure what to attribute it to." She added, "Alex has dated some wonderful women since our divorce, many of whom have had positive relationships with our children. Alex and I have worked well trying to create a stable environment for our daughters and there has never been an issue. Until now," she said.
Rodriguez first met Lopez when she and then-husband Marc Anthony attended a Yankees game in 2005, according to Harper Bazaar. He was still married to Scurtis at the time. The two reconnected in 2017 when they were both single. On an episode of The Ellen DeGeneres show, Lopez said she ran into Rodriguez at lunch and "then that was it". The pair quickly became one of Hollywood's newest power couples with Rodriguez sharing photos on Instagram of them with their blended family not long after they went public.
Is Cynthia Scurtis really happy for J-Rod?
Despite Jennifer Lopez allegedly putting her two cents into Cynthia Scurtis' financial settlement with her ex-husband, Scurtis took the high road when it came time to comment on the news that Alex Rodriguez and Lopez were engaged. "I'm happy for them. Other than that, I have no comment," Scurtis told Radar Online. Rodriguez confirmed the engagement on Instagram, sharing a photo of himself proposing to Lopez with the caption: "Locking it down." He proposed in the Bahamas with a stunning emerald cut diamond ring to seal the deal. The baller shared a picture of the rock on Instagram with the caption: "She said yes."
Lopez told Power 105.1's The Breakfast Club that she "didn't know [Rodriguez] was going to propose that weekend." He didn't tell anybody he was going to do it and even got the ring all by himself, Lopez said, adding, "It was so amazing. … It was almost like it was a weight lifted off us like okay, now we're really doing this." Lopez told the radio station the two are all in now and "no matter what happens, were going to work it out."
Cynthia Scurtis finally found an … Angel
Showing that she can play nice, or at the least can put on a brave face for her kids, Cynthia Scurtis took a group photo with the Mr. and Mrs. to be and all their kids at her daughter Natasha's middle school graduation in May, which Rodriguez shared on Instagram. Hopefully this is a sign that all is well for the blended family, as both seemed to have peacefully moved on.
While things may not have panned out with Laszlo Fazekas, Scurtis' rebound man from 2009, she found comfort in the arms of a new man named Angel Nicolas (above). And he's not exactly hard on the eyes. The gorgeous, dark haired, Florida realtor is the Director of the Sports Sales Division at the luxury real estate firm Engel and Volkers. He's also a former professional baseball player, according to the real estate magazine Haven. Interestingly enough, Nicolas told Haven, "Catering to professional athletes is a very important and growing part of my business." Maybe Rodriguez will be one of his new clients?
Did wedding bells ring?
Cynthia Scurtis has stayed pretty mum about her personal life post-Rodriguez. She doesn't have a public social media account, and her Instagram is private (with less than 500 followers). We do know she and Nicolas got engaged at one point and had a daughter named Camilla (above) in 2016. Ex-hubby Rodriguez even babysat the tot at least once that we know of! In May 2019, he shared a photo on Instagram with Camilla and sisters Natasha and Ella with the caption: "#DaddyDateNight with a plus-1! #Tashi #EllaBella #Cami."
Cynthia's new man regularly shares photos of his blended family on social media. In June 2019, he posted a photo on Instagram with Cynthia and the caption "Celebrating us!!!" Several of his followers responded with congratulations, which makes us wonder whether the two already quietly married. Another one of Nicolas' Instagram posts shows Cynthia wearing a white dress, and is captioned "#myeverything #Whitewedding #Keybiscayne." While the post doesn't clarify who's white wedding they were at, it's definitely a faux pas to wear white on someone else's big day, and Cynthia seems too classy to break that etiquette. On May 12, 2019, a follower commented, "So glad you found a Greek wife & Baby mama- they're the Best!!" on another of his Instagram posts. Of course, none of this is official confirmation that the pair tied the knot, but we can't help pointing out that Nicolas sports wedding band on his ring finger in several social media posts, too. Hmm…