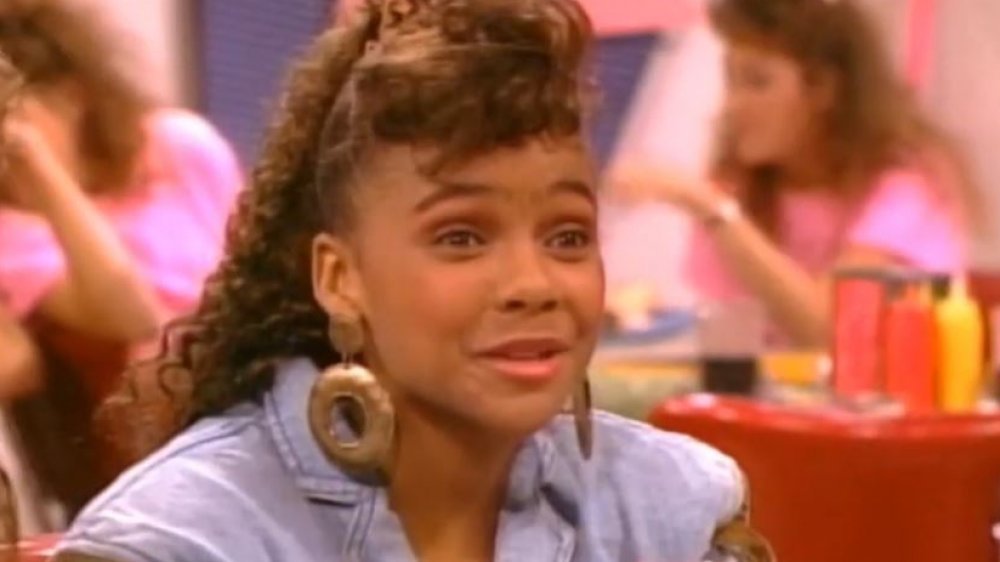 Lisa Turtle was one of the most beloved characters on "Saved By the Bell." Even though the show may have been full of cringe-worthy misogynistic '90s TV moments, we still ate it right up. And, come on, how could you not love the pretty, rich fashionista played by actress Lark Voorhies? The actress was catapulted into fame thanks to "Saved By the Bell," but since the show wrapped in 1992, she seems to have struggled a bit in her career. While she did keep acting for a while after the end of "Saved By the Bell," Voorhies had all but disappeared from the public eye by the 2000s.
This has left a lot of fans worried about what happened to the iconic child star. Is she still acting? Did she get married? Tabloids have been quick to report on rumors surrounding the star, but what's the truth? What really happened to Lisa Turtle from "Saved By the Bell"?
Playing Lisa Turtle in Saved By the Bell was Lark Voorhies' big break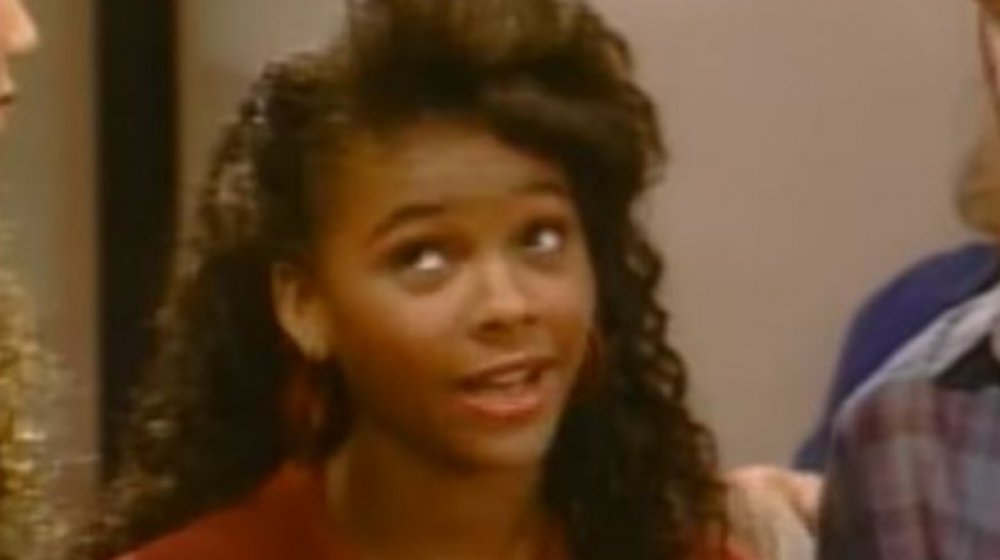 "Saved By the Bell" was the opportunity of a lifetime for Lark Voorhies. According to her IMDb page, it was one of her earliest acting credits. As diehard fans of "Saved By the Bell" know, the show started off as "Good Morning, Miss Bliss," which ran for 14 episodes from 1987 to 1989. Voorhies starred on this show as rich girl Lisa Turtle and remained part of the retooled version of the show, "Saved By the Bell." Voorhies was one of a handful of people to reprise their role on this new version of the show. Joining her were Mark-Paul Gosselaar as Zack Morris, Dustin Diamond as Samuel "Screech" Powers, and Dennis Haskins as Principal Belding.
"Saved By the Bell" moved the story from Indiana to Los Angeles. It also added the rest of the core cast that we remember and love: Tiffani Thiessen as Kelly Kapowski, Mario Lopez as A.C. Slater, and Elizabeth Berkley as Jessie Spano.
Lark Voorhies hasn't acted much since playing Lisa Turtle
After "Saved by the Bell" wrapped in 1992, it seemed like Voorhies would have a bright career ahead of her. The actress landed dozens of roles after the show was over. She had a 28-episode arc on "Days of Our Lives" in 1993. The following year she appeared in "Saved by the Bell: The College Years," "Saved By the Bell: Wedding in Las Vegas," and "Saved By the Bell: The New Class." Other credits through the 1990s include arcs on "The Bold and the Beautiful," "In the House," and "The Parkers" and guest appearances on several other shows. She also appeared in several movies.
For the first few years of the 2000s, Voorhies was still getting steady acting work. From 2003 through 2007, though, there are no acting credits listed on her IMDb page. And, aside from an uncredited appearance in a 2018 episode of "Zack Morris Is Trash," her career has been pretty quiet since 2012, when she appeared in "Little Creeps" and "Closer to God: Jessica's Journey."
Lark Voorhies sued a tabloid for this rumor
In 2005, a few years after Lark Voorhies had all but disappeared from the public eye, or at least from Hollywood, The National Enquirer reported that her absence was due to a drug problem, according to Fox News. The tabloid reported that Voorhies had been hospitalized due to a cocaine addiction. Voorhies claimed the allegations were false and filed a lawsuit against The National Enquirer the following year.
The Associated Press (via Fox News) reported that Voorhies filed the lawsuit claiming libel, saying that she lost many "potential acting and hosting jobs" following the article, which was "patently false and heinous." Voorhies included a letter from her doctor confirming that Voorhies did not have a drug problem and that she had never been hospitalized for abusing drugs. Voorhies later settled matters with The National Enquirer and dropped the lawsuit. Her attorney, Cyrus J. Nownejadi, told TMZ, "The allegations are untrue, and the matter has been resolved."
Unlike Lisa Turtle on Saved by the Bell, Lark Voorhies is not very talkative
Part of the reason that Lark Voorhies' life is shrouded in so much mystery is that, unlike many other celebs, she doesn't chat or post very much on social media. While she does have social media accounts, including a verified Twitter account — which links to an unverified Instagram page that is in Voorhies' name — and a verified Facebook fan page. Yet and still, she posts very few updates about her personal life.
While the social media pages provide but a small peek into Voorhies' life, there's little information to be gained from her pages. All of the photos (and there aren't many) are cross-posted on other social media pages, so most of the content is the same from site to site. It seems as if Voorhies wants to keep her fans updated while still remaining mostly concealed from the public eye.
The star behind Saved by the Bell's Lisa Turtle has been the victim of hoaxes
The fact that Lark Voorhies doesn't update her social media very often, plus all of the rumors that have circulated about her over the years, has made this former actress especially prone to being the victim of internet hoaxes. In 2015, an Instagram account claiming to belong to Voorhies said the star had lupus. A representative quickly shut down the rumors, telling People, "Lark has never been diagnosed with lupus. It's upsetting her that people are coming out about it. She doesn't want to be perceived as someone faking an illness."
The hoax made Voorhies consider leaving social media altogether. The following year, Voorhies spoke to People after spotting other fake accounts popping up in her name. "Once again," she said, "I would like to reiterate that I do not have an Instagram account nor have I ever had one."
Voorhies later ended up creating her own Instagram account, seemingly in an effort to squash the impersonators. The first post was from her PR team, verifying they shut down the fake accounts and declared the new account as Voorhies' only official Instagram account.
Lark Voorhies started to look very unlike Lisa Turtle from Saved by the Bell
Lark Voorhies resurfaced in 2012 with a new look that worried her fans. On an appearance on Yahoo!'s "The Yo Show," Voorhies was virtually unrecognizable. The "Saved By the Bell" actress wore a new hairstyle and sported a thick layer of makeup on her face. Fans were quite alarmed as Voorhies looked far from what they knew her to look like.
While the original video seems to have been removed from the internet, there have been user-uploaded copies of the show available to view on YouTube. Voorhies not only looked completely different from her former self, but she also acted a bit erratically, causing further concerns about what was going on with the former child star.
Looks aside, Voorhies introduced her company, Yo Soy Productions, on the show, reported the New York Daily News. She also addressed rumors that she'd once been romantically involved with Mark-Paul Gosselaar, saying, "No, we were all that close. We just had a great chemistry and it registers very powerfully (on-screen)."
The Saved by the Bell star's mom made a shocking admission
After Lark Voorhies' appearance on "The Yo Show" went viral, her mother responded to the concerns about the "Saved By the Bell" star's well-being. Some fans were concerned that drugs were to blame for Voorhies' appearance and erratic behavior. Their concern for the star only grew greater after a series of interviews with People featured Voorhies mumbling to herself and stopping several times mid-sentence to stare off in the distance.
Voorhies' mother, Tricia, spoke to People, saying that her daughter was not doing drugs, but that she had been diagnosed with bipolar disorder. "There are things that have traumatized her," she explained. "I care deeply about my daughter and I want her to resume her life."
Voorhies, however, denied the diagnosis and claimed her mother was simply overprotective. She further explained that she was not sick and also provided a reason for her vacant staring during the interview. "I have a strong spiritual sense," she said. "You caught me in moments of pray [sic]."
Lisa Turtle was notably absent from a Saved By the Bell reunion
In 2015, the cast of "Saved By the Bell" was united on an epic episode of "The Tonight Show." Jimmy Fallon brought together most of the show's biggest stars, finally reuniting Mark-Paul Gosselaar, Mario Lopez, Tiffani Thiessen, Elizabeth Berkley, and Dennis Haskins. Voorhies, however, was notably absent from the happy reunion, as was her fellow "Saved By the Bell" cast member Dustin Diamond.
Voorhies' absence from the reunion naturally led to all sorts of speculation, with many fans wondering if it was true that Voorhies was battling mental illness. While this would have certainly explained why she didn't appear with her "Saved By the Bell" costars on "The Tonight Show," Voorhies' absence was reportedly more straightforward.
The official story, according to Voorhies' publicist, was that she simply did not have time to be on the show. "Lark would have loved to be part of the Jimmy Fallon skit (as she is a big fan of the show), however due to an intense work schedule she was not available," her publicist told E! News.
Lark Voorhies doesn't appear to be in touch with her Saved By the Bell castmates
Even though it seems like many of the members of the "Saved By the Bell" cast have maintained a close relationship with each other over the years, it doesn't look like Lark Voorhies has close ties to the old gang. In 2019, she missed out on a second reunion with her castmates.
According to Radar Online, most of the core cast of "Saved By the Bell" got together for dinner in Sherman Oaks, California. Mark-Paul Gosselaar, Mario Lopez, Tiffani Thiessen, and Elizabeth Berkley were all present at the dinner. Lark Voorhies was noticeably missing from the reunion. Dustin Diamond, who also missed the 2015 "Saved By the Bell" reunion on "The Tonight Show," was also not spotted at the 2019 gathering. While no explanation was given for Voorhies' absence, the fact that she wasn't at the gathering seems to suggest that, at the very least, her relationship could be either strained — or simply nonexistent — between her and her former costars.
Lark Voorhies expressed interest in returning as Lisa Turtle in a Saved By the Bell reboot
While it doesn't seem like Lark Voorhies has been spending a lot of time with her former "Saved By the Bell" cast members over the years, she still seems to have a soft spot in her heart for the beloved show. During her notorious appearance on "The Yo Show," Voorhies expressed interest in a reunion with the rest of the cast. "I really honestly believe if it did happen it wouldn't be a bad thing," the actress said (via New York Daily News).
In 2017, she was asked by GossTV if she'd be interested in doing a reboot of "Saved By the Bell." "I think so," she said. "I think at some point the world will call for it again and we'll all be there."
As fans know, a "Saved by the Bell" reboot was released in November 2020, focusing on a new group of students at Bayside High. Elizabeth Berkley and Mario Lopez appear as series regulars, and other stars like Tiffani Thiessen have made appearances. Voorhies also guest-starred in an episode, but more episodes may be in her future. According to an Instagram post shared by Berkley in September 2021, Voorhies will appear on the series in Season 2. "What a gift to get to work together again," Berkley wrote alongside a photo of Voorhies, Thiessen, and her together.
The Saved by the Bell alum was briefly married to a man she met on Facebook
In 2015, TMZ reported that Lark Voorhies had married music engineer Jimmy Green a year after meeting him on Facebook. The couple married in Las Vegas, Nevada, on April 30 after having had a commitment ceremony earlier in the month. "We have known it was meant to be for a while now and are so happy we found each other," Voorhies told People. "I look forward to all the wonderful moments and memories we will create together. Thank you so much for all the well wishes and we appreciate them indeed!"
Not long after they married, though, People reported that there was a 2012 arrest warrant for Voorhies' husband in Arizona for disorderly conduct and threatening to intimidate. It was also reported that Voorhies' mother had filed a restraining order against her new son-in-law just four days after the wedding.
Voorhies and Green's marriage was short-lived. By September 2015, the couple separated and, by October, Voorhies filed for divorce. "They can remain friends, but it's best they sever their marriage ties," Voorhies' mom told People.
Lark Voorhies has self-published three books and, no, they're not about Saved by the Bell
Just because we haven't seen much of Lark Voorhies, it doesn't mean that she isn't keeping herself busy. One of the many ways in which Voorhies stays busy is through writing. The actress has published three books, all of which are available to purchase on Amazon. Some of her writing seems to indicate that those rumors claiming everything is not okay with Voorhies are actually true. One such book is 2011's "Trek of the Cheshire." The book's description is littered with commas. The book is about Voorhies' life and is, according to the description on its Amazon page, "a, riveting, acclaim, into, the, tickertime, life, of, convexly, celebrated, Lark Voorhies. A, sure-all, themed, computation, centered, square, amidst, the, halls, of, renown."
Voorhies also published "True Light" that same year. This book's description is also punctuated unusually and formatted in all capital letters: "THE IDEAL, ON, TRUE LIGHT. IMPRESSES UPON THE READER, THE, ALL, ATONED, IMPORTANCE, RESTING, UPON, THE, FORMATTED, NUANCE, APPLICABLE, OF, ORATIONS, IN, GENUINE." Her first book, 2010's "Reciprocity," is the most conventional of all her books and is classed as romantic erotica.
Lisa Turtle was spotted at this Saved By the Bell spot
Just in case there were any concerns among fans that "Saved By the Bell" didn't still hold a very special place in Lark Voorhies' heart, rest assured that she still has fond memories of the show. In 2018, she made it out to a "Saved By the Bell" event, a pop-up of The Max, the local diner where the kids of "Saved By the Bell" would often hang out after school. Saved By the Max's Instagram account posted a picture of Voorhies at the event, writing, "Preppies!!! Lisa Turtle … made a special stop in tonight! Yes, The Sprain was in full effect! Amazing experience!"
Voorhies' appearance at the event delighted the show's fans. Voorhies even got dolled up for the special pop-up and brought along a pair of crutches in a nod to a memorable storyline on "Saved By the Bell" in which Lisa Turtle put her crutches aside and danced with a sprained ankle in a dance competition. Even though she hasn't been spotted at "Saved By the Bell" reunions, it's clear that Voorhies still loves the show that made her famous.
With her Lisa Turtle days behind her, this Saved by the Bell star seems to be turning her life around
While she hasn't released many details of her life over the years, it's clear that Lark Voorhies hasn't had the easiest time. Fortunately, though, things seem to be turning around for the actress. While it's unclear if she will return to acting any time soon, it appears that she is trying to inject some positivity in her life. Her social media posts have shown that Voorhies is filled with hope for the future.
Voorhies doesn't usually reveal many personal details in her social media posts, but she does post plenty of pictures of herself along with positive captions. "I hope your week is filled with happiness!" she wrote in a 2019 Instagram post. A couple weeks later, she posted a picture of herself ballroom-dancing with a partner, captioning the post with "#selfcaresaturday." She continued, writing, "Hope you all are having a wonderful day! What fun things do you do to stay healthy and happy?"
While we may miss Lisa Turtle on our television screens, it's great that Lark Voorhies is working to take care of herself and live her best life.