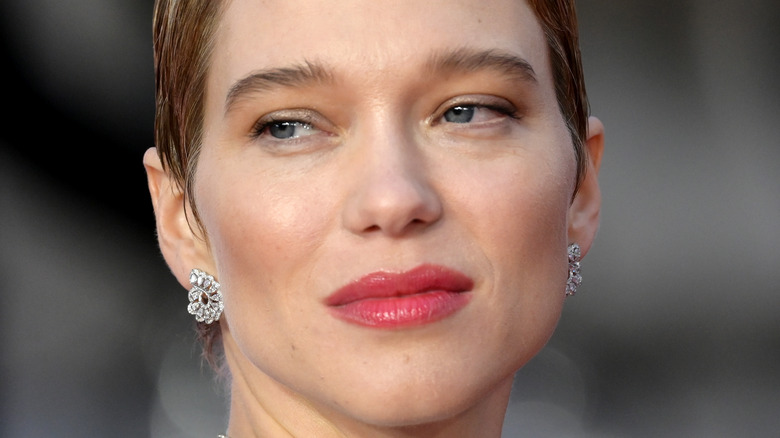 Whether you're a diehard fan of French indie cinema or you prefer big budget action movies, chances are you've probably come across Léa Seydoux. Seydoux is a Parisian actress who got her start in independent French films. She quickly made a stir in American cinema when she played Charlotte in "Inglourious Basterds." Since then, she's appeared in numerous lauded English and French films, including "Midnight in Paris," "Blue is the Warmest Color," "The Grand Budapest Hotel," "Mission: Impossible — Ghost Protocol," and "The Lobster." However, it wasn't until Seydoux was cast as a Bond girl in "Spectre" that she really became a household name (via IMDb).
With the release of the latest Bond film, "No Time To Die," Seydoux has become more famous than ever. But despite her fame, there are probably still a few things you don't know about this French star. Read on to discover some little known facts about Léa Seydoux.
Here's how Léa Seydoux got into acting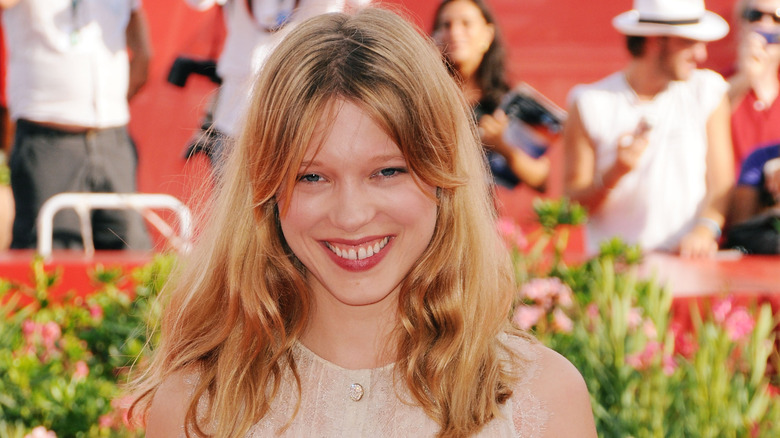 Unlike many actors and actresses, Léa Seydoux didn't always have dreams of appearing on screen. In fact, it wasn't until she fell in love with an actor that she even considered acting as a career path. As she explained to W Magazine, "I met a guy, and he was an actor and I found his life amazing and I wanted to have his life more than to be an actress."
As Seydoux explained in another interview with Swift Headline, she fell in love with this actor and his lifestyle, but he didn't love her back. In fact, she had to come up with excuses to bump into on the streets of Paris in order to see him! So, she decided to become an actress to try to win him over. While she never got the guy, Seydoux did end up becoming far more famous than he ever was. We bet he feels pretty foolish now for overlooking her.
The actress has struggled to watch her own movies
Léa Seydoux has wowed numerous critics with her on-screen performances, it seems that she is still pretty hard on herself. In fact, she struggles to watch her own films! As she told Vanity Fair in 2014, the first time she saw herself acting on screen, she cried. "It was terrible to see myself," she said. For Seydoux, watching her first performance was like watching herself trying to embody the character, rather than watching the actual character — but it's gotten better. "Now I can see, I think, I'm able to see the character and not myself," she said.
In fact, by the sound of things, Seydoux has become extremely confident in her abilities to disappear into a character since her early days in front of the camera. As she told the Evening Standard in 2014, "I can transform. I know how to show myself, and how to hide myself."
As a child, Léa Seydoux wanted to be a singer
Even though Léa Seydoux has become one of the most recognizable French actresses acting in Hollywood today, she didn't always want to act. However, she did always have artistic ambitions. Clearly, her childhood instinct to perform was strong. "As a kid, I was always singing and sometimes performing in front of my parents but I didn't really know that I wanted to be an actress," she told W Magazine.
Singing, as she told C Magazine, was her main focus instead. Her childhood dream was to be an opera singer. "I had a beautiful voice, but I lost it," she explained. She went to the Conservatoire de Paris for singing lessons, and although she was naturally talented, she found formal singing training too difficult. "You have to do all the breathing exercises. You have to have a very strict regimen," she recalled. In the end, it sounds like Seydoux was far better suited for an acting career.
These are Léa Seydoux's icons
Even the most famous actors and actresses have to get their inspiration somewhere. For Léa Seydoux, there are a few unforgettable icons that she has always looked up to. In a French interview for Vogue Paris, Seydoux said that "Pretty Woman" was her ultimate pick for an iconic film. "It's iconic because we all dream to meet a man like that, who captivates us, who takes us away."
As for the most iconic actor, Seydoux picked none other than her "Spectre" costar, Daniel Craig, who isn't your typical James Bond. She explained that she found his performance iconic because of how he managed to bring new elements to the famous character. The most iconic fashion designer? Seydoux said, "How can I not say Nicolas Ghesquiere? The last show he did … I found this fashion show sublime."
For her style icons, Seydoux chose Princess Diana and Caroline Bassette-Kennedy for everyday style and Grace Kelly for red carpet style. One thing's for sure — Seydoux definitely has great taste!
Even Léa Seydoux has self-image issues
Most of us would probably consider Léa Seydoux to be nothing short of stunning. However, it turns out, this star has some self-image issues just like the rest of us. As Seydoux explained in an interview about her first "James Bond" film, "Spectre," she couldn't believe that she'd been cast as a Bond girl. "Maybe I thought I was not beautiful enough," she said. "I know it sounds strange, but I felt like, 'Will I be good enough?' I was not sure."
In another interview for Into the Gloss, Seydoux spoke again about her perception of her appearance. While discussing her makeup habits, she said, "Sometimes I do like to wear makeup — I have makeup, and I put it on. But sometimes I like to be ugly, and very natural." It sounds like Seydoux really doesn't realize just how beautiful she is — with or without makeup!
Here's how Léa Seydoux achieves that perfect French girl style
There's nothing quite like that laid back, ultra-cool, slightly messy style that girls from France seem to pull off with ease. Léa Seydoux is no different. Her natural sense of style is chic, easy-going, and undeniably French. In an interview with Into the Gloss, Seydoux explained what makes French style different: "[French girls] are not like Americans where they are always perfect — the girls are not very sporty; they don't take care of themselves as much as Americans, who always have very white teeth, and are so fit. The French are a little more chic, very classic," she said.
In a 2020 interview with Harper's Bazaar, Seydoux went into more detail about her signature Parisian style by talking through some of her favorite red carpet moments. For Seydoux, the best looks are sexy and modern. Some of her favorite looks include pant suits, jackets on one shoulder, belts that accentuate the waist — anything a little bit timeless. This actress seriously knows her fashion — no wonder she's so good at pulling off that French-girl look.
Léa Seydoux is angry about how she was treated in one of her best-known films
One of Léa Seydoux's most famous films is the 2013 "Blue Is the Warmest Color," which famously featured several graphic lesbian sex scenes. Shortly after the film was released, Seydoux and her co-star Adele Exarchopolous spoke to The Daily Beast about their experience making the film. Apparently, the director made them do hundreds of shots and wouldn't let them visit their families or friends during the shoot. "It was horrible," Seydoux said. In another interview with The Independent, Seydoux explained, "It was kind of humiliating sometimes, I was feeling like a prostitute" (via IndieWire).
Later, Seydoux spoke about the experience yet again, revealing that while she had grown to love the film itself, she was still angry about how she was treated. "I'm really proud of the film. I think he's a great director. What I hated was the feeling that I was being objectified," she explained to The Guardian.
She worked on two very different movies at once
Léa Seydoux is clearly very much in demand in Hollywood. In fact, in 2015, the actress had to juggle filming two projects at the same time. As she explained on the red carpet of the premiere for "It's Only the End of the World," she had been filming "Spectre" as well. "It was quite crazy," she confessed. While the James Bond movie was shot in London, England, "It's Only the End of the World" was filmed in Montreal, Canada. Sometimes, Seydoux had to jet across the Atlantic for only 24 hours to do some filming.
In "It's Only the End of the World," Seydoux played a young woman who she described to The Independent as being "very afraid, angry and hysterical." In "Spectre," Seydoux played the complex new Bond girl, Madeleine Swann (via The Telegraph). So, not only did the actress have to juggle two different film shoots in two different places, she also had to juggle two very different parts. What a pro!
Léa Seydoux has spoken out about political correctness
Léa Seydoux certainly doesn't mind discussing controversial subjects — even when they're culturally taboo. In a 2021 interview in Harper's Bazaar, the actress boldly stated, "I am not politically correct." She went on to explain that she hates the culture of political correctness. "The world has become so polished now, I find it very scary. We're not allowed to commit any mistakes," she explained. She even discussed the #MeToo movement, claiming that, while it had been crucial for women (herself included, as she claimed that Harvey Weinstein had tried to sexually assault her), she thought that the cancel culture aspect of the movement was "too openly violent."
While that's definitely a bold statement from Seydoux, it echoes what many other French actresses have said about the movement. In 2018, roughly 100 French actresses wrote an open letter about their dismissal of the movement as "hypocritical" and a "witch-hunt" (via DW). It sounds like Seydoux thinks of the movement in the same way.
If you or anyone you know has been a victim of sexual assault, help is available. Visit the Rape, Abuse & Incest National Network website or contact RAINN's National Helpline at 1-800-656-HOPE (4673).
The actress suffered from shyness as a child
Léa Seydoux might come across as one of the bravest actresses around — after all, she isn't afraid of doing nudity, action, or anything in between. However, it turns out, Seydoux hasn't always been so daring. In fact, as a child, she was downright shy. As Seydoux explained in an interview with Tatler, she had a hugely privileged childhood in a prominent French family. Nevertheless, she wasn't exactly comfortable in her skin. "I was quite … sad. I was very shy. Very shy. I was always the little one in the shadow. Can you say that? Sitting in the corner," she said.
While Seydoux couldn't pinpoint exactly why she developed such crippling shyness, she explained that it may have had something to do with her bohemian upbringing and lack of structure. Even though Seydoux is less shy than she used to be, her shyness still gets in the way. Sometimes, her shyness even makes it "painful" for her to act. We would have never guessed!
Motherhood changed Léa Seydoux
In 2017, Léa Seydoux gave birth to her son, George (via Daily Mail). As Seydoux told Tatler, becoming a mother was always part of her plan. "Since I was a baby, since I was a little girl, it was always what I wanted," she explained. And, unsurprisingly, motherhood was everything Seydoux could have wanted. In fact, she even found that it made her feel "sexy," as it helped her connect with her femininity and "be an animal." We guess that's one way to look at it!
Becoming a mother didn't just change her life, it also changed her approach to acting. As she told Brief Take, "I think that it nourished and probably my acting has more thickness to it … Having someone to be responsible for, donner la vie, to give life to someone, it's quite a thing." By the sound of it, motherhood has completely transformed Léa Seydoux — and it seems like she's learned a lot from the experience!
These are some of Léa Seydoux's favorite beauty products
Léa Seydoux is obviously pretty stunning. So, what products does she use to keep herself looking so healthy and glowing? As she told Into the Gloss, she likes to have a pretty low-key routine — but that doesn't mean she doesn't have loads of beauty products. As she put it, "I like to be clean, I like to smell good. I don't like to be searching for something that I don't have."
For her skin, Seydoux uses the Darphin Overnight Refining Lotion. She also likes using a Bioderma spray. For her hair, she uses Klorane dry shampoo, Opalis shampoo, and David Mallett hair color. She also loves the hair mask by Leonor Greyl. As for perfumes, Seydoux uses Prada Candy and Comme des Garcons. And her favorite makeup brands include Armani, Yves Saint Laurent, and Lancome. Yet again, Seydoux has proven her impeccable taste!
Léa Seydoux struggled with depression as a young woman
Even though Léa Seydoux found success as an actress when she was young, life hasn't always been easy for her. Her melancholy began when she was a child — as she told Tatler, "I was quite … sad." In an interview with Elle, Seydoux explained that when her career first began she struggled with more serious depression. "It was terrible," she recalled. "I was extremely melancholic … For me the world was terrible."
Seydoux explained that while other people find the beginning of their careers to be "exciting," she struggled to enjoy her early projects. While Seydoux couldn't say exactly why her depression came on, she said, "I think it was [coming to terms with] the end of my teenage years."
It seems like Seydoux has a real propensity for melancholia. As she told the Evening Standard, "​​For me, life is tragic. To exist is a difficult thing."
If you or someone you know is struggling with mental health, please contact the Crisis Text Line by texting HOME to 741741, call the National Alliance on Mental Illness helpline at 1-800-950-NAMI (6264), or visit the National Institute of Mental Health website.
She feels pessimistic about the future
After the COVID-19 pandemic, many people were left feeling uncertain about the future. For Léa Seydoux, the pandemic made her feel more anxious than ever about the state of the world. As she explained to Vogue, she had hoped the pandemic would make people stop and think about the direction the world was going — we can only assume she means in relation to politics, climate change, and culture.
"It felt like people would be more aware of the serious problems we face after it, but now, it feels like nothing happened," she said. "We're back to where we were before it. I have to say, I'm a bit distressed about the world right now" (via Yahoo!). As far as Seydoux is concerned, most people didn't learn much from the pandemic — and according to her, the world may be worse off in the long-run. It sounds like Seydoux can get pretty anxious about the future — especially after the pandemic.
Léa Seydoux learned to speak English thanks to her father
Léa Seydoux was born and raised in Paris, speaking French as her first language. Thanks to her father, however, she picked up English from a young age. As she revealed to Esquire, her father sent her to an English summer camp in Maryland for six years in a row.
Learning English away from home wasn't easy for the young Seydoux. "It was difficult at the beginning for me," she told W Magazine. One of the hardest things about her camp experience was the American food. "In France you're not used to having ketchup in the morning or potatoes or things like that," she laughed.
Even though Seydoux is now pretty much fluent in English, it seems like she still finds it a little tricky acting in her second language. Maybe that's why she sometimes finds nude scenes interesting. As she put it, "There's no dialogue. … I think it's a universal language — sex."